I'm going to go out on a limb here and make a bold statement; every inch of Greece is beautiful – and not just your regular run of the mill beautiful, I'm talking jaw-droppingly, wow-inducing, mind-blowingly beautiful.
How many other countries can say that?
Of my two weeks in Greece this summer, I was not disappointed or let down once. Every single place I stopped was memorable and gorgeous. Wait, I take that back. The 6 hours I spent by accident at the bus station in Lamia on my way to Athens was not so beautiful. I guess you can't always win.
That being said, I've been a lot of places, and nowhere was as consistently pretty as Greece. Hands down.
Also it should be mentioned that I intentionally skipped the traditionally most scenic and popular islands in Greece, like Mykonos and Santorini, in an attempt to get off the beaten tourist track.
Before I arrived in June, I intended to hit up Santorini, and following my dreams of falling in love with a rugged Greek fisherman a la Sisterhood of the Traveling Pants. However, logistically-speaking, getting to Santorini on the route I was planning would have been an expensive nightmare and it would have meant I would have spent 2 full days just getting there and back by boat.
No time to waste here, people!
Secondly, I have now had not one, but TWO friends get engaged on Santorini lately, and to be blunt, I just was not in the mood to experience the "romance" all by myself surrounded by smoochy couples making out under the famous Santorini sunsets. Um, no thank you.
Thirdly, I just wanted to have some peace and quiet in Greece, visit some smaller, more "local" spots, make friends, learn some Greek, and relax. Santorini being as popular as it is, I seriously doubt that would have been my experience there mid-summer.
Call me bitter. Call me depressing. Whatever. I'll save Santorini for the day when I have the time (and dollar bills) to enjoy it, preferably on the arm of a local named Kostos. And also not during peak tourist season. This time around I wanted to see something surprising!
And I was not disappointed!
Everywhere in Greece (minus the Lamia bus station) was fabulous and gorgeous, financial crisis be damned. Every time I stepped foot in a new place, my jaw dropped open and I got that tight feeling in my chest when I know I am lucky enough to be witnessing something spectacular – know what I mean?
Now that I am huddling by the heater in my new (rather old) apartment in Wellington, New Zealand, I figured it was high time for some sunshine and beautiful views from this summer.
Here are 9 views in Greece that blew my mind
1. Overnight ferry from Brindisi to Igoumenitsa and Corfu
Nowadays I feel like most people shun overland travel around Europe in exchange for cheaper and faster flights. With no shortage of budget airlines to chose from, why would you chose an 12 hour boat ride when you could fly for less than an hour?
Is adventure dead, people?
Personally I LOVE overland travel, boats, trains but not buses. It feels like I am really journeying to a new destination, really taking it in. After finishing up a week of exploring Brindisi in southern Italy on a blog trip, we all boarded an overnight ferry towards Igoumenitsa, one of the main ports in western Greece, before changing to a shorter ferry to Corfu.
Sailing out of Brindisi's harbor
As we piled on the biggest boat I've ever been on, we quickly dropped our bags and headed on deck to watch the sun set as we sailed out of Corfu's harbor. We waved goodbye to Italy as the sky burned yellow, orange, red, pink and purple, before finally sinking below the horizon. Just like witnessing sunsets from an airplane, offering a special glimpse at the closing of the day, seeing it from on board a ship out to sea is equally as striking.
It certainly made the following 12 hours mildly less painful.
Once we boarded the second boat bound for Corfu after arriving in Greece the next morning, the sun was up and had already turned the famous Strait of Corfu a brilliant shade of blue.
Ahoy!
2. The island of Corfu on the back of a scooter
Popular with Euro holiday makers searching for a quick beach getaway, Corfu really surprised me. We traveled there as part of a famous sailing regatta between Brindisi and Corfu every summer which meant we spent a good amount of time in and around the water.
If you're looking for an easily accessible, beautiful but under-the-radar island in Greece; Corfu is your answer.
Though by far the best views I had in Corfu were when I traveled around by scooter on the island's back roads. Whizzing over mountains under the hot Greek sun with our eyes peeled for the next hidden beach, I fell in love with Greece a little bit more.
It seemed around every corner the view got better and better, before we finally settled on this particular spot. Is there anything more awesome than getting around by scooter and discovering beautiful places like this while traveling?
I don't think so.
3. Following the goats in Paxos
Now I've already raved on about the magical island of Paxos, Greece's best-kept secret, but I can't do a roundup of my favorite views without including the best view of all time in Greece.
After journeying down a goat path following directions from an old Greek guy in broken English, I stumbled on this beauty of a view, just as the sun started to set. With my legs dangling over the side of the cliff, I sat there for an hour and had a total what-is-life-about moment.
It was fabulous and the perfect introduction to my solo travel in Greece.
4. Discovering the secrets of Antipaxos
A quick, cheap boat ride away from Paxos is the little uninhabited island of Antipaxos aka the most beautiful place in the entire world!
But don't tell anyone I told you; this has to be a secret just between us, deal?
While most beaches in Greece are rocky or are comprised of pebbles (yeee-ouch!) this perfect little spot on Antipaxos is all white sand! And don't get me started on the clear water! This is the kind of beach where you swim out for 100 feet and you can still see straight to the bottom and all around you!
And the best part? Hardly any people! I was there at the end of June, and the water was the perfect temperature, but there were maybe 10 people on the beach for the entire day! It was great! It really felt like I had discovered my own little slice of paradise in Greece.
And just look at the color of that water? Doesn't it make you want to jump right in?
5. The bumpy road to Ioannina and central Greece
I was really, really bummed to leave Paxos. In fact, I was so bummed I extended my stay there for an extra two days because I couldn't bear to say goodbye to paradise. However, I had plans to follow and places to see, so I boarded yet another ferry back to Igoumenitsa to make my way inland towards central Greece heading towards Kalambaka and the famous Meteora, but I'll get to that in a minute.
I think it's fairly safe to assume when people think of Greece they think of the islands and the beaches. Maybe they go as far as to imagine ancient ruins and temples dotted around the landscape and feta cheese, but usually it ends there. I'm not ashamed to admit that's what I envisioned before hopping on a bus towards the center of Greece.
What I soon discovered shocked me!
Central Greece was mountainous, and it was gorgeous. Fluffy green mountains dot a wild landscape, with switchback (terrifying) roads curving between them. Hello! Felt like I was back in Switzerland for a hot second.
To break up the long journey between Paxos and Meteora, I decided to stop for the night in a town called Ioannina, roughly halfway. Picking a cheap hotel, centrally located, it was a nice shock to open my window to this view of the mountains and sunset.
I was pretty disappointed I didn't have more time to explore this part of Greece before journeying onwards to my next stop.
Looks like I have a reason to come back!
6. Following the paths of monks towards Meteora
If there was one place I was looking forward to the most this summer, it was visiting Meteora in central Greece. From what I've heard, this huge Eastern Orthodox monastic complex was unlike anywhere else in the world – and given just how overused that phrase is nowadays, I was hoping it would ring true.
I wasn't wrong.
If the unearthly landscape of massive pillar-like mountains and columns weren't striking enough, monks went ahead and built huge monasteries ON TOP of them 500 years ago. 6 of them are still working monasteries nowadays and are open to the public if you are willing to make the trek up to them.
Trust me, it's worth.
A view from Meteora is spectacular no matter where you stand, and it will make even the most seasoned traveler say "wow" out loud. In fact, I have about 600 photos from a few days exploring there to prove it.
While Greece is full of beautiful vistas and spectacular sites, you'd be hard-pressed to find one more unique and with so many fabulous views as you get in Meteora.
If you go to Greece one day, please don't miss this special place!
7. Communing with the gods at Delphi
Being the massive nerd that I am, and the fact that I have made it part of my life mission to visit as many important ancient sites as I can, a trip to Greece would be incomplete for me without stopping in Delphi.
The center of the ancient world and supposedly discovered by Zeus, Delphi later became the hub for worshipers of the god Apollo, and where the famous oracle of Delphi dwelled.
Who can pass up a chance to visit a place founded by Zeus and developed by Apollo? Not this girl.
While most people visit Delphi as a day trip, I decided to spend a few days battered down in town to catch up on work. Luckily the modern town is perched high on the cliffs of a mountain so that most hotels have rooms with amazing balconies and views for cheap. Just remember to get a room with AC in summer because it's so hot your face will melt off.
Delphi is a great location in Greece with great views from just about anywhere and it's pretty affordable as well. I'm converted. I'll go back anytime.
8. Going back in time to Hydra
Hoping to squeeze in one more island in Greece before departing, I had heard about the beauty of posh Hydra, Athenians favorite beach escape. Hopping on a very overpriced fast ferry from the capital, I quickly made my way towards this beautiful little paradise.
Hydra is unique for many reasons, but mostly because the only way you can get around the island is by foot or donkey! Preserving tradition is important here, even if  there are million dollar yachts parked in the harbor.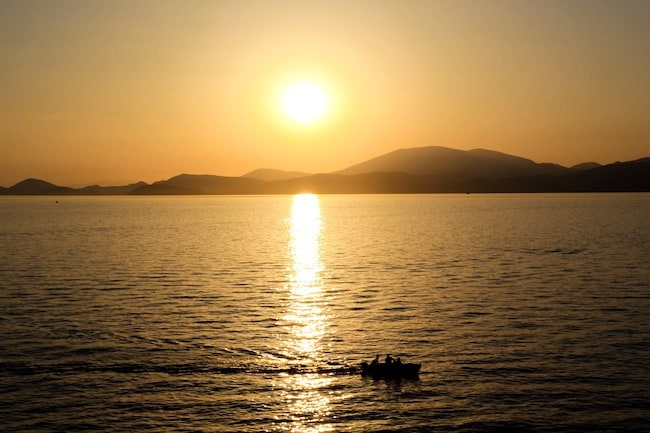 Pretty much anywhere on the waterfront in Hydra is going to give you a jaw-dropping view, but none more than the famous sunset lookout point, a quick walk away from the main port.
Being the nerdy, slightly OCD traveler that I am, I made sure to arrive at the restaurant overlooking the sea at the optimal photographing time. Parking myself at one of the best tables with only a stray cat for company (cat lady at 25, who would have thought?) I tucked in to a fabulous seafood dinner while watching the sky turn gold.
Sunsets almost never disappoint, but sunsets in Greece will knock your socks off.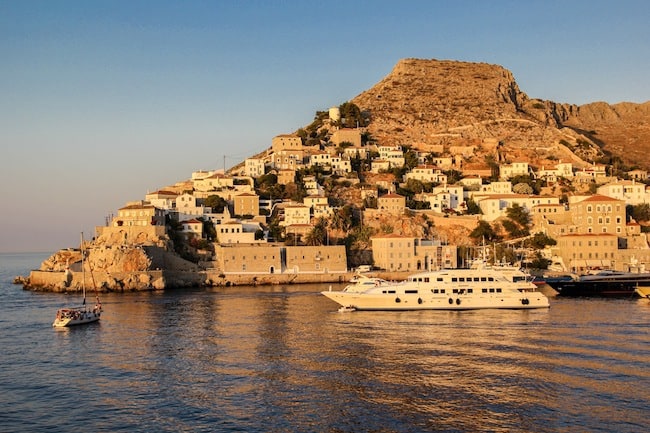 9. Ending in Athens
One thing I've realized about myself lately is that I'm no longer a big city traveler. When I am on a tight schedule or when I want to take it easy, the last place I want to be is in a big city. Originally, I had planned to skip Athens altogether while in Greece.
But then I thought about it and realized that that was stupid and I would most definitely, 99% assuredly regret that at some point or another in my life.
So I changed my plans and gave myself one day in Athens, if anything to continue with my nerdy education and visit the famous Acropolis.
While in general I might not have fallen in love with Athens, I did realize I need to go back and give it a second chance.
Exploring the Acropolis, I place I have studied and read about for as long as I can remember, was both incredible and mildly disappointing.
Disappointing in the sense that it was crawling with massive tour groups. I'm talking groups of 30 people, way way way too big. It's essentially an open-air museum, and yet I found myself waiting around for people to move or get out of my way the entire time, which I can't stand.
That being said, Zeus or whichever ancient Greek god controls the weather, decided at that moment to let the clouds move around in such a way that the setting sun burst through them creating the most beautiful rays of light illuminating Athens.
It was really an incredible moment to witness, and, quite literally, helped me see in Athens in a whole new light – pun intended. It was a great moment of closure to my time and Greece and I was so thrilled I got to end it on such a positive view.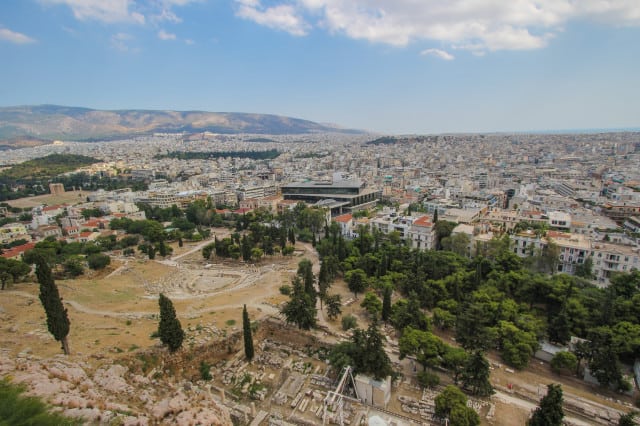 Have you ever been to Greece? Would you like to go? Where would you like to go in Greece if you had the chance? Where's the best "mind-blowing" view you've ever seen while traveling? Spill!