I'm hot off the boat from frosty Finland. As sad as I was to leave a perfect winter wonderland, I am pretty stoked to be back on New Zealand soil soaking up the few remaining days of summer while I can. The nights are already smelling crisp like autumn, I am so excited.
That being said, it doesn't take much for me to miss Finland, especially the wild north of Lapland and my very first visit inside the Arctic Circle. What a magical place, I have never seen so much snow! Alberta, Canada gave me a taste but it was nothing like this.
Cue giddy schoolgirl moments every hour. I just can't help myself guys. This was a fairytale come to life. Just look at those snow monsters, I mean snow trees. Come on!
Thank you Hecktic Travels for inspiring me to visit!
Wearing my heavy duty Parajumpers parka
To be honest, I am still reeling a bit from the trip – it was that amazing and memorable. For me it was a trip of firsts and challenges, trying new things and immersing myself in a place I've been dreaming of visiting for a long time. And don't quote me on this but I think it might be my last big solo trip for a while. But more on that soon.
For someone with a brain that never stops and is constantly overwhelmed by just about anything, it's a lot to process.
So I thought I'd start to organize my feelings here by sharing some of my favorite snaps from the trip with you. You might have seen some on my Instagram or Snapchat but here's a handful more with a story or two alongside.
So grab a cuppa, sit back, imagine some reindeer bells and enjoy as I try to share my journey around Finnish Lapland through my lens.
*Tossing snow with your jacket unzipped is not recommended
It was late at night by the time my plane landed in Rovaniemi, the gateway to Lapland. I grabbed my rental car, headed down the snow covered roads into town checked into the hotel and promptly hit the sauna. All my hotel rooms in Finland had their own private sauna. What heaven!
Not that I know how to sauna like Finnish people. I think I lasted about 20 minutes that first night til my face burned before I was out. Still have plenty of time to learn, right guys?
The next day I spent the morning snowboarding at a local skifield in Rovaniemi before exploring the town and got ready before heading to Luosto, where I would be based for a few days. That wasn't before I chowed down on an amazing lunch at Roka, a street food style bistro in downtown Rovaniemi.
Arctic Light Hotel in Rovaniemi
I checked into a glass igloo for the night which is probably one of the coolest places I've ever stayed and I don't say that lightly. The snow was piled so high it came up towards the windows and sat on the roof like icing, sparkling under the lights.
I had never seen snow like that before. I also want to take a second to mention that March in Finland is the best winter month to visit, the days are long and it's not that cold, it hovered just below freezing the whole time I was there, I was expecting it to be much colder. But I ramble.
I fell asleep curled up in my favorite winter onesie hoping the clouds would lift and I would catch a glimpse of the Northern Lights. The hotel even gives you a cell phone that will text if the aurora is on, but alas, Santa didn't hear my prayers, which was good because I slept like a log.
My first real foray into Finnish Lapland was heading up to the Lampivaara Amethyst Mine near Luosto. Finland doesn't really have big mountains rather hills and fells, and the mine is on top of one.
Man does the scenery change as soon as you head up. The trees quickly become so caked in snow they look like people or statues til no green is left. It was my first time seeing trees like that I basically freaked out.
We heard stories about the sustainable mine while sipping hot berry juice before having a go ourselves and digging around for our own piece of amethyst.

While in Luosto I got to try snowmobiling for the first time ever, so scary and so much fun! There is so much snow in Lapland that they have roads especially for snowmobiling all over the region. Can you imagine growing up with that?
My parents would have killed me. Zoom zoom!
Luckily I had Heli, a local with me to take turns driving as we joined on a tour with Lapland Safaris out to a frozen lake where we would go ice fishing. And for the record, I caught 4 fish. All by myself. Heli is a local and of course blew me out of the frozen water, but what can you do? So glad I had her with me for part of this trip to keep me company!
Though if I had to pick, one of my absolute favorite things I did on my whole trip to Finland was visiting the Jaakkola Reindeer Farm near Luosto and finally learning about the traditional Saami culture.
We went for a reindeer sled ride (yes that is a thing) through the forest while one of the pups sat in my lap and big fat snowflakes fell all around me. I was in heaven! I felt like I had stepped out in one of those Jan Brett books my mom read to me as a kid.
I wish there was more opportunities to learn about Saami culture in Finland, but I digress. Don't miss this farm and meeting the amazing family whose passion runs it in the meantime.
Luosto is so cozy and so much to do I almost wish I had spent all my time in Lapland there. I could definitely see myself squirreled away in a cabin somewhere working on a book.
I tried new things like ice climbing for the first time. I honestly didn't think I would have the strength to do it, and I was so nervous I was shaking but it wasn't any harder than I imagined and I was able to get myself close to the top!
My last night in Luosto I joined a snowshoeing tour with Lapland Safaris, climbing to the top of a fell on the hunt for the Northern Lights. As luck would have it, they were glowing strong (which is often in Lapland, about every other night) but a solid gray cloud covered the entire sky with just the horizon glowing green. Why me, WHY?
Sigh, I'm done whining now. As you can see, Finland was still pretty awesome.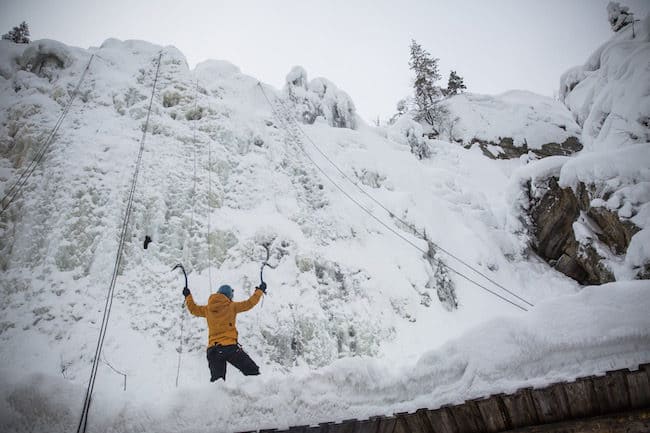 I was pretty gutted to leave Luosto as I had such an amazing couple of days hidden away there but I was excited to head to the coast and Kemi and see something new.
And boy did I get what I asked for! I joined an afternoon cruise on the old Sampo Icebreaker ship, and it was the coolest ever! I've never seen frozen seas before, have you guys?
I'll never forget the sound of the ice cracking or watching it break up around us as we cut through the frozen high seas. It was also one of those mysterious days with fog so thick the ice and the sky blended together. It was eerily beautiful.
And getting to walk out on the ice and jump in for a swim solidified this as one of the coolest days ever.
And to top it off, I got to sleep in a snow castle that night in Kemi. For real.
That's right, a hotel castle made entirely of snow, not ice, snow. Just call me Elsa.
Do you want to build a snowman?
And finally my last day went out with a bang dogsledding in Rovaniemi. I got to play with the husky puppies in Luosto but actually go on safari near Rovaniemi. So much fun!
It was all I could do not to sneak one of those frisky puppies away in my giant suitcase. I mean, look at that face??
Are you a winter traveler? Does Lapland look appealing to you? Have you ticked any of these items off your bucket list yet?
Rocking my Juliet Parajumpers jacket when it wasn't cold
Many thanks to Visit Finland for hosting me in Lapland (and for the record, there are some affiliate links in this post!) – like always I am keeping it real though – all opinions are my own, like you could expect less from me!