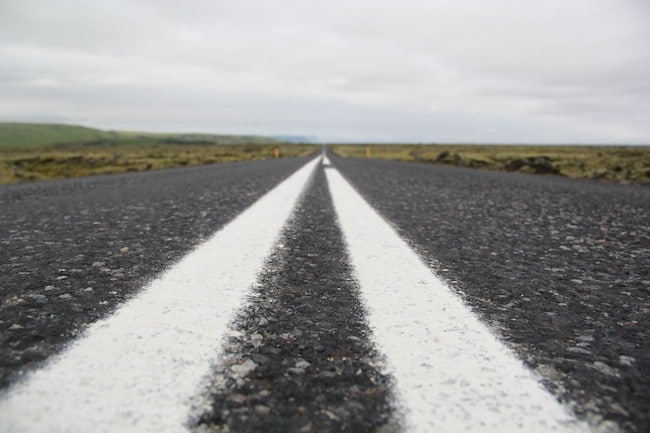 If there was ever a country perfectly suited for a road trip, it's Iceland.
Majestic lava fields mingle with snow-capped mountains to create a world that will constantly leave you wondering, "is this real life? How can such a place exist?"
Existential questions aside, if doing an unforgettable road trip tops your travel bucketlist, head straight to Iceland.
The most popular (and pretty much only) road trip in Iceland is the Ring Road, or Route 1. 830 miles of adventure and surprises, the Ring Road, as you probably have already deciphered, encircles Iceland connecting major towns. While you can certainly cycle or hitchhike the Ring Road (in summer) the best way to see it is by car with a couple good friends and some good music.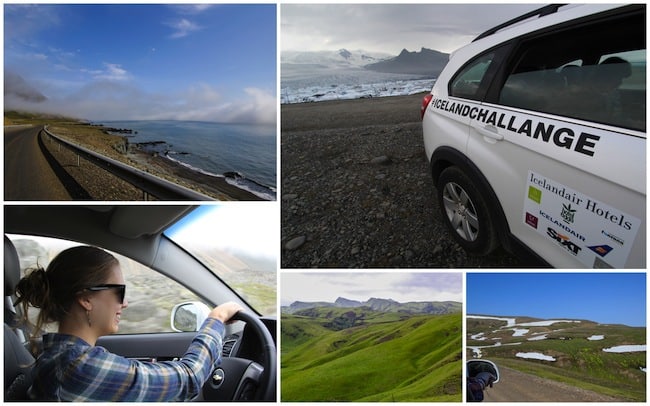 For our Iceland Challenge on a 7 day stopover with Icelandair, I had Inga, the local behind Tiny Iceland with me, along with Laura a talented photographer who was working with her this summer and one of my closest friends Marika, who designed my blog banner and who both shared their photos here!
4 girls. 7 days. 1 car. Things were going to get interesting.
This trip was epic and unforgettable in so many ways. And it definitely was a good life lesson for future road trips. Let me share a few things I've learned from a week exploring Iceland by car.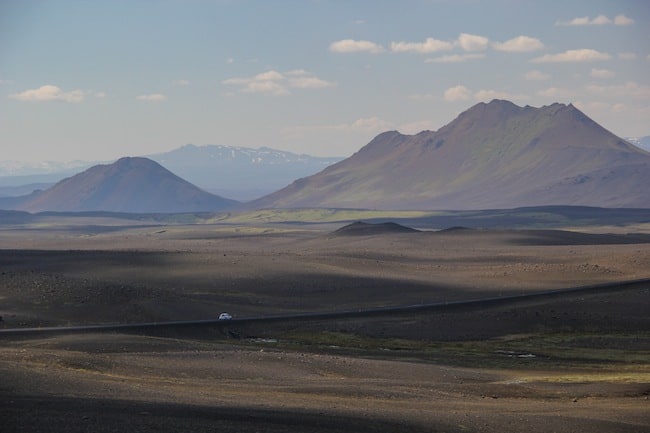 Do – pick a car that matches your trip
The most  important part of a road trip are the wheels that will carry you from point A to B and beyond. Iceland isn't like other European destinations; it literally feels like the end of the world sometimes and it's key to plan accordingly.
When are you going? July and August are the best weather months with the longest hours of daylight – i.e. the infamous midnight sun. If you are planning to do just the Ring Road or a short trip, you most likely just need a regular old car, unless you plan to go off the main roads in which case you'll need a 4 x 4.
If you are thinking of roadtripping during the months with snow – i.e. most of the year, then you definitely need a car that can drive in all weather or has four wheel drive.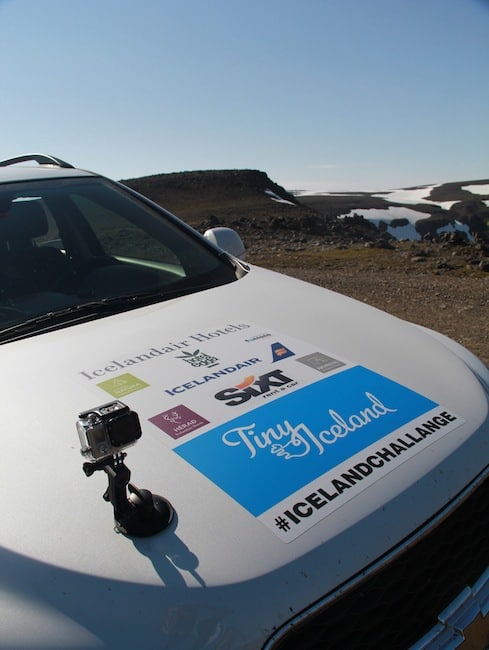 If you're on a budget, consider renting a diesel car; gas isn't cheap in Iceland so you can save money on a more fuel-efficient car. All obvious, am I right?
While we did drive the Ring Road, we also got off the main roads quite a bit, going over dirt mountain roads and back routes to small towns. Because we were four girls with a lot of camera gear planning to go on some more intense roads, we went with a Chevy Captiva SUV with Sixt, which was the perfect car for our journey.
If you only plan one thing for a road trip, plan the car.
Important things to take into consideration like seat warmers
Don't – rush it
A good Iceland road trip needs a solid 7 days, which is perfect because that's how long you can have a free stopover in Iceland for between Europe and North America with Icelandair. You can certainly do a lot less in less time, but if you want to spend time OUTSIDE of the car and exploring and getting lost (which is the best part, right?) minimum 7 days.
Trust me on this one.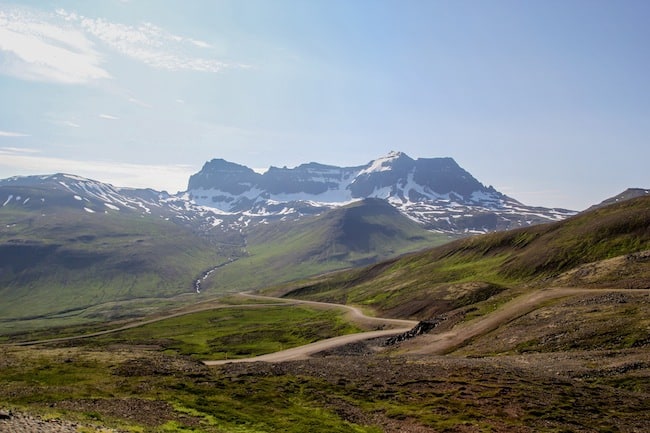 Do – get out of Reykjavik
Iceland is a vast, unchartered destination waiting to be discovered. Every road, every mountain, every waterfall, every glacier is a National Geographic photo and deserves to be seen. You would be hard-pressed to find a country more stunning and visually captivating than Iceland, so take advantage of it and see places that are truly unlike any other in the world.
Don't get me wrong, Reykjavik is an awesome city in and unto itself. It's modern and creative and filled with viking hipsters which I LOVE, and I really liked the vibe of it. But you don't go to Iceland for a city, at least I don't.
If you have 24 hours in Iceland, my recommendation is rent a car and drive, drive, DRIVE!
Don't – forget toilet paper!
That joke about how there aren't that many people Iceland, well, it's pretty accurate. With a total population of 320,000 on a good day, most of whom are in cities, this means when you're on the road, you will drive for a long time and not see a single soul.
Even though the Ring Road is a popular route, there are parts of it, especially in the east that, to put it mildly, are remote. Which means, dun dun dun, no toilets!
By the end of our trip, I felt like I really communed with nature in the sense that (how do I put this delicately?) I peed in every corner of Iceland.
Be warned, there are no big trees in Iceland, so sometimes you are just on the side of the road hoping and praying that no one drives by at that moment, which there is a good chance, they won't.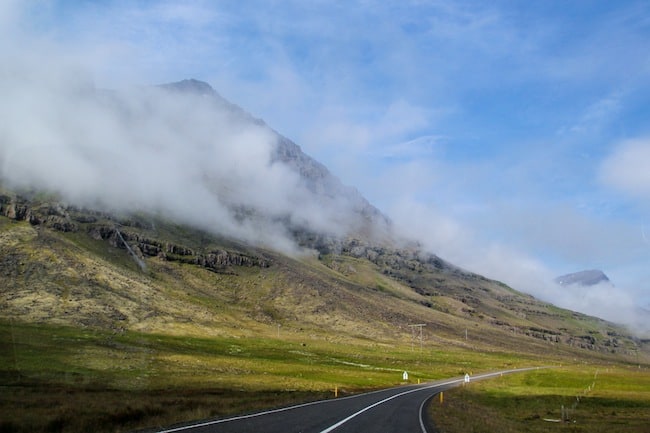 Definitely one of the best views I've ever had while peeing
Do – get off the Ring Road and explore!
The Ring Road is amazing, don't get me wrong, but depending on how long you have in Iceland, definitely veer off it when you can.
My best memories from Iceland are when we went off on mountains roads to remote towns and villages (population 100) and got to see places that I've never heard about.
Iceland is full of surprises, quirks and overlooked spots if you take the chance to get off the beaten path.
Don't – freak out when you see a one lane bridge
Again, because Iceland is so sparsely populated and because the landscape can change dramatically very fast, it doesn't make sense to build many two-lane bridges. Just slow down when you see one of the signs and whoever gets there first goes first. On some of the really long bridges, there are shoulders to pull over onto to let people by.
So don't freak, unless you come to a one-lane tunnel, then you can lose your shit.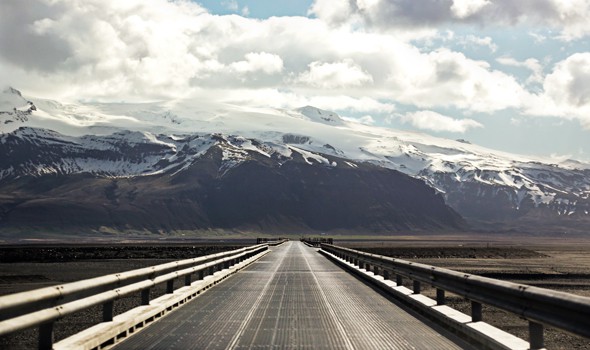 Image via Wander the Map
Do – eat a lot of hot dogs
For some reason the thing to do in Iceland is eat hot dogs, gas station hot dogs, and I can happily vouch, they are delicious. They love to put fried onions on them and they have  variety of sauces I've not seen before.
When you're on the road, having adventures and exploring new places, the last thing you want to do is waste time sitting down for a long meal 3 times a day. With so much to see and do on a road trip, you have to make the most of the time you can.
I'm not really a hot dog person, per say, but as soon as I saw the prices for food in restaurants (and prematurely aged 10 years from shock!) I quickly became a fan. Hot dogs are cheap and delicious (only about 350 ISK or $2.90) and Icelanders love them, along with ice-cream (rather ironic, no?) so indulge! You're on vacation, eat like a local!
Don't – stop on the side of the road to take photos
Would you pull over on the side of a highway with no shoulder back home to take photos? Probably not, so why would you do it in Iceland?
I get it – every single inch of Iceland is gorgeous, and when you start driving and seeing it yourself, you are going to want to stop and take photos everywhere! I certainly drove everyone crazy in the car, saying every five minutes, "can we pull over? Just for a minute, just this one time!" until everyone was about to throw me off a volcano.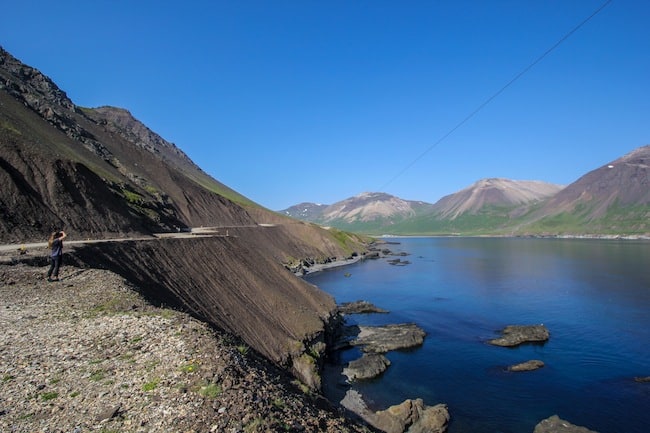 Most of the Ring Road is narrow with no space to pull off, and of course there isn't a lot of traffic, so it's very tempting to just pull over and hop out for a quick photo; but need I say that's really dangerous?
Several times we had to swerve around a stopped car ON the road with tourists taking photos. SO DANGEROUS! DON'T BE A DUMBASS!
There are plenty of driveways, farm entrances, lookout spots and side roads where you can pull off. Just wait and don't risk causing an accident, there are more than enough gorgeous photo spots to go around.
If, heaven forbid, you do get involved in an accident of any sort, you'll be sorry if you don't have a comprehensive insurance plan in place to back you up. I recommend World Nomads Travel Insurance, which has a ton of customizable and affordable policies that fit with a variety of travel styles. They're flexible, can be easily changed online and cover ALL the adventure sports.

Do – watch out for sheep 
In the summer months, sheep reign over Iceland. Let loose to roam the lands, once autumn hits, there's a massive round-up of the sheep for winter, but until then, they aren't enclosed in any fields or anything.
As you can imagine, sheep aren't always the brightest of creatures, so be sure to watch out for them on the road. We had a close encounter with a wild sheep who darted out in front of us at one point, and I thought for sure we'd be having mutton for dinner and be scraping sheep off the Chevy for days. But luckily Inga swerved at the last minute and disaster was averted.
When you see a group of them lurking on the side of the road, your best option is to slow down and honk a few times to scare them off.
Don't –  think the weather will stay the same
The weather in Iceland is as unpredictable as Miley Cyrus at an awards show.
One minute it's sunny, the next minute it's raining, and then you're in a fog so dense you're certain you've been transported to another world.
Just as the landscape varies astronomically, so does the weather. Be prepared for it to change in a second and have plenty of layers of clothes with you.
What is this nonsense?
Do – stock up on gas cards and gas when you see a station
If you see a gas station, stop and get gas. You never know when the next one will roll around. While you're at it, get a hot dog too.
Sometimes gas stations will be closed or not monitored in the more remote spots, so before you leave, it's better to buy gas credits loaded up with credit so you can just swipe and fill direct from the machines instead of having to pay at the counter.
Don't – worry about taking cash out
I did not take out a single kroner while I was in Iceland! You can get away with paying for everything with a credit or debit card. It's really convenient!
Do – bring a lot of water with you
And snacks to much on too. You never know when the next hotdog will be.
Lucky for us, we had a big supply of Icelandic Glacial water to keep us hydrated on the road, as evidence by the number of times we had to pull over for impromptu pit stops.
Jokes aside, the fact that we had tons of water with us actually saved us BIG TIME when our SUV overheated. And by the SUV, I mean we overheated the car by pushing it too far driving over a very, very steep incline mountain road, Hellisheiði Eystri, with the AC on full blast (it was hot, ok!), not to mention the car was loaded down with 4 viking girls and a ton of equipment.
Tiny Iceland to the rescue!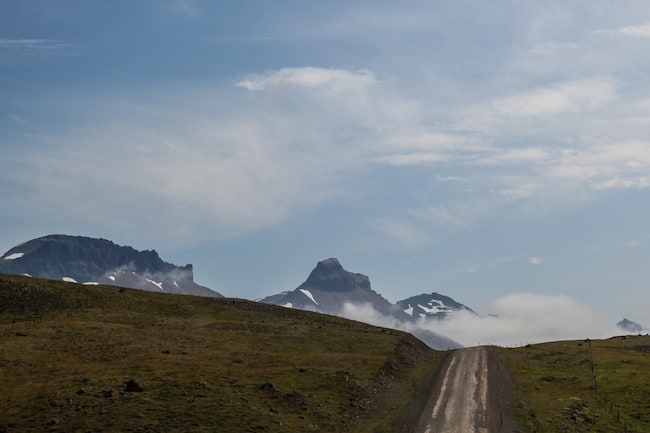 Literally on top of mountain somewhere between  between Jökulsárhlíð into Vopnafjörður ($100 to anyone who can pronounce that), with no phone service, we waited for the engine to cool down and to be able to add water to the radiator. Thank GOD we had enough water with us to keep both the car and us cool.
So remember to turn off the AC and pay attention to the fluid levels of the car and don't push it when going over some of the crazy mountains. And also have a lot more water with you than you think you might need.
Sometimes shit happens, but sometimes you end up with a view like this when it does
Don't – fight about stupid things and do be communicative
Blinding flash of the obvious, but  it bears stating, cough cough. 4 girls all with strong personalities and opinions stuck together in a moving metal vehicle for hours on end is bound to cause some drama.
"It's MY turn to drive." "Pull over, look at that waterfall!" "If I hear another Ben Harper song I'm going to kill myself." —> disclosure, these might have all been me. Maybe.
You know, the usual. It had been a long time since I've been on a group road trip, and it was a good lesson for me to learn to compromise, or try to compromise. Ok, I'm not good at compromising.
I think it all comes down to something fairly obvious, if something bothers you, say it, get it out there, work on it and move forward. Take turns. Negotiate. Compromise.
But above all, remember you're on the trip of a lifetime and just BEING in Iceland and getting to experience it yourself is the most important thing.
Except for beer. Beer wins.
Do – be prepared to fall in love with Iceland
Be warned, you will fall in love with Iceland. You will say over and over to yourself, this is the most beautiful thing I've ever seen. The rugged, wild, untamed landscape will blow you away, leaving you wanting more. Before you finish your trip you already will be thinking when you will come back again.
Many thanks to Tiny Iceland and Icelandair and Sixt Rental Cars for hosting me in Iceland. Like always, I'm keeping it real – all opinions are my own.
Also many thanks to Laura Hundersmarck with Tiny Iceland and Marika Summers for sharing some of their photos here!