Ages ago I agreed to go to Sri Lanka for a week to speak at a conference for travel bloggers.
A month ago I came very close to emailing them and bailing. I was exhausted. I was burnt out. I felt like I was stretched out so far I was about to snap. And nobody wants to see that.
I had so much work to do that I knew was going to be impossible on the road. I had to get myself from New Zealand to Bangkok before being flown to Sri Lanka which cost a fortune and I knew the 2.5 weeks I would be traveling would mean no income as well.
Seriously, living in New Zealand bleeds my bank accounts dry.
Knowing it was going to take 3 days of transport to get there made me want to cry. The week leading up to the trip I kept whining around Wanaka saying "ugh, I don't want to go. I don't want to go. Can I cancel?"
Wah wha, woah is me. I know. Bear with me.
My flight to Bangkok had windows that had a button turning them dark blue instead of a shade. It was mindblowing. Have you seen that before?
As I am writing this I just paused to make myself a cup coffee. I am home now and finally catching up on work. My posts have been so erratic this past month because my stress levels have been through the roof and I haven't been feeling inspired.
And if I don't have anything to say on here, I am not going to say it until I'm ready. That much I've always been certain about.
As I am sipping my coffee now I've just reread my first few paragraphs. Here I am whining about a (mostly) free trip to Sri Lanka. How the hell did that happen? Talk about first world problems. Who does that?!
This was my biggest fear thus year. I had finally arrived at the point in my life where I didn't want to travel. This is what I was so afraid of when I started to blog full-time.
But I committed and I hate letting people down so I went to Sri Lanka anyways, trying to look on the brightside and make the best of it.
Initially this was a work trip through and through – networking and public speaking. There was 4 days of group sightseeing beforehand but that's not my travel style at all. I hate traveling with more than 1 other person if I can help it, let alone 50. And 50 bloggers no less! This could potentially be my worst nightmare!
And to be perfectly honest, I knew nothing about Sri Lanka. Nothing. I was thinking this is a work trip that happened to be in Sri Lanka and that's it. Not expecting anything else.
Well, I did know there were elephants so that did make me really excited, but besides that it was all powerpoints and business cards.
For anyone who was curious, the conference is TBCAsia run by Cinnamon Hotels and it will take place annually. It's set up by the Professional Travel Bloggers Association, which along with Super Star Blogging, are the only two communities of travel bloggers I participate in and I suggest joining if you are a travel blogger or are interested in learning to travel full-time.
But where was I?
Talking about blogging stuff with Laurence (photo via Planet D) Occasionally I clean up and act professional.
However, I decided to look at it as an introduction to Sri Lanka and to keep my mind open.
For me it was an overview, a teaser and an opportunity to get to know a new country as well as get to know some other bloggers and content creators in the industry and talk about ideas and the future and innovation and yadah yadah yadah. Going in I knew I was probably not going to have the time to dig deep and find my usual cultural screwups and stories but that shouldn't be a total deterrent. There are many types of travel styles.
Brightside people, it's all about trying to be positive! Right?
Going in with those expectations made all the difference. I knew I wasn't going to have the intimate, slow cultural immersions I usually long for on trips but I still was curious and hoping to learn a little about what makes Sri Lanka tick and, fingers crossed, enjoy it enough to come back one day.
Lucky for me, I was blown away.
I had a recipe for a disaster of a trip but it turned out to be one of favorite trips of 2014 – but for none of the reasons I was expecting. Except for the elephants.
First off, the people, and I mean the bloggers and people who organized the conference. Many of them I knew, most I knew online but some I didn't, but I was blown away by how friendly and open everyone was. For someone who is a pure introvert and prefers to be alone, it was an eye-opening experience to go to a place with other people like me in a non-competitive atmosphere.
This past year I had become very disillusioned with the blogging community as a whole and I was more than a little nervous going into this conference, luckily though, it ended up almost perfect.
For anyone who is curious, I've not taken group blog trips in over a year because I really hate them. I guess it was with the wrong people. Because in the cheesiest way possible, I left Sri Lanka with 50 new besties and a brain full of new ideas and projects for the future.
But secondly was Sri Lanka itself. Wow, holy crap! What an amazing place!
I feel like it's similar to Mongolia, and it's one of the last few spots in the world that's not been "too" touched by tourism. It's "different." I like different. I like being surprised.
It's a complicated and beautiful place, and not easy to verbalize, but for me it felt very exotic. I haven't done very much in Asia and I haven't been to India so I had no idea what on earth to compare it to, so in the end, I didn't compare it to anything and just accepted and embraced it for what it is.
Exciting, different, friendly, inspiring and therapeutic, colorful, spicy, and humid as all hell.
A lot of people told me it was like "India-lite" which was ok by me. Sounds like a perfect introduction to an area of the world I've always been curious about but had absolutely no idea when I would actually get there. I'm already thinking of going back next year. It inspired me to start getting excited about traveling again.
But for now I am taking a break. Phew.
Recognize any of these bloggers? Besides me of course.
So without any further rambling, I thought I would share some of my favorite photos I took over the week I was there, introducing Sri Lanka to you all through my eyes.
I thought I would come home with a handful of quick iPhone snaps not 1200 shots on my DSLR and few stories to tell. Be sure to stay tuned!
Enjoy!
Have you ever experienced a burn out? How did you cope? Have you ever been totally surprised by a destination?
**Don't forget I'm giving away an ONA camera bag this week along with doing my first ever reader survey! Be sure to check them out!
I'm saving a dialogue about elephant conservation for another day
On an elephant safari in Kaudulla National Park
Caption contest anyone?
Right before we were charged by a herd of elephants and I nearly peed my pants
At Sigiriya an ancient palace and the most visited historical site in Sri Lanka
Flying over Sigiriya with Cinnamon Air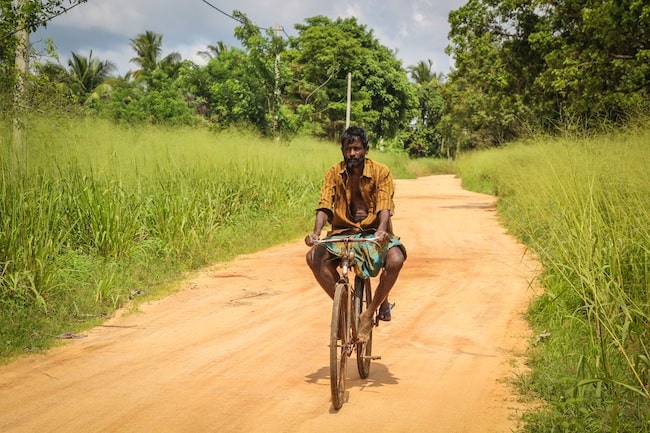 My view at the Cinnamon Hotels property at Chaaya Village Habarana
Monkeys. Run for your lives!
I wrote about this more on my Instagram, but this street dog really effected me. I had gotten accostomed to seeing street dogs on my travels and have learned to ignore them (what can I actually do? Can I help them all?) but now I am reevaluating my feelings about it.
Prayers at the Temple of the Tooth. I took only one photo there before I felt like I was being invasive and disrespectful and just observed instead.
I made some friends at the Temple of the Tooth. Sugar and spice if I've ever seen one.
Seaside town of Galle
Many thanks to Cinnamon Hotels and the PTBA for hosting me in Sri Lanka. Can I come back now? Also some of these links are affiliates.