"So you, like, live off your blog? How does that work?"
If there is one question I get asked more than anything, it's how do I make money. Seriously, every single time I tell someone that I am a professional travel blogger, that question creeps into the conversation one way or another. It's unavoidable. It's unescapable. And it's kinda rude, right?
But I get it, I really do. The idea of living off a blog seems so remote and weird, it only makes sense people are curious about it. If we switched shoes, I'd probably ask the same thing, along with how much exactly, you know, because I'm nosy.
While living off a blog might seem like a dream to many people, it's a hell of a lot of work. I work more now than I ever have in my life, but since it's something I love to do and it's a career I've built myself that I am totally in charge of, I don't mind.
While I've talked about it a little bit here and there in my Blog Archives and alluded to it quite a bit in my post about if you want to be a travel blogger, I've never actually broken down how I earn a living through my blog and how I get paid to travel the world. In fact, I find most bloggers and influencers are super hush hush about this kind of stuff, and, well, since I hate that, I might as well spill the beans for everyone!
Enjoy!
1. Get work as a virtual assistant
Or a VA if you will. I decided to start with being a virtual assistant because that was my first serious, established paid income when I quit my job to travel. I worked for two well-established travel bloggers helping them out with all sorts of stuff online. From cleaning up their sites, to fixing old posts, to managing campaigns to managing their social media accounts to boring accounting work, I did it all, though to be fair, I am pretty sure I was terrible at it.
That being said, I learned so much in those few months working as a VA, and it gave me a steady income with my blog that I could depend on and allowed me to move to New Zealand and set up a semi-nomadic lifestyle. Now I am lucky and I can hire my own VA's to help me out with all the work it takes running this site (trust me, it's a hell of a lot).
Reflecting back on my time 2 years ago as a VA, I make sure the girls I've hired are in a similar situation, and who care about my blog and my content. I think it's really important to not skimp out on these expenses once you have enough work to warrant hiring people to help you.
A good idea is to post in one of the big travel blogging FB groups if you are on the lookout for this kind of work or join Super Star Blogging and post in one of the many forums there.
2. Become a freelance writer
The second way I started to earn money through my blog was with freelance writing, which I also hated. Seriously, it made me want to blow my brains out, but it was a good way to earn money remotely, and gave me plenty of editorial and writing experience.
I still write the occasional freelance piece here and there, and I have a monthly column for Y Travel Blog about solo female travel that I love, but in general I only do it when it's something really relevant or it's about something I want to share with the world in a place beyond my blog.
3. Set up affiliates on your blog
Affiliate marketing, if you are not familiar with it, is probably where most successful blogs make the most money. In laymen's terms, affiliates are when you link to a product or service, and if the reader clicks that link and eventually buys the product you recommend, you get a percentage of the sale, a referral fee if you will.
I am no expert by any means in affiliate marketing, but I have tried and been very successful with it on my blog. And I'll be totally honest here, I could live off my affiliate sales. And I owe a huge part of my success with affiliates to Adventurous Kate who tipped me off about it back in Sri Lanka.
From my own experience with it, I've found you need a few key things to be successful with affiliates. Firstly, I'm really lucky in that my blog ranks very very highly on certain Google searches, which means I have a lot of traffic on specific topics. I also have almost half a million pageviews a month on here if you can believe it, not to mention you guys have to be one of the most engaged audiences in travel blogging – I feel so privileged to have you guys following my randomness for so long.
Secondly, I only recommend products, tours and services I have used myself, and I chose products that have a very high percentage or yield – what does that mean? For example if someone books something I recommend on here, I'll make $100. That's a lot better than a 4% affiliate that gives you $5 return, right?
My goal with affiliates this past year has been to generate a strong passive income, which means that once I've put in the initial work upfront, then I earn money every month DOING NOTHING. Please don't hate me, but let's be honest here, who doesn't want that?
Also, I always disclose affiliate links in my posts (this post will have affiliates in it surprise surprise) though I would hanker a guess that the majority of bloggers, travel or otherwise don't do this. Especially fashion bloggers. Have you ever clicked on a link for an outfit and the link started with rstyle.me before redirecting to whatever shop sells it? Or hidden with a bit.ly link? Yeah, that blogger is making a commission off you. A big one. In fact, I don't know of a single fashion or lifestyle blogger that discloses their affiliates. And trust me on this, some of those guys are making millions of dollars off it. Personally, I don't mind affiliates as long as bloggers are being honest with me (I bought this dress because you told me about it, hell you deserve a finders fee) – however, I find all the nondisclosure business shady as fuck.
MORE HONESTY IN BLOGGING. End rant.
4. Long-term advertising campaigns
Another way to make money in travel blogging is through advertisements. And I am not talking about those annoying pop-up flashy Google ads at the top, bottom, in the middle and on the sidebar of a blog that simultaneously distract and blind the viewer. Those don't work, at least for me.
I'm talking about big, long-term advertising campaigns and brand sponsorships with companies you vouch for AND make sense.
For example, I'll partner with an outdoor clothing brand I've been using for years. I already own a lot of their products so it makes sense to approach them on a long-term project or even to be an ambassador. Usually I send a proposal combining blog posts, social media amplification across my channels and creating content for them over an extended period of time in exchange for payment. Gone are the days of promoting things for free. Most of my campaigns now run between at least $5,000 – $10,000 each and for a minimum of a month.
I've found I would much rather have a few paid big campaigns over the course of a couple months than have the responsibility of managing 20 different assignments at a time. Also, I am a big believer in NOT BEING A GODDAMN SELLOUT and taking every single comp, press trip or campaign that lands in your inbox.
Perhaps I am being harsh here, but one thing I hate about travel bloggers and I can't stand watching other travel bloggers whore themselves out left, right and center. It cheapens and ruins the profession for the rest of us. When every single Instagram post, blog post, or tweet is from something free or sponsored, your cred dies, at least for me.
Trust me, it's much better to focus on a few relevant campaigns that pay well than to spread yourself too thin.
5. Content creation and paid press trips
Besides affiliates, the majority of my income now comes from paid media trips. Yes, dreams do come true, I get paid to travel now. I always say it's fairly easy in travel blogging once you try and take your blog to the next level to get freebies. But freebies don't pay the bills, and I definitely can't live in New Zealand on free stuff. Trying to get paid on top of it is super hard.
I've discussed this before, but once you have a big enough following on your blog and/or social networks and have sufficient "influence" within the travel industry, I believe you can start asking to be compensated on your trips, either with day rates or with a combined total at the end of a trip. However, I still sometimes go on unpaid trips depending on what's asked or me.
Depending on what's required, even with my millions of followers across my blog and social networks, I don't believe my presence alone is worth a day rate, so I tend to add on packages in order to merit being paid. Whether I am providing a set number of content pieces on my networks, to providing images for commercial use, to writing content for other people's blogs to doing Instagram takeovers and social media consulting, I think once I start *actually* working, I deserve to be paid.
A great way to make money in travel blogging is to sell some kind of service, whether that's writing, photography, video, something tangible.
Now more often than not I am hired on Instagram specific trips where blog content is not even on the table, they are only looking for promotion to my 75,000 followers and for rights to some of my images. The digital world is changing fast and it's a good idea to stay ahead of the trends if you can.
6. Join Super Star Blogging
I've talked about Super Star Blogging in basically all of my blogging related posts because it's the only travel blogging group I am active in. You can learn step by step in their main course how to start a travel blog and build it into something you can live off full time like me.
I have been a member since the beginning, and joined when I used to be on Blogspot, and I credit a huge amount of my success to SSB, as well as the amazing community behind it. It's the only blogging FB group I participate, and I've given webinars on topics like how to build a following on Instagram that you can have access to once you've joined. It's also one of my affiliates.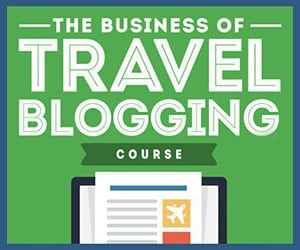 But perhaps one of the most exciting hush hush projects I've been working on for TBS is a course on storytelling in travel blogging which will come out in the next month or so, so keep your eyes peeled.
If you want to make money with your travel blog and get paid to travel like me, be sure to join  Super Star Blogging.
PS some of the links in this post are affiliate links and help pay the bills.