I don't know why it has taken me so long to write this post, considering "what camera do you use?" is one of the most frequent questions I'm asked.
In fact people ask me this so much I usually ignore it. It kinda annoys me. Why?
Maybe because now that I spend a lot of time around Instagrammers and photographers, I see a lot of people rely more and more on equipment instead of composition or creativity. My friend Stu from Peace in 10,000 hands (which is an amazing art photography project) were talking about this the other day, and he reminded me of a book called The Best Camera Is The One That's With You – true story, right?
Does having the best camera mean you'll take the best photos? Definitely not. You can have the most expensive kit in the world and it'll do you no good if you don't know how to take a photo and they are people out there taking the most mindblowingly awesome shots with just their phones.
Granted, I am a turtle when it comes to change but it took me almost 10 years to slowly progress through the entire Canon camera range before I decided it was worth investing in the top-end professional DSLR.
I've always been a loyal Canon girl since I was 18, fiddling around with my dad's film cameras growing up, and it will take a lot for me to switch brands, especially now that I often work with Canon Australia.
My first camera was a Canon Powershot my dad bought me as a high school graduation present. A few years later I invested in my first SLR in the Canon Rebel series for Christmas before a college trip to Rome. I sold that a few years later and upgraded to a Canon 60D (a good midrange camera) when I quit my job to travel and on my first blog trip to Jordan in 2012. This is the camera that brought me fame on Instagram and was the beginning of my journey to becoming a professional travel blogger.
Where I am I going with this rambling? Anyways, when someone says they like my photo and flippantly asks me what camera do I use or my settings, it can annoy me because it implies that the camera took that photo not me. Does that make sense?
While I can rattle off a list of gear I've used over the years, for me it doesn't matter as much as the skills I've worked on. What matters is my journey as a photographer, something I am very proud of. Every year I have worked harder and harder to improve how I take photos, learning new techniques, and really pushing myself on becoming more creative both in camera and in post-processing.
I'll talk more about this later below, but one way in which I have been improving is doing an in-depth landscape tutorial course – Photographing the World with Elia Locardi. Teaming up with fstoppers.com, he takes you around the world and shows you not only how to shoot in all types of locations but also how to edit them in post processing. (Click here to view more details). Why didn't I do this sooner?!
I am always trying (and failing) at new things, some do well and some bomb spectacularly. But I think it's really important to work on your composition and try new things because that is the only way you can grow and improve. And I am sick of seeing people copy each other, especially on Instagram, but that's a rant for another time.
Personally, I was never going to upgrade to a full-frame camera unless I was comfortable and quick shooting on manual, something that didn't happen until this year.
Of course the better the camera the better quality results you'll find, but just like most people don't learn to drive on a Ferrari, it makes sense that your first camera or the camera where you learn is a friendly, easy one to use, and not a 5D Mark III.
The line between compact point and shoot cameras and bigger DSLRs is changing a lot, so you will really have to ask yourself what you want to get out of the camera before investing. Here's a great article about this that's easily digestable and not too techy.
I don't pretend to be an expert, so it took me years of practice, research, asking a hell of a lot of questions to begin understand what I currently know about cameras, and trust me, I still have a lot more to learn. But I thought I would share with you what's in my camera bag (and what HAS BEEN in my camera bag in the past).
I thought it was finally time to put together a comprehensive list of gear I use on the road, from cameras to equipment to editing tools, in the hopes it might help you all in choosing products to use. Hope it helps, enjoy!
Cameras and lenses
Canon PowerShot SX600 –

SHOP HERE

 – $170
For people who just want to take pictures without any fuss.
This Canon PowerShot is probably the closest point and shoot camera to my first PowerShot back in 2006. This was the camera I used when I moved to Spain for the first time, and it traveled with me all over Europe when I was 19 until someone drunkenly dropped it one night in Salamanca at the end of the year. Not me, of course.
By the time I got home and sent it to Canon, it had been replaced by a newer model, which they sent me. It's super cheap, only $170 and it's a great first camera. Things have changed since I used cameras like this and the SX600 comes with built-in wifi so you can move images directly on your phone and you can share them immediately.
Canon PowerShot G7X –

SHOP HERE 

– $599 
For video enthusiasts and as a back up to a DSLR or a higher end compact camera.
I use this camera now and I love it! The PowerShot G7X is a popular camera among bloggers and especially vloggers, mostly because of its flip screen so you can watch yourself if shooting with you in the video and for selfies, of course. This is my recommendation for a small, point and shoot style camera though it costs a little more coming in around $600.
It has built-in wifi, shoots great HD video, and has a much larger sensor (20 megapixel). It does very well in low light and has a great zoom and has a low aperture at f/1.8 (this means it will give you that nice blurred background, read more here). It is a small but powerful camera.
I use this camera as one of my main cameras in my kit because of its high-quality performance and size. Depending on where I am and what I am shooting, I don't want to carry a huge, heavy DSLR kit or sometimes I can't even bring it with me. This is the perfect alternative because it fits in your pocket and still takes great images.
Canon Rebel T5 –

SHOP HERE 

– $399
The perfect intro DSLR camera.
The Canon Rebel T5 is probably the closest thing to the Rebel XS which was my first DSLR camera way back in the day from 2009 to 2012. It's the perfect beginner or budget DSLR camera coming in at an affordable $400. If you are interested in photography and want to step up your game, invest in one of these. They are great travel cameras and are pretty sturdy. I dropped mine all over Europe and it never broke.
This is a camera that will help you get off shooting in auto and without going into too much nitty gritty it has a much bigger sensor than the point and shoots which will take higher quality images. It shoots HD video and it's cheap for a DSLR. I'd get it with the kit lens (18-55mm) that it comes with but know that it'll work with Canon EF-S lenses (crop).
Canon EOS 70D –

SHOP HERE

– $899
A great mid-range semi-professional enthusiast camera.
The Canon EOS 70D is one of my favorite cameras, an upgrade from the Canon EOS 60D which I used for 2 years before. Even though I have upgraded now to the 5DM3 I use this as my backup and secondary camera on trips, and if you look at my Instagram feed or anything on my blog from the past two years, pretty much everything you see was shot with this. It's weather resistant and tough as nails, the perfect travel camera.
It has built in wifi and touch screen technology but it has an amazing autofocus, especially on video which makes it popular for vloggers, plus the pop out screen. This is my favorite mid-range crop sensor camera. Don't buy it with a kit lens. If you are stepping up to a 70D you need a good lens for it.
Tamron 17-50mm F/2.8 lens –

SHOP HERE

– $489 
The Tamron 17-50mm f/2.8 lens along with the Canon 60D made up my camera kit for 2 years before I finally upgraded. It's a kickass all-purpose lens between being a wide angle (17mm) and zooming into 50mm, and it's cheaper than Canon's equivalent. Tamron makes great lenses and they have awesome customer service and a 6 year warranty.
I'm going to add I think it's really important to have at least one solid go-to lens for your kit that's not a super wide angle or a telephoto that drops to f/2.8. I don't really want to go into here, but this article here explains aperture and depth of field easily.
Note – this lens is for crop sensor cameras only (so it won't work on full-frame cameras) but it'll work on pretty much the whole Canon line.
Canon EF-S 17-55mm f/2.8 –

SHOP HERE

– $779
The Canon EF-S 17-55mm f/2.8 could be the lens you buy FIRST to go with the 70D if you can afford it. Again this lens is for crop sensor cameras only (denoted by the EF-S). Canon leant me this lens to use last year and I have refused to give it back because it's so awesome.
This is the lens that is always on my camera – it's my go-to lens. Because of the 2.8 aperture it works great in low light and gives that stunning blurred background. Again most of my images within the past year are shot with this lens, I probably use it around 70% of the time.
Canon EF-S 10-22mm –

SHOP HERE

– $599
I started renting Canon EF-S 10-22mm way back in the day on my Canon Rebel camera in 2010 and waited until I had saved enough to splurge on it, because, it is a splurge. A 10-22mm lens is so wide it borderlines being a fish-eye lens, which for some reason I love.
This is a great lens for architecture and buildings or when I am shooting in an enclosed landscape like a river gorge, and it's really awesome at night for astrophotography because you can often get a huge part of the Milky Way visible in it.
It's not to everyone's taste but I don't know what I'd do without having a super wide angle lens with me. It is an EF-S lens for crop sensor cameras so it won't work on my new 5DM3 which means I will likely leave it on my 70D for backup.
Canon EF 70-300mm –

SHOP HERE

– $1,249
This is even more of a splurge but when I found out I was going to Africa this year, I knew I couldn't go on a safari without a solid telephoto zoom lens – hence the Canon 70-300mm. Generally the 70-200mm f/2.8 is everyone's dream telephoto lens but I figured I needed that extra f-stop LESS than an extra 100mm zoom. Also I would save an extra $800.
I'm glad I did because most of my safari shots were taken at 300mm. This is a heavy piece of equipment to cart around with you, but I find I use it more and more, enjoying the challenge of shooting with a zoom. Also it can be used on both crop and full-frame cameras (denoted with the EF instead of EF-S).
Sigma 50mm f/1.4 –

SHOP HERE

– $308
I honestly hate carrying so many camera lenses around, but I LOVE having one lens that has such a large aperture – the Sigma 50mm f/1.4 is SUCH a fun lens! At first it's a pain in the ass to use because the focus is so fine and it's very easy to screw up – you have to make sure the eyes of the portrait subject are in focus because it's so fine that the nose will blur. My friend Mark Clinton helped me pick this lens out and I am beyond grateful. You'll definitely be seeing way more of this lens on my site soon.
And it can be used with both crop and full-frame cameras on Canon.
Canon EOS 5D Mark III –

SHOP HERE

– $2,499
For the pros, top of the line.
I've only recently upgraded to the Canon EOS 5D Mark III but I can already tell you, I'm in love. This is a full-frame camera for serious photographers who want the highest quality gear possible. To be honest, I put off upgrading for years. Not only because of the rather significant price jump (EEEP!) but because I wasn't sure I could handle it. I wanted to be truly confident with shooting in manual and really feel like I needed this camera. It's a whopper to carry around just as a hobby.
Now that I sell and license my images and I am hired frequently as a professional photographer on travel campaigns, it was time to make the switch.
Otherwise I can only imagine if any of you guys are interested in buying the 5DM3, you don't need any of my advice because you probably already know what I would say.
Canon EF 24-70mm f/2.8 –

SHOP HERE

– $1,799
The 5DM3 needs a powerful lens to go along with it, and since neither of my go-to mid-range lenses will work on a full-frame camera, I needed to upgrade and the Canon EF 24-70mm f/2.8 is a powerful, kickass lens. I don't have this lens yet but have just ordered it on Amazon (sorry credit card) and can't wait for it to arrive before my next top-secret trip in January!
The rest of my camera stuff
Landscape photography course  
Basically everything I know about photography I taught myself, watched on YouTube, or learned from hanging around other photographers. I knew there were gaping holes in my knowledge base and there were things I was doing that were just to scrape by.
I have been meaning to take a photography class for years, and finally took the plunge after my friend Elia Locardi told me about his new online course with Fstoppers – Photographing The World: Landscape Photography and Post-Processing with Elia Locardi. With 12 hours of video content on location and later in processing, I've already learned more in a few weeks than in years. What took me so long?
If you splurge on one thing on this list, this is probably the most valuable!
INSURANCE 
If you are going to own expensive camera equipment you must have insurance. I am not a responsible person but I have all my crap insured because I am unlucky and clumsy. I have a property insurance policy with Clements which gears towards travelers and expats and it's totally affordable.
Memory cards 
I don't know why but memory cards are always significantly cheaper on Amazon than anywhere else. Universally cheaper. Like they cost 50% less there. No idea why but it's spoiled me and I only buy cards on Amazon. My friend Matt Vandeputte helped me pick out the best cards (he's my go-to gadget friend) and now I use the Lexar Professional 1066x 32GB Compact Flash Card for my full-frame camera and the Transcend 64GB SDXC Class 10 Memory Card Up to 90MB/s for everything else, the standard size card. And after I lost my 5th memory card I finally invested in a memory card case.
Tripods
If you take photography seriously, you'll need a tripod, and a relatively good one too – they are a necessary evil. If you do anything that requires a slow shutter in low light situations, a tripod is usually essential, especially if you want to learn to shoot the stars or do any nighttime photography.
I have three main tripods. My first one is the which is the perfect travel tripod – the new Vanguard VEO 265CB Carbon Fiber tripod. It's small and light and easily portable. My second tripod is a monster – it's huge and a pain in the ass to carry around but it's the best so I use it when I can – it's the Vanguard Alta Pro 254CT Carbon Fiber Tripod with the BBH-100 head ball on it. Finally I have the JOBY Gorillapod which is an awesome tripod you can hook onto anything.
Timer
Everyone always asks me how I take photos of myself. It's easy, here's my secret – I use a remote and timer and put my camera on a tripod. My friend Melissa Findley recommended the Hahnel Giga T Pro 2.4GHz Wireless Timer Remote for Canon and I've been using it ever since. Sure, it looks funny if anyone is watching, but it's worth it. Now if you look closely in some of my photos, you'll probably see the remote scrunched up in my right hand unless I've photoshopped it out. Busted!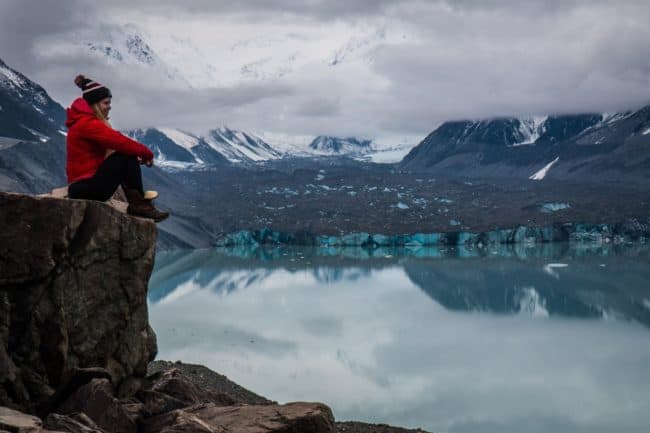 Camera bags 
I have two main camera bags, neither of which look like camera bags, something really important to me. My first one is the ONA Brooklyn Camera Satchel in Chestnut, which I usually use as a purse with one camera, an extra lens and my usual purse essentials. The other is also by ONA, the Camps Bay Backpack in Field Tan. I can put my entire kit in here plus anything else. This is usually my carry-on on planes, and no one ever weighs it because it's a backpack (secret). It's mostly waterproof and I can fit a tripod on the top.
Action cameras 
Sometimes I physically can't (or don't really want to) bring my nicer cameras on some of the adventures I go on, especially where water is involved. In those cases I'll bring a waterproof action camera. I've used GoPro for years and they let me down all the time (remember those damn firmware updates in 2013?) and I've destroyed more than one, but I tolerate them because I haven't found anything better.
I have the GoPro Hero 4 Black after someone filched my Hero 3 when I was in Spain this year. I also just started using the TomTom Bandit camera which I am really starting to enjoy and I have high hopes for. I've written about it here.
Adobe Lightroom and Photoshop 
If you are going to take fabulous photos, you need to have a fabulous editing program to match. Every professional photographer I know uses Lightroom. Now for $10 a month you can have Lightroom and Photoshop as part of the Adobe Creative Cloud Photography Plan.
Hard drives 
You'll need to make sure you are backing up your photos regularly in multiple different locations. I have so many external hard drives but I find I prefer the tougher grade ones with at least 1 TB of storage such as the Silicon Power or the Transcend Military Drop ones. On trips I usually bring 2 with me and store them in different parts of my luggage.
PHEW! Are you interested in photography? Have I covered all my bases? Have any questions? Leave a comment below and I'll answer them all!
Heads up – some of these links are affiliate links which help foot the bills. Thanks!