A month ago I had the opportunity to head back and explore one of my favorite regions of Australia – Queensland.
Queensland is a place I keep coming back to because it just has so much to discover. From beautiful warm beaches to tropical coral reefs to dense rainforest to the Outback, I can't get enough. Even now my list of what I want to do there keeps growing.
For someone who loves to tick things off lists, Queensland is making that hard. Especially because there are so many things to do in Townsville.
This time I headed up to discover a place I hadn't been before – Townsville in North Queensland.
Tucked away between Cairns and the Whitsundays, two places I've spent some time and loved quite a bit, I knew I was in for a treat. The gateway to so many great spots in North Queensland, Townsville was the perfect mix of urban jungle and scenic nature. Cute and quirky, my favorite.
If you follow me on Instagram you would have seen some of these shots already, but I wanted to go ahead and share a few more with you all.
And did I mention it's insanely colorful, bright and beautiful? You guys know how I feel about colorful destinations, so it wasn't hard for me to enjoy my time in Australia. Especially knowing that I was headed back to winter in New Zealand. Cringe.
So check out some of my favorite colorful things I got up to for a week and my tips for things to do in Townsville. Enjoy!
Pretending to hike up Castle Hill
Dominating the Townsville skyline is a beautiful giant rocky hill called Castle Hill. Seriously, you can't miss it.
Giving me some big Cape Town vibes, I had to see the top. But unlike all the locals who powerwalk up here daily, I took the lazy route and just drove up. But it was amazing and totally worth it. In fact I went up a few times because I loved the view from the top.
Mountains plus beautiful blue sea? What more could you want?
Swimming at Bowling Green Bay National Park
One of my favorite things about Australia and especially in North Queensland are all of the local swimming holes to cool down in.
Since it was tropical and hot, one of the first things I did after arriving was to drive town to Alligator Creek to go for a swim and little explore.
It was such a still day making for awesome reflections in the little pools and in the water.
Oh, and there are no gators here, only a turtle or two.
Brunching at Jam Corner in the sunshine
OMG the brunch at Jam Corner blew me away. In fact, it might be one of my favorite brunches of all time, and that is saying something.
Nuf said.
Getting lost around Magnetic Island
I think many people who come to Townsville, come because they want to head out to Magnetic Island. Known by locals as just as Maggie, it's just eight kilometers offshore from Townsville and is the perfect day trip from town.
A sort of weird time warp where people drive around in mini cars and it somehow feels like the 90s, it's the perfect place to relax and step back from it all.
I spent the morning exploring the hidden beaches and bays, snorkeling and fishing to my heart's content with Aquascene Charters, before spending the afternoon driving around and exploring every corner of the island til sunset.
Caffeinating at Coffee Dominion
I know I've mentioned it before, but I am the world's biggest coffee addict. No, no, don't argue.
So usually when I arrive in a new place, the first thing I ask around for is where's the best coffee. And being in Australia, you're pretty much guaranteed delicious perfect coffee.
In Townsville, someone quickly pointed me to Coffee Dominion in the CBD and holy crap did it not disappoint. Plus look at the amazing street art just around the corner!
Being amazed at gigantic Wallaman Falls
I saw a photo of Wallaman Falls and just knew I had to go here.
Australia's highest waterfall, it is so impressive to gaze at and see in person, making the long drive out there worth it. And the road up to the falls is really fun!
Sidenote, why is it that we love waterfalls so much when traveling? Anyone? Anyone?
Visiting like a local and having my own apartment 
I think one of the big reasons I loved Townsville was because I felt like a local when I was visiting. It has so much to offer and to explore but doesn't have that same commercial feel to it like Cairns. It still feels real.
For the week I was there I camped out at the Quest on Eyre in an apartment, which for someone who travels as much as me, you know is a seriously luxury. I was in heaven! And it was so centrally located I had access to everything I wanted. I love staying in apartments on the road.
Chowing down at City Lane
Why do I love to eat so much? WHY?
I wasn't expecting Townsville to have such a kickass foodie scene. It blew me away. One of my favorite meals was dinner down at City Lane, Townsville's first creative street dining spot. An alley / city lane turned into a great walking area of delicious food spots, you won't leave hungry.
I ended up grabbing dinner and drinks at the Courtyard, a funky Mexican cantina style spot meets American diner. I was in heaven. Also how can you not love a place whose hashtag is #DontPissOffTheGnomes?
Hanging out with the locals at the Billabong Sanctuary
Another reason I love this part of Australia is because it's home to some of the  most interesting and unique animals. I spent my first afternoon in Townsville wandering around the Billabong Sanctuary and getting to know some of Australia's coolest animals.
Guys guys guys, do you know how long I've wanted to cuddle a wombat? For freaking ever!
Dreams do come true!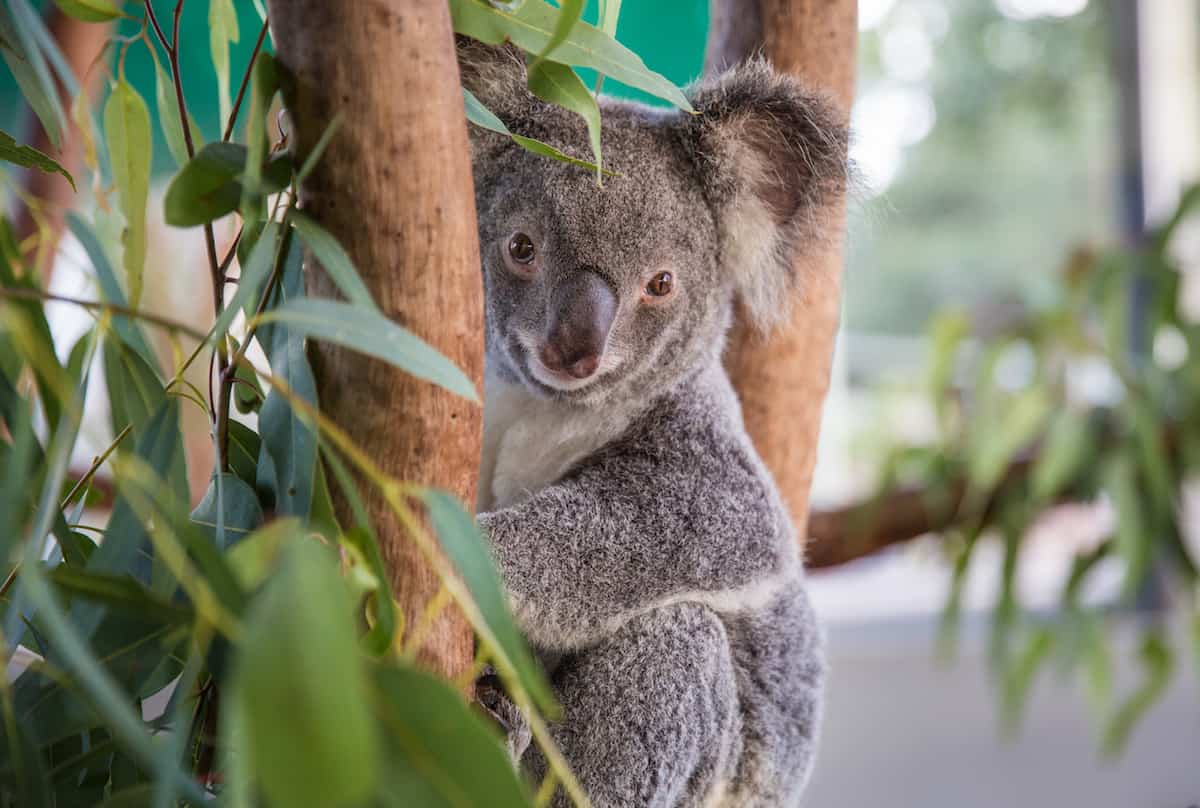 Soaring over Magnetic Island in a seaplane
I love flying and being up in the air – it's one of my favorite ways to see a new destination so I jumped at the chance to see Maggie from above. And not just in any old plane, in and old open biplane!
Red Barron Seaplanes flew me along the coast and island on my last day and it blew me away. It reminded me of when I fell in love with Wanaka flying over the lake in a Tiger Moth almost 3 years ago.
One more brunch, of course
Another awesome brunch spot in Townsville is Betty Blue and the Lemon Tart.
Apart from having the best name ever, it's a fabulous local spot with huge greasy and delicious breakfasts and amazing coffee.
Hello sweatpants!
Doing some bombs at Crystal Creek
Another amazing watering hole, Crystal Creek is tucked away in the rainforest along a narrow winding mountain road in Paluma Range National Park.
I wasn't planning to come out here but my dive trip to the SS Yongala wreck was canceled thanks to some crap weather and I had time to explore.
Luckily I did because the drive out there was one of my favorite activities and I really loved exploring this rainforest. It felt like a place that only locals knew about and I jut got a glimpse of.
Wandering around the local aquarium
On my last day in Townsville I headed over to the aquarium in a moment of nostalgia. I can trace my love of animals and being under the water from when I was a kid and my parents used to take me to the aquariums along the east coast in the USA.
While I am not sure how I feel about them now that I am involved in quite a bit of conservation projects, there is something special about seeing these guys close up that's pretty rad – but that's a discussion for another day. Not to mention the Reef HQ Aquarium in Townsville is the most epic time warp ever!
Basically I just wanted to share a photo of a mantis shrimp that they had there. If you've read The Oatmeal, you know why I had to.
Oh, I found Dory guys, don't worry.
Before I knew it, I was on a Rex Airlines flight back to Cairns and then onto New Zealand watching the Great Barrier Reef disappear into the clouds as the sun began to set.
To me, Townsville felt like one of Australia's best-kept secrets. Colorful and beautiful, filled with friendly people and so much to do you can't be bored, I had a great time. I really felt like I got to know the place and if you're like me and you enjoy traveling like a local, you probably will to.
Have you been to Townsville? Would you pop over for a visit? 
Many thanks to Townsville North Queensland for hosting me in Australia – like always I'm keeping it real – all opinions are my own, like you could expect less from me!