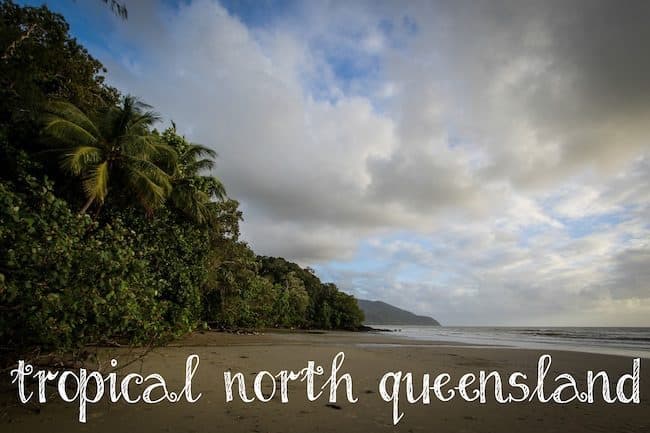 Do you ever look at a country on a map and just want to explore all the way to the end of it?
That's how I felt when I was looking at a map of Queensland, Australia. I wanted to explore every corner, travel to every edge and beyond. What a vast place!
I spent two weeks in colorful Queensland on an epic project last year with Peppers Broadbeach on the Gold Coast, but it wasn't enough. I was supposed to be flying to Sydney to meet up with the guy I had been seeing only for that to crumble and explode in my face so I decided to go somewhere I had been dreaming about for ages instead.
I couldn't say goodbye to Queensland straight away so I stuck around for another week deciding to head as far north as I could get on my own, starting in Cairns and ending in Cooktown in the Tropical Far North.
It was colorful. It was epic. It was a bit wild. And it was hot as hell.
I flew into Cairns on a cheap flight from Brisbane before grabbing a rental car and leaving immediately. I explored the Daintree River area, the oldest rainforest in the world, before heading north.
Here's what I got up to.
1. Exploring Cape Tribulation
On the way to the Daintree Rainforest, 100km north of Cairns and across a crocodile infested river, you'll find Cape Tribulation, population 300.
I was intrigued as soon as I heard about it.
It is a lush beautiful area of Australia that is totally different from what I imagined. In some ways it felt similar to New Zealand with its own temperate rainforests that I had just gotten used to exploring. Except it was way hotter and much more humid.
It felt ancient.
On the way to the Daintree, I pulled off at every corner and stop you could imagine to take photos of the beautiful views over the canopy.
Cape Tribulation got its name because its where Captain Cook, when he was exploring and sailing around Australia, ran his ship agreed saying this was where all his trouble began.
Which I can totally understand. It's a not very forgiving land or environment. Which I like, I prefer my travels to be a bit on the untamed and wild side, don't you?
As I drove around exploring, I tried to do as many walks as possible through the dense forest. One of my memorable moments was on one of these boardwalks through the lush mangrove/swampy environment.
I had just spent breakfast watching videos of the infamous Cassowaries, which henceforth shall be known as crazy-ass-dinosaur-birds-that-will-cut-you. If you don't believe me, you can watch this and decide for yourself.
It was one of those super humid gray afternoons with a thunderstorm waiting on the horizon and no one else on the walk but me. Dead silent and still air, pretty creepy.
As I was about 15 minutes into the walk on the boardwalk, through the silence broke the sound of "crunch crunch" of something heavy walking on leaves. With a look of horror I looked over my shoulder and saw not one, but TWO cassowaries about 5 meters away from me through the trees.
Trying not to wet my pants and not make a sound, I inched back slowly around the corner, hoping they wouldn't notice me in my bright red rain coat, and as soon as I was out of visual contact with them, I ran all the way to the end of the path on the beach.
In which I encountered a massive crocodile warning sign.
DAMNIT AUSTRALIA.
2. The road to Cooktown
After leaving Cape Tribulation, I decided to make my way as far north as I could in the week that I had left.
To Cooktown I went!
From Cape Trib to Cooktown there is a 4 wheel drive road along the coast called the Bloomfield Track, which I WISH I had time to take.
I grew up driving a Jeep and offroading but from what I encountered on Google, this would be somewhat different conditions that what I was used to in backcountry Virginia. Also it was monsoon season and I couldn't afford to rent a SUV.
So I had to go the long way round, which ended up being just as amazing.
The road between Cairns and Cooktown in monsoon season is empty, except for livestock and kangaroos.
I always know when I am in a remote part of the world when farms aren't fenced in, and that was certainly the case here.
Luckily because it was "the wet" it meant that everything was green green green, contrasting so beautifully with the burnt orange dirt roads. Talk about stunning.
I was jittery and tired by the time I climbed out of the car in Cooktown, population 2,000.
On the mouth of the Endeavour River on the Cape York Peninsula, this is where Captain Cook holed up and beached his ship in 177o for repairs.
I visited the local sites and museums that afternoon, and by dinnertime I was starting to wonder what the hell I was thinking coming up here.
I don't know how to verbalize this but Cooktown is weird, really freaking weird. It has a weird vibe that sits over it that I couldn't put my finger on.
It might have something to do with the fact that I was the only tourist in the entire town and the weird moody monsoon weather, who knows.
I love historic, colonial towns more than most people my age, and I had a great time in the museums, but when I was wandering around, it felt weird.
Know knows.
As the day wore on I ended up going to a beach near town for a walk and ended up meeting an amazing expat who runs her own farm out there.
After chatting for a bit I ended up getting invited out to dinner on a self-sufficient farm in the middle of nowhere. It was actually amazing.
Meeting her totally changed my opinion about the town and left me with great memories to take home with me.
This is one of my favorite things that can happen on the road, and why I believe it's so important to be openminded and talk to locals when traveling.
3. Hartley's Crocodile Adventures
An exploration around northern Queensland would be incomplete without an adventure in crocodiles, right?
Right.
I don't know why, but I have always been morbidly fascinated by sharks and crocs. Who knows. They're terrifying. And big. And total bosses of the animal kingdom. They are living dinosaurs!
I had done a Daintree River cruise a week earlier but I was still keen to get up close with a croc. Sorry mom!
Cue Hartley's Crocodile Adventures!
When in Australia, right?
Tucked between Cairns and Port Douglas, you can find Hartley's which is an awesome Australian wildlife park, packed with salties of course.
They have wildlife shows throughout the day you can watch, even hold a python and baby croc if you want. And of course you don't want to miss cruising the lagoon.
But if you're feeling particularly adventurous, you can opt to pole feed a massive full-size saltwater croc yourself. Again, when in Australia, right?
Tagging behind the keeper carrying a bucket of dead chickens, I started to question my own sanity.
Why did I agree to this? In fact, why did I ask if I could do this?
This seems to be a reoccurring theme with me.
I think it's because I'm fascinated by crocs, and I wanted to see them up close and personal.
5 minutes later I'm dangling a bamboo shoot over a short fence with half a dead chicken on the end in front of a crocodile twice the size of my car.
The first time you hear a crocodile hiss, you will freeze in place.
And then the first time you hear one snap its jaws shut, you will drop the bamboo stick and jump backwards about 5 feet.
The size of the head of these guys is astonishing, really. I've never seen anything like them!
Later in the afternoon I hopped on one of the boat cruises around the lagoon to see them in action.
I think salties might be the world's stealthiest creatures; you'd never know they are then until BOOM you're dinner.
Of course coming to this part of Australia it's normal to be curious about attacks on people, and I know this might be a sweeping generalization, but people can be remarkable stupid about these animals.
There are signs everywhere in Queensland where crocs live warning you to stay back, and every time I talked with a local, each one told me a story about someone being dumb enough to go swim in the river with them.
Crocs aren't like sharks, which leave you alone. If they see you, you better run. Or at least, run faster than the person next to you.
4. Peppers Palm Cove
After almost a week exploring the far north, I headed back down towards Cairns to Palm Cove to spend my last few days in Australia with a bit of comfort and pampering, instead of sleeping in old holiday parks with geckos.
I fell in love with the Peppers chain in my week on the Gold Coast so I was pretty thrilled to see what Peppers Palm Cove had in store.
And oh boy did it not disappoint!
I know bloggers don't like to talk about these sorts of things, but I like a 100% honesty policy on here, I don't know about you.
Normally when I am hosted by a hotel I asked to be put in a normal room that I would pay for on my own, so I get the most authentic experience possible.
But sometimes you get some perks in the business, and you get upgraded to the Penthouse Suite. Maybe if I were a better person I would turn it down, but let's be honest here, who can say no to this?!
I am allowed to indulge once in a while right? And what a better place than this to nurse a broken heart?
Yes, that is my own private rooftop pool.
Yes, that is an outdoor bath jacuzzi on the balcony overlooking the beach.
And yes, that's me drinking an entire bottle of bubbles at noon in my own pool BECAUSE WHY THE HELL NOT?
Actually when I walked in I felt so small and alone that I almost walked back out, especially when I saw the two champagne flutes sitting on the counter.
What a cute romantic place to be, and here I was by myself. Again. Boo.
So I had a little sad moment before I gave myself a nice solid smack in the face and remembered how special this place was, and I was going to make the most of it. So I threw back the first flute of bubbles, stuck the empty glass in the back of the fridge, grabbed the second glass and the bottle (because why not?) and decided to have a good time.
I was sad to be alone in such an epic place because I really wanted to share it with someone, but at the end of the day, I was thrilled to end my time down under on such a high note.
And you know what? I did. And I can't wait to go back to Palm Cove one day with some good friends or family.
Have you heard about this part of Australia? Would you be keen to explore it? Would you feed a massive crocodile yourself?
Many thanks to Peppers Palm Cove and Hartley's for hosting me while I explored TNQ. Like always, I'm keeping it real, all opinions are my own, like you could expect less from me!