Heads up, this first tour was sold out and already passed but I've just released 2 more tours in 2017 here and 2018 here
The hike up Mt. Roy in Wanaka
I can't remember when I was this excited to writer a blog post. Big news, are you ready?
This is an announcement very long in the making! It was hard to keep it a secret, but I can't any longer. Cat's out of the hat or whatever that expression is. I'm going to be hosting my very own tour around New Zealand next year! About time right?
FRAAAAAKKKKK I'm so excited!
Shotover Canyon, Queenstown
Lake Pukaki ovelooking Mt. Cook, New Zealand's highest mountain
Fox Glacier on the west coast of the South Island
I've been living in New Zealand for over three years now, and I've explored so many corners of it. I'm kind of a New Zealand know-it-all. Between my blog and my social media channels like Instagram, my writing and photography, I try to share as much of this amazing corner of the world as possible with you guys. But nothing beats seeing and experiencing it in real life, am I right? And now I finally get the chance to do it in person. Wahoo!
For me, New Zealand has become my home. It's a place I am incredibly passionate about and one that I want to share with people in the hopes that it might inspire them like me. I love it so much I can't shut up about it. Even when I am overseas on jobs I still talk about New Zealand LIKE ALL THE TIME. "Oh you think that mountain is cool, well let me tell you about where I live in New Zealand…."
Yes, I am that annoying person and I don't care. New Zealand is my favorite country in the entire world and I tell everyone. Listen up, New Zealand freaking rocks.
Tekapo amongst the lupins
Abel Tasman National Park 
Lake Wanaka
Have you been wanting to see this part of the world and haven't yet? How many of you guys have told me over the years you wish you could come to New Zealand? Well now is your chance. Boom.
So in conjunction with Haka Tours, I'm going to be leading my very own trip around New Zealand's South Island from March 23 to April 3, 2017, starting in Christchurch and finishing in Wellington.
You guys might remember I did this same tour almost three years ago and it was my very first introduction to the South Island and it was what made me fall in love with Wanaka and why I moved there (flying in a Tigermoth had something to do with it). So be warned it might happen to you too! (You can totally get a long visa to stay once you're here btw no pressure).
For 12 days you'll have me taking you around to all of my favorite spots with Burto, who was my guide back in the day. Any longer than that and you'll probably get sick of me. I know I would.
Milford Sound
Pancake Rocks at Punakaiki on the west coast
World's first commercial bungee – Kawarau Bridge outside Queenstown 
Burto is a fucking legend. Seriously, he's an amazing human and so much fun. Him and Haka Tours first introduced me to the South Island in 2013, and now I'm stoked to go back with him and show you guys some of those same spots plus all of my favorites.
Since that first trip I have traveled extensively around the South Island again and again on my own, with friends, for work, even as a guide, location scouting and hosting for other media. One time I even guided a film crew around.
I secretly (well I guess not so secretly) pride myself on being a New Zealand know-it-all. It's kind of my job and I'm stoked to put it to good use. From the amazing stories around the epic landscapes, to the endangered birds, my favorite snowy mountains, to the best lake jumping spots to where the best views are, I know many of them from my travels and explorations and can't wait to show you guys too.
Overlooking Queenstown and Arrowtown
Glacier Country on the west coast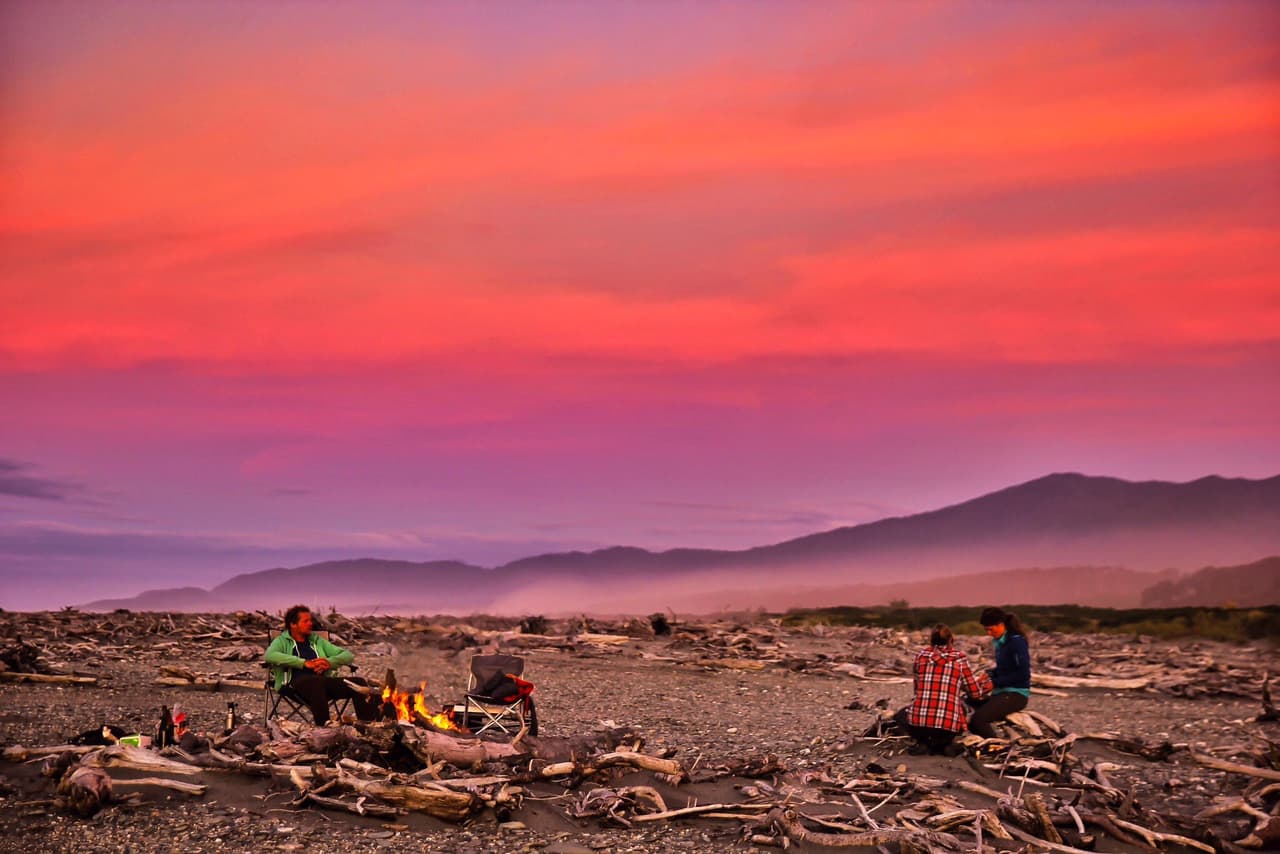 Driftwood beach on the west coast
Plus this trip is really affordable in terms of a trip around New Zealand – it starts at $2199 NZD for 12 days and includes breakfasts, accommodation, ferry, transport and heaps of other stuff. You'd be lucky to get that just for a camperavan hire. The whole trip is customizable with activities so you pick and chose. And you can book with a $99 deposit and pay over time.
All the places we are going to, I've visited many times in every season- it's the absolute best of New Zealand. I've peppered this post with my favorite shots of some of the places where we are going.
Bonus for traveling with me is that I'll be taking lots of photos for you guys! Want a shoutout on my Instagram? Now's your chance. I am also happy to teach you along the way about how to properly use your cameras, get off shooting in auto, and share any tips about photography that you might have.
Flower fields on the road from Christchurch to Tekapo
Stargazing in the Abel Tasman
Wellington, the coolest little capital
Also if you want to learn about blogging, Instagram or how I've built a career out of travel, now's your chance to ask me in person face to face and hopefully become friends! I'll be with you guys the whole way and will share in on the experiences and adventures!
This will be a small group tour (let's be honest, nobody likes those big buses, especially me) so there are only around 16 spots to keep it feeling intimate. If you're like me, this tour is perfect for solo travelers looking to experience New Zealand with new friends.
Basically I want us all to be friends throughout the journey (in a non-creepy weird way) so please email, snap, tweet, FB, or send an owl with any questions about the tour, and I'll try to reply to them all; then once you've booked I'm happy to help you plan your trip here.
The tour starts on the 23rd of March 2017 and ends April 3rd – this is my favorite time of year and I requested this period specifically. It's the end of summer so it's still fabulous weather but not too hot (it's the equivalent of September for the rest of the world). It's also past the end of the really busy summer season so a lot less people about (yay!), not that there are lot of people in New Zealand, but you get what I mean, right?
If you're like me and you're one of those people waiting for a sign for something to happen, this blog is that SIGN. If New Zealand has been on your radar or you've been frothing over my ridiculous adventure pics here for the past few years, now's your chance to take your own. If you want to see New Zealand with a genuine local (Burto) and a wannabe local (me) who are super passionate about this country and know all the best spots, this is the tour for you. Come with me!
For now this is a one-time thing, so if you want to see New Zealand with me at the helm (you've been warned), be sure to sign up before the spots are filled!
More details here about my 12 day New Zealand South Island Tour with Haka Tours!
What do you guys think? Would you come join me in New Zealand on an adventure? Ask any questions below!
Heads up, this first tour was sold out and already passed but I've just released 2 more tours in 2017 here and 2018 here
Whataroa River on the west coast