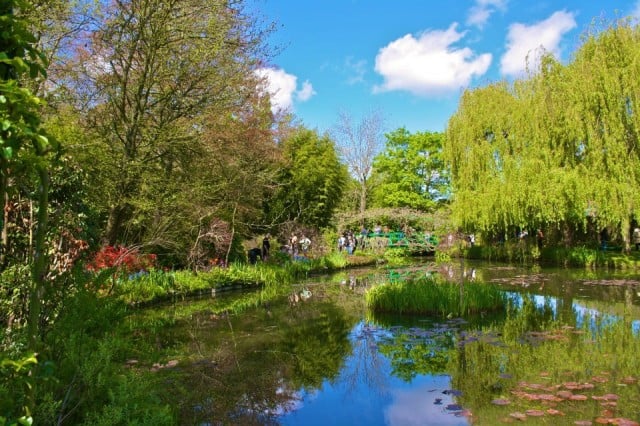 Looking for a great day trip from Paris? Head out to Giverny, France and to Monet's house and gardens.
This past spring I planned a week-long trip to Paris with one of my best friends from college. I had been to the city of light two times before, and, to be honest, it sucked.
I needed to give Paris another chance. This trip I would take the time to really get to know the city, let it live up to my expectations. And you know what happened? It rained every day!
Our last day rolled around and it was cloudy and spitting rain, but I had planned a day trip out to Monet's gardens in Giverny, France. Years ago I saw a friend's pictures on facebook of a trip there where they had rented bicycles and rode around the countryside among flower fields out to the gardens. Since then, visiting these famous gardens by bicycle had been at the top of my bucket list.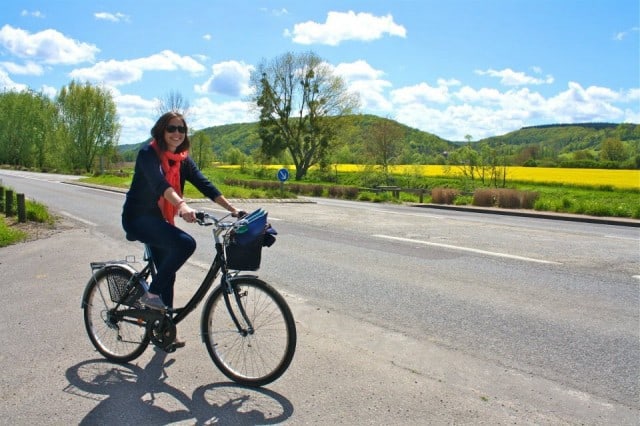 I am also a huge Impressionism fan. I've had postcards of paintings by Monet, Degas, Renoir, and Manet plastered around my room since my early teens. To get to see Monet's home and his famous gardens, the place that inspired so many of his well-known works, would be a dream come true.
We got up early and took the metro to the train station; it was gray and raining and I was so peeved! I wanted good weather for just one day, was that too much to ask?! Giverny, France is 80km from Paris, 7km outside of Vernon. Once you arrive in Vernon, you can take a tourist bus up to the house and gardens, or you can walk  or go by bike. As soon as we got off the train, the sun came out! The weather gods had heard my pleading! We sprinted across the street to be the first to rent bikes. Then we were off!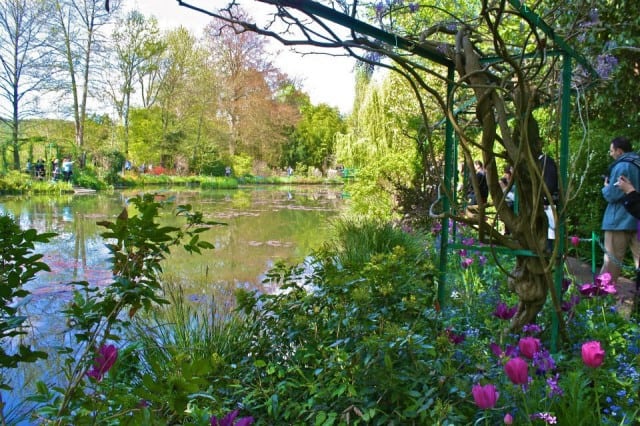 With the chilly morning wind blowing through my blond hair and my scarf getting tangled around me, I never felt more alive! The sun shone down on us two solitary girls laughing and cycling our way through the French countryside, surrounded my little green mountains, yellow fields of flowers and a slow moving river, not a person or car in sight.
Unfortunately, Giverny itself was far from tranquil. Utterly overrun with asian tourists, it was challenging to take it all in. Since we weren't waiting on buses, we took our time walking around the grounds, taking a million pictures of the flowers, water lilies and posing on the famous Japanese bridge featured so prominently in Monet's works.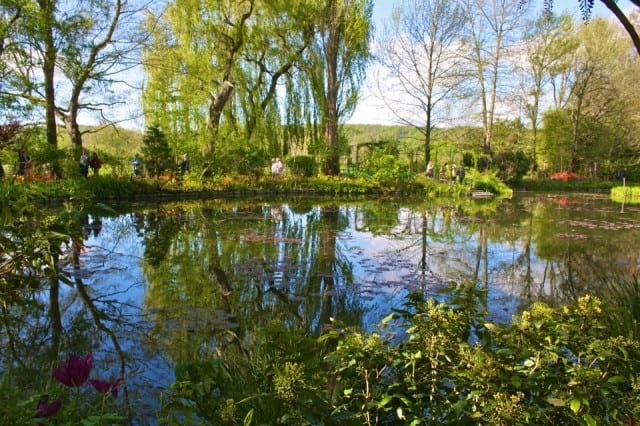 The gardens were so green and so vibrantly colorful it seemed surreal. However, something Monet failed to capture in his paintings was the hilarious sounds of the bullfrog's croaking (read: mating calls) around the pond, breaking up the peaceful ambiance.
Afterwards, we cycled our way around the little village of Giverny, finally pulling up to a cute restaurant with tables and chairs set up around a little garden. We then proceeded to stuff ourselves on dishes like duck confit omelettes, goat cheese and foie terrine and a bottle of rosé. Understandably, it took us a bit longer to cycle back to Vernon.
Have you ever been to Giverny? Are you a Monet or Impressionist admirer? Do you like visiting blooming gardens like these?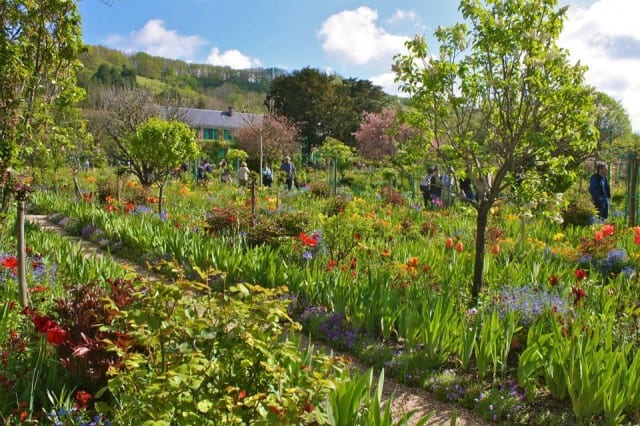 Tips
Give yourself half a day at least so you can take your time and not feel rushed, and try to go on a sunny day to experience Giverny at it's best. If you have a whole day, there is some beautiful walking and hiking in the area.
Take the train from Paris Gare St-Lazare to Vernon (45 min), from there to Giverny you can take a bus (coordinated with train arrivals), a taxi, or bicycle. The cafe across the street from the train station rents them cheap.
Eat a long lunch in the garden at Restaurant Baudy (81 rue Claude Monet), around 25 euros for a the menu of the day (3 dishes).
Buy your tickets online so you can avoid the long lines at the ticket counter. Remember that the gardens are only open from April 1 to November 1, 9:30am-6pm. The earlier in the day you go, the less people are there.