"Colorful. Patriotic. Medieval. And oh yeah, AMAZING food!" 
This is immediately what pops into my head when I think about Girona, Spain. I traveled out to Cataluña for only the second time a few weeks ago for the TBEX travel blogging conference.
For a few days in September, hundreds of travel addicts and blogging nuts converged on this little city an hour north of Barcelona to eat weird food, drink way too much, talk nerdy and learn all about the travel blogging business.
I made sure I arrived early before the mayhem of the conference began so that I could take in all Girona had to offer. I snagged a lovely little studio apartment smack in the old quarter with Wimdu, the perfect base for a few days. I spent hours getting lost and wandering around the narrow cobblestone streets, occasionally discovering an enchanting hidden courtyard or a beautiful medieval building, gawking over the brightly colored buildings and distinctive little bridges.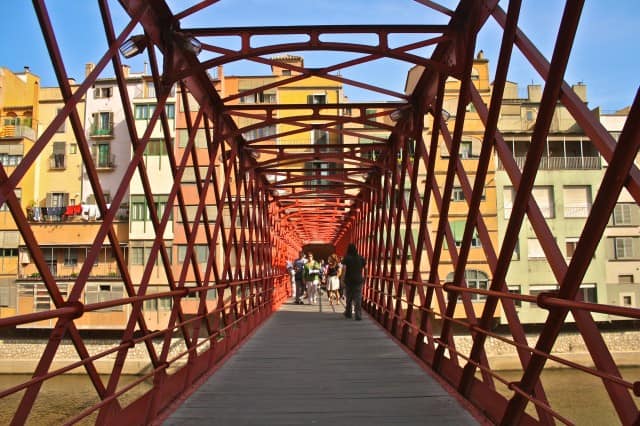 Girona is high on my list of favorite cities in Spain, although to be perfectly honest, it didn't really feel like Spain at all. Located in the heart of Cataluña, a fiercely independent region in northeast Spain, complete with their own language and customs, Girona has a more continental, modern vibe than the rest of Spain, something the Catalán people are more than happy to point out themselves. Walking around town, there wasn't a Spanish flag in sight, but loads of the red and yellow striped Cataluña flags displayed from every window, balcony and car around!
"So what do you think about the Catalán independence movement and having Catalán-only spoken at school? Do you think that's limiting?" I frankly asked the guide  in Spanish on an afternoon tour around town.
"No, no, no." She answered in English, refusing to speak in Spanish. "We need to protect our Catalán heritage after being oppressed and robbed for centuries." Holy cow. Way to not sugar-coat it, lady!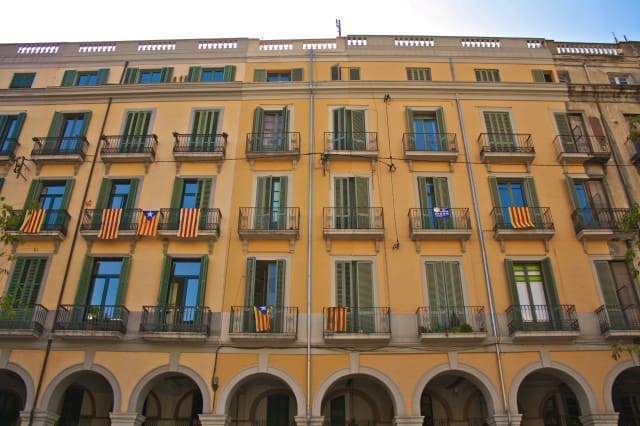 Girona's need to be distinguished from the rest of Spain marks it as a unique destination, one worth taking the time to visit and to get to know on its own. It's richness of history, culture and food, not to mention the incredible architecture puts it high on my list of favorite European cities.
Without a doubt, Girona has one of the most impressive historic centers I have seen in years.
If the exceptional architecture and culture wasn't enough, did I mention Girona is home to the second-best restaurant in the world?
El Celler de Can Roca is the brainchild of the famous Roca brothers. If you are like me, and the chance of snagging a reservation there is about as high as marrying Javier Bardem, there is an amazing alternative. The Roca brothers just opened their own affordable ice-cream joint downtown called Rocambolesc.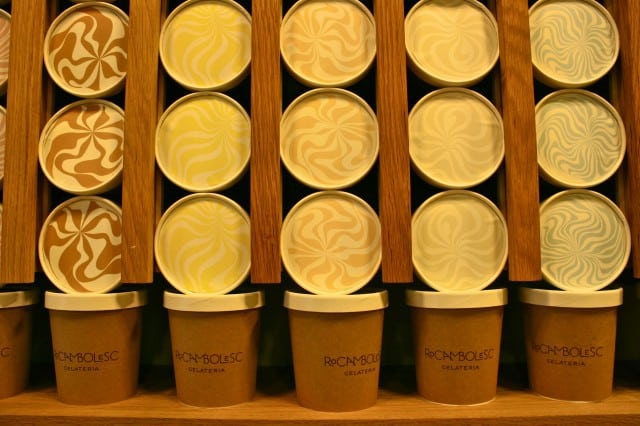 Girona is a great day trip or excursion from Barcelona (only 1 hr away by train) as well as being a great base for exploring the beautiful Costa Brava region. It even has an airport serviced by Ryanair (shudder) as well as being easily accessible to the other Barcelona airports by frequent buses.
I decided to try something new on my trip out to the Costa Brava, renting an apartment with Wimdu! What better way to experience a new city than to stay like a local?
I ended up snagging a beautiful studio smack in the old quarter next to the cathedral. The location couldn't have been more perfect and I immediately opened the balcony windows to gaze down the quaint medieval streets. Having a full kitchen and washing machine, along with staying alone without having to worry about roommates or cleaning people truly gave me the freedom I love having while traveling. Staying in an apartment building offered a much more authentic taste of Girona, and I felt like a got a much more local experience from it.
I spent 4 days in this charming city, and it wasn't enough. I fell in love with it, and I already can't wait to go back. Have you ever been to Girona? Is it on your travel list?
Thanks so much to Wimdu for the complimentary stay in Girona. Like always, all opinions are my own.
Street of my apartment as seen on my Instagram