Is it just me or do we live in a bright, vibrant, colorful world?
I've written before about how in tune I am to the color of certain places I visit, and Bali was no exception. Oftentimes when I return home from a trip, I remember places by the colors they exude.
Now that I am settled back home in Wanaka, when I think about Bali, and especially when I look back at my photos, all I see is green, green, green.
When I was planning my trip there (and by planning, I mean Googling dive sites for an hour and rewatching Eat, Pray, Love) it never really occurred to me that it would be such a green place.
I pictured beaches, reefs and Javier Bardem on a motorbike, not a verdant jungle.
I love being surprised on the road!
But perhaps what I liked the most about Bali that while it is full of rainbow colors everywhere, it's not ostentatiously green. In many places you have to look for it, but it's there.
When I think back on Bali now, I remember the sounds of chickens waking me up in the morning, the smells of incense left out as offerings and the hot dry summer scents of an island, but I also remember the colors, especially green.
So here's a little impromptu color guide to Bali in green.
1. Being tricked at the Monkey Temple in Ubud
Even though I spent the majority of my time in Bali on the beaches or on a boat on various dive trips, I felt like a trip to this magical island would be incomplete without visiting Ubud. Everyone raved to me about what a cool place it is, a great hub for expats and the cultural capital of modern Bali so I was very keen to get to spend a few days there at the end of my trip.
And as soon as I heard there was a place called the Monkey Forest, I was sold! Monkeys are cute little animals right? I couldn't wait to get there to see them up close and personal! Maybe I would get to hold a baby monkey or get a funny selfie with one!
Shame, shame, shame, Liz! Oh how naive I was!
Little did I realize that monkeys are terrible creatures and not to be loved.
They are smelly, and they are certainly not cute, especially when they bare their fangs at you. They are basically banana loving thugs that will steal the scarf off your neck and bite you if you get too close. Oh and they *might* have rabies, which I am way too cheap to vaccinate myself against. What joy!
And don't let the babies fool you either, they are just as nasty!
But besides that startling revelation, the Monkey Forest was actually a cool site in and of itself.
Meeting up with a reader and former auxiliar English teacher in Spain (like me) we met up for the first time at the Monkey Temple and spent the day together.
Ubud in general is a very green space, where lush rice paddies rub shoulders with vine covered tropical trees straight out from a Tarzan movie with cafes, restaurants and cool buildings tucked in between. The Monkey Forest is also exceptionally beautiful, even with an overpopulation of devil monkeys.
Flipside!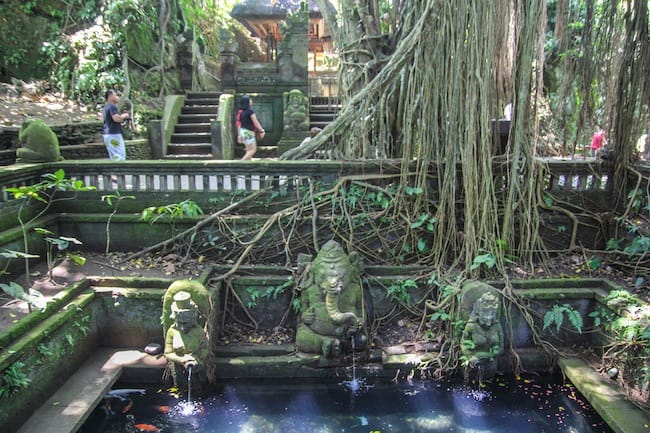 There are some beautiful stoneworks interspersed among the vines and forest, and it's a very peaceful place and I could see myself reading a book there one afternoon or just lounging under the trees, if there weren't any monkeys of course.
Even as we were leaving I felt like we were being chased by the flying monkeys from the Wizard of Oz.
Verdict? I feel like the monkeys tricked me. On the outside they should be cute furry little creatures but the reality couldn't be further from the truth. All in all, the Monkey Forest is stunning but be warned of the little tricksters.
2. Chasing the sunset through some rice paddies
When I envisioned my trip to Bali, it didn't occur to me that there would be rice paddies there. I thought that was more in Vietnam and other parts of Southeast Asia.
I organized a driver to take me from Pemuteran to Ubud to finish out my trip – hiring drivers is the easiest and most comfortable way to get around Bali.
Considering how far they will take you, it's usually a pretty good deal. I was very exhausted and just keen to get on the road when my driver pulled the whole "for special price I make you a beautiful tour of Bali" scheme with me on our way to Ubud.
At first I was like, not interested, pass, go away, but he managed to sell it to me, especially when he mentioned the rice paddies.
Considering how little touristic activities I had done so far, I figured since we were driving so far anyways and it was only another $15, why not. So for an entire day and less than $50, I had a private car take me to all of the beautiful spots between the north of Bali and Ubud.
For me that was a pretty good deal.
The sun was starting to set by the time we entered the area of rice paddies, and all of the workers, some in the iconic pyramid hats were on their way home.
It was one of those hot tropical sunsets where the sky was white, not blue and the clouds turned a pale pink before getting darker and darker.
We had the rice paddies to ourselves, walking around and looking for reflections and beautiful angles just as the humid air started to cool down. The rice and plants around the fields are bright green, not a dark forest green like other places or the dirty green color you get in all of the towns, but clean and sparkling green.
Sometimes it pays off to be open-minded about these kinds of things.
3. Coffee Diaries goes to a temple in Ubud
One thing I found surprising about Bali was how genuine and friendly the people are. In a country that is so heavily populated with tourists, I was expecting to get hassled and hustled at every opportunity. And while that attitude does exist to a certain extent, it's by no means pervasive.
Bali is still welcoming with open arms.
On my last day in Bali I forced myself to get up early in the hopes of catching the sunrise and to get to explore a bit of Ubud without the traffic and hustle and bustle that comes as the day grows on. While I was too late for a sunrise, it was still early enough that everyone was still asleep and there wasn't a scooter in site and the shops and cafes had yet to open.
I made myself a Starbucks VIA® Ready Brew Italian Roast to take with me as I walked around, and to wake myself up.
I followed my footsteps from the night before back to an incredibly beautiful temple in town, surrounded by water lilies.
Here I met an old man named Wayan. He came up to me when I was staring at the temple near my homestay, contemplating taking some photos.
"I understand, this place is very beautiful, he told me."
I had walked by the temple the evening before, it looked like a place where they do dance shows and it was overrun with tourists, but in the early morning it was peaceful and quiet and blessedly empty.
Looking back I realize it's quite a famous spot, the Pura Taman Saraswati, though I didn't realize it at the time.
At this point I was still confused a bit about Balinese temples and the religious culture in general (well, let's be honest, I am still pretty confused) and I was curious to know more. Wayan was one of those people who doesn't even really need to be prompted with a question before he volunteers far more information than you could ever wish to hear.
While I was polite at first, I held the thought in the back of my head that he was only talking to me to get money out of me. I really, really hate that I still have negative thoughts like that, and I hated myself at the time for thinking that. Determined to conquer that thought, I decided to be super polite and listen to everything Wayan had to say to me.
As I slowly sipped my Starbucks VIA® letting him give it a try, I attempted to pay attention as he explained the difference between family temples and community temples. Pura Taman Saraswati, he told me, is home to many beautiful intricate carvings of Dewi Saraswati, the goddess of wisdom and art as she blesses Ubud.
After what seemed like hours, more people started to trickle in and the pace picked up and I could feel our conversation coming to a close; we had long since stopped talking temples and were talking about famous Americans (no, I don't know Obama).
Saying goodbye, he started to walk away before I stupidly blurted out something about giving him something for his time. Looking at me like I was crazy, he said no, no, no he didn't want anything; he was just happy to have a nice chat. What a world we live in that we often see something as simple as a conversation with a stranger as suspicious.
Refusing to let him go without giving him something in return, I gave him my card and a couple of packets of my Starbucks VIA® we had shared earlier. Waving me off he ambled out of the entrance and down the street while I stood still wondering if that actually had just happened.
Faith in people restored!
4. Getting up close and personal with some of Bali's best wildlife
On the same day as my special tour of Bali en route to Ubud, we stopped on top of a mountain for views. As I climbed up a rickety wooden ladder to an equally suspicious wooden viewing platform (bad idea Liz) for some views, I noticed some tourists behind me squealing and making a fuss.
And not a cute animal squealing, but a mildly panicky girl shriek.
Looking over, I noticed a guy holding what appeared to be the largest bat in the history of the world.
That was not what I was expecting to see. I thought it was the return of the Planet of the Apes, for sure.
I've never been good at making practical decisions on the road (remember the rabies part? I'm pretty sure bats have rabies), so I immediately forked over some cash to hold this gigantic fruit bat named Stella.
Plopping her on my crotch and handing me her rubbery wings to hold out, all I could think about was if she bit me there AND if she had rabies. After about 5 seconds I was ready to give her back. Looks like my cute animal quest in Bali would not be fulfilled. Bats are not cute. Even if they are furry.
As I was flicking through my photos on my camera of me and Stella, all of a sudden I felt a weight on my shoulders and looked up to see the roadside zookeeper placing a massive green python on me.
Jerking my head back a little, I froze with fear for about 10 seconds with my hands up in the air in a gesture of defeat before I hissed, "get this off me NOW!"
Of course, all of the Balinese men found this hysterical, patted me on the head, placed the snake's head in my hand and grabbed my camera from me. Apparently I had ordered and paid for the full menagerie experience and I had no choice in the matter.
This snake must have been 15 feet long, and I am pretty sure I aged a decade in the minute I stood there while they took my pictures.
Luckily I was able to smile a little before leaving, getting to hold a massive lizard who was very peaceful and a couple of cute chameleons. I had never seen one before and they were really interesting animals to look at.
So while the python was a very terrifying green creature that I am pretty sure could have killed me and eaten me on the spot, my moment with Balinese wildlife was saved by getting to cuddle a couple of cute neon green chameleons.
Thank god for small favors.
5. How a dream mask in found me
There is a little shop in Ubud called Sarasari.
I found it by complete accident. It was my last day in Bali and I was wandering around the city center, poking my head down the narrow side streets looking for some last minute souvenirs and hidden gems, the usual.
I ambled down one great street that was full of artisan shops, cute dining spots and little stalls tucked away here and there when I looked to my left and saw a purple wall covered with the most incredibly carved wooden masks.
Staring at them mesmerized, I walked up to have a closer look when I met Wakjaka.
Sitting with his knees crossed carving a mask while chatting with an American guy perched on the steps next to the shop, we started talking.
Inviting me to sit, we chatted about life and Bali and everything but the masks. It was a casual, beautiful moment sitting in the shade of big tropical trees behind the shop while he worked away.
Telling him I was interested in buying a mask to take home but a bit overwhelmed with where to start, he reached up behind him and grabbed a mask from the wall telling me this was my mask.
I almost laughed out loud because it was the exact one that first caught my attention, though I had been looking at all of them closely trying to decide. It was like he read my mind, it was very freaky.
He carves all of the masks himself, sitting out in his shop every day, and they are all made from hibiscus wood. I didn't even know it was a wood, and not just a flower. They are called dream masks and each one is unique and belongs to each person who owns it.
Debating on whether or not I should buy it (New Zealand customs is very strict about what you can bring in, and untreated wood from Bali would definitely have to be declared), I decided to risk it. I almost never buy anything for myself on the road, so this would be something I would keep for the rest of my life. Well, if NZ customs let me keep it.
It was a very beautiful, small moment to cap out the end of my trip, and it just felt right. Bali, you won me over.
Many thanks to Starbucks  for helping to host me in Bali. Like always I'm keeping it real, all opinions are my own, like you could expect less from me!