New Zealand really is the most outrageous country I've ever visited.
Seriously, I don't understand how one tiny nation with only 4 million people can be so pretty! It just isn't fair!
I am constantly amazed and astonished everywhere I look here, and I feel so privileged to have been able to call New Zealand home.
Back in May before my birthday in late autumn, I was itching to get in one last big hike up into the high mountains before the winter snows kicked in.
After scouring the forecast for days, there was finally a window of warm and sunny weather for two days in a row at Mt. Cook National Park. New Zealand weather is unforgiving and the forecasts are usually pessimistic, so often it's rare to get beautiful sunny days together in the alpine areas.
After reading about the Mueller Hut on my friend's blog (Backpacking Matt) I knew I needed to get my butt up there before it snowed in for the winter. Matt now runs Planit NZ helping people plan and book their trips to New Zealand, mention me and save 5%!)
After some prodding, I convinced my two American friends in Wanaka to join me on an overnight mission to Mueller Hut, though I almost went by myself in an effort to escape and have some me time. In retrospect, thank GOD that didn't happen because I probably wouldn't have made it up there without them.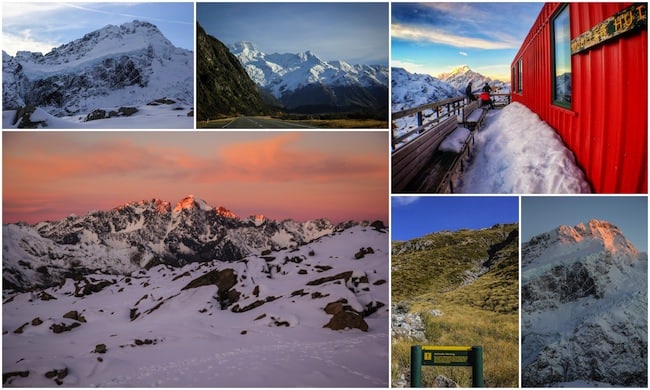 With our bags packed, Z came to pick me and C up at my house bright and early at 5am Saturday morning. Did I mention I am NOT a morning person? Whining and moaning (just me) we piled in his car and set off for Mt. Cook village as the sun started to rise.
Only 2.5 hours from Wanaka, it's a great weekend getaway, and I am already planning my return this summer.
A little backstory – New Zealand's national parks are filled with huts, which are basically little cabins with bunks and rudimentary kitchens used by hikers, climbers, mountaineers and all sorts of people throughout the year way out in the wild. You carry everything in and out (each hut varies to what it offers and during what season). You either pay when you get there or at the DOC office in the nearest town, again that varies. I have all of the info detailed on a hiking in New Zealand guide.
And Aoraki/Mt. Cook is New Zealand's highest mountain (Aoraki is the Māori name). In the Māori culture, it means "Cloud Piercer."
The Ngāi Tahu (local Māori people) legend of Aoraki / Mount Cook is the story of Aoraki and his 3 brothers. They were the sons of Rakinui (the Sky Father) and they were on a voyage around Papa-tū-ā-nuku (the Earth Mother) when disaster struck and they became stranded upon a reef.

The voyagers climbed on to the top side of the canoe and after a time the south wind froze them and turned them into stone. Their canoe became the South Island (Te Waka o Aoraki is the oldest name for the South Isand) and Aoraki who stood tallest of the brothers is now seen as the majestic Aoraki / Mount Cook with the Southern Alps as his brothers and other members of his crew (source)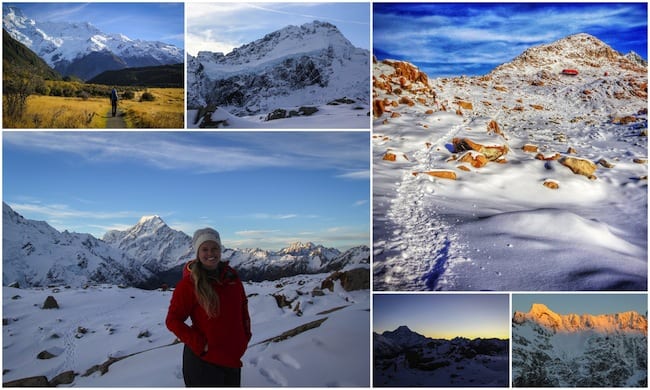 But no two ways about it, Aoraki/Mt. Cook is a pretty sexy mountain. Unfortunately, he is also very shy. I have driven all over the South Island several times, and unfailingly, every time I passed him, he was covered in cloud.
Try to imagine my happiness when we came over the hill along Lake Pukaki as the sun was coming up and I finally was able to lay my eyes on this massive mountain directly in front of me, after 9 months of living in New Zealand I might add. I actually shouted out loud, freaking out Z and Z in the car.
It's a seriously sexy mountain. Just look at it!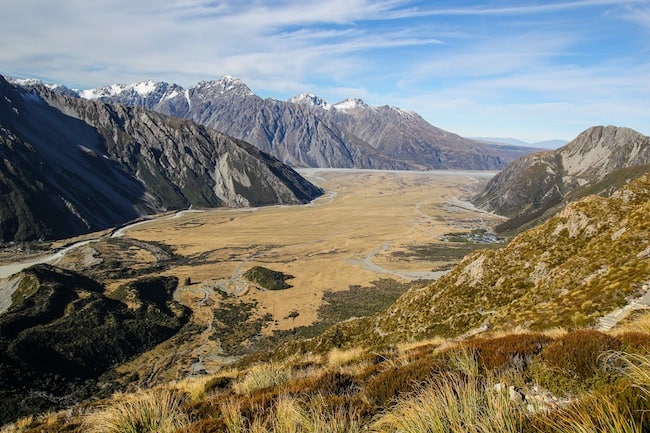 Aoraki/Mt. Cook is right in the middle of the Southern Alps which are the backbone of the South Island. There are only three roads that cross through these mountains though none of them are near Mt. Cook.
This means that the road into Mt. Cook village is a dead end. There is one way in and one way out, though it's surprising because geographically you are quite close to Franz and Fox Glaciers on the West Coast, though it's a long long drive to get there, or a very short expensive flight.
Because it's not really on the road to other sites or cities, I've found a lot of tourists skip out on Mt. Cook which is such a shame because it's magnificent.
Don't miss out. The drive in is less than an hour from popular Tekapo and quite possibly the most scenic in all of New Zealand.
It was the last weekend of the season where the hut would be staffed by a hut warden, so we were keen to make the most of it. You can't book the hut online in advance, so it's first come first serve at the DOC office in town so we were rushing to get there early. We were extraordinarily lucky and were able to nab the last 3 bunks in the hut for the night. Thank god!
It's really important when you do alpine hikes (or any hike really) to register your intent with the local DOC office, and let them know once you're back down.
Eager to get started we threw on our packs and set off.
Mueller Hut has been described to me almost as a backpacker party hut because it's considered "accessible" to all sorts of travelers in New Zealand, not necessarily big hiking enthusiasts. A lot of people go up as a day hike, but if you have the time, I definitely recommend going overnight.
Most of the huts in the New Zealand backcountry are not so easy to get to. Most are multi-day missions and a lot of them are only accessible to mountaineers en route to climbing big peaks. This deters your average tourist.
However, because it's only 3-4 hours from Mt. Cook village, a lot of people think "oh hey that's doable. Let's go."
Let me be the first to tell you, this hike is a BITCH. Totally worth it, but not as easy as you might think.
It is 4 hours straight up. There are no flat parts except the deceptive 10 minutes through the bush in the beginning and the last couple of meters to the hut at the top.
The first 2 hours are stairs, stairs, and more stairs. Around 1800 of them, and they are steep. Of course if you just have a day pack, that's not really a problem, but when you are weighed down with an overnight pack and a lot of wine (wine is usually a requirement for overnight tramps with friends in NZ), it's heavy.
"Z, can you take the wine? I can't go on like this, I'm dying," I whined when we arrived at Sealy Tarns, a beautiful viewpoint with picnic tables for lunch marking the halfway point. What can I say? I'm a wuss.
But as painful as the stairs are, nothing, absolutely nothing, can compare to the incredible views you get of Mt. Cook and the Hooker Glacier as you climb. It's ridiculously beautiful and seriously sexy.
After a revival lunch of sandwiches and jelly beans, we set off on the second bit, an unmarked alpine scramble through tussock and over big rocks. Less than an hour in we hit a snow line. I think in summer the snow level doesn't reach the level of the hike usually but since it was almost winter, we had to do the last of the "trail"  through snow.
Normally this wouldn't be a problem, but since it was later in the day and so warm, it was packed down into ice by previous trampers making for a frustrating slippery climb to the saddle.
Our leader Z kicked holes into the snow creating a ladder for us to climb up around the ice trail, giving calm motivational remarks each time I freaked out convinced I was going to slide all the way down the mountain to my death.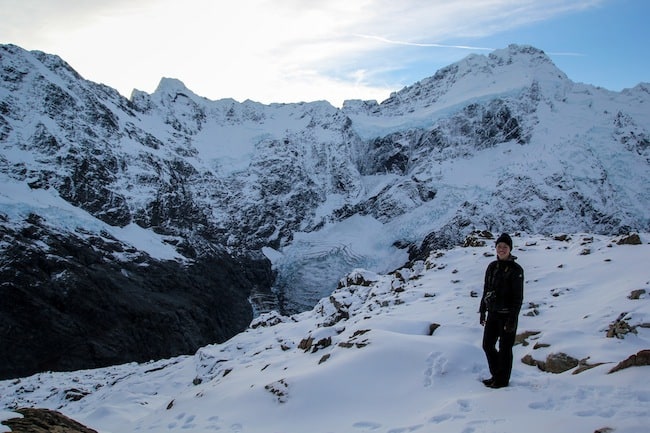 The final bit of the hike was much easier as we came over the ridge and around the mountain into the valley where the Mueller Hut was located.
This must be one of the most scenic places I've ever camped.
Grabbing a couple of bunks, we threw off our wet clothes and my new Osprey pack, and went out exploring around the hut, making snow angels, taking ridiculous selfies and of course, having a huge snowball fight.
Lumbering back to the hut, we settled in to make dinner, drink some wine and watch the sun set over Mt. Cook. Again, sexiest hike ever.
And in typical small-world New Zealand, as I was perched on the bench outside I noticed a girl with familiar curly red hair. Staring at her, she looked at me, gave the same look, and we both yelled each other's name at the same time.
Turns out it was a friend I made at an event in Wanaka a few weeks back. I love how everyone knows each other in this country. It finally makes me feel like a local!
Everyone was hanging outside admiring the incredible views and once in a while we would hear a thunder-like boom and watch an avalanche in the distance tumble down one of the surrounding mountains. One was even so big it shook the hut.
The only avalanches I had ever seen were on YouTube, so it was incredible to witness.
As the stars came out, everyone settled around the kitchen and common area, feasting on freeze-dried meals and getting to know one another. I think the sheer beauty of the Mueller Hut kept everyone in high spirits, and it was one of those incredible nights where everyone became friends, even when no one knew each other before.
We stayed up late hanging out with the amazing warden Bridget, picking her brains for mountain adventure stories, popping outside every once in a while to admire the big mountains and the big moon.
And if the world couldn't get any smaller, last weekend when I was up at Treble Cone, Wanaka's local ski field for the closing day celebrations, I ran into no other than Bridget! It was so awesome to see her again and catch up over the past few months.
I finally crawled into my bunk late into the evening with a big smile on my face listening to the party rage on in the common room.
Such a fun night!
No one ever sleeps in late at a mountain hut in New Zealand, so thanks to my noisy bunkmates I was up at the ungodly hour before sunrise in time to watch the mountains turn from purple to pink to gold. I guess I can't complain too much.
The journey down was slow and painful, and we pretty much slid down the snow trail on our butts until we got to the tussock grass.
Two beautiful days of perfect weather with good friends off the grid and enjoying New Zealand's raw nature was the perfect birthday present.
I love disconnecting from the internet and all of my social media problems and getting back to nature. It's one of my favorite things about New Zealand, and even now I can't wait to go back.
Verdict? Mueller Hut is in fact New Zealand's sexiest hike.
Where's the sexiest hike you've ever been on? Would you like to stay the night up here?