Before I left for my month (maybe 2 month) sojourn around the world in May, I crammed in one last autumn adventure in New Zealand. And for those of you asking, I AM going back to New Zealand, just not til the end of June. I promise. Maybe. Definitely.
There are so many hikes on my to-do list while living on the South Island, I easily get overwhelmed. Where to start? But after walking the Milford Track in the summer, I knew the next big multi-day trek I wanted to tackle was the famous Routeburn – I've been dreaming of ever since I saw Air New Zealand's safety video shot there with Bear Grylls.
And since winter was coming fast and it had been snowing a lot already in the mountains, I wanted to tackle this epic alpine pass as soon as possible, knowing that if I didn't squeeze it in April, I wouldn't be able to do it until the spring. Game on. I like a challenge.
Who cares if I was totally not in peak or even remotely close to "peak" hiking shape, right? Oh, and did I mention since we were pressed for time, i.e. I was getting on a 36 hour flight in 3 days, we decided to cram the normally 3 day hike into 2.
In retrospect, that does seem a bit nuts, but oh well, all in the name of adventures! You can read more about everything you need to know about hiking in New Zealand here.
Luckily I convinced my friend Bel to join me so I wouldn't have to sludge my way through the big trek alone. Bel is a super talented photographer – videographer – artist – yogi living in Wanaka, definitely a fun person to have with you on a hike.
Weirdly enough, a lot of you guys have been requesting me to write this post for a while, ever since I started sharing pics of it on Instagram and eluded to it in this post here. I don't often get "requests" for posts (plenty of other requests though, you weirdos) so thanks for making me feel valuable, yipee!
So first things first, the logistics. Seriously, trying to just figure out the logistics of walking the Routeburn can be a pain in the ass, mostly because the start and the finish of the hike are a 5 HOUR DRIVE APART. FIVE! AGH!
Welcome to New Zealand!
As a traveler in New Zealand you have a couple of options – hitchhiking, taking two cars and parking at either side and swapping keys on the track, helicopters or buses. None of those are in any way convenient, especially if you have a car already and need to leave it/pick it up somewhere.
Luckily, I've heard about car relocations on the Great Walks and realized that is the most convenient option. With EasyHike, you drive your car to the start of the track, leave your key in a safe box (they will explain it all to you) then they relocate your car for you to the other end of the track so you can finish in your own time, hop in your car and zoom off.
For two girls cramming in a 3 day hike into 2, we (and by "we" I mean me) definitely needed all the time we could get!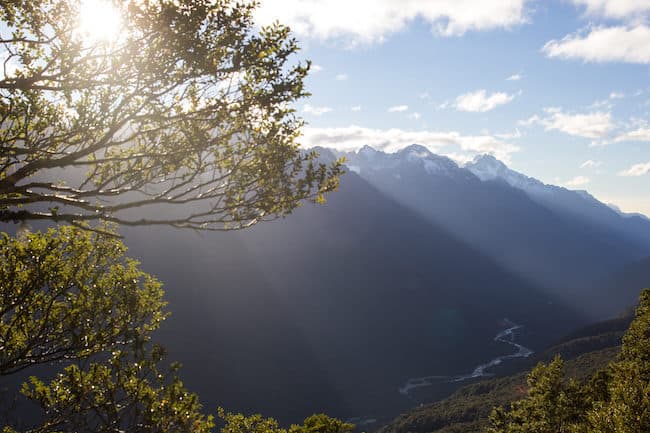 So right at the end of May, Bel and I packed up her car and drive to Queenstown for a night at the Spire Hotel, before heading off to the Divide to start the hike.
I figured I share this for all of you guys who've told me you'd like to go on some of the big treks around New Zealand but don't have the gear with you or don't want to bring it. Totally understandable. EasyHike offers a deal called the Routeburn Essentials where they provide you with everything you need for the hike. Seriously, everything.
Trust me on this one, you do NOT want to be buying all of your tramping gear once you get to New Zealand. For example, my hiking boots alone cost $400 here (obviously I did not buy them here because that is just ridiculous).
EasyHike outfitted us with everything we needed. Packs, all our meals, sleeping bags, equipment, gas cooker, everything. Trying to plan the logistics of a multi-day hike is such a time suck, I hate it. And their meals are a whole lot better than my usual 2 minute noodles or tuna and rice. Ick.
I was also stoked to see that they use really nice Osprey packs. I LOVE my Osprey pack for tramping in New Zealand, so it was nice to try a different version to see if I might downsize.
But I digress, back to the Routeburn Track.
Now most people walk the track starting in Glenorchy and finishing at the Divide on the Milford Road past Te Anau, which was totally my plan until I talked to the folks at EasyHike.
These guys run the track all the time in just a day, moving cars and car keys back and forth so they know it like the back of their hands.
Apparently it can be easier to walk it the other way.
I hate to say it, but the DOC maps are a tiny itsy bitsy SUPER confusing (specifically this top map here). One side is labeled in meters, and the other is in feet, so if you start at the Divide you are actually a fair bit higher up than on the other side. So it's not really a big ascent as it looks and it's easier that way.
Top secret guys.
Also finishing in Glenorchy meant that we were a lot closer to Wanaka at the end of the second day, because no one wants a four hour drive after a 10 hour hiking day, am I right? And finally day 2 which is the prettiest day from that side had a better weather window, and we really wanted fine skies for the climb over the Harris Saddle, the highest part of the track.
Onwards!
Day 1
Day one was by far the easier of the two days. Since we started driving from Queenstown in the morning, we got on the track around noon.
One of the only downsides with walking the Routeburn outside the summer months is the light. The days are a lot shorter in April/May, which means less bright daylight hours on the track, and who likes to hike in the dark? Not me, that's for sure.
From the parking lot to the Lake Mackenzie Hut, it's about a 4 to 5 hour walk depending on fast you are. So 5.5 hours if you're me. Hey, I like snacks and to take a lot of photos! Also full disclosure, I am a turtle hiker. This explains why in half my photos you see Bel's butt because obviously she was ahead of me.
Also good friend points to Bel for waiting for me and walking with my on my own pace the whole time. Rockstar!
Before we started the track, we popped into the DOC office in Te Anau to buy our hut passes for the Lake Mackenzie hut where we were staying. They had just switched over to off season prices and amenities so it was a lot cheaper than walking in peak season.
If you can manage to swing it, usually there aren't a lot of snow yet on the mountains it can be a great time to walk.
I am not going to lie though, it was really cold, especially at night!
The walk on Day 1 was a stunner!
You climb up along the same track to the Key Summit which is a popular day walk on the Milford Road. Since we were hiking in the afternoon, there was the most beautiful clouds and god rays poking through them, illuminating the huge valleys below. It was astonishingly beautiful and I don't say that lightly!
For being off season, the hut was pretty busy, though I was so wiped I wasn't in the most sociable mood. I basically just stuffed my face and went to bed.
Day 2
I seriously could not get up the next morning! We had to have an early start to fit in the super long day, but I was cozy and warm in my sleeping bag, I just growled and grumbled at Bel for a solid 30 minutes before getting up. How are people so peppy that early!?
Stop it.
Luckily there was plenty of coffee in my Essentials Pack so I was able to perk up. It helped the it was the most beautiful, crisp fall day, and the hut and all its surroundings was covered in a fine layer of frost. Explains why I was freezing my ass of during the night!
The climb up from Lake Mackenzie Hut to the Harris Saddle was relatively easy, at least by New Zealand standards. I'm used to the hikes around Wanaka where whoever built the track decided not to waste any time and built it straight up the mountain whereas here it winds its way up. Not to mention the views are ridiculously amazing – very intellectual vocabulary here guys.
A few hours and 500 photos later and we are zigzagging our way through frozen alpine tarns under bright blue skies and little wind before catching a glimpse of the shelter at the saddle.
It was amazing and also it was snack time! Personally, I've found a food reward system is one of the best ways to get me up a mountain!
When we started the descent from the Harris Saddle, I was started to really feel tired. Good thing we only had another 5 hours or so to go!
I have a bad knee that makes going downhill a nightmare. Ever since Jenna from Stoked for Saturday convinced me to use hiking poles, they have helped a lot (you can see their Routeburn experience here and here). But there is only so much poles can do when you're cramming in 32km in 2 days over a mountain range.
Ouch! Sorry knees! Luckily I was able to squeeze in a last minute Sports Massage to put things right. I've been getting one every week here since I moved to Wanaka, it's seriously changed my life, I've been meaning to mention it for ages!
Walking along Lake Harris was just stunning, it looked like something out of this world.
The last few hours of the hike blurred into one painful long moment for me where I just longed to get to the car and pull my boots off and just stuff my face with carbs. But soldier on we must and we were determined to get there before dark.
I was dead tired by the end but so happy that I managed to complete the hike I had been dreaming about for ages. Nothing feels better than accomplishing something you knew would be challenging, right?
Now, where to next?
Have you heard of the Routeburn? Is this something you would like to do yourself one day? What's the hardest hike or walk you've done? Spill!
Many thanks to EasyHike for helping us out on this walk – like always I'm keeping it real – all opinions are my own, like you could expect less from me!