I think I can safely say I was the only person in the Maldives NOT on their honeymoon.
Just kidding, plenty of people weren't on their honeymoon. But I was definitely the only single girl there. Boo freaking hoo.
Oh well, more rum-filled coconuts on the beach for me!
Now, before you start hating me for being in the Maldives (because let's be honest here, I even hate me a little bit) I was in that part of the world for a conference in Sri Lanka where I was speaking. The Maldives are a quick dirt cheap 1 hour flight away from Colombo. Why the hell not?
Though, when I was in Sri Lanka 2 years ago, it was in the middle of a break up, and the thought of going to the Maldives made me want to cry. Hard. So I skipped it.
Not this time!
Given the opportunity to go hang out on in the Maldives with no strings attached? Count me in.
It was a balmy 35 degrees celsius with 100% humidity when I stepped off the plane in Male. Holy crap I wasn't in New Zealand anymore. Before you even walk out of the airport you can see the twing=kling turquoise waters beckoning you from across the road.
Far out is there anything better than seeing water this blue?
Nope, nope there isn't. Except for maybe the fact that the water temp is 30 degrees with 40 meters of visibility! Holy shit!
(Also writing this it seems I've gone full native and forgotten how to use anything but the metric system. That's what 6 years abroad will do for you).
When you travel in the Maldives, it's mostly all-inclusive resorts where the resort covers the whole island. The Maldives are made up of over a thousand islands that are grouped together into 26 coral atolls, most of which are uninhabited.
And you should probably visit soon before the islands disappear under the sea. Thanks global warming!
As you can probably have imagined, the Maldives isn't the cheapest place to holiday to. But I didn't find it insanely expensive either.
My friend Janet from Journalist on the Run has a great post about traveling the Maldives on a budget.
My first stop was Cinnamon Dhonveli which is only about half an hour away from Male the capital by speedboat. Too easy.
First order of business – throw on a bikini and jump off my water bungalow deck and go for a swim. Drink some coconuts. Take a nap. Get a massage. Read in the sun.
Now, this is not usually how I travel, I have always preferred adventure travel over resort vacations, but I got to say, this was the life!
I had only three things I wanted to do while in the Maldives – work on my tan, sleep, relax, take a real vacation, and go diving. Happy to say I was able to do all three!
The Maldives has insane diving! I wasn't expecting that. In fact, I had no expectations. But because of the amazing reef systems, the diving is just incredible.
Think whale sharks, manta rays, turtles galore, nemos, everything!
At Dhonveli I went diving for a day, most island resorts will organize heaps of activities like diving, and mostly hung out on the beach.
The water was so clear straight from the beach it looked like a swimming pool, and there was even coral and fish right there off the main beach to swim over, it was great.
It was so hot I actually just dragged the beach chair into the water to hang out. How to spot a tourist, right?
After a couple of days at Dhonveli, I had to say goodbye and head over to Cinnamon Ellaidhoo, on a completely different atoll further away, this time by seaplane which was awesome!
I loved getting to see the Maldives from the sky!
Ellaidhoo blew me away. It's a small island surrounded by a sea wall to protect the coral, but it has a friendly, intimate vibe that I really loved. This was a place I wished I was visiting for a month.
And the best part is that there is an amazing reef coral wall surrounding it so you can dive straight from the beach. No boats. And you can dive 24 hours a day, it was awesome!
Again I got to stay in an overwater bungalow, which was one of my biggest bucketlist items ever!
From my room I could hear the waves crashing softly against the reef wall, watch the sunrise and set, see the stars twinkle at night and even watch fish swim by underneath the porch. It was so epic.
I didn't wear shoes or makeup the whole time I was there, digging my toes into the soft white sand and let my salty hair dry in the hot breezes. There was more wind here making it less hot and cooler.
I spent my days diving off the reef and off a dive boat further away, ticking exotic fish off my bucketlist and practicing my underwater photography (so hard guys) and just enjoying the fact that the water was so warm I could dive in my rashies and not a wetsuit!
Winning!
I would take walks at sunset and sunrise (thanks jetlag) and really felt like I was able to disconnect and enjoy being there.
I loved chowing down on hot curries and even hotter local Maldivian food as the stars started to come out over the sea.
I couldn't get over how friendly and welcoming everyone is over there. Blew me away.
It didn't rain the entire time I was there even though it was the monsoon season.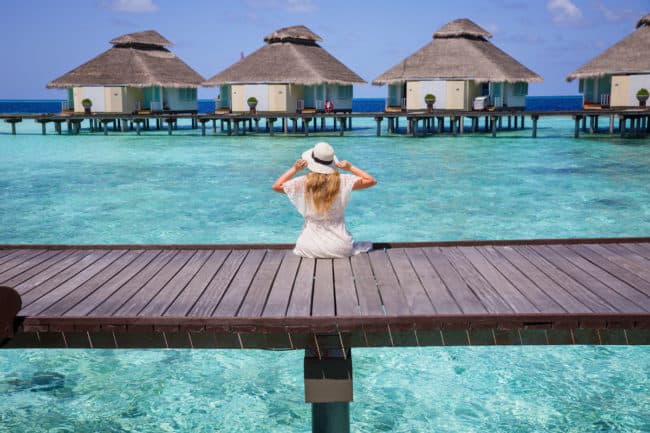 I really think the Maldives is heaven on earth. A place where time doesn't matter.
Just editing these photos and writing this post makes me want to go back so badly, next time for a couple of weeks.
I think I've got the island life bug bad, guys. Help!
How high is the Maldives on your bucketlist? Do you dream of visiting here one day? Would you go solo like me?
Many thanks to Cinnamon Hotels for hosting me in the Maldives. Like always I'm keeping it real, all opinions are my own, like you could expect less from me.