As a writer and pure introvert at heart, I am constantly on the lookout for cute and cozy hideaways where I can disappear off the grid, relax, and feel inspired.
I wish there was a word for that feeling, but it's something I yearn for when I travel, and probably my most ultimate state of comfort. The closest thing I've found is the Danish concept of "Hygge" or the art of coziness. Have you heard of it?
My favorite style of accommodation would probably be hygge, if that can be a thing.
Places that make you want to curl up with a tea by the fire with a book and maybe a cat or two on a rainy day. Probably old and made of stone or wood and smells a bit musty. Cabins. Homey and happy. I adore places that make you sigh a deep exhale and smile when you walk in the door. It just makes me really happy.
Last year a friend of a friend told me about a magical place completely hidden away near the historic town of St. Bathans called Lombardy Cottage. Owned by the lovely Kate, it's a beautifully restored historic stone cottage tucked away amongst the most amazing trees and gardens, a true hidden gem in Central Otago.
It's one of those places you have to know about, and being off the beaten tourist trail of the Queenstown Lakes area means it's remained relatively untouched by the masses, full of quirky delights and things that make you smile. It's close to the Otago Rail Trail but still hidden away.
This is still a place that mostly kiwis just know about, and local South Islanders too.
And here I am blowing the lid on it. Don't make me regret this post!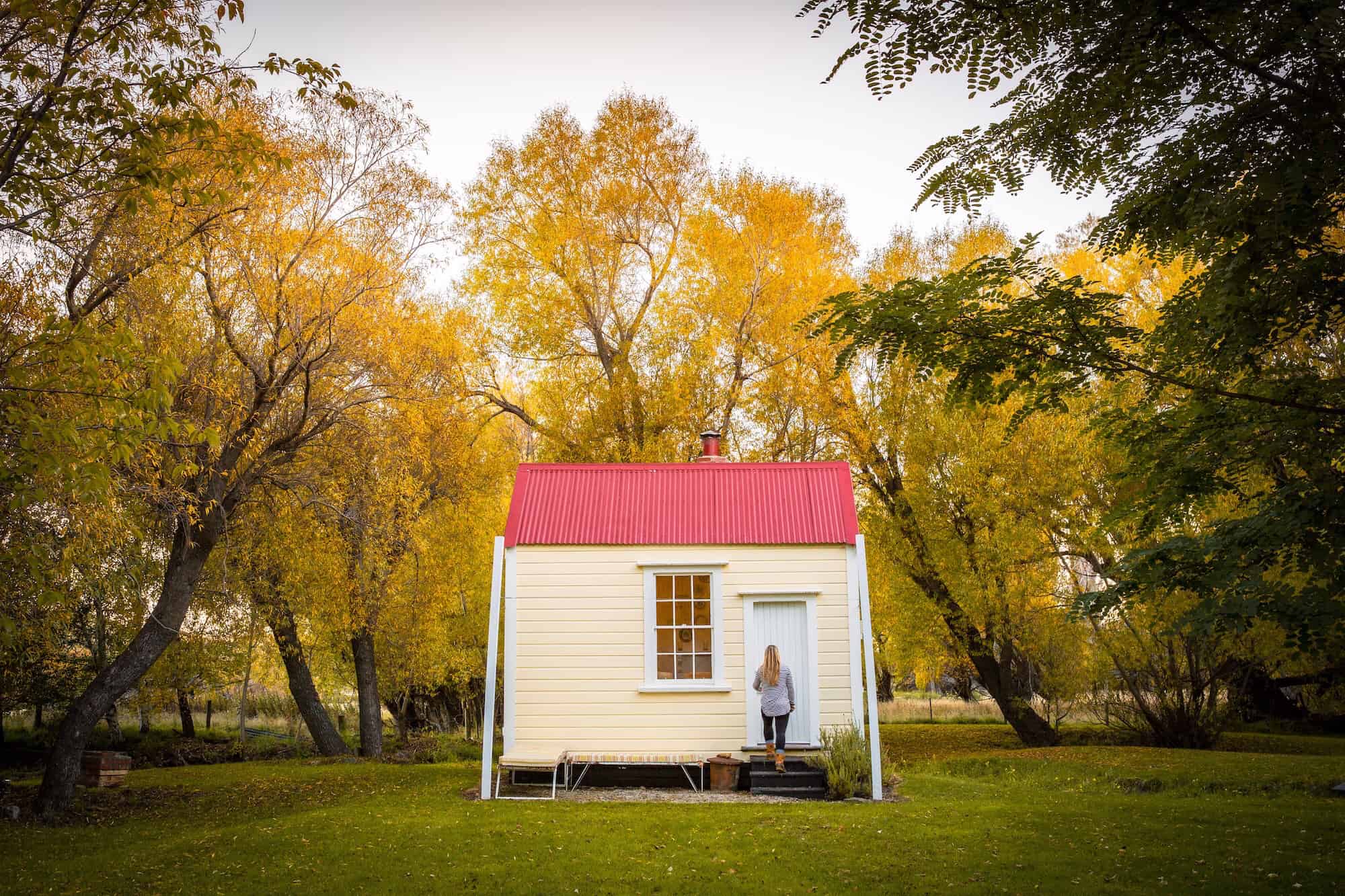 Last autumn I was in dire need of a getaway.
Constantly traveling solo, when I had the chance, I begged a writer girlfriend of mine from Wanaka to run away with me for a few days at Lombardy Cottage. With two big bedrooms and two baths, it's perfect for a getaway with friends!
I really needed girls time away from it all with good company and good food and wine. Definitely what the doctor ordered.
Not to mention I love autumn in New Zealand, and Central is one of the best places to see the changing leaves here because it's one of the only regions in New Zealand that experiences four distinct seasons, albeit opposite from the Northern Hemisphere.
Peak autumn in Central Otago when the leave are the most colorful is usually around mid-April.
Now, you guys know how much I love Central Otago in New Zealand.
It's one of my favorite regions. Full of history, culture and beautiful views with not a lot of people, with fab wine and delicious food, it has everything I could ask for in a region. It's got so many nooks and crannies and spots that not too many people know about, I feel like every time I visit I discover something new.
Hanging out at Lombardy Cottage for a couple of days was just that. It's the kind of place you would never stumble upon, a secret oasis of tranquility.
It's got everything you need to just hide away and not leave for a week, but also with plenty of fun stuff and activities nearby if you want to get out and explore, though why would you?
There is underfloor heating, a veggie garden, clawfoot tubs, spas outside, lambs in the distance, a library chocked full of good reads and an open fire (all the hygge!) oh and wifi, that I ignored!
Armed with several bottles of wine (Pinto Noir, obviously, when you're in Central Otago) and the most incredible cheese platter, along with snacks, sweatpants and and armload of books, we met up at the cottage after work.
Can you tell I was excited?
Guys, this place is the house of my dreams. Named for the Lombardy poplar trees around the house planted by the gold miners for firewood, it reminded me so much of Bramasole in Under the Tuscan Sun, one of my favorite book/films of all time, but you know, the rural New Zealand version with a lot more sheep.
Originally built in 1864 by Thomas Hughes of Wales, a mine manager – Central Otago was in the midst of a huge Gold Rush – and once he had staked his claim here, he sent for his wife to come over, and in the 6 months it took her ship to sail to Dunedin (thank god for airlines) he built this little stone cottage.
Rumor has it he walked to Dunedin to pick her up in a wheelbarrow. True love or what?
And I can't even get men to text me back. Sigh. What is the world coming to?
By the 1990's it was a tumbled down stone ruin overtaken by all kinds of wild plants and flowers before St. Bathans' locals began to try to lovingly restore it.
They got there eventually and it took over 20 years, but now the old cottage has new life breathed into it, and is open for visitors like me who are looking to escape somewhere beautiful, special and full of hygge.
One day I will find my place I can restore too with love. And lots of money. Still waiting for that.
I spent hours wandering around the lovely gardens, dozing under the yellow trees, watching the sheep wander around aimlessly in the distance and listening to the babbling brook that runs through the grounds.
Of course there is a babbling brook complete with little bridge.
And if things could get any cuter, there is a little old restored hut on the grounds that has been turned into a reading room with a fire. That's it, I'm never leaving!
We dragged ourselves away from the cottage only once on this trip to Pitches Store for a long and lazy afternoon lunch in the sunshine in Ophir just down the road.
Another beautifully restored historic building turned lodge and restaurant, it's another great example of passionate people breathing life back into this forgotten buildings in New Zealand.
Just down the road from Lombardy is the tiny, and I mean TINY, town of St. Bathans home to one haunted hotel and pub (because of course!) and a stunning blue lake called Blue Lake (clever, clever).
We skipped visiting on this trip but I've since been back to St. Bathans a few times, and it's lovely, and the cottage has all the gear you might need for any activity.
By the time we had to say goodbye, Lombardy felt like a little sanctuary for us. The perfect place to escape the bustle of real life and just enjoy being in a cozy house in a nice place, away from noise and emails.
Speaking for myself, I think we need to book in more time for self-care and getaways to just do nothing.
There's nothing wrong with that after all?
So, have I inspired you to run away to Lombardy Cottage this autumn?
The leaves have just started to change here too. The nights are crispier and the days and getting shorter, heralding the return of winter. But first my favorite season.
I can't wait to go back here!
Where's your ultimate hideaway? Do you enjoy staying in cozy cottages like Lombardy too? Ever heard of hygge before? Share!
Many thanks to Lombardy Cottage for letting me hide away here for a few days last autumn – like always I'm keeping it real – all opinions are my own, like you could expect less from me!