It was almost five years to the date that I finally made it back to my beloved Hobbiton.
Just like Frodo returning from an awfully big adventure, I couldn't help but feel like a different person this time around. I've been on many journeys, had great and profound experiences, challenged myself and did things I didn't think were possible in my time away from Hobbiton.
Did I mention I'm fairly sure that I am a hobbit?
Just so we're clear, I'm basically a hobbit. Minus the hairy toes, of course.
For those of you just like me, my fellow hobbitses and homebodies, people who love comfort and being cozy, who delight in a hearty feed and a good ale, if you haven't made your way from wherever you are in the world back to Hobbiton by now, I don't know what to say to you. Home is calling. What are you waiting for?
But can I be honest here and tell you what was really calling me back to Hobbiton this time around? The food.
A golden retriever at heart with a nose on the lookout for a good meal, more often than not these days my trips tailor themselves around unique and delicious dining experiences. And Hobbiton had something new on offer from my visit years ago: the famous Evening Banquet Feast.
Count me in!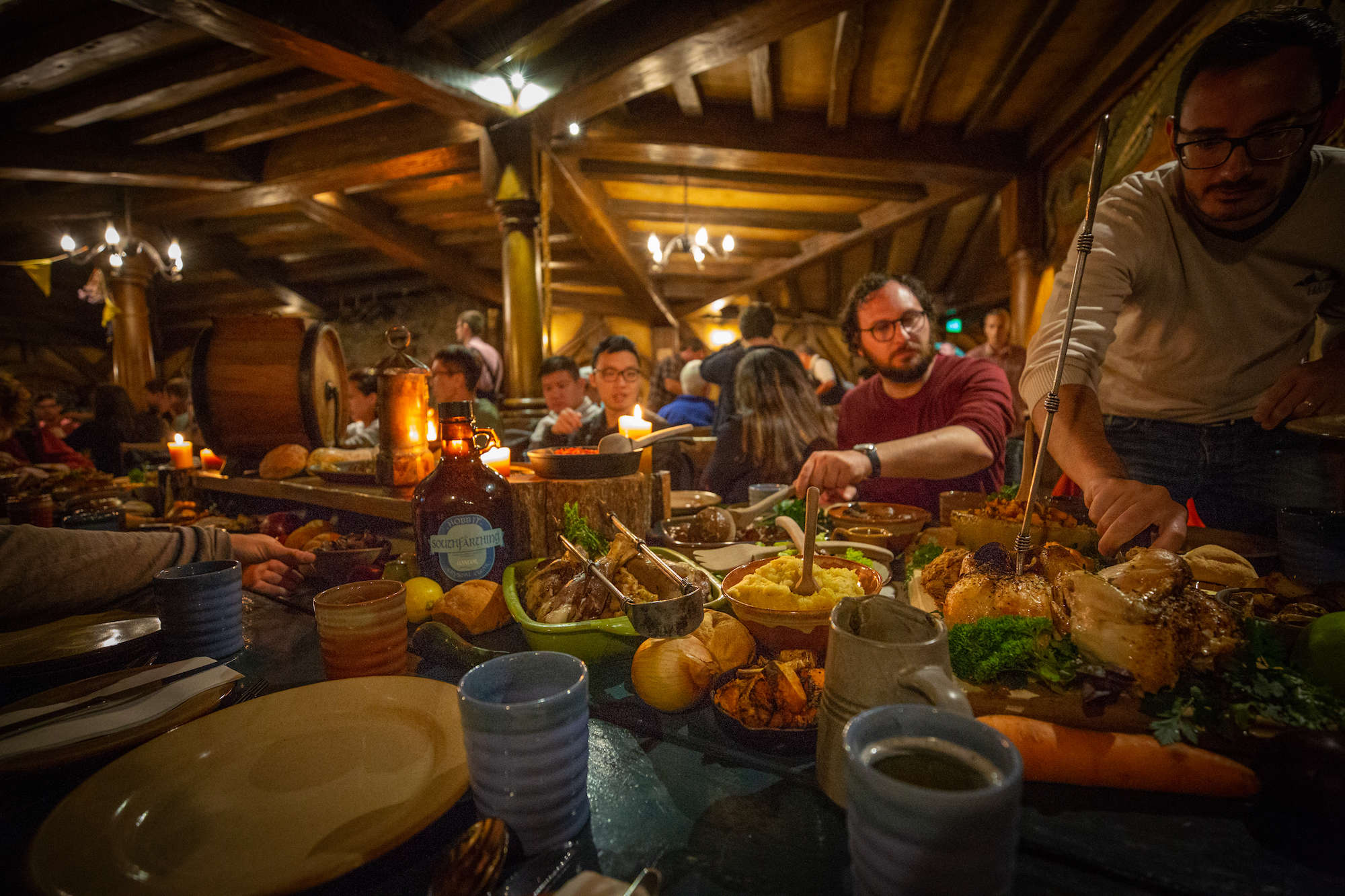 I've heard backpackers and travelers alike rave about this experience for a while now and knew the next time I found myself up on the North Island I needed to check it out for myself.
After a dusk tour of Hobbiton, once the crowds have dispersed, you'll be sat down at the Green Dragon for an enormous and incredible banquet feast. Doesn't that sound truly delightful?
And who doesn't want to experience Hobbiton after dark?
Only occurring four times a week, from Sunday to Wednesday, the evening banquet tours at Hobbiton quickly become a top of the list must-do for an New Zealand adventure, and they quickly sell out, so it's important to book far ahead.
And come hungry. Like really hungry, there is so much food.
I would expect nothing less from a feast in Middle Earth where hobbits are known for having six meals a day.
"If more of us valued food and cheer and song above hoarded gold, it would be a merrier world." J.R.R. Tolkien
Beginning with an evening tour around Hobbiton, visiting the movie set and playing around in the hobbit holes, you'll work up a decent appetite in the lead up to the feast. Just to be on the safe side, skip lunch.
Eventually recessing the local watering hole, the Green Dragon Inn, you'll sample some of the locally brewed beer (if you're me) before the banquet.
I can't speak for everyone but I still dream about the roast chicken, salmon and buttery mushrooms, though the best part was definitely desert. I definitely didn't leave with my pockets bulging with bakewell tarts. That would be wrong, guys.
After a few hours of feasting, making new friends and waiting for night to descend, you'll pick yourself up and make your way back outside under the stars and walk through Hobbiton at night.
An unforgettable moment, to see Hobbiton illuminated is something quite spectacular. As smoke puffs from the chimneys dotted along the rolling hills, the golden glow makes you feel cozy and at home, a truly hobbit vibe. A full stomach helps too.
Feeling like you might stumble upon Bilbo's birthday party, it was a truly special way to cap off an epic evening. I can't wait til I can come back again!
Is visiting Hobbiton on your bucketlist? Do you dream of a hobbit feast too? Spill!
Many thanks to Hobbiton for hosting me at their evening banquet tour. Like always I'm keeping it real, all opinions are my own, like you could expect less from me!