As the years tick by and I come close to wrapping up a decade of ex-pat life in New Zealand, the list of places I haven't been to shrinks. But don't worry, I still have that list.
One such place which has been calling to me for a long time is Ōkārito, on the west coast of the South Island. I've driven by Ōkārito about a million times, and I might have peeked in once or twice, but I never took the time to get to know it until this year.
An iconic beach and lagoon, Ōkārito is New Zealand's largest unmodified wetland and home to some outstanding rare birds. Half an hour from Franz Josef, Ōkārito was initially a historic settlement for Māori and European gold miners, like so many quiet rural spots on the coast. It was even home to a large port back in the day, hard to imagine now with its population of about thirty on a good day.
Nowadays, Ōkārito beckons both nature lovers and introverts alike. As soon as I arrived, I thought to myself, hmm, I could happily live here.
Something that often surprises me is people who think the West Coast is home to crazy weather. Sure, it does get a lot of rain, hence the temperate rainforest. And sure, sometimes there sometimes are big storms, but it's not often. The big secret (I'm sure spilling will get me crucified for spilling) is that the West Coast has beautiful weather.
There have been so many times where I've visited in winter, and it's warm, completely still, and sunny. The iconic lakes are perfect mirror reflections of the native bush and mountains. And the smell, oh my god, the smell. It's that damp earthy, fresh post-rain clean kind of smell. It makes you feel alive.
Because you have to turn off the main highway that snakes down the length of the West Coast, I reckon many folks skip out on visiting Ōkārito. That's certainly a mistake I made for a long time.
The town (imagine air quotes around "town" because even that word is a stretch) is idyllic and peaceful. With the Alps as a backdrop, ocean on your doorstep, and kiwi in the bush nearby, I can't figure out why this place isn't bumping with tourists 24/7.
Because of its ecological significance, most people who pop out to Ōkārito are keen birders and nature frothers. Let's say I was the youngest there by quite a few decades. Some people travel to see mountains, and I travel to see herons.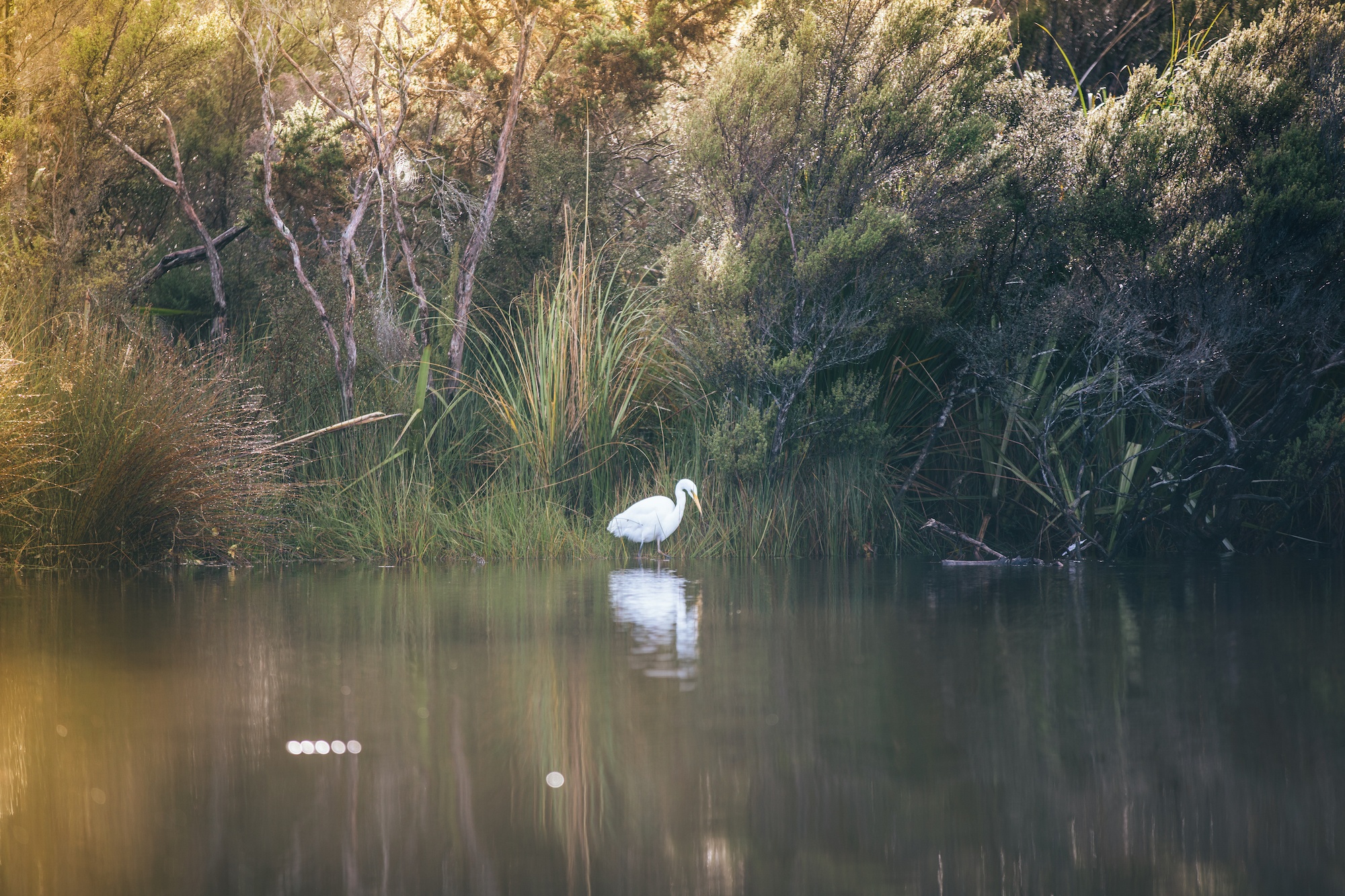 There is one absolute must-do in Ōkārito, and that's to head out on the famous lagoon with Okarito Eco Boat Tours. Indisputably the best way to experience the wetlands and their incredible nature, head out with locals Paula and Swade for a morning exploration.
They take you around the Ōkārito lagoon, wetlands, and rainforest waterways on their custom open boat. Over 3,000 hectares, this is one of the best wetlands you can visit in New Zealand. You see so much on the water, from birds that live and feed in fresh and saltwater environments to wading birds and some of the rarest creatures in the country.
We saw banded dotterels, godwits that fly here from Alaska, and the unusual-looking spoonbills. Here dwell the Rowi, the rarest kiwi, though it's not one you generally see (though you can visit them at the Franz Josef Wildlife Centre nearby where they are raised).
Turning a corner and seeing dozens of the Dr. Seuss-esque spoonbills perched on top of the trees like ornaments is not something you see every day!
But of course, the king of the birds here in Ōkārito is the kōtuku/white heron, a creature of almost legendary status in New Zealand. Can you guess why?
Those beautiful long white feathers. The kōtuku was almost hunted to extinction after its only breeding site on the Waitangiroto River near Whataroa on the West Coast was discovered in 1865. By 1941 their population had dwindled to only four nests before being protected. Considered somewhat stable, there are now around 100 to 120 birds left.
During the breeding season, the kōtuku feed in the large coastal lagoons in the area, especially the nearby Ōkārito Lagoon, before dispersing around the country. We saw many of these elegant birds while out on the lagoon. Perfectly perched in shallow water, their white reflections make them easy to spot amongst the dark green.

Until I immersed myself in conservation, particularly in New Zealand, I didn't realize how fragile and threatened wetlands are worldwide.
Over 90% of New Zealand's wetlands are gone. Poof! This is primarily due to intentional drainage for land use, like farming and development in the early days of European settlement. Between that and purposely introducing stoats, these guys have a lot of things to answer for, I swear!
Wetlands hold a lot of importance, as well as being home to some of the most unusual and threatened species. Wetlands are considered "high value" ecosystems in New Zealand and are home to a disproportionately large number of threatened birds and animals, including 67% of freshwater and estuarine fish, and 13% of endangered plants. They also play important roles capturing carbon, maintaining water quality, regulating atmospheric gases, and are culturally significant to Māori. – The Guardian
Between habitat loss and predation by introduced species, these places are seriously threatened and need protection to survive for future generations.
While I was out on the water with Okarito Eco Boat Tours, I learned about an incredible predator-free project occurring right here.
One of the largest and most ambitious projects to date, the $45 million Predator-Free South Westland project, which is working on getting rid of possums, rats, and stoats from a 100,000-hectare area bounded by the Whataroa and Waiau (Waiho) Rivers, the Southern Alps, and the Tasman Sea over five years, including Ōkārito.
The project builds on Zero Invasive Predators' (ZIP) successful removal of predators from the 12,000 hectares Perth River Valley which borders the new project area. While in the area, I invited myself along to a local ZIP meeting and learned about how they have been clearing one of the wildest and most stunning corners of New Zealand in the hopes of protecting our native creatures. It was super inspiring!
We all know that New Zealand is unique. But as you slip through the mirror-like lagoon of Ōkārito just past sunrise, seeing the mists and mountains reflecting in the dark water and many birds chatting away in the distance, the smell of earth and rain and fresh nature overpowers you, now this is an extraordinary experience.
I've said it so many times, and I'll say it again; we are so lucky still to have a place like this left in the world. Let's look after them!
For my fellow nature lovers and bird nerds, plan your trip down to Ōkārito ASAP.
Have you been to Ōkārito before? What's the best wetland you've visited? Becoming a bird-nerd too? Share!
Many thanks to West Coast Development for hosting me on this trip. Like always, I'm keeping it real. All opinions are my own like you could expect less from me!