Sometimes, I find myself dwelling on the regions where I spend the most time in New Zealand; I'm the kind of person who likes to go back to places I love again and again. And for some reason, I'm always drawn to visit Southland. Considering I've called nearby Wanaka home for a decade, I suppose that makes sense. For us, the south coast is our closest coastline. When we seek the sea, we head south.
Reversed from the northern hemisphere, the further south you go in New Zealand, the colder and wilder it gets. Makes sense. The next stop is Antarctica.
For me, those wild places speak to my soul. I love rugged coastlines that smell alive, like seaweed. So many of our greatest seabirds thrive in these kinds of places. And did I mention the views? Epic, to say the least.
McCracken's Rest is a lookout on the edge of the cliff overlooking Te Waewae Bay.
Stretching along the southern coastline, Southland sits right next to Fiordland, my favorite national park and mountainous region. Home to three spots that I never get tired of visiting, Riverton, the Catlins, and of course, Stewart Island, Southland is the kind of place that gets under your skin.
There's something simple and primal about it.
From the iconic Nugget Point Lighthouse to looking for kiwi on Stewart Island to surfing in Riverton, there is no shortage of unique adventures to be had if you visit Southland. Every time you visit, you'll discover something new.
Here are 30 of my favorite photos when I visit Southland – enjoy!
I am stealing the name of this bach/crib one day "Paua Dise" – paua are New Zealand abalone, abundant along the South Coast, and a real delicacy here.
Riverton and Te Waewae Bay
Riverton is a place I've been visiting since 2013. A three-hour drive from Wanaka, Riverton is a place many of goes to when we need to get away and be by the ocean. Home to quirky locals, great surfing, and lots of cute baches or cribs as they're called in Southland (holiday homes) to stay in, Riverton is iconic.
The drive down from Te Anau or Wanaka brings you through rolling green hills and places with a lot of history. The road along Te Waewae Bay from Tuatapere along the coastline through Colac Bay to Riverton is stunning. Rain or shine, this corner of Southland is just beautiful. This is where I learned (or attempted to learn) to surf and where I spent many long weekends with friends curled up by the fire and going for long walks on the beach.
Riverton itself is artsy – hippy- fisherman-y, a rather weird combination that somehow makes sense when you visit. And don't forget to check out the Te Hikoi Museum – it shares the history of the south coast, and it's been done up really well. I left with half a dozen books from the gift shop.
The Clifden Suspension Bridge is the longest suspension bridge in New Zealand. There's something so nostalgic and beautiful in these old red bridges dotted around this part of the South Island. I can't help but stop to check them out.
Surprisingly, I had never walked along the iconic Gemstone Beach til this year! Semi-precious gems such as garnet, jasper, quartz, and nephrite have been known to appear here amongst the colorful stones. Perhaps it's my inner child, but there's something so nostalgic and lovely about spending a few hours foraging and looking for interesting pebbles along a beach.
Orepuki Beach Cafe is an amazing dining spot just past Gemstone Beach in Southland. There is real heart and soul here, which manifests delightfully in their farm and garden-to-table meals. Sitting on eight hectares of pasture, they produce their own lamb and beef. They also grow much of the food you see on the menu. Overlooking Te Waewae Bay and the Longwoods Forest, the building was constructed around 1885.
Cosy Nook is a charming little cove on the south coast that's home to old baches. Originally called Pahi, it was one of the largest Māori villages in the area.
Riverton is home to a quiet foodie revolution – forest gardens, the coolest movement I had never heard of. The South Coast Environment Centre is a hub for sustainability and permaculture projects, and it's where I got to meet Robyn, the powerhouse behind the movement. 25 years ago, Robyn and her family planted some trees and threw some seeds on a scrubby bit of land, which has now transformed into an incredible forest garden. By allowing nature to take its course, you can grow a huge array of food in a self-sustaining way. You can even visit the forest gardens yourself in Riverton. Robyn has also been pioneering the Heritage Orchard Project, which is preserving many species and varieties of orchard and fruit trees that were planted by early settlers on old farms, many of which get pulled down with new development.
The view from the deck at the Riverton Beachfront House is just about as epic as it comes. It's the perfect place to base yourself while hanging out in Riverton.
The Catlins
On the bottom right corner of New Zealand, you'll find the tiny but mighty region of the Catlins. Another underrated yet totally amazing hotspot, the Catlins, is home to some of our most unique wildlife, beautiful beaches, amazing history, and lovely places to hide away in.
I've always thought of the Catlins as the land of rainbows. Surely there's a pot of gold waiting for me here. Or maybe just some sheep. Either way, the rolling green hills, the waterfalls, and the endless rainbows speak to my heart.
This is definitely one of the most scenic lighthouses in New Zealand. I haven't been to Nugget Point in the Catlins in a long time. It was amazing to return on a sunny summer day while road-tripping around Southland. While taking in the stunning views from the iconic Nugget Point Lighthouse, make sure to take some time and look down. I watched seals frolic in the waves as the sunshine glinted off the golden kelp. The color of the water here is unreal.
I haven't been to Purakaunui Falls in such a long time, and it made my heart flutter with unexpected nostalgia to return here while exploring the Catlins again. As you travel inland, you can find many waterfalls hidden amongst the forests. McLean Falls, Purakaunui Falls, and Matai Falls are some of the most iconic waterfalls in the Catlins.
A curious tomtit following me around the Catlins.
The Lake Wilkie track in the Catlins is a great place for birdwatching
Found only in New Zealand, the Hooker sea lion/rāpoka/whakahao is actually quite vulnerable and loves to visit Southland. Once, they were found all over the coastlines here, only to be hunted close to extinction by sealers in the 19th century. Most of them now breed on the subantarctic islands, like on the Auckland Islands, where I've had the pleasure(?) of seeing their colonies. It was very cool and very traumatic. I would never wish to be a female sea lion; that's all I'm saying. Lucky for us, the first sea lion pup in over 100 years was born back on the mainland in 1993, and now you can see these mighty critters along some of the beaches in the Catlins, including here at Cannibal Bay. I think the general rule is to keep 20 meters away from these guys. They're big, stinky, and surprisingly fast. Best observed from a distance.
Beresford Heights is situated deep in the heart of the Catlins, 400 meters above sea level on Table Hill. Lovingly built and cared for by the Burgess family, who have been farming the surrounding land for generations. It overlooks the incredible Southland landscape, making this off-the-grid retreat is the perfect getaway. Comfortable, cozy, and just about perfect, it's the best spot for getting away from it all somewhere beautiful.
There are few things in this world that can entice me to get out of bed before sunrise, and penguins are one of them. The hoiho/yellow-eyed penguin is one of the rarest penguins in New Zealand, and you can sometimes find them lurking around the Catlins coastline. The lovely family at the Catlins Mohua Park, an epic eco-accommodation nearby, can take you out on a sunrise tour to a secret spot to watch them emerge from the bush. Squeaking their wee hearts out before diving into the sea for the day. These creatures are so special, even if they wake up way too early.
Stewart Island/Rakiura
You guys already know how much I love Stewart Island and how large of a space it holds in my heart after my experience with the pilot whale stranding there in 2018. New Zealand's third island is an hour-long ferry crossing from Bluff or a quick flight over from Invercargill.
I will always love Stewart Island. It's one of my favorite places in the world, and I never get tired of returning, even though it holds some painful memories for me. It's such a special part of New Zealand, and it's worth exploring.

On this trip, I was lucky enough to stay at Stewart Island's newest accommodation, the Argyle Apartments, stylish and beautiful, right in Oban. Because Oban is really small, you've got to book your accommodation and your meals generally well in advance. Nowadays, there's a new gourmet food truck called Fin and Feather that I dined at daily. Once the sun set, I met up with amazing folks at Beaks and Feathers for some nighttime kiwi spotting – we saw six,includinf some chicks a new record for me!
Mollymawk on the wing, with the tiniest, graze on the water. Watching these incredible creatures soar around Stewart Island will make your heart sing. Enormous yet graceful, the albatross will always be a favorite bird for me. Especially when they land, which isn't graceful at all.
It was a warm summer's day when I was lucky enough to watch this tīeke/South Island saddleback preening. She was sitting in the sunlight on Ulva Island, a predator-free island near Oban on Stewart Island. This endangered creature belongs to New Zealand's unique wattlebird family. This is an ancient group that includes the endangered kōkako and the extinct huia. With an estimated 650 birds left, the tīeke can only be found on offshore islands and predator-free sanctuaries around New Zealand. It was pretty special to spend some quality time observing these guys with the remarkable Ulva herself from Ulva's Guided Walks, based on Stewart Island. Honestly, I trotted behind her like a shadow the whole afternoon. Ulva's knowledge, respect, and interest in conservation is remarkable and captivating. I learned so much.
If you've got some time and are looking to get off the beaten path, here's my favorite adventure for you. Catch a plane from Invercargill with Stewart Island Flights directly to Mason Bay. They will drop you on the beach (very cool) and you can stay the night at the backcountry Mason Bay Hut (don't forget to bring a backcountry hut ticket). If you can fly in in the morning, go drop your pack and then start exploring! It's a big day but you can walk the length of the beach to the Gutter which is beautiful and where I found my stranded whales. There's incredible bird life and kiwi spotting all around the hut (dawn and dusk) and keep an eye out for their iconic footprints along the beach and dunes. The next day you can walk to Freshwater Hut and catch a water taxi back to Oban (book in advance) for the perfect overnight adventure.
How cute is this Stewart Island robin or toutouwai? I love seeing robins in the bush in New Zealand. Friendly and curious, they don't seem to shy away from people. Encouraged by our tramping boots disturbing the forest floor, they often eagerly await to check for bugs and insects to nibble on. If you stop and sit still, the can become very curious, making for amazing experiences.
Have you had the chance to visit Southland yet? Where's your fave spot? What's high on your list of places to visit? Spill!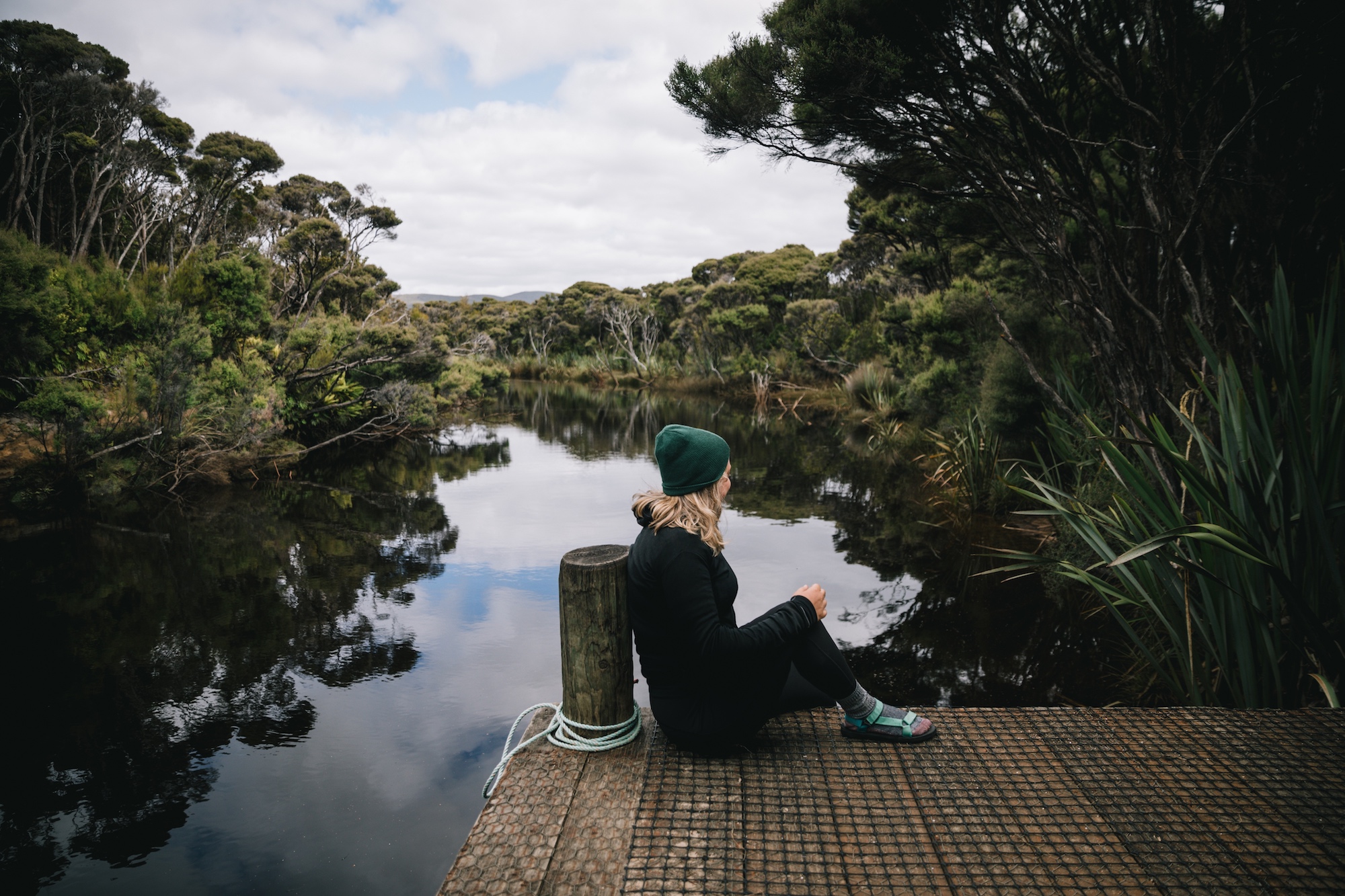 Many thanks to Great South for hosting me in Southland; like always, I'm keeping it real – like you could expect less from me!