If there was ever a place that captured my heart so entirely, it would be Stewart Island.
Tucked just off the end of New Zealand's South Island 30 kilometers across the Foveaux Strait from Bluff, this tiny paradise represents the last piece of modern civilization before you hit Antarctica. New Zealand's third island is remote and untamed, often overlooked by visitors here AND IT SHOULDN'T BE.
Rakiura, the island's Māori name, means "glowing skies" which is a reference to the Southern Lights (Aurora Australis) which can sometimes be seen from the island. You must visit Stewart Island.

Flanked by wild waves and even wilder weather, Stewart Island is wild, beautiful and offers a rare glimpse of a truly untouched NZ. With its rugged peaks, dense bush, vast beaches and fascinating history, you'll leave here with your eyes wide open and your heart full.
It's taken me up until now to reflect back on this trip with happiness, because a visit Stewart Island is the place where I found 150 beaching pilot whales, a traumatic experience I'm still reckoning with. But apart from that I spent a week there at the end of last year and it was incredibly special and I am so keen to go back again and again.
Rakiura stole my heart.
Oh and did I mention all the birds? Obviously I also love to visit Stewart Island because it's where one of the very last populations of kākāpō were found, and if I have my way, they'll eventually come back here too one day.
In fact, there are more (rare) birds than people (true story) here. And, it's pretty near the only place in the country you have a real shot at seeing an actual, live, kiwi in the wild. And no, not just at the local pub at 5pm. I'm talking about the feathered variety.
Oops. I digress. Let's move on, otherwise this post will become all about the birds and rugged kiwi men (hit. me. up.)
So if you're looking for a unique kiwi experience off the grid with stunning nature and wildlife, here are eight reasons why you should make Stewart Island a priority on your next trip over. You're welcome.
1. It's a chance to experience the real New Zealand
Everything about Stewart Island is dialed back, and you only have to spend a few minutes there to truly feel like you've stepped back in time. With only 400 people permanently living there on an island that is 1,746 square kilometers in size, over eighty percent of the island is protected national park and uninhabited.
The wilderness is EPIC. It's true when they say that Stewart Island gives you a glimpse of what all of NZ would have looked like before people came.
From the moment you board the ferry over from Bluff to the moment you leave the island, you'll get a sense of wilderness unlike anywhere else. And in classic kiwi fashion, how boring would it be if the ferry ride was flat an average!
Yeah nah!
Sometimes calm, but mostly wild, the Foveaux Strait is short and shallow, and takes only an hour to cross, but be sure not to eat beforehand and nab a seat by the window. Or if you're me and you're lucky you'll be next to a school group the day after a massive storm (big rolling seas) and listening to a bunch of youths spewing their brains out – *immediately refills my birth control*
2. You can spot a Kiwi in the wild
Um. Could this place get any better?
As I've already mentioned, a visit Stewart Island is literal heaven for a bird nerd such as me. But what makes it even more special, is the opportunity to see a real, live kiwi bird in the wild.
These birds are the national emblem of New Zealand and are incredibly rare. A significant amount of work by DOC has been put in over the last decade, to ensure the survival of these beautiful flightless creatures, and while Stewart Island still has a massive problem with feral cats going after their native birds, there are no stoats here which have partly allowed kiwi to thrive again.
I've managed to see several in the wild and I've gotten fairly good at spotting them. Being nocturnal, they're often active here at dusk or right before sunrise and you can hear their high pitched calls and if you're very quiet you can hear them stomping around in the bush. They are fairly noisy.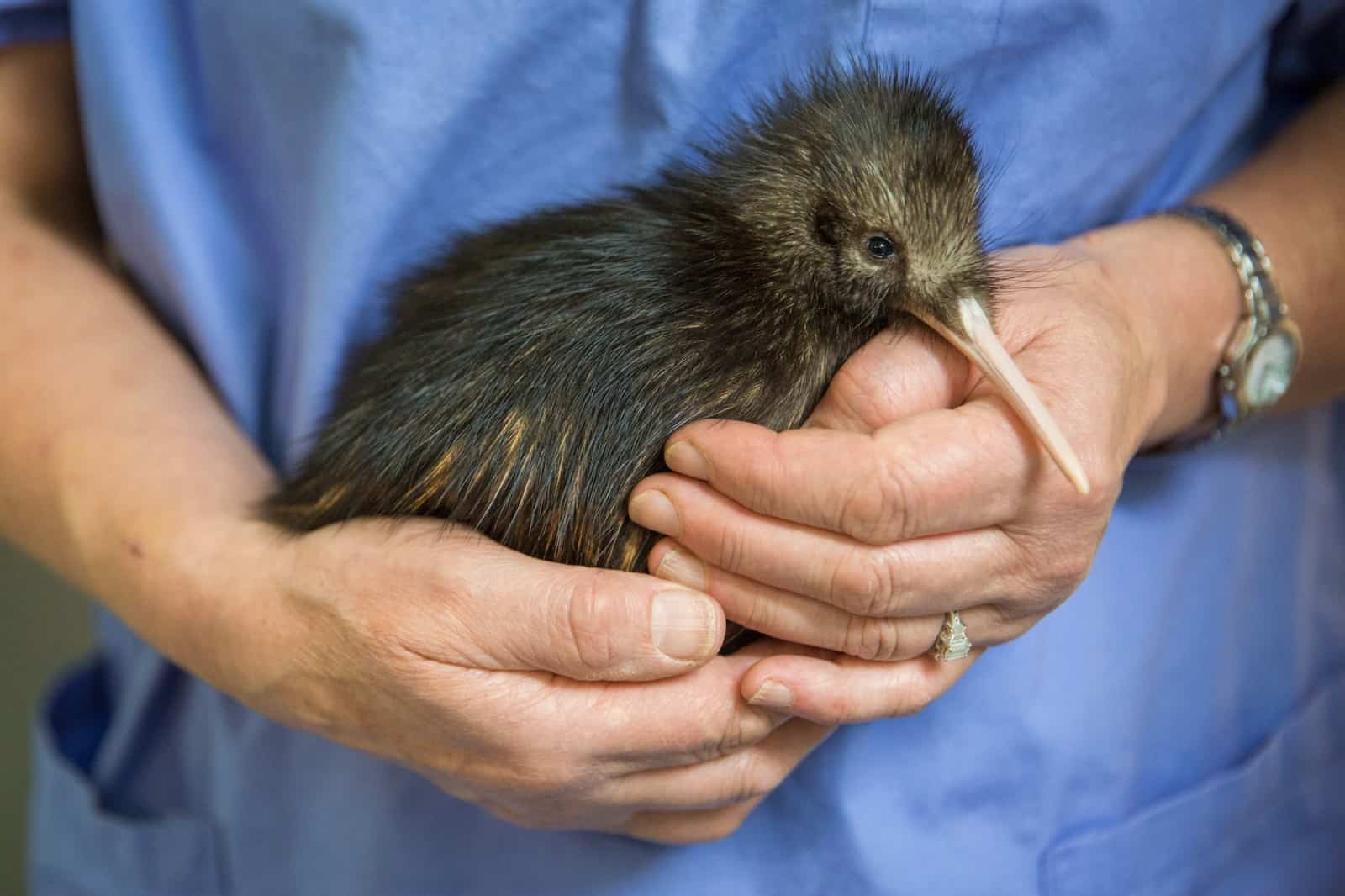 As kiwis are nocturnal, the best chance you have of spotting them is at night, on a dedicated Kiwi encounter tour.
RealNZ run a two-hour guided walk, limited to only 16 people per night, so as not to disturb the birds (a serious thumbs up from me). You'll start at dusk, and via torchlight head out through native forest to Ocean Beach, a popular feeding ground for the Southern Brown Kiwi. NOT to be missed people!
It also books out super far in advance too, heads up. And if you can't join in, just spend some time out on the tracks as the Stewart Island kiwi are often seen during the day too, and if you look carefully you can often see their footprints in the mud or sand, shaped like an arrow.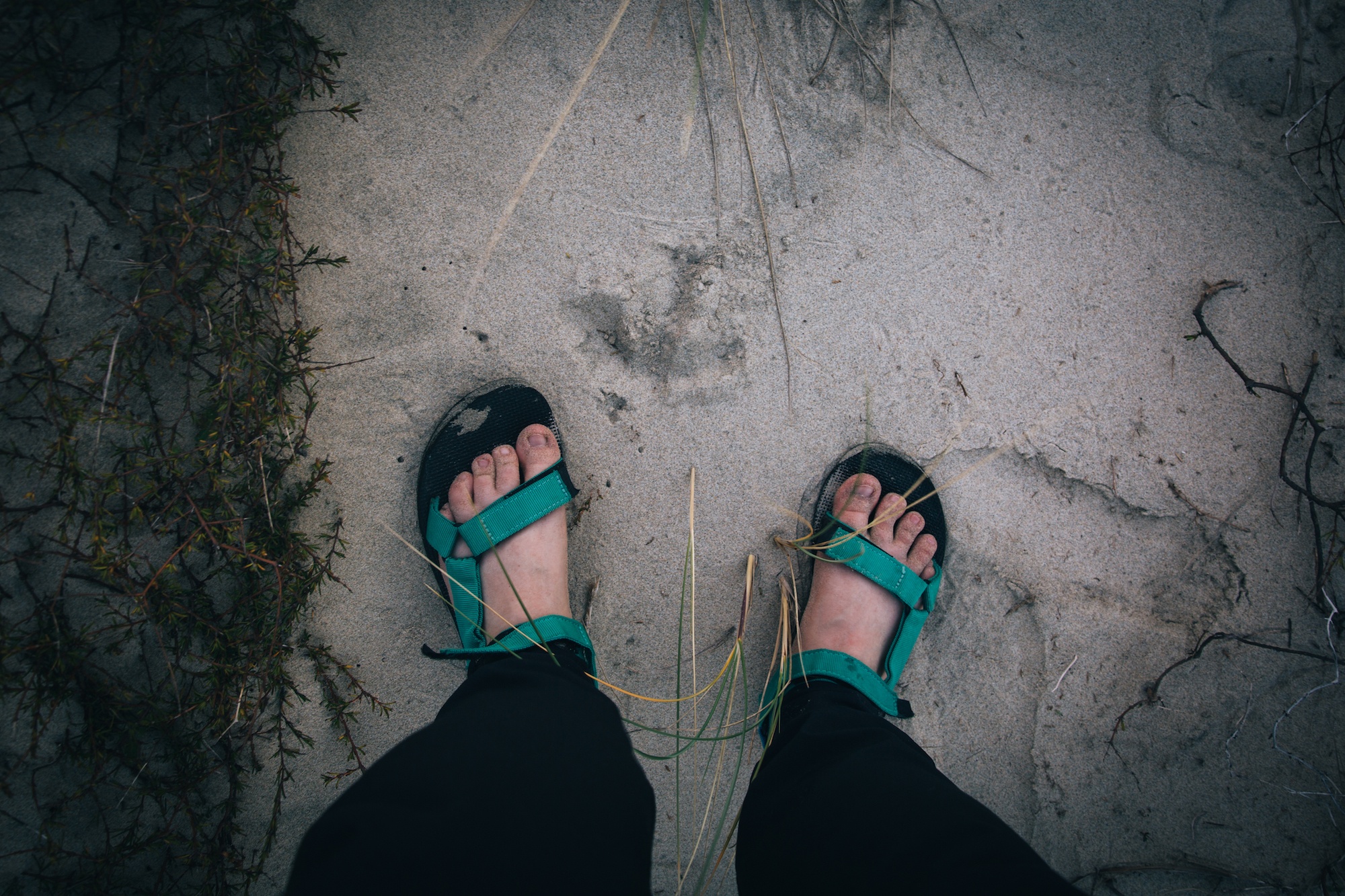 3. The history is fascinating and wild
Despite its remote location and obvious wilderness, Stewart Island actually has a long and interesting history.
Māori have been visiting and living around Rakiura for hundreds of years harvesting tītī (muttonbirds) and fish.
While tourism and fishing remain the primary economic industries, the late 1860's saw much of the native Rimu forest felled for timber, while 1890's brought a short lived tin mining boom, as well as being hub for both sealing and whaling. Shivers.
Remains of both the logging and tin mining operations can be visited, as well as an old tramway at Port Pegasus. You can also visit a Norwegian Whaling station at Paterson Inlet, and Ackers Cottage, thought to be the oldest building in New Zealand. And you can often find old whale bones out on the beaches too.
4. Check out Ulva Island (because birds)
A tiny forested island just inside the Paterson Inlet, Ulva Island (Te Wharawhara) is a picturesque, predator-free bird sanctuary – some of my favorite words! Definitely make time for a visit out here.
Here, native bush covers much of the land, providing shelter for weka, tui, bellbirds, kaka, the rare saddleback and kiwi. Many other birds thrive here, as well as several of New Zealand's unique plant species.
Ulva Island is rather iconic in New Zealand as one of the few pest-free open sanctuaries in New Zealand – no nasty mammals like cats, rats and possums to eat the native birds and bush. Here in this unspoiled rainforest you have the chance to spot rare birds up close and personal in a safe environment mostly unchanged by humans. I. LOVE. IT.
A hoiho – an endangered yellow-eyed penguin
I took the RealNZ's Ulva Island explorer tour which showcased this unspoiled isle to its fullest extent. I was particularly impressed with the knowledge of the guides, who regaled us with tales of the local Māori and early European settlers as well as spotting sea lions, albatross and penguins on our way there and back by boat.
A warm and cloudless day, it was pretty special walking the little trails around the island and hearing the strong birdsong in the forest.
I loved having a little robin follow me the whole trail.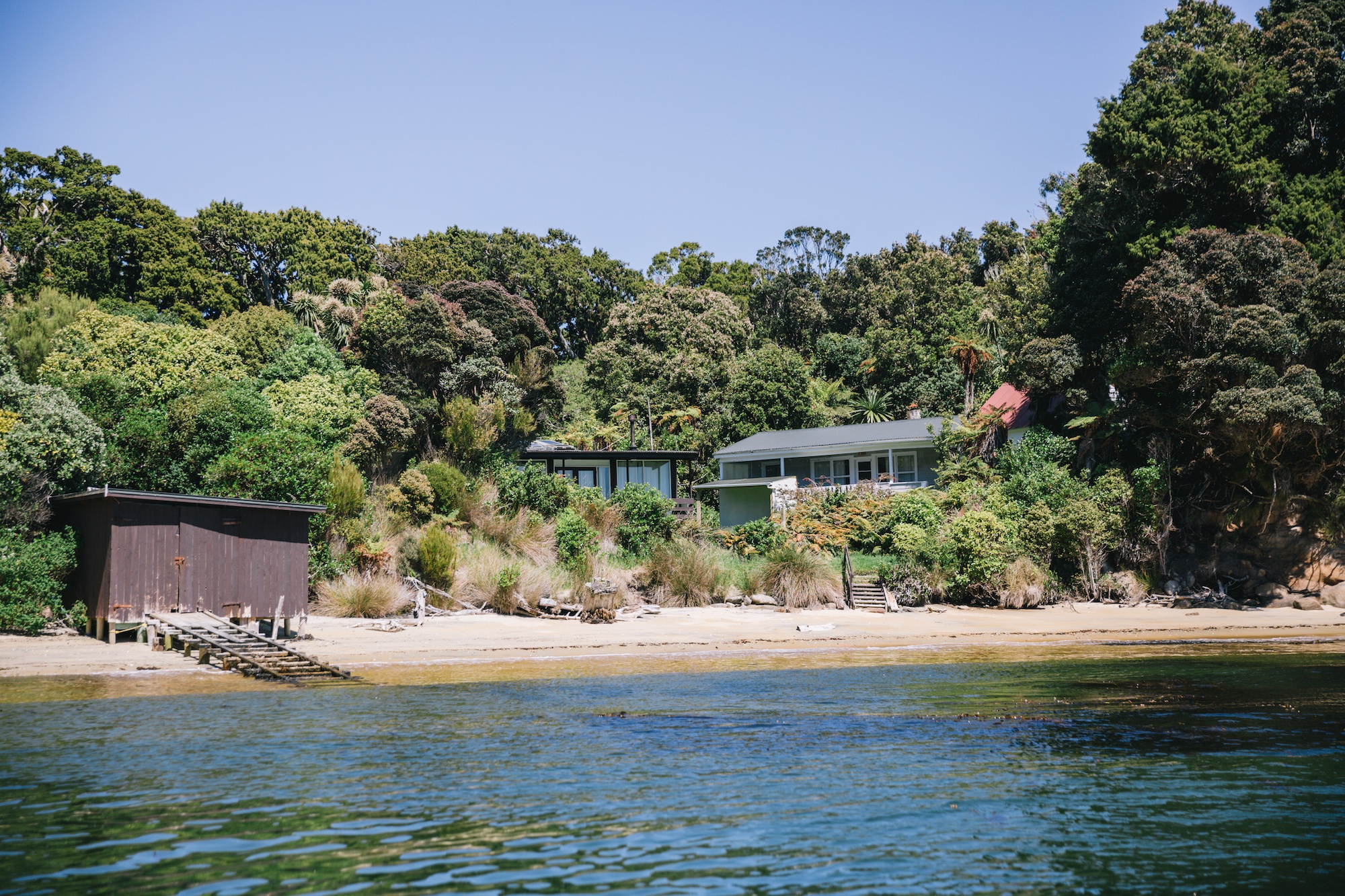 A curious male sea lion
5. Say hi to the locals!
The locals here are one of a kind (or 400 of a kind, if you want to get technical about it). They're welcoming, friendly, full of interesting stories, even I disagree with many of them about pest control there – but that's a fight for another day.
Despite the fact that thousands of us descend on their slice of paradise weekly, they remain happy, helpful and always willing to lend a hand. It's small town New Zealand at their finest.
I recommend heading to the pub for a chat and a meal of fresh oysters, salmon or blue cod (most likely caught just a few hours before), but in summer sometimes it's so busy you've got to book in your meals in advance or cook for yourself.
6. The tramping (or hiking as the rest of the world calls it) is exceptional
With nearly 300 kilometers of walking tracks on Stewart Island it's easy to get lost – intentionally of course – but also not – plan accordingly!
Most of the tracks take you on a beautiful adventure through native rainforest and along vast golden beaches. Many are serviced by basic DOC (Department of Conservation) huts but you can bring your own tent if you wish too. One of New Zealand's Great Walks is here – the Rakiura Track, a 3 day 32 kilometer loop track.
Be warned though – most of the overnight hikes here, while seriously spectacular, are grueling. Not because of big mountains or climbs, but rather because the bush here is dense and intense as I like to say, and when it rains it turns into a veritable bog. I'm talking mud up to your waist. It's demanding but rewarding, but not to be taken lightly and many of the tracks have to be timed according to low tides.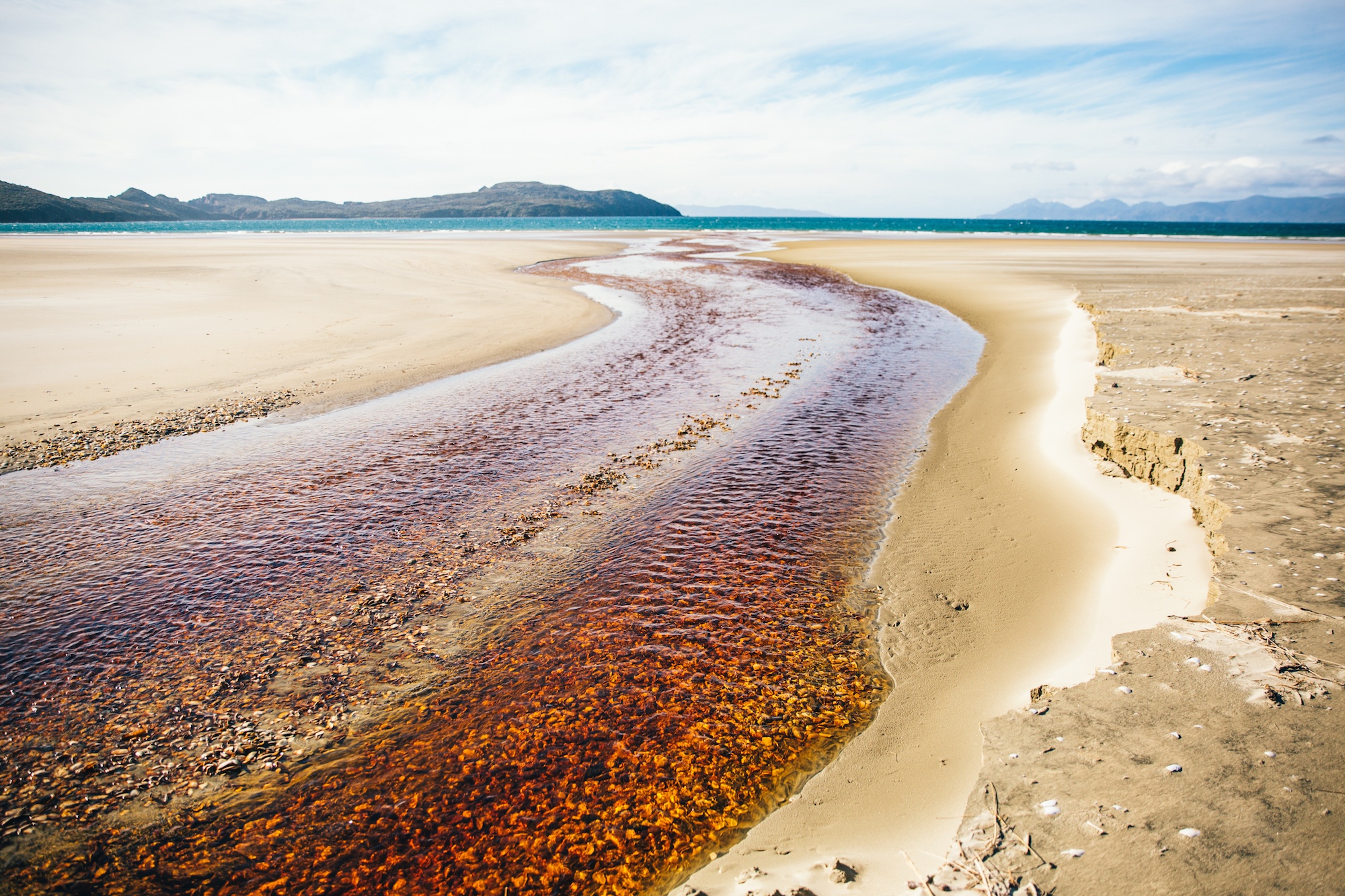 When the trail turns into a pond
Although the tracks are easy to follow and are well signposted, the days are long and the distances between huts are great. Because of the remoteness and potential for wild weather (as with any hike) It is important you are prepared. See here for help with safety and what to pack.
But not to worry if you're just not that keen on a long slog there are plenty of pretty day walks that leave you feeling just as unplugged as a five-day adventure. Also, day walks mean wine at sunset back in the comfort of where you're staying. Bonus!
The two-hour Fern Gully track or the four hour horseshoe Point walk are perfect for hiking beginners, and feature incredible scenery along the way. For the more seasoned trampers, the North Western Circuit or the Southern Circuit won't disappoint.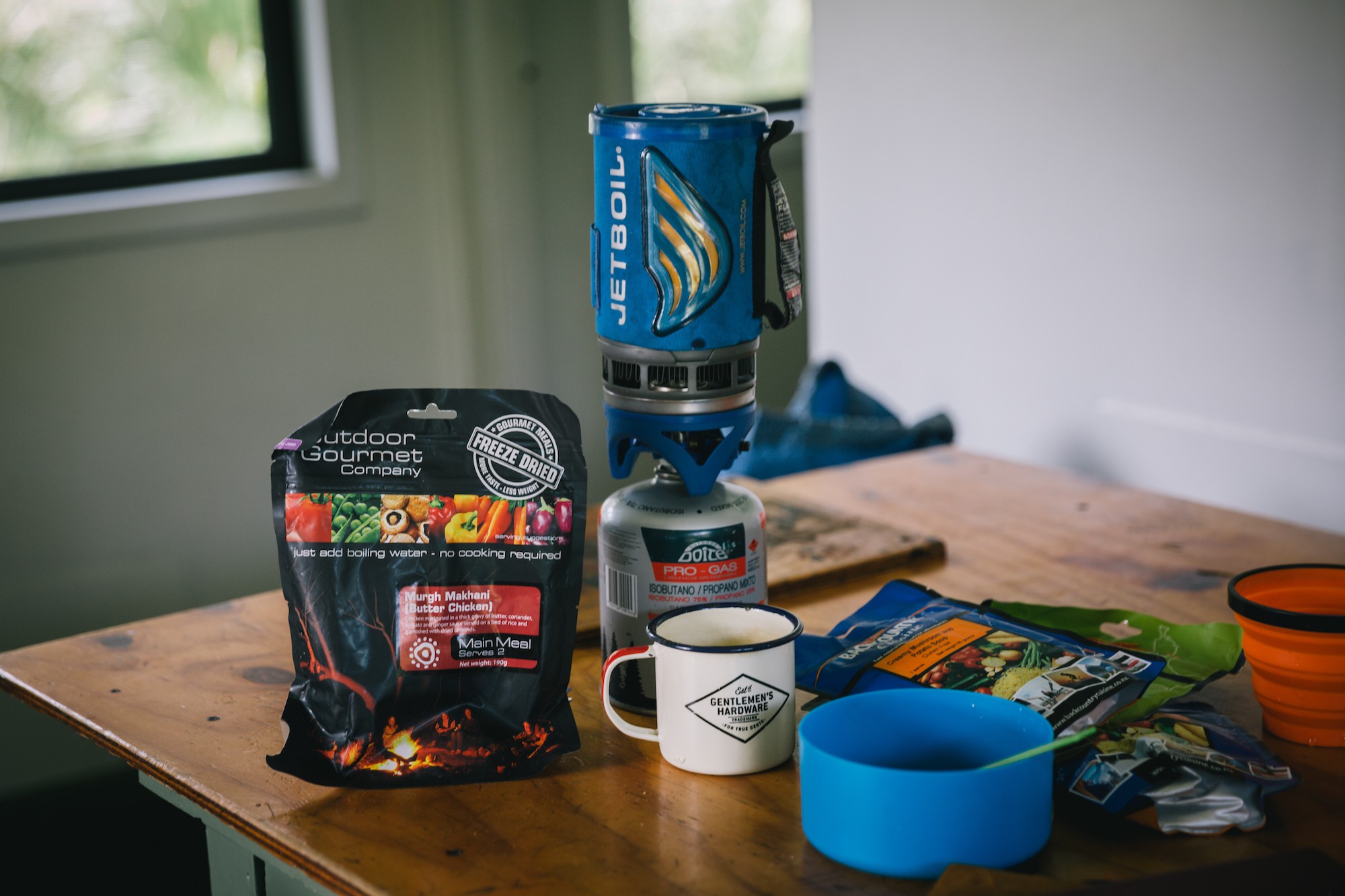 Our standard meals of freeze-dry Back Country Cuisine
7. The accommodation is next level
Think a mixture of cute one-of-a-kind baches mixed with cosy lodges with five-star views. I'm a little biased on this one because I stayed at the Stewart Island Lodge, and guys, you should probably (definitely) stay here, if you can nab a booking. It fills up fast!
With panoramic vistas of Halfmoon Bay (the main settlement area) out towards the Foveaux Strait, a wide wrap-around veranda and a peaceful grounds filled with native birds, this lodge is pure bliss.
Even just the view is to die for.
A tui
I basically just wanted to sit in an easy chair with a book my entire stay, which I shamelessly did for hours. Watching the waves and the wild weather roll in (with a glass of wine in hand) is my kind of therapy.
In the garden you can often hear and see tui calling, chubby fat kereru waddling around and be sung to by bellbirds. It's just divine.
I would love to spend a week here!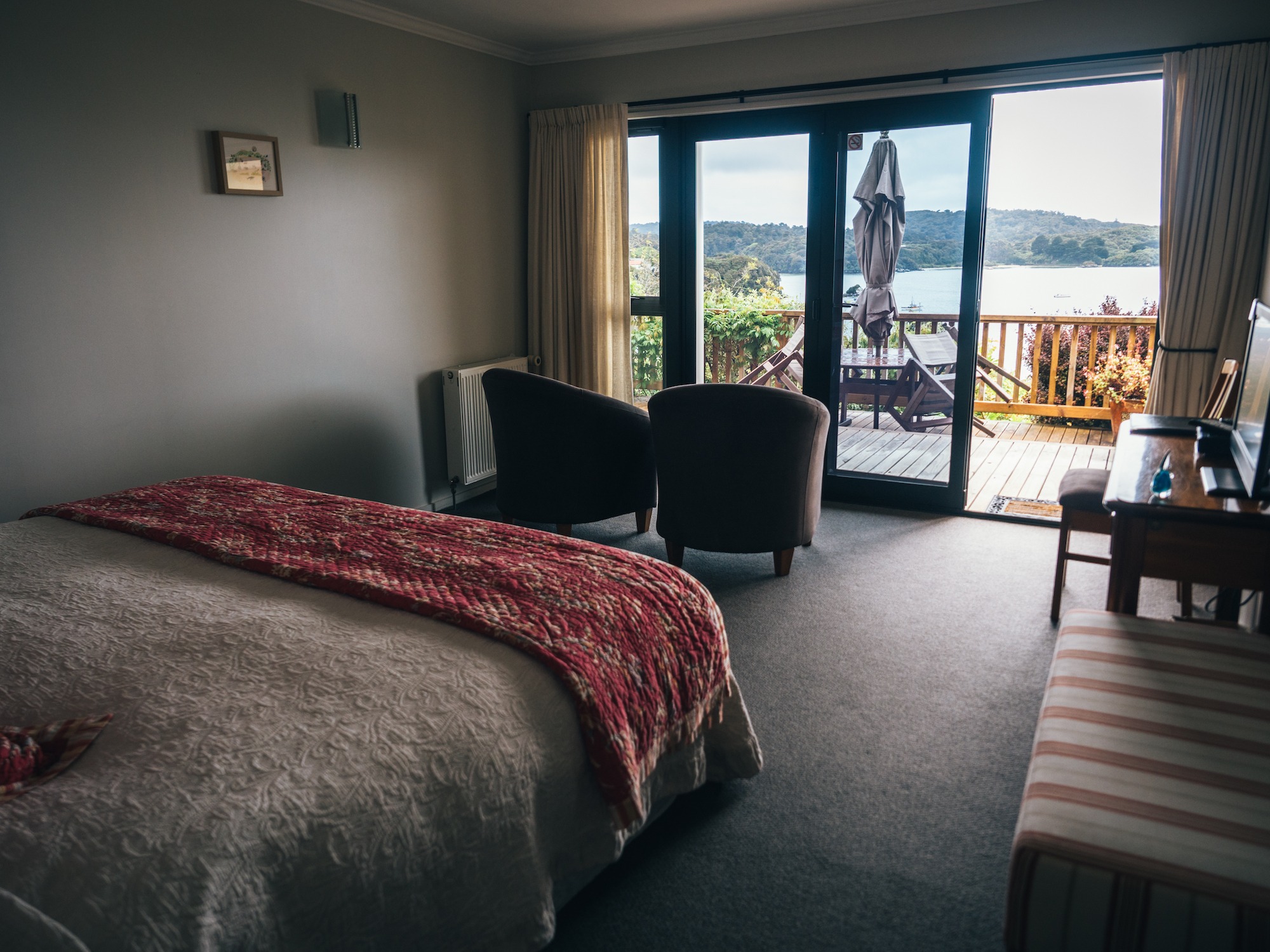 A kereru – native New Zealand wood pigeon
8. The beaches are amazing. And you'll more than likely have them to yourself!
With over 700 kilometres of coast, Stewart Island is literally surrounded by beautiful beaches everywhere you look. Wide, wild and almost always deserted, the only thing missing is a piña colada and deck chair. Combined with crystal clear blue water, it almost seems tropical, that is until you jump in. Brisk as!
Head to the aptly named 'Bathing Beach,' within walking distance of the main township Oban, for a quick swim, or venture further afield to Little Hellfire, Māori Beach or Mason Bay for spectacular golden sand dunes.
Mason Bay is one of my favorite places in the world, even if that's where I found the beaching whales. A stunning 14 kilometer massive beach, it's wild and remote and probably the most exposed beach in New Zealand.
Stewart Island is not to be missed on your New Zealand Bucket list. Escape the trappings of modern life, and see NZ the way it was meant to be. You won't regret it!
While it doesn't have the mighty mountains of the Southern Alps or the stunning blue lakes, Stewart Island has a magic all on its own, that can appeal to many. Relaxed and beautiful, I almost could see myself living there, alone in a bach by the sea. Sigh. Time to plan my return I reckon!
Have you been to Stewart Island? Is Rakiura on your bucket list? Spill!
Many thanks to RealNZ for making this trip to Stewart Island possible. Like always I'm keeping it real, all opinions are my own, like you could expect less from me!