Paris and I are not on good terms. 
Have you ever been to a place you've been dying to go to and nothing has gone right? Twice I have made the journey to the City of Light and twice I have been left wanting. Both trips were quick and jam packed with trying to squeeze in as much culture as possible in only a few days.
Paris is a fancy, classy lady. Cheap dates and quick visits don't cut it with fashion capital of the world. You've got to wine and dine her. You've got to take the time to get to know Paris, otherwise she'll kick you in the ass and leave you crying on the sidewalk. Here's how I ended up crying on the sidewalks of Paris. Twice.
My introduction to Paris when I was 19 was unforgettable, and not in a good way. Between the entire city being on a public transportation strike for days or the fact that I ended up missing the last bus to the Ryanair Beauvais airport in the middle of nowhere and had to sleep on the streets of Paris, where do I even begin?
I gave the La Ville-Lumière a second chance a year ago. Trying to pack in as many tourist sites as possible, racing from one monument to another only to wait in line for hours, the highlight of my trip was when my beautiful leather boot broke ON TOP of Notre Dame. No, not inside Notre Dame, not at a restaurant near Notre Dame, not within spitting distance of a metro stop or a taxi. Nope! At the top of 387 stairs, in the rain after I waited in line for 2 hours. It then proceeded to rain cats and dogs for the rest of the trip and all I had wear were my canvas TOMS and ballet flats because I was too cheap to shell out for another pair of boots. It could have been worse but then again, is there anything worse than walking around in soggy shoes for days on end?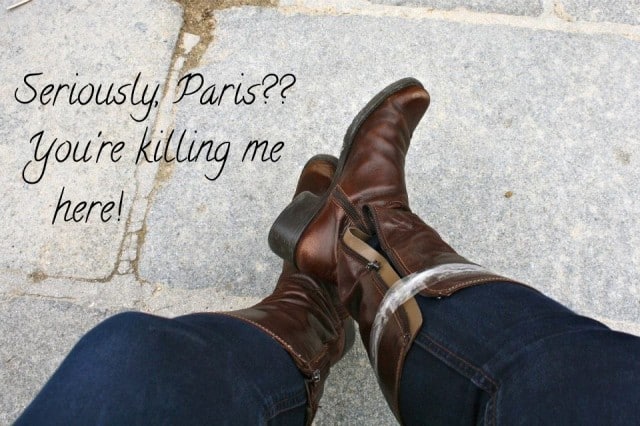 They say third time's the charm! Ever the optimist, I've learned from my mistakes and I want to give Paris another chance! Cue cheesy accordion music!
Who would I take with me? My mom? My best friend? My dog? Tough question. If I could take anyone with me, it would have to be the mysterious Ella Coquine; she is the reason I still am unequivocally head over heels in love with Paris. My favorite blogger in France, and quite possibly the entire universe, Ella's adventures and misadventures have me snorting with laughter every time my inbox pings with a new post from her. I can't even begin to imagine the shenanigans and episodes we would get up to together. Watch out Paris!
My ultimate goal in visiting Paris with Go with Oh would be to see a whole different side of the metropolis and share with my readers how to tackle this fussy mistress of a city from another angle. I got to hang out with the awesome people at Go with Oh at the Blog House in Besalú then at TBEX in Spain, so I was more than thrilled to be asked to participate in this competition – the prize being a month's accommodation at a Go with Oh apartment in a European city of our choice!
For me, I want to experiencing Paris like a local, be like the French (if that is even possible for a loud-mouthed American from the south) and get to know the "real" Paris that I've always dreamed about. Not the Paris of waiting in lines for two hours to see the Mona Lisa and jostling with massive tour groups from Japan for a photo of the Eiffel Tower.
We all know the standard "10 Things to Do in Paris" list: the Louvre, Notre Dame, the Arc de Triumpe, the Champs Elysees, the Eiffel Tower, the D'Osay Museum, Montmartre, cruise down the Seine at sunset, visiting Jim Morrison's grave, with a Versailles day trip thrown in for good measure wearing a beret and eating a baguette with stinky French cheese. That's nice and all, but really, it's overdone! I want to showcase a fresh side of Paris and take you off the beaten track!
Here are my 10 things I dream about doing in Paris!
1. Take a French cooking class
While some girls grew up aspiring to be being Britney Spears or swimming with Free Willy at SeaWorld, I had delusions of grander and yearned to be able to debone a duck and whip up boeuf bourguignon like my idol Julia Child. Getting to partake in a cooking class in France would be a childhood dream fulfilled. And getting to stay in an apartment means I would get to practice my newfound skills at night and save some extra euros. Double win.
Learning to clean a squid, I'm not afraid of getting dirty in the kitchen!
2. Go on a Vespa tour
No more worries of public transport strikes with a shiny red vespa between my knees! I want to zoom around all of Paris, preferably behind a hunky (and single) Frenchmen with a Hermès scarf jauntily tied around my neck. I can get around twice as fast and get to know the hidden back streets and local haunts of the Parisians and video it all for you guys with my Go Pro camera strapped to my head (because that won't flag me as a flaming tourist)! Maybe I will even learn to drive a Vespa in heels, like a true European female.
This is my dream photograph from a trip to Paris! I will recreate this one day!
3. Practice my French
I know 6 languages but French isn't one of them. I want to be able to order my morning pain au chocolate and espresso like a native without butchering the French language and show you how to do the same. Because fitting in like a local means speaking like a local, American accent and all. And let's be honest here, speaking French is pretty sexy, right? I'll even do an online French course in preparation. Ok, I'm exaggerating, but I will watch Amelie and La Vie en Rose in French on repeat on the flight over.
4. New and different day trips
Versailles and Giverny are nice and all, but there is far more to the surrounding countryside! I love day trips from big cities, and I would love to be able to visit lesser known locals outside Paris. Frolicking in the park and at the palace of Fontainebleau or at the Château de Vaux-le-Vicomte, living out my Marie Antoinette fantasies would make a good start. I would also not mind spending the day drinking champagne in Reims, and learning how to actually pronounce the name of this curious city.
5. Eat ALL the macarons
What pastry has gotten more attention than the NYC cupcake craze ove the last year? The famous French macaron! I will go on the hunt for the best macaron in Paris, following in the footsteps of my pastry idol, Paris Patisseries and his list of the 38 Best Pastries in Paris. I will eat them all! Come join me on my quest for my favorite macaron in Paris, because there is more to French macarons than Pierre Hermé and Ladurée.
6. Live out my Amélie, Moulin Rouge and Woody Allen fantasies
Ok, this one is kinda touristy, but I can't help it! Call me strange, but I think films are the some of the best ways to inspire travel. I have based several trips to places like Italy and Slovenia around shots I've seen in movies. Those images resonate with me and I love finally get to see them in real life. Who knows, I might even be persuaded to don a black bob wig with bangs and saunter around Montmartre, after a few glasses of famous French wine of course.
7. How to dodge all the long lines
One thing I really detest while traveling are long lines. I hate waiting in line. I have the attention span of a toddler, I was not made to wait around and do nothing in a city like Paris, with so much to see and do (and eat)! Luckily, after conversing with locals last year, I started to learn the secrets of how to get into big tourist spots like the Louvre or San Chapelle without waiting for hours or paying extra. I will test out these heavily guarded secrets and hopefully share them here!
Death to long lines!
8. Follow in Hemingway's footsteps
If I died right now and could be reborn, I would come back as Ernest Hemingway. Never mind the fact that I am one of the girliest girls you'll ever meet, I would do anything, ANYTHING to meet (or be) Hemingway. The man, the myth, the legend made his mark on Paris in the 20's with the Lost Generation of writers, poets, and artists. I would go on a pilgrimage to his old apartments, his favorite cafes, literally follow his favorite walks. I would sip gin tonics while rereading A Moveable Feast at an outdoor cafe in the late afternoon. Really, I could keep going with this fantasy.
9. Be trendy and hang out in the Marais
Last year I went on a free walking tour of the Marais neighborhood and LOVED it! I want to see more of this arrondissment. I want to explore art galleries by day and dress up and go out to the fashionable bars at night, ordering in French (oh la la!) and get to know some local cafes and markets in the area. I even want to find some affordable and cute shops that sell things, like, I dunno, boots, for example, in case yours break unexpectedly! And not just in the Marais, I want to investigate areas of Paris that aren't always included on travel lists.
Seriously, how cute is this?
10. Eat some strange (very French) things
You  name it, I'll try it! You tweet it, I'll eat it! I'll even make a video too! Frog's legs, escargot, foie gras and beef tartar, I'll eat it all with a smile on my face! I've even heard of a little place in Paris that does foie gras creme brulee, can you even imagine how fatty that is? I'll be sure to pack my leggings and stretch pants in my carry-on! The best souvenir I could take home would be an extra five (or ten) pounds gained off of delicious French cuisine. 
Bon appétit!
What would you do if you could spend a month in Paris? Are you a fan of traveling like a local? Have you ever chosen to rent an apartment while traveling instead of staying at a hotel or hostel?