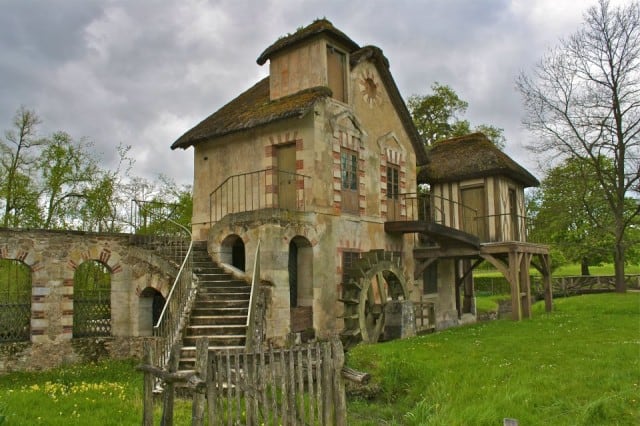 You know what? Versailles really gets on my nerves.
I want to love it. Really, I do.
There is enough history, legend and art there to titilate even the most apathetic of travelers. It's vast, with sweeping grounds that go on forever with enough tricked out bedrooms and glitzy salons to remind us that the French Revolution, was in fact completely justified. Is that gold inlaid on the bathroom floor while millions of Frenchies couldn't even afford bread? Oh yes, yes it is.
But what if I told you that the idyllic picture above was taken in an area of Versailles completely devoid of crowds?
As a super tourist myself, nothing drives me more insane than huge crowds of pissy tourists and long lines of even pissier tourists, both of which Versailles has in abundance.
Too. Many. Tourists. AGH!
It was a chilly April day when M and I caught the local train out to Versailles. We decided to get there early, hoping to not have to wait in a long line. Good joke, France. M bought a Paris Pass since she was just visiting me in Europe for a month, and I was hoping to get in for free on my student visa. Oggling the long lines when our mouths dropped open when we got to the entrance, M went to wait in the security line while I went to the ticket line, thinking I needed a ticket that stated "free admission." There were literally hundreds of people waiting. Then the heavens opened up and it started to rain. A lot.
Since my boots broke on top of Notre Dame the day before, I was wearing my only other shoes I had brought with me, my TOMS. Within minutes I, along with everyone else, was soaked and frozen to the bone. Squish, squish, squish went my soggy canvas shoes as the line finally began to move. So unpleasant.
Being an opulent 17th century palace, the floors were of course marble. Also being in France with no concept or care for  class action lawsuits, there were no rubber thingys or mats to keep the marble floor from getting slippery in the rain. Combined with hundreds of tourists trying to cram inside out of the rain, the ticket office soon became a muddy slip-n-slide.
When I finally got to the counter, the attendent glanced at my ID and said I could have just gone straight to the security line. Damnit! As I was rushing to leave, hoping to find M in the long line, I skidded a good 5 feet across the entrance floor. Luckily, I didn't fall on my ass in front of hundreds of tourists. Unluckily, I did flail my arms about like a wild thing reaching for anything to stop my fall. Being me, my hand encountered the crotch of a nearby security guard. On my knees, I quickly let go and looked up into the eyes of a very unamused French man. Mumbling "excusez-moi" I got back on my feet and bolted out the door. Not amused, Versailles.
I eventually found M and we made our way through security and inside the palace. The next hour was hell on earth. Crawling from room to room, we barely got to take in anything because of the noise and the flocks of clueless daytrippers from Paris. The Hall of Mirrors? More like the Hall of Bourgeois Asian Tourists! I was one push and shove away from starting a girl fight. You would have to pay me to go through that again.
Do you know how long I waited for this shot? FOREVER!!
M and I made our way to a cafe, ordering overpriced pastries and espressos waiting for the rain to stop so we could escape into the extensive gardens. Eventually the sun came out and the sky was filled with my favorite dark moody clouds (great for photos) and a wind that would blow your glasses clean off! Our shoes were moderately dry and with full tummies we ventured forth into the great unknown that is the gardens of Louis XIV.
Now the gardens at Versailles make up for the mobbed palace twice over! Most tourists don't go beyond the first section, with the big Apollo fountains, but I'm telling you, the best part of Versailles is a 20 minute walk down from the palace. Deep breath, I am about to give away another big travel secret.
My favorite part of Versailles (and from my whole trip to Paris) was the Trianon Palaces and the Queen's Hamlet located in the back of the gardens. Straight out of a fairytale, this area was the rustic retreat of Marie Antoinette, where she would go to escape the burdens of courtly life and play peasant with her ladies. Meadows, lakes and streams dotted with country cottages, windmills, even with a little farm and mill complete with livestock, the Hameau de la Reine and the Petit Trianon (a mini palace, more like a country house) was idyllic country France at it's finest.
In other words, the Queen's Hamlet was a glorified, life-size village built just for Marie Antoinette to go tool around and pretend she was a milkmaid when she got sick of court.
I'm sure you can imagine how much that pissed off the French working class. We all know how that story ends. Off with her head!
After the Revolution, the Hamlet fell into disrepair until it was restored in the 90's and reopened to the public only in 2006. By the time we arrived there, M and I had the place to ourselves. It was heavenly. Filled with purple wisteria, tumbling cottage ruins, and overgrown green lawns, it felt as if we said au revoir to the crowds of Versailles and stepped back 300 years to rural France, minus the plague, rampant starvation, crop failure and whispers of Revolution. Vaguely reminiscent of Hobbiton and the Shire, the Hamlet is a must-see for any romantic girl, or anyone (really) hoping to escape the sea of people at the palace.
And the best part? There was NOBODY around, nobody! I couldn't believe how empty this area was! Just incredible!
I heartily recommend visiting the Hamlet and the Petit Trianon of Versailles as a day trip from Paris. It's so beautiful and relatively unknown and peaceful, it was definitely the highlight of my trip. You can even rent bicycles and golf-carts to explore the extensive grounds. Versailles is so much more than the main palace and a quick peek at the gardens. Make sure you give yourself enough time to take it all in, especially the Hamlet. Wear boots and plan accordingly, and I promise you won't be disappointed.
Tips:
The closest station to the palace in Versailles is Versailles Rive Gauche station, only 5 minutes away and there is a Starbucks bang in front of it. Vive le France! You can take the RER C line, buy a "Paris – Versailles Rive Gauche" ticket coming from the Saint-Michel and Champ de Mars metro stations in Paris.
Otherwise you can take a SNCF train arriving at Versailles Chantiers station from Paris Montparnasse or arriving at Versailles Rive Droite station from Paris Saint Lazare or La Defense stations, both about a 15 minute walk from the palace.
Versailles has two absurdly long lines at its entrance: one to buy tickets and one to pass through security. Everyone has to go through security, so don't be silly and wait in two lines. Buy your tickets in advance, either with the Paris Pass or online. Here's a second BIG hint (auxiliares de conversación or study abroad kids, I'm talking to you), if you are under 26 years old and studying in Europe and have a EU residence card, for study or otherwise, you get in for FREE and you can go straight to the security line, flash your ID and waltz on in.
We arrived well before the opening time at 9am and still had to wait for a very long time. I have a feeling the lines are probably less mid-afternoon towards closing time and on weekdays. The Versailles website even has some spectacular graphs on the best time to visit.
There are 3 entrances to Versailles, little-known fact, and if you just want to visit the Trianon palaces and Queen's Hamlet, you can enter those directly and buy your tickets at the smaller entrances. Here is a great map with the other entrances marked.
Entrance to Versailles is free on the first Sunday of every month from November to March (low season).