I read a lot of blogs about Spain, always looking for new insights, different places and expat adventure stories. Hola Yessica is one of my favorites of the Spain bloggers. "Yessica" is how Spaniards tend to pronounce "Jessica," just like I get called Lees instead of Liz. Based in beautiful Barcelona, she offers valuable advice about visiting his intimidation city. Paired with travels around the rest of Spain, there is no shortage of great information to be found her site. Luckily, she agreed to be part of my Expat Files series and share some secret tidbits with you all about how to experience Barcelona like a local. If you are searching for hotels in Barcelona and other insider tips, be sure to check out what expat Jessica has got to say about life in this cosmopolitan Spanish city!
1. Describe Spain in 3 words
Diverse, surprising, fun!
2. What's your favorite food in Barcelona? Where's the best place to find it?
Oh gosh, I don't even know where to start – there are tons of good restaurants here! I love going to the markets and eating the freshest food there. But my absolute favorite is a little tapas bar tucked away in quiet Poble Sec called El Rincón del Cava – 'the cava corner.' The cava and tapas are super cheap, and it's got a real community vibe. La Bombeta down by the beach is also a great place for amazing food.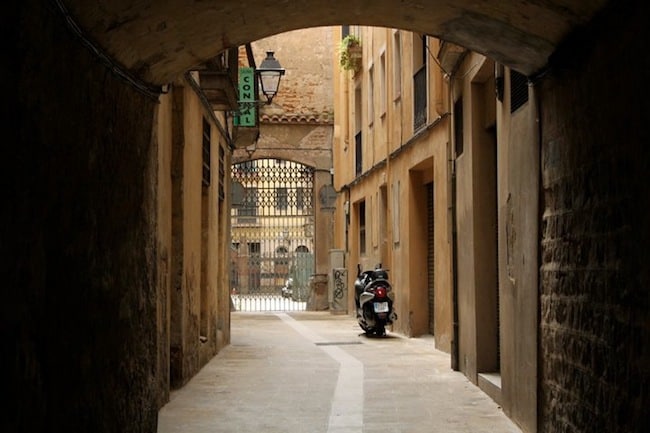 3. What do you think is the most beautiful spot in Barcelona? Where's the best view for you?
Hmm, another hard one! I like the Gràcia neighborhood in the summer, because it's filled with pretty squares and outdoor terraces overflowing with people. It's relaxed and laid-back, and there are beautiful surprises around every corner, whether that's buildings, places, restaurants, art, or just happy people having fun.
I have two favorite spots for viewing the city. One is at the Hotel 360 in the Raval, which has a 360° view of the city from the center. It's free to go up, but sadly closed in the winter though!
The other is the less-touristy Parc Guinardó. You can look out over the city through a shelter that thebarceloneses used during the Civil War to hide from the bombing. It's perched high on a hill and covered in graffiti today.
Both places are free, pretty easy to get to, and let you see everything from the Mediterranean to the Sagrada Familia to the rolling hills behind the city.
4. How did you end up in Barcelona? What made you decide to move to Spain? 
It's got a pretty typical beginning – I was studying abroad in Barcelona and fell in love with two things, a place and a guy. Things with the guy didn't work out, but luckily my love for Barcelona is still going strong!
Also I have dual nationality (U.S./U.K.) and figured I should probably start taking advantage of my lucky situation.
Be sure to keep up with Jessica's adventures on her blog and twitter today!
5. Name one thing to do or see in Barcelona that is not in any guidebook
Hmm…tricky again! Barcelona is a huge tourist attraction, so most of it is already in the guidebooks. But I think one thing that doesn't get as much attention as it deserves is the Parc del Laberinth – the Labyrinth Park. As the name suggests, it has a big maze. It's also got gorgeous gardens and fountains, a small palace, and a museum. It's really quiet and green, so it feels like you're miles away from the city bustle.
6. Name one thing you don't like about living in Barcelona
They say Catalans are more 'closed' or reserved than people from other parts of Spain. It's not that they're unfriendly or mean or anything, but sometimes it can be a little hard to meet people. You have to work a little harder to get integrated into groups of friends. They also prefer to speak in Catalan and mine isn't very good, so that can be another barrier.
But the other side of that stereotype is that once you've made a friend, they're your real friend. I'd say that's true too, so it's not all bad!
Sometimes sticking out as a foreigner gets tiresome too. Being blonde-haired and blue-eyed means that some people automatically make assumptions about me, and they're often not very nice ones. That's not specific to Barcelona, but it's definitely a downside of being an expat.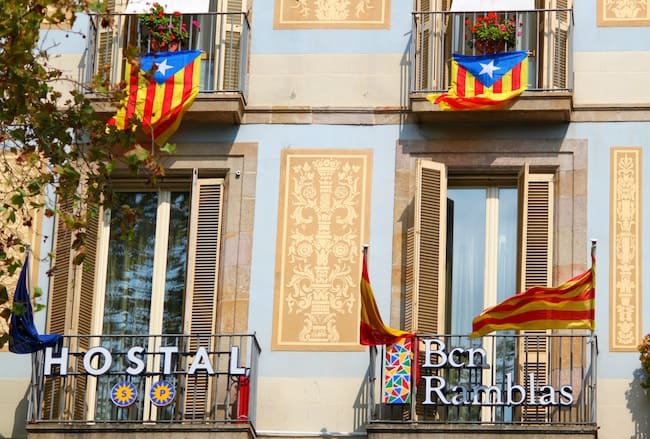 7. Name one funny cultural mishap or misunderstanding or silly moment that's happened to you in Spain
Oh man, where to start? Let's see…my friend's sister-in-law was pregnant and so the family had a lunch party to celebrate right before she had the baby. I announced to the whole room that I'd never seen a pregnant woman before! The whole room roared with laughter, and there were tons of jokes about American education.
I was actually trying to explain that as I'd never spent time with pregnant family members or friends, I'd never seen a pregnant women UP CLOSE, which was why I was so curious. Halfway through, I realized I couldn't remember how to say that. I felt so silly!
Luckily, these kinds of things happen less as time goes on, but they definitely don't go away. Still, it's all part of the fun, isn't it?
Part of this article helped foot the bills, like always, all opinions are our own.