San Juan de Gaztelugatxe on the Basque Coast, source, Flickr Creative Commons
Spain is such a culturally diverse, vibrant and enthralling country. It often feels like a dozen small countries rolled into one.
There is so much to see and do, which is why when people only go to the Big Four (my own invention) – Madrid, Barcelona, Sevilla and Granada – it thoroughly GALLS me! Granted, these are great cities, but are they my favorite cities in Spain? Um, nope. Not even close.
I like to think of myself as a certified Spain expert whereas my friends and probably many of you think I am a Spain know-it-all. What's the difference really? I have lived in Spain for over 3 years in many different cities, I've got a lot to say on the matter. I've even written a post with 5 reasons to go to southern Spain, but now it's time to shine the spotlight on my favorite region: the great green north.
Last year I lived in Logroño, the capital of itty bitty La Rioja wine country in the north, nestled in between Pamplona, Bilbao, Soria and Zaragoza. Two types of tourists come to La Rioja: wine snobs and people hiking the camino de santiago. Spaniards don't even really know where it is, and I've elicited more than a few raised eyebrows when I said not only do I lived in Logroño, I freaking loved it!
In fact, I think northern Spain is really, REALLY under-appreciated and overlooked. 
Boom. I'm throwing down the gauntlet (I'm looking at you, Andalucía), northern Spain is the best side of Spain. Northern Spain has the best food, wine, and landscapes on the entire Iberian Peninsula, I'll just come out and say it. I've been everywhere except for Murcia, but I'm guessing that little region isn't going to blow the entire northern coast out of the water. If you want to come to Spain and try something a little different, head north, not south.
Given its staggering diversity, it was hard to pick just 5 reasons to go to northern Spain, but I've narrowed it down to some of my favorite activities, some are well-known, some are not. Either way I hope to inspire a little spark in all of you to want to visit one of these places in the future.
Have you ever been to northern Spain? Would you go to some of these places after reading my tips here?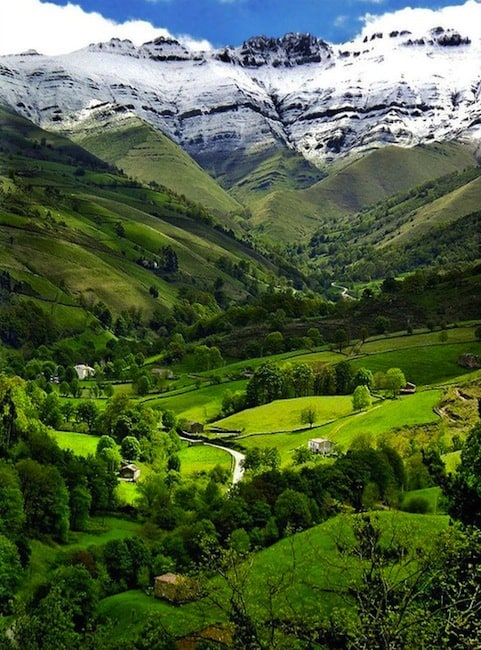 Cordillera Cantábrica, source
1.  Discover San Sebastián and the Basque Coast
San Sebastian is the shining crown of northern Spain. Expensive and luxurious, it demands to be wined-and-dined. Donostia in Basque, the language spoken in this region, San Seb is probably one of the most visually-stimulating, mouth-watering treat of a city. It's very well-known among Spaniards and Europeans but it's often overlooked by tourists seeking the more "traditional" Spain, since well, the Basques don't even consider it to BE Spain.
Only a few kilometers from France and situated on the playa de la concha beach (where I famously lost my bikini top), it's also famous for it's cuisine and basque pintxos (tapas). It's a popular town and for a good reason. If you are going to go to one place in northern Spain, let it be San Sebastián.
Tip: San Sebastian is best visited in summer when you can enjoy the beaches and it's warm enough to swim, otherwise the rest of the year it's known for being foggy and rainy on the Basque coast. Best to rent a car and drive around the coast to Bilbao or up into Bayonne in France. So beautiful. 
2. Visit a winery in La Rioja
I can't write a list about northern Spain and leave out my favorite region! La Rioja is wine country, plain and simple. Red wine, full of fruit, body and flavor that costs next to nothing. In this tiny area, there are hundreds and hundreds of wineries to chose from, make a week of it. The best time to come is in the fall when the leaves change on the vineyards and you drive through miles of golden, red and yellow fields. Many wineries are located around Logroño and Haro, easily accesible by train or bus, otherwise you'll need 4 wheels to get to them. Logroño, the capital of La Rioja was also named the gastronomic capital of Spain last year, which means you'll eat very, very well.
Tip: The famous Wine Battle (Batalla del vino) takes place in Haro every summer in June and Logroño celebrates the wine harvest with a huge festival in September, San Mateo, both excellent times to visit the region. 
3. Go hiking in Navarra
There is so much more to Navarra than 10 days in July for the Running of the Bulls at San Fermín in Pamplona. Overlooked, even by locals, Navarra is one of my favorite regions in Spain for its anonymity, beauty and diversity. This summer I spent teaching in English camps in different villages around Navarra and I wasn't disappointed. Navarra is at a crossroads between France, the Basque Country and the rest of Spain, so most of my students were trilingual. Talk about impressive.
My favorite discovery was this beautiful park called Urederra. Famous among locals but completely unknown to outsiders, it is a series of pools, creeks and waterfalls in the woods and mountains with the most sparkling cerulean blue water you have ever laid eyes on. Strikingly similar to Lake Plitvice in Croatia, it's on a smaller scale, more enclosed within the forest and utterly secret. Read more about it here.
Tip: You have to go by car and there aren't many places to eat nearby so it's a good idea to bring a picnic. It's most beautiful in the summer in the sunshine, but it's also nice in the fall when the leaves change. 
4. Make the pilgrimage to St. James' Cathedral in Galicia
Galicia is perhaps one of the most overlooked regions in Spain, I think because it's so remote. Nestled in the top left corner of the Iberian Peninsula, it's green, rainy and very different from the other regions, so different in fact they have their own official language, gallego, and Spaniards tend to harken it to Ireland for it's Celtic history and diverse landscape. If people have heard of it, mostly likely it's because of its famous city, Santiago de Compostela, where the apostle St. James is supposedly buried.
Source, Flickr Creative Commons
Since the early middle ages, the Camino de Santiago (St. James' Way) has been the most trafficked pilgrimages in Europe. To walk the whole way from the French-Spanish border takes at least a month, though it's very popular to walk bits and pieces, or even cycle it. I haven't walked the camino yet, but it's at the top of my to-do list, though I have made a pilgrimage of sorts to Santiago 5 years ago on an 8 hour overnight bus from Salamanca, pure hell. Between the beautiful medieval city, the rugged coastline, and the unique food, Galicia is a worthy destination all on it's own.
Tip: there are many domestic flights into Santiago, making it a great weekend getaway from Madrid, Barcelona or the rest of Europe. Galicia is also next door to Portugal and beautiful Porto with plenty of buses and trains in between.
Source, Flickr Creative Commons
5. Explore the famous Picos de Europa mountains in Asturias 
I have never actually been to these mountains but from I have heard from friends and their photos, they are just incredible. And let's be honest, when are mountain ranges ever disappointing? Asturias holds a special place in my heart, a place I have been dreaming about in Spain for almost a decade and one I will wait until I have enough time to do it justice. Apart from being home to beautiful cities like Gijón and Oviedo (Vicky, Christina, Barcelona anyone?) Asturias is famous for it's unique green landscape, delicious cider, beautiful coastline and uh-mazing mountains known as los Picos de Europa (the Peaks of Europe). Renting a chalet in these mountains is at the top of my summer to-do list, who's with me?
Tip: Asturias can be rainy so it's best in the summer. Make sure to visit Oviedo and try the famous Asturias cider and cider dishes. Be sure to visit Covadonga, where the first successful battle against the invading Moors began the Reconquest of Spain by the Christians in 722.
Source, Flickr Creative Commons