When I reflect back on my time in Turkey this winter, so many colors and tastes assault my memories that it is hard to narrow in on what exactly drew me there. What was it about this East-meets-West country that tugged at my heart? Not Europe nor Asia nor Middle East – or was it all three? Istanbul was a veritable melting pot of everything I've experienced while traveling and continued to elude categorization for me, something that drove my OCD personality bananas.
Maybe that is why I loved Istanbul so much. It can't be defined or looped into one specific category of city. Istanbul is full of layers, a saucy city that entertains and teases. Once you start to explore her and get to know her better, peel back the layers, is when she truly starts to shine. It's a destination unlike any other, three for the price of one -how cool is that?
Walking through the spice markets you get a glimpse of the "east" but exploring the grand bazaar didn't feel anything like the huge markets of Cairo. Patrolling the narrow streets of the Sultanahmet felt both like the most traditional yet touristic part of the city. How it managed to achieve that feat is beyond me. Meandering the wide avenues and cosmopolitan streets of the Beyoğlu area of Istanbul harkened back to my years in Europe. In short, Istanbul is confusing.
Like so many of my adventures, it all started out with a photo.
This simple yet poignant image by Niyazi Ugur Genca was circling around the Pinterest boards a year or so ago when it first caught my eye. The cherry red cable car in the snow symbolizes everything I imagined Istanbul to be. Historic, bohemian, fancy and different – embracing the glory of days gone by. It reminded of Porto, Portugal and a handful of other fringe-European cities that managed to escape the sweeping gentrification of the 20th century. This was the side of Istanbul I wanted to get to know.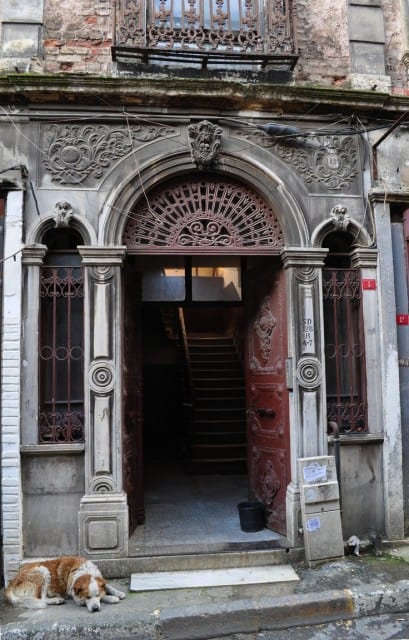 Found on Pinterest, can't find source
Beyoğlu
I managed to spend a good chunk of time in an area of Istanbul known as Beyoğlu. This is very much the cosmopolitan side of Istanbul; 200 years ago, Beyoğlu was where the Europeans in Istanbul dwelled, even now you can still find many embassies in this neighborhood. This is cosmopolitan Istanbul at its finest. Beautiful art noveau buildings rub shoulders with neoclassical facades, while locals hurry to and from designer shops like Prada and Christian Louboutin. With my face smooshed up against the window display eyeing those my dream shoes, even converted into Turkish lira, I still couldn't afford those beautiful red-soled stilettos.
The heart of Beyoğlu is İstiklâl Caddesi, a long elegant avenue traversing the district. Bursting with life and color, this street is brimming with bookshops, cafes, art galleries, sophisticated restaurants and clubs, with the quaint red tram slowly moving back and forth among a sea of people. Istanbul 2013 or Paris 1920? My "fruitful" imagination – as my mom has dubbed it – was going wild.
Found on Pinterest, can't find source
What sealed my blossoming love for this neighborhood was getting my fortune read in the Turkish coffee with Selin on my last day in town. Turkish coffee is so thick that when you finish it, the bottom of the cup is covered with grounds and dregs, similar to tea leaves. From what I understand it's a very "Turkish" thing to do getting your fortune read in the coffee dregs, and I am all about trying something new. Finding a reputable good person who speaks English to read them for you, however, is no easy feat. Luckily Selin took me to the woman she usually frequents and agreed to translate.
For the next hour my mind was blown. How the HELL did she know all this stuff about me? Things I've never blogged about – just to clarify. Freaky deaky but a fun experience and a great way to go out with a bang!
Sultanahmet
Back over in the old quarter of town, things look a bit different. Exchanging the wide art deco styled structures for a hodge-podge of mashed together colorful buildings, winding and steep cobbled streets with a minaret or two thrown in and you're in the Sultanahmet. This is the most touristic area of Istanbul, with sites like the Blue Mosque and the Hagia Sofia right in the center; Though things in this area can be kitschy, creepy and/or impressive, it's a good place to base yourself for a first visit to Istanbul.
Looking for a place to stay in Istanbul is pretty overwhelming, but I usually start with sleeping recommendations in my trusty Lonely Planet. When traveling, I try to stay in as unique, local, and historic places as possible. Skyscraper hotels with endless hallways and monotonous rooms don't cut it for me. Small, locally owned and operated, with a view is how I like it. Luckily for me, the Hotel Empress Zoe fit the bill perfectly.
After some frightening hotel and hostel experiences  over the years, I've learned to double check reviews online at TripAdvisor before booking, just to be on the safe side. As soon as I saw a photo of the façade of the Hotel Empress Zoe, I was sold.
What girl WOULDN'T want to stay here?
Pale yellow and white, and covered with draping lilac wisteria, and green vines covering the neighboring ancient bathhouse roof, with the tall minarets and famous dome of the Hagia Sofia behind it, it couldn't look more quaint and charming.
Owned by two American expat sisters in Istanbul, Ann and Cristina have built up and restored this hotel with decades of effort and love.
The entrance is inside a beautiful restored cistern from the bathhouse next door. Climbing up a wrought iron spiral staircase, you emerge inside the hotel itself. Filled with natural light, marble staircases, replicas of striking Byzantine frescoes on the walls, the Hotel Empress Zoe felt more like a historic site than a hotel. Exploring will lead you a secret garden filled with overflowing flower pots, vine-covered walls, and tables and chairs tucked away next to fountains and underneath ivy-coated trellises, with a cat or two for company. I spent my mornings drinking coffee in the sunshine and having a huge breakfast reading. Heaven.
Without a doubt my favorite part was the garden. I love a good garden, and finding green spaces in big cities is not always easy.
My cozy room was nestled at the top of several spiral staircases, tucked away across from the rooftop terrace. With a giant dark wood build in canopied bed in the center with its own mini balcony affording views of the Bosphorus, my little room was perfect for the female solo traveler.
Very rarely do I stay in a hotel or apartment that I enjoy so much I don't want to leave, but that was definitely the case with the Hotel Empress Zoe. Over the years I've stayed in hundreds of different accommodations, and I've promised myself I would only write about the best ones, the unique ones, the ones I would gush about to my family and friends back home. No one wants to read about boring, cookie cutter beige hotels on this blog (at least I hope not!)
In fact, my last night in Istanbul, I stayed in and watched the sun set from my balcony while drafting some of my first blog posts about Turkey and stuffing my face with leftover candy and Turkish delight from my Istanbul food tour with Selin. Breathing in the fresh sea breeze and listening to the gulls cry as the orange sun lazily drifted behind the rooftops and minarets of the mosques, I felt at peace for the first time on my trip.
It's important not to forget to relax once in a while on an epic journey, right?
What's the coolest place you've ever stayed? Have you ever visited such a diverse city? Have you ever been to Istanbul?
Hamam style bathroom
*Many thanks to the Hotel Empress Zoe for the complimentary stay. Like always, I'm keeping it real – all opinions are my own.