Let me preface by saying that Istanbul is a food lover's dream. 
Who would of thought? France, Spain, and Italy are what immediately pop into my head when asked where I've experienced the best food while traveling.
Well, Turkey tops them all. What a bold statement, I know.
Before boarding a red-eye flight to Istanbul a month ago, my knowledge of Turkish food was based off of drunken 5am doner kebabs in Spain and trying Turkish Delight in Seattle after reading about it in the Chronicles of Narnia when I was 12. In retrospect I think this worked in my favor because it meant that I arrived in Turkey with literally no expectations when it came to the food.
No expectations means no disappointments, right? Luckily as soon as I shoved that first forkful of slow-cooked lamb in my mouth, I was a goner.
Holy hell, where have you been all my life? 
Turkish food is just like Turkey itself: the perfect juxtaposition of east meets west. Traditional mediterranean flavors mix with unfamiliar spices, fresh ingredients are combed together with rich spices and heady flavors, creating a veritable taste explosion in your mouth. In short, the food in Istanbul blew me away.
In January I promised myself I would write more about food on my blog, so when I started to plan for Turkey, I began to search around for Turkish cooking classes and food tours. With many to chose from, I eventually settled on Turkish Flavours. Founded by Selin Rozanes, a local from Istanbul, she runs food and spice tours around the city along with cooking classes out of her home. Personally, I feel strongly that one of the best ways to get to know a country and culture is through the food. To get to experience shopping where locals shop and then creating traditional dishes from it myself under the careful tutelage of Selin was a dream come true.
Fog obscured the tops of the minarets dotted around Istanbul the morning I was meeting Selin for our spice market tour. Late as usual, I grabbed a cheap taxi to Mısır Çarşısı, the famous Spice Bazaar. Shivering, I pulled my scarf over my chin and peeked up at the massive New Mosque (Yeni Cami) while I waited for Selin while hundreds of locals hurried on their way to work. Away from the hustle and bustle of the Sultanahmet area of Istanbul, no one called out to me because of my bright hair. Refreshing. As I watched two little toddlers throw bread to the massive flocks of pigeons while their niqab-clad mothers looked on, I wondered where they were from. I hadn't seen any Turkish women wearing the ultra-conservative black robes that covered every inch of a woman except her eyes. I had heard through the grapevine that Istanbul was a trendy, boutique destination for rich Arabs.
Eventually Selin arrived, linking elbows like old friends she asked me if I ate breakfast that morning. Laughing I told her I was still full from our cooking class the night before. As we headed towards the chaos of the market, I fumbled with my bag, pulling out my massive camera; today would be a day to take a lot of photos.
Fresh
One of the things I hate the most about living in the US is just how distanced we are from our food. Frozen, seran-wrapped, sterile and chock-full of preservatives or antibiotics, food in America is so commercialized and feels anything BUT fresh. Living abroad in Spain I developed a healthy love and respect for fresh food, something I feel has been completely forgotten in the US. I love walking through food markets and being assaulted by the strong smells and colors. Hearing stall-owners hock their wares while locals jostle in line to order their meat for the day just adds to the ambiance.
While the Spice Bazaar is an indoor market, the area around it is stuffed to the brim with every food shop imaginable. Selin and I started at the fish stalls, pointing out where all the fish is from while the fishmongers proudly held up their wares. How many grocery stores in the US, have all their daily catches displayed beautifully on a bed of ice, heads, eyeballs and all? All you have to do is look close and take a strong whiff of it to know it's fresh. Being me, it took all myself control to not start singing "Les Poissons" from the Little Mermaid; I managed to reign myself in and nod while politely taking a few photos. "Les poissons, les poissons, how I love les poissons! Love to chop and to serve little fish. First I cut off their heads, then I pull out their bones. Ah mes oui, savez toujours delice!"
Moving on, next door was the butcher's shop, with just about every part of the animal on display. Sheep's heads were piled high next to god knows what. Walking inside, the nerd in me spent a solid minute guessing what each part of the animal was inside the display case. Brains-check. Balls-check. Heart-check; this shop has got you covered. From what I understood, it was mostly beef and sheep. Turkey being a Muslim country, they don't really eat pork. It's actually kind of funny because in general Turkey is a very progressive Muslim country, drinking alcohol, not covering their hair, but they won't touch bacon. Go figure.
Rich
A few shops down was the cheese and olive shop, piled high with massive blocks of local cheeses and overflowing baskets of olives. Just leave me here and come back in an hour. Little-known fact about me, I could eat nothing but cheese and olives for the rest of my life and die happy. There are many delicious, stinky cheeses to be found around Turkey, but the most common is a sheep cheese similar to Greek Feta, except it is simply known as "white cheese" (Beyaz peynir in Turkish). Chatting with the vendor, Selin handed me over several different pieces to try. Let the noms begin!
If there is one thing I love more than cheese, it's coffee, something Turkey is famous for. I tried my first cuppa last spring in Egypt, which I choked down with a grimace. Turkish coffee is not for the faint of heart and takes some getting used to. Strong and thick, it has the consistency of mud and has enough caffeine in it to make your hair stand on end. Cooked in copper tiny bowls over the stove, a word of caution; you never add sugar to Turkish coffee once it's served to you, rather you have to request it when you order and it's added while the coffee is being made. Standing across the street, we watched as dozens of locals ordered their beans from one of the famous coffee shops in town. A row of uniformed young guys lined the big windows, systematically grinding, bagging, weighing and selling bags and bags of the famous brown beans. Closing my eyes, I inhaled deeply. Does anything smell better than freshly ground coffee? Spoken like a true addict.
Entering a delicatessen-style shop, my nose perked up at the scent of cured, spiced meat. Spain instilled a strong love of cured meat in me; Spanish jamón might be my all-time favorite food. Eagerly hustling towards the counter, I was greeted like a queen with a great selection of spicy, dried meat. Yum. Hanging from the ceiling were shapeless red chunks of meat which Selin quickly explained were Pastırma, air-dried seasoned beef from Anatolia. First the meat is salted and dried, then covered in a thick cumin paste with garlic and paprika and air dried. Gnawing on several pieces, I began to think to myself, why the hell did I wear my skinny  jeans today?
Hearty
While you can definitely explore these markets on your own, I had a much better experience visiting with Turkish Flavours because Selin knows where all the best, oldest and well-known shops are. It's easy to get intimidated by the hundreds of different shops and stalls, and personally, I am kind of a wuss when it comes to photographing people while traveling. I feel really uncomfortable taking photos inside shops or of market stalls because it feels like I need to buy something first.
Since Selin knows everyone, and she shops at these markets on her own, I never felt awkward or rude taking pictures. Chatting with the owners, over the years, Selin has built relationships and partnerships with the shops on her tours, so when she stops by, everyone gets a taste and can try samples of the food. One of my favorite parts of the tour was getting to roll out and make my own pide (Turkish pizza).
At a little hole-in-the-wall shop I would have completely missed on my own, we stepped inside and watched the cook methodically pound, roll, and shape the dough into little boat shaped pizzas. Pretty much consisting of an open oven, counter, and display case, we crammed inside and watched the man in action. Laughing and chatting in Turkish, he eventually let me have a go and forming the dough. Slapping and throwing it around, I'm sure looked ridiculous but it was still fun! A few minutes later we were chomping away on our cheese, pepper and tomato pide.
Spiced
Heading inside the spice bazaar was one of my favorite parts of the day. Mounds of colorful spices shared the space with dried fruits and teas for sale, while tourists and locals bartered alike among the 88 shops that make up the indoor market. Walking through with Selin, I would have definitely been overwhelmed if I had come alone; many of the shops are cheap or fake, with spices imported from abroad. How would you know what's authentic and legitimate? They all looked the same to my untrained eyes.
We eventually walked inside the brightly colored Ucuzcular Baharat spice shop (No. 51) to be warmly greeted by the women working there. Handing me a glass of tea to perk me up, Bilge took me around and started to explain the many different spices to me, letting me try as many as I wanted. As part of Selin's Spice Market Tour, you get a special tasting tour in the spice shop.
Spunky Bilge Kadıoğlu has really taken her shop to the next level and has created a special spice card that you can fill out on Selin's tour, rating all the different spices you've tried; she's even included marks about which spices work best with certain foods, ingenious. We used this card again in Selin's cooking classes and later eating out, and it was a great way for me to remember what spices I tried and what I liked (or didn't like).
As Bilge enthusiastically explained the history of the spices, handing me dried fruits to try here and there, she mentioned that the shop has been in her family for 5 generations until she inherited it when she was 25.
With a mouth full of dried apricot, my eyes bulged, and I sputtered, "Wait, you OWN this shop?"
Nodding, Bilge began to recount how she studied for a few years at the Rochester Institute of Technology in the US, getting a degree in project management, which since then she has successfully applied towards building and growing her business as a spice merchant. Literally, I couldn't believe what I was hearing; this was the last thing I expected to hear in the crowded, pungent market in Istanbul. Talk about breaking down social boundaries and gender stereotypes in Turkey.
Enthralled (and still eating apricots) I stood there mesmerized listening to Bilge tell me her story and how she developed and grew her business into what you see today. An empowered, successful young businesswoman in the midst of a male-dominated profession, I was hooked. Not only that, I loved her philosophy of selling local, Turkish-farmed spices that are ground fresh every week. Bonding over a mutual love for food and shopping, Selin's spice tour tasting with Bilge was definitely a highlight of my time in Istanbul.
Sweet
The sweets and deserts in Turkey are phenomenal. Just the right amount of sugar combined with unique flavors makes for the perfect post-meal treat. Over on the Asian side of Istanbul we popped into one of the oldest sweet shops, where I got to sample all the Turkish Delight my heart desired. With hard candy flavors like violet, rose, or sesame, and intricate marzipan fruit designs and entire case dedicated to Turkish Delight, my sweet tooth was in heaven.
Of course the staple Turkish desert is baklava, which I definitely had my fair share of. Layers of filo dough filled with chopped nuts and covered in honey and shaved pistachios, it's definitely my go-to sweet in Turkey.
Savory
Honestly, I didn't think the day could get any better until we boarded the ferry and crossed the Bosphorus over towards the Asian side of the city for lunch at Çiya in Kadikoy. Owned by master chef Musa Dagdeviren, Çiya is unlike any restaurant I've ever been to. The grand finale of Turkish Flavour's Spice Market tour is a 20 course special tasting menu at his restaurant. Far from ostentatious, as soon as you walk inside you can tell that Çiya's focus is first and foremost on the quality of the food.
This is the kind of place where the menu changes according to the seasons, and there are dishes on there with ingredients you've never heard of combined in ways never tried before; he offers over 1000 different dishes every year! Musa is a food anthropologist. To understand his restaurant you have to understand his philosophy. He has made it his mission to travel all over Turkey, to the most rural and forgotten areas to preserve the best peasant and traditional recipes of the countryside, of food memory if you will. I had never been anywhere like it.
"I travel all over the country to cook with people in their homes and also study old books to find new leads," he said. "I get very excited when I discover new poor people's dishes, because I believe only poor people can create great food. If a man has money, he can buy anything, but a person who has nothing must create beauty from within." Musa Dagdeviren (Source)
Sitting down with Selin for a late afternoon lunch, I was completely unprepared for the food put in front of me. Talking me through all the dishes, Selin carefully explained what they were. Trying each and every dish, I could literally feel my jeans getting tighter and tighter but I couldn't stop. This was the best food I'd had in years, without a doubt.
About halfway through the meal, Musa himself came out and sat down with me and Selin for a chat. Given the fact that I know about 10 words in Turkish, Selin translated for me. Heavily mustachioed with an awesome smile, Musa explained his passion for preserving lost recipes and sharing these home-styled recipes in Istanbul. My favorite dish of the day, which was incredibly hard to chose, was the slow cooked onion kebab with pomegranate molasses, the finale. As stuffed as I was, it took all my self-restraint not to lick the plate clean.
Here are some of the highlights of the meal: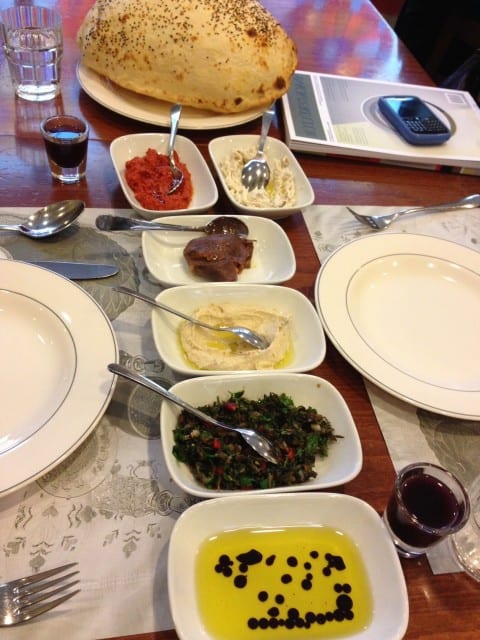 From bottom to top: pomegranate molasses in olive oil, Zahter (wild oregano salad), humus, dried eggplant dolma, eggplant salad and muhammara (hot red pepper sauce)
Lahmacun, Turkish pizza
Mumbar (intestine stuffed with bulgur rice), stuffed cabbage, Sıkma Kofte (bulgur, purple basil,onion, and yogurt ), rice pilaf and bulgur pilaf with tomatoes
Guvecte Bamya – Dried okra cooked in an earthenware pot with chickpeas, lamb meat and tomatoes (middle), sautéed borage (left)
Onion kebab with pomegranate molasses (left), Oruk kebab and Şiş kebab (right)
Candied fruits -Unripe walnut, sour orange, olive, mini eggplant stuffed with walnut, pumpkin desert Hatay style and Kaymak (clotted cream), künefe (right)
Have you heard about Istanbul's rich culinary tradition? What's your favorite Turkish dish? Would you like to go on a food tour when traveling?
*A note on Istanbul for people with food allergies or vegetarians
Istanbul is a very friendly vegetarian city, with a lot of options to chose from. Most of my meals automatically included several veggie-only dishes, with plenty more to chose from.
Istanbul also is a very friendly city for people with peanut allergies. Peanuts are not a common ingredient, usually included in more fancy, high end dishes. I only almost ate something with peanuts once in the spice market, but I took a strong whiff of it first and asked. Be more careful if you have allergies to all nuts, since pistachios,  hazelnuts, and pine nuts are much more common ingredients and usually ground up like spices and are hard to spot.
Istanbul is also good for people with gluten allergies in the sense that most dishes are served separately from bread and rice, which are then later mixed or dipped.
Check out Allergy Translation for travel food allergy cards
Many thanks to Turkish Flavours for the complimentary tour. Like always, I'm keeping it real – all opinions are my own