At the risk of sounding like a massive tool, I am going to start off this post with one of my favorite quotes about Italy, you know, because there are so many to chose from.
"A man who has not been in Italy, is always conscious of an inferiority, from his not having seen what it is expected a man should see." -Samuel Johnson
9 out of 10 Americans when polled about their dream trip answered "Italy." (Disclosure – I just made that up). What is behind this anglo-fascination with Italy? Certainly I am guilty of this, losing count around 2009 of just how many times I've journeyed to the boot of Europe. At least 10 now. And there is so much left I want to eat, see, do, and then eat some more.
And did I mention I am going back to Italy again in 3 weeks to speak about travel blogging at TBD-Italy? I just can't stay away!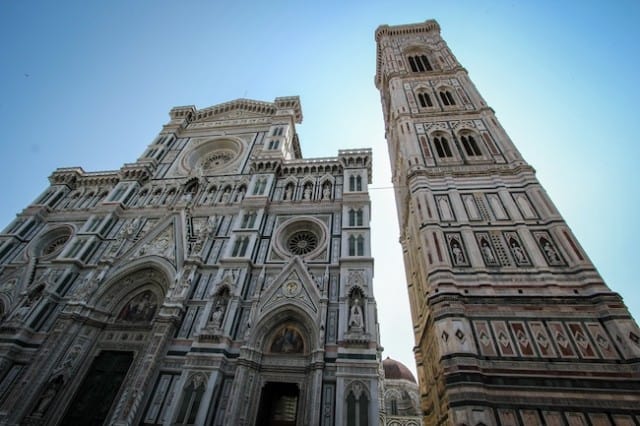 Is it because Italy has it all? Is it the perfect destination rolled up into one nice, neat elongated package? What is the root of this romantic, mysterious fascination with Italy, and why is Samuel Johnson so spot on – if you haven't been to Italy, you  haven't been anywhere. Be embarrassed.
Do Italians realize just how idolized their country is by the rest of the world?
To say that Italy is magnificent is a massive understatement, and there is a very good reason why the Big 3 – Rome, Florence and Venice – are worshipped by not only Americans, but the world. They rock. They are beautiful. They are cultural, historical, and every other iterative adjective you could possibly come up with. Italy has earned its fame.
Florence is no exception, in fact, it's the king of Italy. I have never heard more Americans abroad in one place than I have in Florence. My fellow countrymen (and I) are attracted to this great Tuscan capital like moths to a flame.
I first stepped foot in Florence in January 2008, where I spent a week taking in all the art, eating all the pasta and getting kicked out the museums. I knocked off pretty much every single touristic Florentine site from my bucketlist and then some. I did it all – or did it do me?
Florence is popular for a reason – it's spectacular. Of course the downside is that everyone and their mother turns up during peak travel times to this neck of the Italian woods.
You see, Florence in the summer turns into an amusement park. I'm not even exaggerating. There are so many tourists, it can be difficult to walk down the street in the old part of the city, and the lines for the major sites and attractions can be daunting. For me, this was a good thing because it forced me to see a different side of Florence.
Too. Many. People. ACK!
This time around, I wanted to take it easy in Florence. My travel style has evolved over the years, and now I try to take things slow, especially in places I've already been. Knowing myself, the last thing I wanted to do was wait around in massive crowds and lines, sweating my face off to pay to see something I've seen before.
I have crowd-phobia but I still love Florence.
With some careful maneuvering around the jam-packed parts of town, I was able to discover the local, overlooked and quiet side of Florence, which for me was the best part.
Here's my guide to a different side of Florence, away from the massive crowds, away from the cheesy stereotypes. These are places I loved and enjoyed and I hope one day you do too (you know, because life is incomplete without a trip to Italy)
The Boboli and Bardini Gardens
Reflecting back on my chilly week-long January trip to Florence when I was 19, oddly enough it turns out that one of my favorite places I visited was the Pitti Palace and gardens. This time around, I made sure to go back and spend time exploring the maze-like gardens. The Pitti Palace has different tickets you can buy, so I opted for the Boboli Gardens-only one, and whizzed on by pass the crowds straight into the sprawling green space behind the palace.
Similar to Versailles, I've found most tourists don't bother walking more than 5 minutes or so from the palace itself, leaving the Boboli Gardens people-free – just how I like it!  With Florence is as crazy-busy as it is in July, these gardens were a welcome respite from the general mayhem and mass of people around town.
Now for the best kept secret in Florence, are you ready for it? Just past the Boboli Gardens, if you keep on wandering for long enough, you might find the entrance to the Bardini Gardens. Only recently opened, this green space is completely unknown to tourists. I reckon I saw maybe 5 people the whole time I was exploring them, and 2 were park employees!
This small Renaissance garden is perched up high enough, when you just walk in you get great views of the city. This was my favorite find of the trip and I spent a good hour just sitting on one of the benches overlooking the city, reading and writing. If you need a break from the crowds in a beautiful place, head here. Just don't tell anyone! This has to be our secret!
Also I have way too many photos from here, but I just couldn't help it -forgive me!
Florence Food Tour with Walks of Italy
It's no secret, I am not a fan of organized walking tours. However, this is a constant struggle when I'm on the road because as much as I hate trotting around like ducklings with large groups of strangers, I equally want to learn as much as possible about wherever I am – and most of the time the cheapest/easiest/quickest way is to join a tour.
And my favorite kind of tour is a food tour – surprise, surprise, I know you must be shocked. After years on the road, I've finally come to the realization that the best way to get to know a new culture and place is through the food. Smell it. Taste it. Eat it. Repeat.
As soon as I discovered there was a Florence Food Tour offered by Walks of Italy, I signed up. What a perfect way to get to know a different side of the city. Plus, all the noms! Winning.
Now everyone raves about the food in Italy, and with good reason – it's fabulous. However, for the foodies in all of us (and for Italians) most cities and regions in Italy have their own cuisine and typical dishes, and it's important to broaden our minds past the concept of "Italian dining." There is so much more to food around Italy than pasta and pizza. I wanted to learn how the locals eat!
This of course means that Florence has its own culinary traditions, rooted in not exactly what you might expect – peasant food. Dishes that use weird types of meat used to be the norm and even now can be found on street stalls – simple food that used all parts of the animal. We all tried lampredotto, a dish made from cow's stomach which is typical in Florence, and you know what? It wasn't half bad. As long as you didn't think about it too long, that is.
Forget the pasta. Forget the pizza. Beef. Wine. Olive oil. Bread – these are the staples of the Florentine diet. Hearty and simple, just how I like it.
I was so excited when I realized the tour only had 4 people on it, including the guide. Convening on the steps of Santa Croce, we headed away from the crowds into the food heart of Florence: Sant'Ambrogio. If you want to see the real side of Florence, this is where you go.
Eagerly follow our guide, we began to eat our way through the city. We started at a wine shop, clustered around a table learning about the local wine and olive oil tradition. After living in Spain for years, I realized I was very biased and didn't know that much about the Italian traditions, so I eagerly perked up and tried to remember everything I was learning while drinking heady red Tuscan wines – a bit counterproductive, right?
My favorite part of the tour was the market in Sant'Ambrogio. Picking our way among the stalls, we nibbled on fresh figs, were awed by the incredible selection of fresh food, before making our way inside and trying ALL the cured meat and cheese in Florence!
I don't know about you guys, but I can't say no to food, especially cheese and especially when it's starting at me in the face.
By the end of the tour I was feeling especially fat and lethargic, not to mention I really was beginning to regret wearing tight denim Daisy Dukes. What was I thinking? On a food tour?
All needing a pick-me-up, we stopped into the most charming cafe I'd seen in ages – Caffè Cibrèo owned by the man, the myth, the legend, the famous Florentine chef Fabio Picchi.
Sipping a quick espresso at the bar, we admired the beautiful carved woodwork and elegant red velvet chairs, old-fashioned and retro, this was my kind of place! Suddenly, a big guy with the most impressive mustache this side of the Atlantic came into my vision.
"Is that HIM?" I squealed, "is that Fabio??"
Thanks to some quick thinking by our suave guide, I was able to meet the genius behind these famous Florentine restaurants and cafes – I even had a total fangirl moment and got a picture with him. He was such a character! If only HONY was in Florence that day…
LOOK AT THAT MUSTACHE!
No food tour in Italy would be incomplete without gelato as the finale. Am I right or am I right?
This tour was everything I could have wanted and more. From eating my way through the truly "local" part of Florence to making friends with a famous chef to drinking morning wine, I couldn't have been happier. Correction: I would have been happier wearing leggings. Take note ladies!
La Specola – the weirdest museum in Florence
On my first day in Florence, and spectacularly annoyed with all the crowds of tourists in all the places, I quickly polled in on my Facebook page for some tips of 0ff-the-beaten-track things to do in Florence. Little did I know how much you all would throw me off the the beaten path.
Cue La Specola, the weirdest museum in Florence, and quite possibly the whole world, also known as the Museum of Zoology and Natural History. 18th century natural history that is. After hearing several of you guys rave about it, I was intrigued. I like weird, Victorian, historical and science museums, so this seemed like my kind of place.
Just past the Pitti Palace and Boboli Gardens, I walked by the entrance twice before I finally found it. That should have been some indication of what I was getting myself into. Without a soul in sight, I wandered around this palace for a solid 10 minutes before I finally found the ticket counter. No one was more surprised than the attendant.
Basically La Specola is a museum filled with natural curiosities from 300 years ago, which in my books is pretty damn awesome. It is the oldest scientific museum in Europe. An odd combination of Renaissance palace, euro university and a museum in dire need of renovation, this place was so fascinating, I spent a good part of my afternoon inside.
The first part of the museum is filled with stuffed animals, think zoology not Toys'R'Us. Wandering from room to room filled with glass cases of strange creatures with strange looks frozen on their stuffed faces, I was surprised by vast amount of wildlife from around the world was procured in Italy so long ago.
My favorite dead animal in the museum had to be the hippo, which according to the placard was a 17th century Medici pet who lived in the Boboli Gardens. Hey, I was just there!
Of course the weirdest part of the museum is the enormous collection of wax anatomical models from the 1700's. Incredibly realistic and lifelike, apparently they were copied from real corpses (shudder) and used to teach medicine in Florence.
However, what I found most fascinating was how the wax models were posed. You would think they would just be displayed on their backs or in whatever position made most sense, right?
Instead they were all displayed lounging about on pillows, propped with their legs delicately resting on what could have been a lounge chair, head flung to the side and fingers delicately resting on their throats, as if they are saying, "oh yes darling, please  bring me some more tea and crumpets."
It was creepy. But fascinating, and definitely interesting and unique.
Renting an apartment with Go With Oh
Knowing that I wanted to experience a different side of Florence this time around, and to get as local as possible, I decided instead of a hotel or hostel, I'd rather try renting an apartment instead. Since I almost always travel alone, I opted for a one bedroom Go With Oh loft right in the center of everything. Literally I walked out of my door and I was 30 seconds from the Duomo. I couldn't believe the location!
Staying in an apartment was perfect for me as a solo female traveler, and it let me have the kind of independence and flexibility of cooking at home and feeling like I belong that I always look for on the road.
Of course this meant that I didn't want to leave! In fact, I loved this apartment so much I ended up staying in Florence longer than I meant to!
Right inside the Piazza della Signoria, I was no more than a few minutes walk away from just about all the major attractions, which I enjoyed walking around and exploring on the outside, avoiding the lines on the inside. The best of both worlds really.
There is just something about staying in an apartment instead of a hotel that gives you a different experience; if you're an independent traveler like me, sometimes you just need that.
My morning ritual quickly became wake up and hop across the piazza to a beautiful art-deco style cafe. At first I walked by it glancing in at the magnificent pastries displayed in the windows. Doesn't take much to draw in a girl.
Until now though, when I googled the name to write for this post, did I realize that Caffè Gilli is a Florentine institution, and a tremendously popular cafe. I had no idea at the time. I was sucked in by the beautiful chocolate croissants and bright colors.
Because I wanted only coffee and a pastry, I went inside to pick it out for myself, instead of sitting on the terrace outside. Let me let you in on a big ol' secret – in Italy, have your coffee and pastries standing at the bar, do not sit down. The price difference between table service and bar service, especially at a place like Gilli, is astronomical. I paid € 2,50 for a cappuccino and the best chocolate croissant outside of France every morning I was in Florence. That would have been over € 10 outside sitting.
Reading the reviews online for this place, I realized it has a horrible reputation for its terrace dining and people have been repeatedly ripped off and have left in anger. However, my experience standing inside at the bar (sometimes twice a day) was fabulous. It was never crowded and the people-watching was excellent. Also take note, Italians stand at the bar, foreigners sit for coffee.
If you want to fit in like a local, order your coffee and breakfast at the bar.
Have you ever been to Florence? Do you get sick of crowds traveling and how do you cope? Do you ever try to see a different side of a popular place on the road?
Many thanks to Go with Oh and Walks of Italy for hosting me during my time in Florence. Like always, I'm keeping it real – all opinions are my own, like you could expect anything less from me!