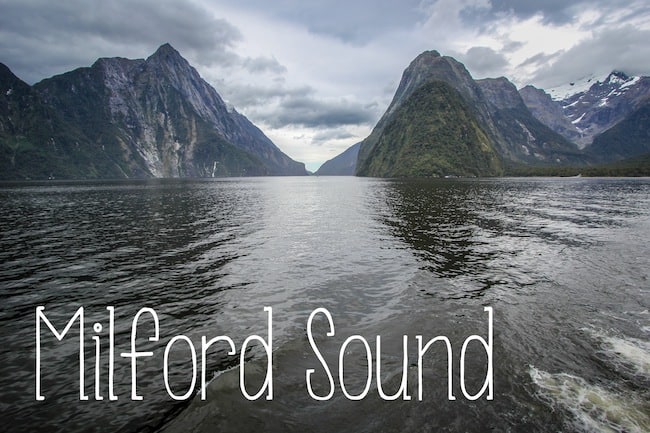 The Māori name for Milford Sound is Piopiotahi, meaning one single piopio, which unfortunately is now an extinct bird in New Zealand.
That happened a lot here. Many of New Zealand's great birds went extinct after humans discovered the islands and introduced predators, ruining everything.
But back to the story.
There once was a great Polynesian demigod called Maui-tikitiki-a-Taranga (try saying that 5 times fast) who left Hawaiki (the legendary home of the Māori before they came to NZ) with the company of a piopio, attempting to gain immortality for mankind.
If you haven't already guessed, he failed. And died. Typical. I could have lived forever but NOOOOOO.
Anyways.
The piopio who was with him and witnessed everything is said to have flown to Milford Sound in mourning, giving the famous fior its name, Piopiotahi.
But besides that Milford Sound itself is legendary for so many reasons.
I mean, just look at it!
Supposedly Piopiotahi was carved out by Tu-te-raki-whanoa (remember, "wh" is pronounced as an "f" with Māori words), who was tasked with the great responsibility of shaping the Fiordland coast on New Zealand's South Island. Hacking and hewing away at the high mountain rock with his ax, he worked his way north, getting better and better with each fiord.
Milford Sound, the 16th and final fiord, was his best and masterpiece.
But oh no, we can't end there.
Watch out for bitchy goddess, Hinenui-te-Po, who released the sandflies, te namu (little devils), into Milford Sound to keep people away from such a beautiful place.
Moral of the story? Don't forget to pack bug spray if you come to Milford Sound.
I can vouch that sandflies are actually little devils, and they definitely make my top 10 list of things I can't stand about New Zealand. But if there is anywhere in the world I can tolerate being eaten alive, it's Milford Sound.
I mean COME ON, just look at it! Well done Tu-te-raki-whanoa!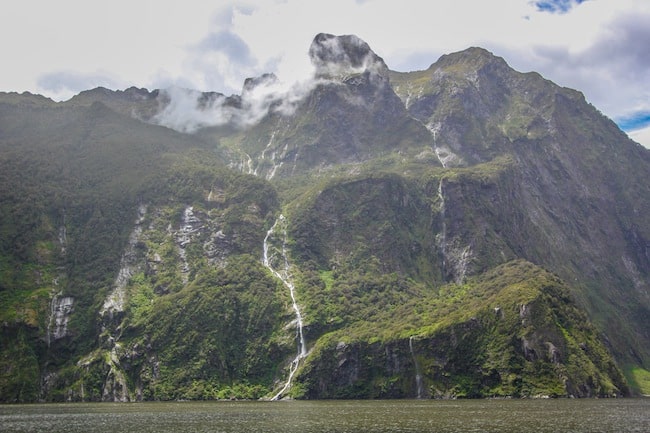 My own discovery of Milford Sound took place on Christmas Day while exploring the South Island with Haka Tours. And my god, what a place to spend Christmas.
Geographically speaking, Milford Sound doesn't look too far away from Queenstown, especially as it's the "most accessible" of the fiords, but it's actually a 4 hour drive away. Not exactly closeby.
However, Milford Sound is one of the top New Zealand attractions, and shouldn't be missed – I can't emphasize that enough. So it's worth braving the sandflies and 8 hours on a bus in a day to visit it from Queenstown.
Though I don't recommend doing it hungover.
The best way to see Milford Sound is by boat, and RealNZ offers different boat and transport options from Queenstown. Two hours into the bus ride, I was beginning to feel human again (thank GOD), not to mention once you enter the national park, the scenery looks like something from another world.
Curative power of nature and what not.
RealNZ has planned ahead and their buses have huge glass ceilings and the seats are shaped in a way everyone gets a view (but the best side in is the right) and there are plenty of stops scheduled in to enjoy the beautiful scenery on the way to the fiord.
Thankfully Milford Sound is gorgeous before you even get a look at the water, turning what could be a long unpleasant journey into one that you never want to end.
Now that's magical.
I don't want to give away too many secrets but if you come in summertime you'll get to enjoy the fields of lupins, and wide valley landscapes signaling the beginning of the high mountains.
New Zealand's Fiordland is green beyond imagining. Dense rainforest gives way to lush woods cut by glacial streams and waterfalls thundering down from the mountains.
Because it rains so much here, Milford Sound is famous for its moody weather and dramatic clouds. If you happen to visit on a sunny day, you're very lucky indeed.
But don't worry, that never happens.
But the best time to visit is right after heavy rainfall, like when we went. It was still mostly cloudy but it lifted enough that you could see the snowcapped peaks here and there, and when the fog rolled in and out, it created a magical, fairytale-like ambiance that made Piopiotahi's rich legends seem real – I mean, come alive again.
While there are a few permanent waterfalls in Milford Sound, after heavy rain you get hundreds of tiny temporary waterfalls snaking down from the peaks of the tall cliffs, giving the land an even more surreal feeling.
Are we in New Zealand or Avatar?
Seriously, I still can't wrap my head around the fact that such a place can exist.
I mean just look at it!! AHHHH! (Sorry, can't stop).
I've been to plenty of beautiful places around the world but none so beautiful as Milford Sound. I've not seen such steep mountains before, decked out with crashing waterfalls and green stooped valleys. Tu-te-raki-whanoa did a pretty good job with his axe, that's for damn sure.
For a few hours you get to sail up and down the fiord, even out into the Tasman Sea for a quick jaunt.
Because of the steep mountain walls, the boat can get incredibly close to the rock face, giving you amazing views and letting you see just how steep and jagged the mountains really are.
The boat even heads right up to one of the biggest waterfalls, close enough you get sprayed if you're standing on the front of the boat, which I highly recommend if only to watch the Asian tourists get drenched, endlessly amusing (sorry if that's inappropriate – ignore me).
But perhaps one thing I found so fascinating about Milford Sound was just how rugged and wild the landscape really is. It does actually feel like you are at the end of the world here.
Because it's so wet and green, trees have managed to take root and grow up and down the vertical cliff faces, all interconnected by their roots.
And if you pay attention, which hopefully will now that I've pointed it out to you, while driving around the South Island and especially in and around Milford Sound, you'll notice huge patches of mountainside empty of trees.
This is what Kiwis call "tree avalanches" when one tree falls, it yanks all the ones connected to it with it sliding down the mountain, revealing the bare face of the mountain underneath.
Too cool right?
That is until you see one that goes right down the road and realized sometime in the not-so-distant past, a giant avalanche of trees and boulders buried part of the road.
Oh shit!
It's moments like this when you remember where you are and JUST how untamed New Zealand really is.
Life's about taking chances, am I right?
When I think back to how nervous I was to spend Christmas on an organized tour with Haka Tours in the South Island, I was afraid that I would be disappointed. What if I ended up spending Christmas sad and alone, on a bus somewhere with a bunch of strangers, wishing I was back with friends on the North Island? What if Christmas sucked?
My god, I couldn't have been more wrong.
I can't think of a more beautiful, more special place to spend Christmas than Milford Sound with pretty much everyone from the
While I had heard how beautiful Milford Sound was from everyone I've ever met who's been to New Zealand, nothing, absolutely nothing could have prepared me for the sheer size, depth and raw beauty of it.
And while it's one of the most popular places to visit here, it didn't feel crowded or ruined by tourists, something that did sit in the back of my mind.
Because nothing would ruin a place like this quite like mass tourism.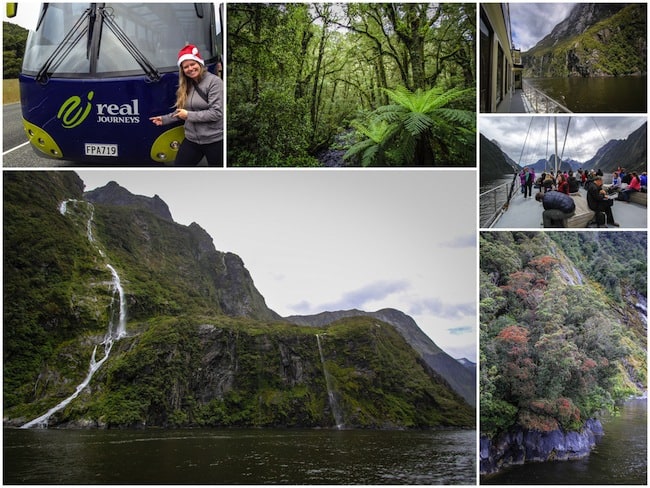 But Milford Sound is so large and there are not that many companies running there, giving everyone who visits a true experience. The RealNZ boat was large enough that everyone had space to move around on the different decks and see what they wanted to see.
In fact, they use the same boat for overnight tours of Milford. Where do I sign up?
As someone incredibly anal about getting the right photos and the right shots at the right time without everyone and their mother getting in the way, I am happy to report I didn't have ANY problems both getting the photos and videos I wanted AND also being able to sit back and relax and enjoy the cruise without feeling crowded.
Something I couldn't be more grateful for.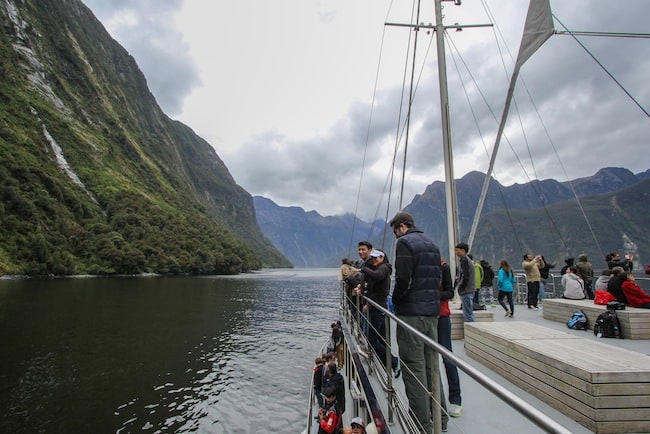 Milford Sound is the type of place that reminds you how small you really are. It's the type of place that reminds you that there is still gritty, untouched beauty to be found in the world and it's worth preserving.
Piopiotahi is the New Zealand you've imagined from books, movies and stories. If you come all the way to this side of the world, do not miss out on a such a legendary spot.
Have you ever been to Milford Sound? Is it on your wish list? Have you ever visited a place so breathtaking or so dramatically beautiful?
Many thanks to RealNZ for hosting me in Milford Sound. Like always, I'm keeping it real – all opinions are my own, like you could expect anything less from me.