Almost as soon as I moved to Wanaka, I began to hear whispers of a magical island out on the lake in town.
Nicknamed the "island on a lake on an island on a lake on an island on a lake," I knew I had to check out this quirky namesake for myself. I mean, how could you NOT want to visit a place with that kind of reputation?
Intrigued is an understatement.
Actually to be honest here, I was equally curious to meet Chris, the head guy behind Eco Wanaka, who is a bit of a local legend here in Wanaka.
Commercial cave diver and ice lighting diver extraordinaire in Antarctica to guiding and rafting in Nepal to sailing around the world, he is now guiding around Wanaka and leads out eco boat tours to Mou Waho Island. And what did I do lately? Nothing quite so exciting, that's for sure.
I knew things were going to be great when he pulled out an ancient Moa femur on the boat ride. In case you've missed my stories about how New Zealand is turning me into a total #BirdNerd, you might have not heard about the coolest creature to ever exist on earth – the Moa.
The biggest bird in the world, it was a 4 meter tall flightless giant with dinosaur feet that roamed New Zealand before they were hunted to extinction by Māori settlers. Not cool.
As it turns out Moas once ruled the lands around Wanaka, something that will likely haunt me the next time I go hiking or camping alone here.
And like so many of the islands around New Zealand, Mou Waho is a bird sanctuary. Cleared of introduced predators that maim and kill endangered native New Zealand birds, Mou Waho is free of cats, mice, possums, stoats, weasels and other nasty mammals that like to chow down on our weird flightless birds.
Also, it's Wanaka's best-kept secret, at least for us foreigners.
In addition to being predator-free, Mou Waho is also people-free, an added bonus. Open to the public, few souls venture out to the island, even in summer, leaving you to have the place to yourself on a visit. One of my favorite things about hiking in New Zealand is that you usually have the place to yourself because there are so few people here. Mou Waho is no exception.
I love being out on the lake in Wanaka because it gives such a feeling of pure peace and solitude. There are no roads and it's all undeveloped mountains with waterfalls that drop right down to the waterline. Lake Wanaka is massive, 74 square miles and 300 meters deep, it was carved out by a glacier thousands of years ago, and as you boat around it, it feels prehistoric.
Remote raw beauty, I can't think of a better way to describe Lake Wanaka.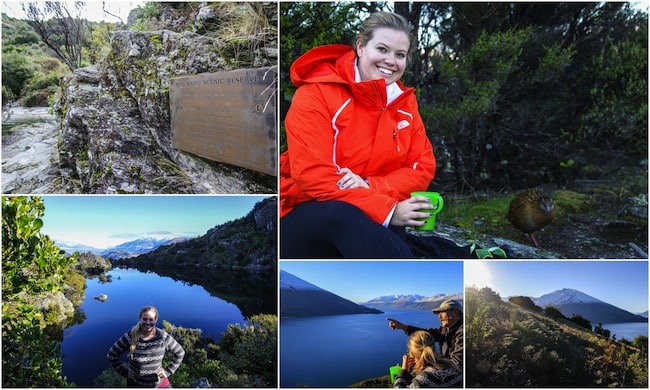 Things were only going uphill after the Moa femur, and I was so excited by the time we docked on the island. Totally lush and green, once we learned a bit about the history of the island, we set off to find the mysterious lake on the island.
Uninhabited, Mou Waho is the biggest of the islands on the lake, and it juts up in a beautiful rock formation leading you to the lake.
After climbing through the woods, or "the bush" as we call it in New Zealand, for a while we were greeted by our first weka. Incredibly curious brown flightless birds the size of a chicken, they are native to New Zealand and love to get all up in your business. Curious, feisty and bold, they will follow you, steal anything and everything and almost act like your shadow.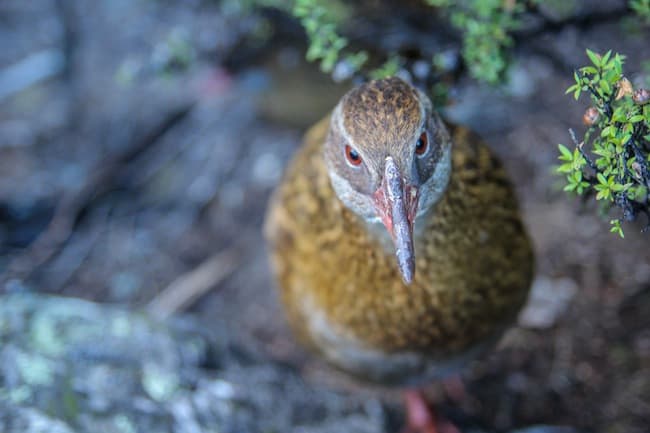 The Buff Weka were taken to Chatham Island before becoming extinct in New Zealand and were then reintroduced to Mou Waho and surrounding islands to repopulate.
Of the original 30 buff wekas, only 1 remains. His name is Wallie and he lords over Mou Waho with his wife Sallie and dozens of offspring. You can pick him out because he's the only one of the wekas with a tag on his leg.
Wekas mate for life, how amazing is that?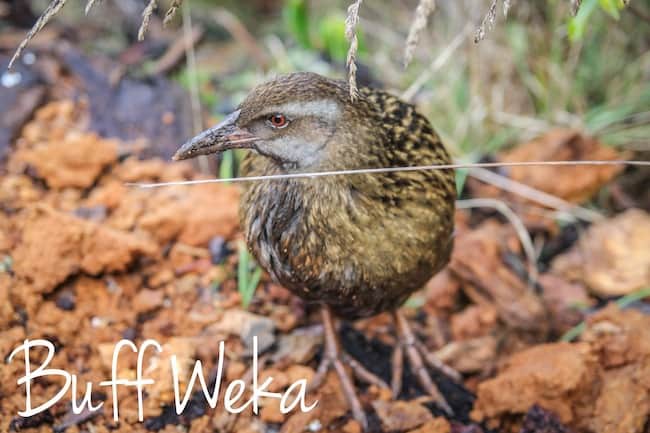 My first experience with a weka was way back when I was touring the South Island with Haka Tours. We were staying in an awesome cabin lodge in the rainforest in Punakaiki and I was hanging out relaxing in the main lodge in front of the fire with a cat for company and no one else around.
All of a sudden, this strange bird that looked like a cross between a kiwi, a duck and a chicken ran into the lodge. I tried to chase it out and it just ran in circles through the kitchen and living area crapping on everything before I finally got him to go outside. Later on I described it to our guide who told me it was a weka.
Gotta love these strange New Zealand animals!
After digging out some grubs to feed the wekas, we made our way up the trail to the Arethusa Pool, or the lake on the island.
There is a tiny rocky island in the Arethusa Pool, to make things even more curious.
So it's the island on a lake (the Arethusa Pool), on an island (Mou Waho) on a lake (Lake Wanaka) on an island (the South Island of New Zealand) on a lake (the ocean). Get it?
Pretty cool.
Nature's original infinity pool, the lake is as still as glass and as reflective as a mirror overlooking beautiful Lake Wanaka below. It is certainly a natural phenomenon I've never encountered before. It took all myself control not to jump in, it looked so inviting.
Except it's mid-winter and I'm wearing a parka.
Clambering over the rocks and peeping down below with Wallie and Sallie keeping me company, I tried to soak in the raw beauty of Mou Waho to remember later on. What a perfect spot to take a break!
As much as I love the beautiful landscapes and incredible sights you can experience around the world, the travel moments I truly cherish and remember are the ones that have a story to go along with the place.
As soon as we sat down for a hot cup to warm us up, I knew this was the time for a story.
Over the years I've realized that not only does coffee bring people together, no matter where you are in the world, but it also allows people to open up and share experiences, which is incredibly important to me on the road. Do you agree?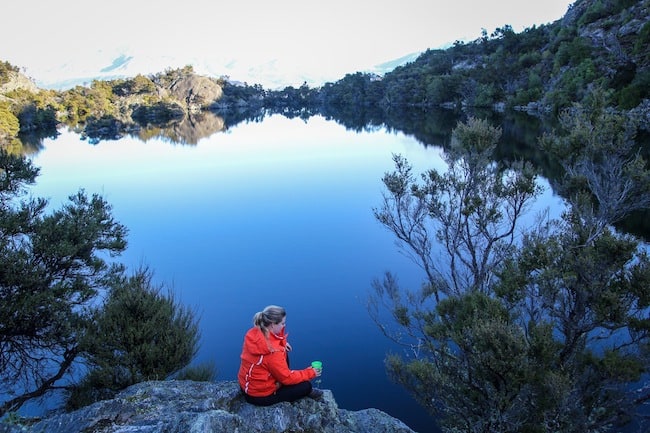 Introducing the Coffee Diaries!
I am so excited to share with you guys a new series I'm working on, and one of the biggest opportunities to come my way through my blog. Starbucks has asked me about the role of coffee in my world travels and how it helps me achieve my goals of meeting new people and having those special, one of a kind travel experiences on the road. Since there are few things I am more passionate about than coffee, travel and storytelling, I was more than happy to overshare.
So sit back, pull up a good cup of coffee and get excited!
I've been a Starbucks fan as long as I've been a coffee drinker, that is to say, forever.
Did I mention I'm the world's biggest coffee drinker? No arguments please. I can't form a sentence until I have a cup of jo in my hand in the morning, and it must be followed up with several more throughout the day to keep me going. But the truth is, there are so many things I love about coffee, all of which have to do with more than just flavor, which we all know is fabulous. Is there anything more wonderful than the smell of hot coffee first thing in the morning? Nope.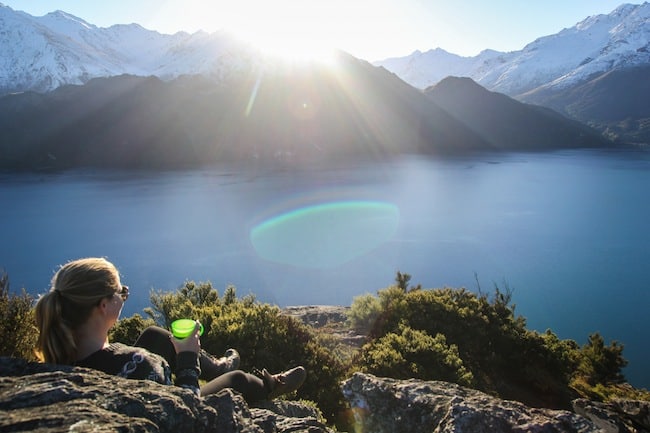 But you see, above all I love the global culture that surrounds coffee.
It makes me so happy starting off my day with a hot cup of coffee, especially reading for hours on end with a cup in my lap, and having a mug next to my laptop almost every time I sit down to write or attempt to sift through my inbox. But if there is something I love even more than those small personal moments, it's the social aspect of coffee.
In spite of being an introvert and a perpetual solo traveler, I thrive on communal experiences on the road, more often than not with people I just met, fellow travelers or locals alike.
Coffee drinking around the world is inherently a social activity, and I've found over the years with travel that some of the best stories I hear and the most precious moments I have are over a cup of coffee. For me, coffee sharing can and does frequently lead to an invitation to learn new things, ask crazy questions and generally get to know a person.
If you've traveled, you might have seen what I mean. Many times before you share a cup of coffee with someone, you are a stranger, but afterwards, you're friends. This is even more distinct in cultures like the Bedouins in Jordan who have coffee welcoming ceremonies for guests, and once you've "broken bread" with someone, you're basically family.
But what about those times when there's not a cafe or espresso machine to be found? What then?
A total dilemma, especially here in New Zealand where I frequently go on missions into the mountains overnight, sleeping in a campervan or tent, or even going far off the grid and having to pack light. I've tried a lot of different options to keep me caffeinated on my adventures, but the most exciting and successful so far has been Starbucks VIA® blends, instant coffee in a tiny packet that I can fit in my pocket and take anywhere.
Bringing the cafe experience alive on the road, and having the chance to both keep up my love for coffee, and easily share it with other people while traveling is a dream come true. Two birds, one stone.
So, I am thrilled to announce over the next few months I will be sharing some of my best travel moments I've experienced over a cup of Starbucks VIA® coffee on the road in a new project called the Coffee Diaries.
From early morning camping chats with locals around New Zealand over a cup of coffee, to meeting new friends on horseback in Mongolia, to who knows where else, I am excited and happy to get to share some of my favorite travel moments on the road, small or big, with you all, and bring these personal moments to life here on my blog.
Lucky for me, my love for a good cuppa fits right in here in Aotearoa.
In New Zealand, coffee is a lifestyle and a necessity. Even out on the water or in the mountains, kiwis always make sure that coffee is on hand and available. On our visit to Mou Waho, Chris has made sure to include a coffee and tea break at the top of the hike, an opportunity to sit back, relax and enjoy nature's show.
These are the moments I love the most on expeditions and activities because it gives me the opportunity to both wake back up and engage with the people I'm with.
With the prospect of afternoon tea on the horizon and the glimmers of a beautiful sunset beckoning us beyond the ridge, we headed up the Tyrwhitt Peak at the top of the island. With the tips of the snow-capped Southern Alps playing hide and seek over the tops of the trees, we made our way to the top of Mou Waho.
Following in the footsteps of Chris, who at this point, I am pretty convinced is a wizard, we finally popped out from the trees on the other side of the island overlooking Lake Wanaka and the mountains in the distance.
We could see all the way to the Haast Pass and the gateway through the mountains to the wild, west coast.
With the sun setting directly in front of us in between the glaciers and snowy peaks throwing beautiful godrays down onto the lake, we perched ourselves on the edge and tried to soak up a bit of sunshine while munching on cookies.
Just because you are off somewhere remote doesn't mean you should sacrifice your love for the cup, and besides that, coffee brings people together and encourages people to open up and share.
Sitting with Chris, I was able to pick his brain about all the local legends and stories that make Wanaka such a special place. From this vantage point you can easily see the trail that the ancient glacier left behind when it carved out Lake Wanaka and Mou Waho thousands of years ago without another soul, boat or sign of life in sight.
Well except for Sallie and Wallie who followed us to the top in a furtive attempt to knick our cookies and sip our coffee when our backs were turned.
Pointing out the peaks that form along the iconic Rob Roy track along Lake Wanaka while we relaxed under the setting sun with our hot coffee, Chris told me the local Māori story of Takiana, wife of the famous explorer Tamatea of the Waitaha tribe, the first human wave to inhabit the Wanaka region. Missing her home in the Polynesian Islands, Takiana climbed up to the top of what's now Roy's Peak to see if she could spot her homeland of Hawaiikinui far away in the distance. Unable to see it, she laid down on her back to sleep, and was buried during a snowing; her face and body now forms the peaks of the mountains along the lake.
These are my favorite travel moments, when you are in a very special place with someone who is so knowledgeable and genuinely passionate about what they do and you can tell they ACTUALLY enjoy sharing the experience of it with others who visit.
I am passionate about a lot of things, and I am curious about even more, so getting the chance to share someone else's passion and be able to learn from it, is one of the most important travel experiences I can take away.
On our way back down to the boat and while I surreptitiously tried to pick Chris' brain about diving in Antarctica (holy crap talk about a dream trip!) we stopped and picked out a spot to plant a small tree that he brought along. In order to give back to Mou Waho and pay homage to New Zealand's incredible land, EcoWanaka gives guests the opportunity to plant a native New Zealand tree on the island.
Does it get any better than that?
I don't think so.
Mou Wahou is one of those really special places in New Zealand that gives you the chance to step back in time and really see for yourself why it's so unique here and what makes this little country at the end of the world so special. I know I can't wait to go back.
Have you heard about this island on a lake in Wanaka? Would you be keen to visit?
Many thanks to Eco Wanaka and Starbucks for hosting me on Mou Waho, like always I'm keeping it real, and all opinions are my own, like you could expect less from me.