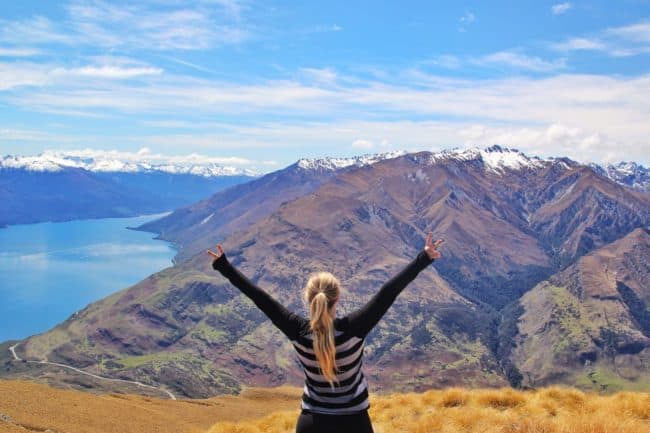 It's been way too long since I've written about Wanaka – where I've spent most of my time in New Zealand and where I hope to keep calling home in the future.
This past week I have been traveling around Milford Sound and Fiordland (if you follow me on Instagram) and I've met dozens of eager tourists asking for ideas of places to go and explore in New Zealand. No matter how the conversation starts, it almost always ends with me saying, "and don't miss out on Wanaka! It's my favorite place!" (I've written about how it stole my heart here).
And I mean every word of it – though I wish more people listened. Instead I kept hearing over and over again – "we are actually just staying in Queenstown, maybe another time." BOO! I'm making it my mission to change that attitude.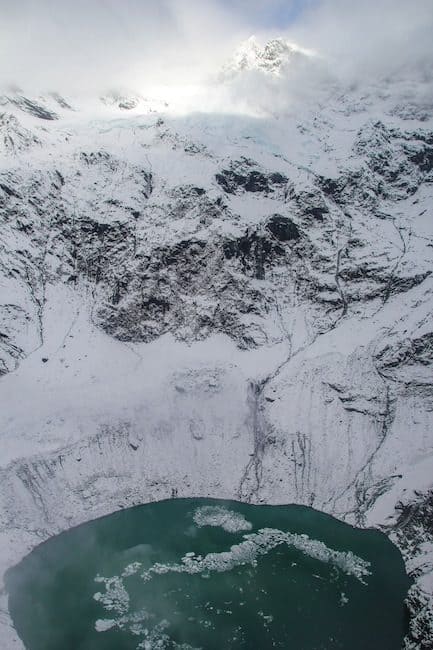 Wanaka is often compared to Queenstown because they are right next door to each other – but let me be the first to say, it's apples and oranges – they couldn't be more different.
Wanaka is loved by so many because of the "vibe" in town – not because it has a lot of flashy tourist activities. To me, it's the most beautiful place in New Zealand because you have to actually look for it – it's not shoved in your face.
This means that Wanaka tends to attract more intrepid travelers, people who are looking for adventures and who are keen to get off the tourist trail. It's not a place with an easy top 10 things to do Tripadvisor list – it all varies from person to person. Though in one respect, it's universally perfect (in my opinion) – nowhere has better views than in Wanaka.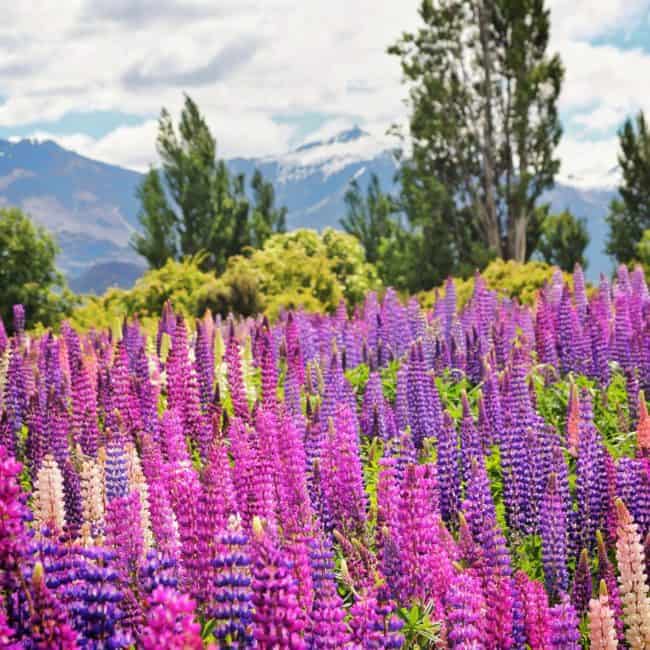 Some of them are easy to get to, some of them are, well, not so easy to get to. Some are free to get to, some cost an arm and a leg. I've tried to put a nice mix together for everyone.
It's been almost a year since I moved here, so I thought I would sit down and share some of my favorite views and spots for you on my blog in the hopes that it will either inspire you to come visit and fall in love with Wanaka like me or help you better plan your time here. Be sure to check out my map with all the details and enjoy my guide!
1. Rob Roy Glacier
Rob Roy Glacier was my very first walk I did in Wanaka, and oh boy was it an introduction!
It's one of the best day walks in New Zealand, and from what I remember, it's pretty easy and a really nice trail. It's a chill walk, not too intense or anything – don't even think you even need hiking boots. If you can walk for 3 hours, you can definitely do it. It's a 3-4 hour return from the Raspberry Flat car park – the start of Mt. Aspiring National Park, which is on Wanaka's borders. It's the perfect place to picnic.
The drive out to Mt. Aspiring to this car park is one of my favorite drives in New Zealand (I know I say that a lot) – it's absolutely stunning. You drive along a dirt farm roads directly towards the big mountains and glaciers of the park – views couldn't be better!
The last dozen kilometers of road to the parking lot are a bit tricky. They cross 9 fords, some of which are usually flooded, depending on the rain (go on with your Oregon Trail jokes). I'd say you can cross them in a normal car most of the time. I've driven my tiny Polo through them when I probably shouldn't have and made it ok – though that road has claimed two of my hubcaps. It's a good idea to check with DOC before heading out for the latest conditions, especially if it's been raining or there is snowmelt in the spring.
This is what keeps Mt. Aspiring one of New Zealand's best-kept secrets – you really have to want it to go out there.
But trust me, when you pop out of the forest at the foot of the glacier, you'll be grinning from ear to ear. Cheeky keas will fly around and keep you company, and you can easily spend hours gazing at the ice and waterfalls, and even in winter you can watch avalanches tumble down. It's seriously an epic view.
2. That Wanaka Tree
One of my favorite views in Wanaka is of the infamous willow tree down by the lake. And by "down by the lake" I mean IN the lake.
Tucked away down by the Outlet Track (I've marked it's location on my Google Maps for you) in the corner by all the poplar trees is the beautiful lonely willow. It's become the symbol of Wanaka and even has it's own hashtag – #ThatWanakaTree.
At sunrise usually there's a gaggle of photographers lurking down there with their tripods but more often than not you'll have the place to yourself!
3. Roy's Peak
Roy's Peak is the classic Wanaka day walk and I STILL haven't done it yet! I don't know why, probably because it's right there, and I can see the peak from my window. I think it's because I've seen so many photos of the view from the top, I need even more motivation to haul myself up there.
The start of the track is really close to town on the way out to Mt. Aspiring National park, and from what I've heard it's a pretty clear steady uphill 4 wheel drive track that can take 5-6 hours return. In short, it's a calf burner and a knee killer.
But look at the views over the ridge! My friend Camilla has some great shots of it up there at sunrise.
Image via Camilla Rutherford
Image via Camilla Rutherford
One of my favorite things about hiking in New Zealand is once you are above the snowline and you can walk along the different ridges. It makes me feel like I really am living in Middle Earth.
Worth the long hike, right?
4. Treble Cone
Another favorite view in Wanaka is from Treble Cone, the local ski resort.  I learned to snowboard here this year, and not that I have much experience, but I am guessing it has one of the best views in the world. Because there are no trees, you can see straight down to Lake Wanaka below, with the different islands and mountains in the distance.
Maybe this is why I am such a bad snowboarder, I get distracted by the views!
Of course the best shot is at sunrise and the summit which you can hike up to – still on my bucketlist!
Image via Camilla Rutherford
Treble Cone summit via Stoked For Saturday
5. Flying around Mt. Aspiring
If you splurge on one thing in New Zealand, in my opinion it should be a scenic flight. If you really want to take in the vastness and pure wilderness here, it's best done from the skies. This past year I've been privileged enough to fly over several of the different national parks here, but Mt. Aspiring is my absolute favorite.
I think it's because there are over 100 glaciers there, and glaciers and ice fields are really freaking cool to see.
Probably my favorite scenic flight I've done is with U-Fly Wanaka out here at sunset. Not only do you get to help pilot the plane, which is fun and unique, you get to see all those amazing glaciers up close and personal.
Mt. Aspiring/Tititea is New Zealand's highest mountain outside the Aoraki/Mt. Cook region, and it's pretty stunning. It sticks out high above the surrounding mountains and is unmissable. It looks like the Matterhorn.
Unlike Aoraki/Mt. Cook, it's not as easy to get up close to. I haven't been to some of the higher huts in Mt. Aspiring that will get you close to it, but I have seen it from a few hikes and from the sky. Trust me, flying around it is the best way to see it, unless you climb it, which I probably never will because I'm a big scaredy cat.
I'll stick with the flights.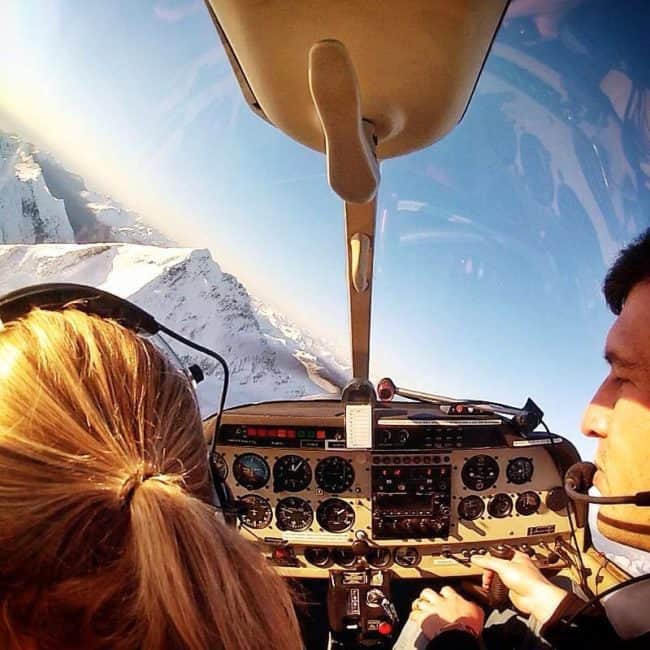 6. Rocky Mountain track
Rocky Mountain Track is another one of my favorite short Wanaka walks, and also a bit of a local secret. It's on the way out to Mt. Aspiring National Park and is a nice little climb up to a big hill with views of the surrounding mountains and lake. This is a good hike to do if you don't have a lot of time in Wanaka. It usually takes me an hour up and less than an hour down – it's about 20 minutes from town.
The track is narrow and can be steep and muddy but nothing too serious compared with most New Zealand walks – and there are several different routes up to the top so you can go up and down different ways. At the bottom there is a little lake called Diamond Lake that you can walk around, and also freezes over in winter if you're keen for an ice-skate.
I took my friend Amanda from A Dangerous Business up here and *might* have forgotten how steep it was – she was convinced I was trying to kill her – I think she secretly liked it. Besides, the views are always worth it, right?
7. Mt. Iron
Mt. Iron is perfect for anyone who wants a bit of a Wanaka view, doesn't have a lot of time or is in Wanaka without a car and isn't a hiker.
A big hill in the middle of town, Mt. Iron is the go-to exercise spot for locals. Every morning, noon and night you will see people quickly walking or jogging their way up and down Mt. Iron usually with a dog or two for company, getting in their daily exercise. It's an hour return most of the time, depending on your fitness and how often you stop for photos.
You get great views over the town and out over the Lake towards the mountains as well as out the other way towards Hawea and Albert Town.
Image via Camilla Rutherford
8. Cascade Saddle
I've been dying to do the infamous Cascade Saddle ever since my friend Matt wrote about it here. If I had to guess I would say it probably has some of the best views in Wanaka if not New Zealand from the top.
However, it is also probably one of the hardest and most dangerous hikes you can do here with the highest fatality rate. It even made Buzzfeed's scariest hikes in the world list. So you have to really want to do it and you have to be pretty experienced and in good shape, which is why I haven't been up there yet. I am definitely not fit enough, fast enough or have enough high alpine experience. But I'll get there!
I think most of the deaths are people who aren't prepared and go in bad weather. It must be dry and clear when you're up there.
Images via Backpacking Matt
9. Mou Waho
Mou Waho is another one of my favorite secret spots in Wanaka. "An island on a lake on an island on a lake on an island on the ocean" it's a pretty special place! I told the story of it on my blog here.
One of the few islands out on the lake you get there by boat with Eco Wanaka Adventures, one of my fave Wanaka activities. Chris Riley who runs it is an absolute legend.
It's a predator-free island which means there are a lot of cool New Zealand birds out there you get to see. Not to mention the walk to the top of the island gives you stunning views of the lake that's on the island, as well as the surrounding mountains around Wanaka. It's one of those very remote places where you feel like you've discovered a new place. It's very special.
10. Beacon Point Road Beach and the Outlet Track
This is one of my favorite secret spots, it's nothing official and I am not sure it even has a name, but it's the beach that's at the end of Beacon Point Road.
I live nearby and I usually dart over here at sunset for photos, or for a swim or nap in the sun in the afternoon. It's a lot quieter compared to some of the other bays and beaches in town. Usually it's just me and someone walking a dog out there.
I love it because it's so peaceful and overlooks the lake, Roy's Peak and out towards Treble Cone and the mountains. It has it all.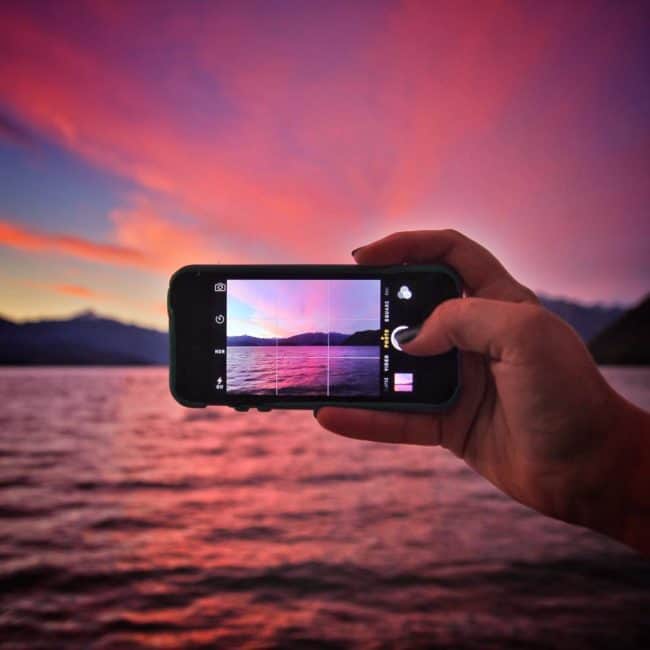 11. Isthmus Peak
Some friends living out in Lake Hawea told me about the Isthmus Peak Track ages ago but it wasn't til spring til I finally made my way out there. The track starts on the side of the road, a 30 minute drive out from Wanaka past Hawea towards the West Coast.
I did this walk in October on a beautiful day when there was still snow on the mountains and the trail was full of lambs. Squee!
It took me 2.5 hours to get to the top on a switchback 3 wheel drive track which is pretty easy to walk though it can get a bit boring – I'll add I was waaaaay out of shape when I did this and stopped a ton. I had the walk to myself and hung out at the top for an hour or so in the sun before I was joined by a Canadian traveler and we walked out together. The downhill killed my knees – luckily he shared one of his walking poles with me for the last 30 minutes.
Isthmus Peak is on what's known as the "The Neck" in Wanaka, a small bit of land that divides Lake Wanaka and Lake Hawea. As you climb you have the view of Hawea and the mountains next to you but as you arrive at the top, you can see both lakes.
As you climb and reach the tussock/snow grass level, there are a few false summits before you finally reach Isthmus Peak properly.
This is one of my favorite views in all of Wanaka, mostly because it's a big secret. So only go up there if you promise to be cool.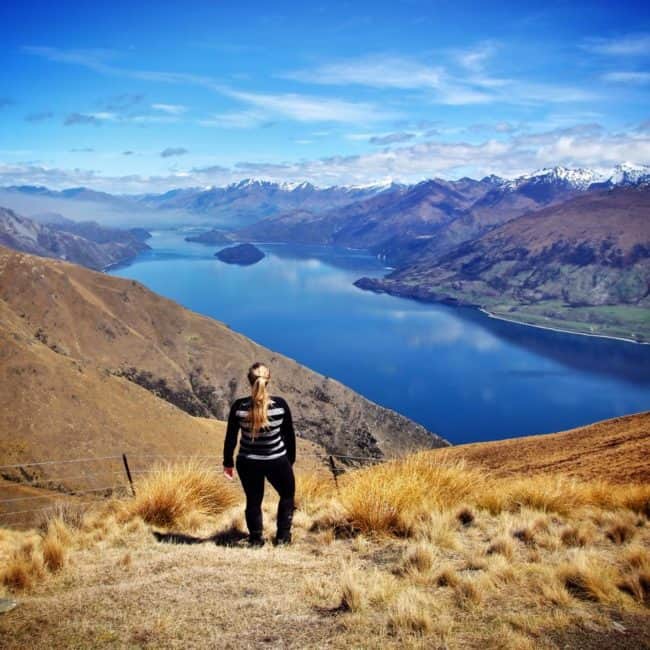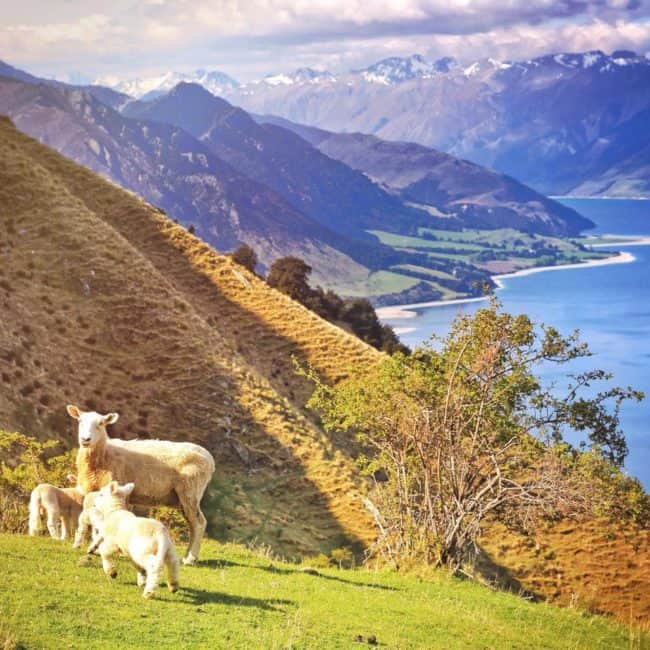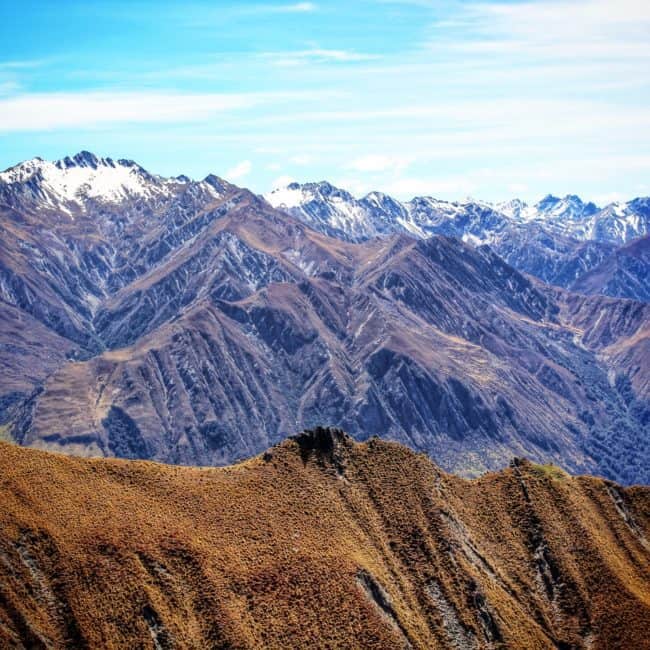 12. Rippon Vinyard
I've talked about Rippon before, but it's worth mentioning again because it seriously has one of my favorite views in Wanaka, something that is likely getting repetitive, I know. Forgive me!
If you aren't a walker or hiker and you love wine, then head out to Rippon Vineyard, just outside of town. You can visit the tasting room and try out some of their wines and go for a wander out in the sunshine for one of my favorite views.
One of my good friends works out there so I often pop by uninvited because I just can't stay away. We'll head over to nearby Edgewater and grab freshly baked scones from the restaurant and cafe by the lake, which are "Wanaka famous."
The best time of year to visit is in autumn (so April New Zealand time) when the leaves have started to change and go yellow. It's a really magical time of year. You can see more on Camilla's Facebook and Instagram.
Image via Camilla Rutherford
Image via Camilla Rutherford
13. Ruby Island
The little island you can see from Rippon Vineyard is Ruby Island. During the time of prohibition, there was a wooden dance hall out on the island that locals would boat out to to have a good time at night before it all burnt down.
Nowadays, it's a great boating, swimming and picnic spot, especially in summer. There are BBQ's with gas out there too.
You can rent a kayak and paddle out in less than an hour from the main beach in town with Wanaka Kayaks, one of my favorite summer activities in town. The water around the island is the most beautiful clear turquoise.
14. Clutha River
If having beautiful lakes, glaciers and mountains wasn't enough, Lake Wanaka is also home to some epic rivers.
My favorite river is the Clutha – I first spotted it from the skies. It's hard to miss because of its bright colors. Wavering back and forth between turquoise and emerald green, it's seriously stunning.
The best place to see it is from the Upper Clutha River Track which winds alongside it. You can walk, jog, and cycle either the whole thing or bits and pieces of it. And you can kayak or paddle the river after.
If you're looking to head where the locals go, it's here.
15. Road between Wanaka and Makarora
Finally, my favorite road in probably all of New Zealand is the one that connects Wanaka with Makarora and the West Coast. It's seriously stunning.
It takes about an hour and a bit to drive between Wanaka and Makarora, but be sure to build in some extra time because you'll be stopping every 10 minutes to take in all the views.
As you head out of Wanaka, you'll go over the single-lane Albert Town Bridge, a popular bridge jumping spot in summer, before heading out towards Hawea. As you go past Hawea on your left, there will be two or three stunning spots for you to pull over and take pics of the lake and mountains before crossing "the neck" between Wanaka and Hawea. At the top of the neck there is a spot on your right to pull over that will give you epic views looking back over Lake Hawea.
As you come around the corner, you'll go along a winding narrow road with the top of Lake Wanaka again on your left, with heaps of pull over spots with great views and campsites and beaches. This is the last place you'll have phone service before getting to the glaciers on the West Coast. As the lake ends you'll drop down into the valley towards the Southern Alps and Makarora with great views up the narrow valleys towards the mountains and glaciers along the Wilkin River before entering the Haast Pass. It's wild country out there.
*Which view would you head to first? Have I convinced you to come visit Wanaka yet? Don't forget to check out the map I made that has all of these spots marked on it here! 
**Also if you are planning a trip to New Zealand, be sure to talk to my friend Matt from PlanitNZ to help book your trip – mention me and get some discounts!