I don't know about you guys but I have always considered myself to be a hands-on kind of traveler.
Unsatisfied with just seeing places and taking pictures to remember them later, I prefer to get my hands dirty, try new things, eat something weird, meet strangers and really take it all in myself. I like to scratch more than the surface, dig in and really learn about a place or take away some new skill or lesson.
Life is too short for boring white-bread travel, right?
Following that train of thought, while there are dozens and dozens of ways to see New Zealand from the sky, which I recommend as I believe it's the absolute best way to experience the full jaw-dropping beauty of this amazing country, when I heard there are scenic flights in Wanaka where you ALSO can pilot the plane, I was all over that like gravy on biscuits.
Everyone in Wanaka, hide!
U-Fly Wanaka is headed by wonder woman Kylie who has flown all around New Zealand's most famous peaks and has even skied to the South Pole! NBD.
There is no shortage of amazing people to be found in Wanaka.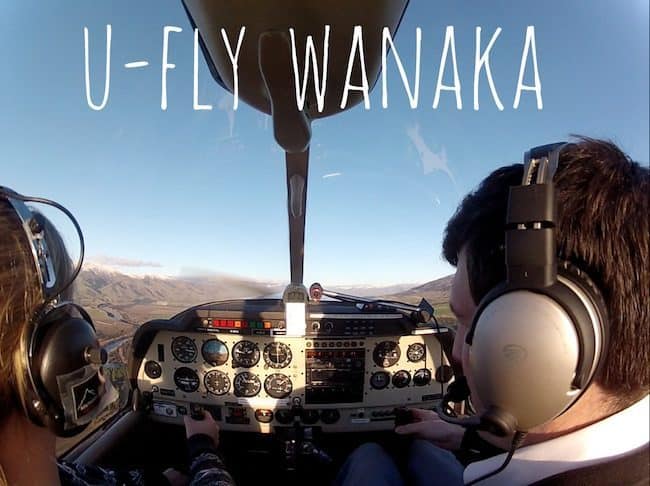 I grew up with a stepfather who loved to fly in a little Piper Cherokee, so whenever I have the chance to hit the skies, I take it.
And to my mother's horror, one day I hope to get my own pilot's license, how great would that be? But since who knows when that will happen, I will take my chances when I can.
In my honest and humble opinion, there is nowhere more beautiful to fly than in Wanaka. Trust me on this one.
When I first moved here almost a year ago, I casually invited myself along on trip with U-Fly around the lake. Cozied up in the backseat, I was able to take in Wanaka from the air and get my very first glimpse of Mt. Aspiring, peeking through the clouds.
I was hooked.
With my face shoved up against the glass oohhing and ahhing for the whole flight, I was seriously bummed when we landed. I wanted more.
Later on a few months later and my dreams came true.
This time I got to fly in a smaller, two person plane, a Robin DR 220. Making my way out to the airport at sunset, I knew I was in for a treat. In the dead of winter, all of the surrounding mountains in Wanaka were covered in snow.
I couldn't wait to see my favorite mountainous horizon covered in snow. At sunset.
This time I got to be copilot. Scrambling up the wing, I plonked over the side into the tiny cockpit. I felt like I was a WWII bomber pilot. But you know, in a dress.
Tucking my camera away between my knees, I pulled the headset over my ears and tried to pay attention as the pilot began explain all of the bobs and levers and buttons in front of me, which I promptly forgot.
Too excited guys!
Before I knew it, I was pulling back on the throttle and we slowly lifted into the air. I couldn't believe I was able to help take off. As we climbed over the familiar fields of Wanaka, I could see some of my favorite local landmarks below – the turquoise Clutha River, Mt. Iron where I go for walks, Eely Point near my house where I ride my bike and go for summer BBQ's.
It was the first time it truly felt like Wanaka was my home.
Letting me get a feel for the plane, he let me tilt it left and right as I steered us towards Mt. Aspiring and the setting sun.
It was a perfect, cloudless winter day, and as we headed over the lake I could see Roy's Peak to my left and then the twinkling lights of Treble Cone, our local ski field. Resisting the urge to grab the joystick in front of me and pretend it was a gun taking down enemy planes 70 years ago while go "pew pew pew" I tried to act my age and remember I am adult. Mostly.
This was my favorite time of day. When the mountains go blue in their own deep shadows and their snowcaps start to turn gold in the setting sun. The light stream through the peaks and valleys creating beautiful god rays over the land and everything feels peaceful and silent.
Eventually we get deep enough into Mt. Aspiring National Park that I get to see the permanent glaciers and deep crevasses dotting the tops of the mountains. How many people ever get to see such amazing sites? I had to pinch myself to remember that this was my backyard now.
Before I knew it, we swung around and I got my first big glimpse of Tititea / Mt. Aspiring, New Zealand's highest mountain outside of the Aoraki / Mt. Cook region, which coincidently, I could see off in the distance.
Nicknamed the Matterhorn of New Zealand, at 3,033 meters tall, it's head and shoulders above the surrounding mountains. You can't miss it.
Tititea is the Māori name for Mt. Aspiring and it means "Glistening Peak" which is a very accurate description in my books. It was shining white and gold under the setting sun and literally sparkled.
My jaw literally dropped open as we circled Mt. Aspiring and I am pretty sure I mumbled "holy shit" directly into the headset.
I had never seen such a beautiful mountain, and I knew I was super lucky (a word I don't use lightly) to not only be able to experience it myself from the skies in a tiny plane, but also to see it under such amazing conditions.
It's not an easily spotted mountain and is often shrouded in clouds and isn't really visible from local roads around Wanaka. You have to make an effort to experience Mt. Aspiring's beauty.
Feeling my pure joy, I couldn't believe it when we swing around the mountain for a second time. Tucking my camera away between my knees, I just stared out the window and tried to take in the raw, pure beauty of this mountain.
Trying to imagine all of those people, some of them my friends in Wanaka, who have made the long, tiring journey to the top, I wondered if I would ever climb it one day.
Look at the steep sides dropping hundreds of meters off and deep crevasses, I thought, better stick to the plane for now.

Resisting the urge to cry from happiness (I am not exaggerating) I waved goodbye to my favorite mountain and we turned back towards Wanaka and home.
As we carried on along the lake, everything shifted from pink and gold to blue and purple as the day came to a close. I got one last glimpse of the mountain silhouetted in the distance before we made our way back to town and I got to try my hand at landing the plane. Which is lot more intimidating than taking off, let me tell you.
When can I fly again?
*Have you ever taken a scenic flight while traveling? Would you like the chance to not only fly over glaciers and mountains but also pilot the plane too? 
**Check out my more professional story I wrote about the flight for the New Zealand Herald here.  
Many thanks to U-Fly Wanaka for letting me experience Mt. Aspiring in all its magnificence. Like always, I'm keeping it real, all opinions are my own, like you could expect less from me.