I've said it before and I'll say it again – New Zealand is ridiculously beautiful. Seriously. All. Kinds. Of. Pretty.
It's like someone has left a piece of the ancient world behind and untouched, free from skyscrapers, free from pollution, free from dangerous animals and dangerous people. It's its own little Eden tucked away, almost forgotten at the edge of the map.
Every single time I go exploring, and I mean it, every single time, I am blown away by the natural beauty here. It's never boring, always wild and exciting, and without a doubt there is always somewhere even MORE beautiful just hidden away around a corner somewhere.
How many other countries in the world can boast such praise?
And if there is one place above all that commands universal love from all those who make the long journey there, it's Milford Sound.
I first discovered Milford Sound on Christmas Day 2013 on my RealNZ. It was wet and moody, filled with hundreds of temporary waterfalls and soaring peaks that instantaneously captured my heart. I knew I would be back.
This was the first time I began to hear about the world-famous Milford Track, a 4 day, 53.5 km walk through some of the oldest, most beautiful landscapes in New Zealand. It doesn't get more remote than Fiordland, guys!
It was around November, springtime in New Zealand, when I began to think about doing some of the famous Great Walks in the summer. They are all multi-day treks that you often have to book in in advance at the huts along the trails.
Milford Sound is by far the most popular walk, and the huts in the summer season usually sell out as soon as they become available online. But as luck would have it, when I looked there were a few random cancelations here and there, so I decided to book them on a whim. I then promptly broke my toe in Thailand, so when I came back hobbling to New Zealand, I rang up the DOC (Dept. of Conservation) office in Te Anau (where the track usually starts) and asked if there were any other times I could do after the holidays. Again luck was on my side and there were some single spots that had opened up in January so I nabbed one.
If you have a flexible schedule and are a solo traveler like me, you might be able to get a place on this popular walk last minute.
So I thought I'd share my story of 4 days walking 33 miles in the wilderness of New Zealand with you in the hopes that it might inspire you to do the same!
Day 1 – Glade Wharf to Clinton Hut
Or as it shall henceforth be known, the day it rained like a motherfucker.
As I walked the wharf in Te Anau Downs to catch the boat that would bring the walkers to the start of the track, I knew this would not be a dry day. The last one on the boat, as usual, I almost missed it. I barely noticed the scenery as I booked it through the woods in the pouring rain to get to Clinton Hut. The first day is super easy, just an hour walk.
Did you know in Fiordland it can rain sideways? But what do you expect from an area of the world that gets over 26 FEET of rain per year?
Sidenote – for anyone doing the Milford, I would advise to buy one of the $5 waterproof yellow packliners from one of the many outdoor stores in New Zealand. Pack covers do not cut it here.
I made some friends from the States on the track and we walked together chatting, before finally arriving at the hut and slowly peeling off our layers.
As we were about to walk inside, a big family of 5 shoved past us and grabbed the bunks we were about to take. Unfortunately, this hustling behavior to get the best beds happens a lot in the huts around New Zealand, and it drives me nuts. The last thing I want to feel is hurried when I am getting back to nature. Luckily the joke was on them and they ended up in the section of the hut with the loud snorers. Karma.
After having a rest and making dinner, getting to know everyone on the walk, since you end up all staying in the same huts every night, the rain finally stopped and the mists began to lift around the mountains, revealing dozens of beautiful temporary waterfalls and the promise of a clear day in the morning. And then we all promptly fell asleep around 8pm.
Day 2 – Clinton Hut to Mintaro Hut
Up at down, I powered down on some oatmeal and coffee (a mini french press is totally standard to pack in an overnight pack, right?) and set off early alone.
I took my time walking through the beautiful forests before making friends with some older hikers on the trail. As it turns out the Auckland Tramping Club was down doing a few missions in Fiordland. The average age must have been 60 in their group, and they were AWESOME! Many of them had walked the Milford a handful of times over the past couple of decades as well as some of the most amazing walks in New Zealand.
I seriously love hiking with older kiwis. They have the best stories and the best attitudes, not to mention they are the fastest hikers on the trail!
We ended up walking along together for most of the day spinning yarns (kiwi for swapping stories) and I never felt so inspired! I definitely ended up walking a lot faster than I usual do to keep up with them! It was a 6 hour day, and because the weather was so beautiful, a few of them ended up climbing the Mackinnon Pass after dropping their bags at the hut! Seriously tough guys here!
It was a beautiful blue sky day and I couldn't believe my eyes when we popped out of the trees into the valley. Milford kept blowing me away!
Even though I was a solo traveler in Milford, I ended up making friends with everyone (even the bunk thieves), and had a great time!
Day 3 – Mintaro Hut over the Mackinnon Pass to Dumpling Hut
The next morning dawned warm and clear and we were woken up at 5am by the keas screeching and squawking outside the hut! As annoyed as I was, I guess I can't complain because keas are some of my favorite New Zealand birds!
The world's only alpine parrot, they are big, green, and cheeky as hell.
I ended up making friends with two girls traveling together from Australia and walked with them for most of the day. The day of the Mackinnon Pass is probably the highlight of the walk, it's just stunning, and I feel so lucky (a word I don't use lightly) to have had such good weather!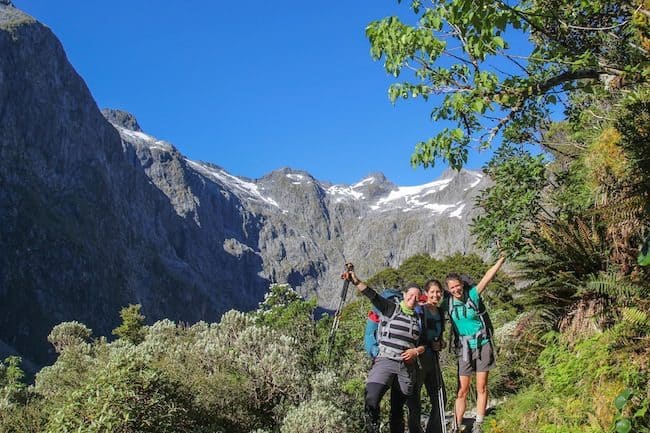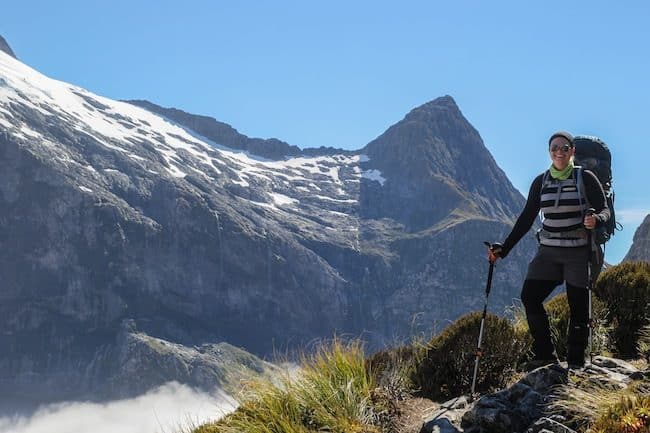 The climb up from the hut to the top of the Mackinnon Pass was pretty easy. I was expecting it to be a lot more challenging, but the path is a nice wide switchback up the valley, not the usual terrifying tree root climb or rock scramble that I usually find when climbing New Zealand mountains.
If you are moderately in shape, you shouldn't have a problem.
I finally invested in a pair of walking poles from Macpac, New Zealand's classic outdoor store when they went on sale around Christmas, and they have saved me hiking. I put it off for a year because I thought it made me look like an old lady, but with a bad knee and on New Zealand's tedious downhills, they make all the difference! Sold! Thank you Jenna from Stoked for Saturday for convincing me to buy a pair!
When we finally arrived at the top, we were greeted by sick views and an amazing inversion cloud hanging over the valley, these are my favorite mountain clouds.
For me nothing feels as good as when you get to the top of a mountain like this on your own two feet! What a feeling of accomplishment.
Luck was on our side and we had maybe an hour of exploring at the top as well as eating our lunches before the cloud ended up blowing over the top of the pass and turning everything white while we headed down.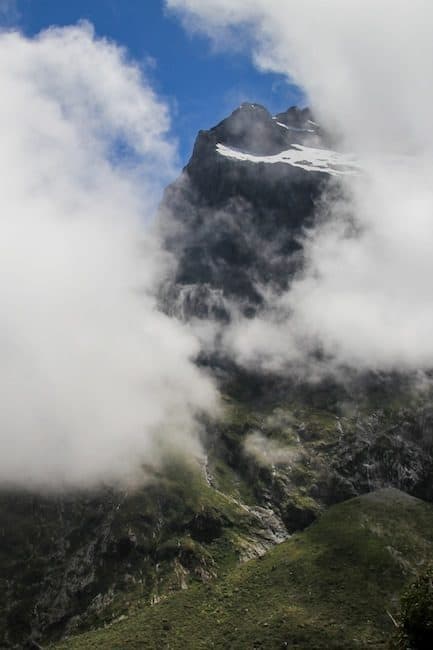 The descent was just as awesome taking us along waterfalls and roaring creeks, through the deep forest again and over swing bridges back down to the other side of the pass.
Fiordland definitely has to be one of the most pristine and beautiful parts of New Zealand!
I love how green it is, and all of the turquoise blue waterfalls and creeks you get to see. And of course the snowcapped mountains and glaciers aren't too bad either.
Day 4 – Dumpling Hut to Sandfly Point
Our last night at Dumpling Hut was a pretty memorable one, thought it might want to be renamed Sandfly Hut. Ugh. I left the next day with at least a dozen new bites even though I made sure to wear long layers the whole time, even though it was warm. Sandflies love me.
And to make thing more exciting, we were all woken up in the middle of the night by an earthquake! Bunks shaking and all. We sort of looked at each other in the dark, being like, did you feel that? Did you feel that?
Nothing is ever boring in New Zealand!
It turned moody and overcast for parts of the walk out, with hints of sunshine here and there but no rain. Perfect Milford weather.
We passed many beautiful waterfalls again on our way to Sandfly Point where the boat was arranged to pick us up and bring us back to Milford.
While my feet were a bit sore by the end and I was longing for a hot shower and some real food, I thought walking the Milford Track to be a pretty accessible for most people who are interested in being outdoors and experiencing New Zealand's beauty hands-on. It felt good to have walked so far on my own and make such great friends along the way.
Are you interested in walking the Milford Track? Would you like to see this spots for yourself? Have any tips to share? Have you ever overcome a physical challenge like this on the road before?
Many thanks to DOC for hosting me on the Milford Track, like always I'm keeping it real – all opinions are my own, like you could expect less from me!