How many places in the world can boast being EVEN prettier in the rain? Let's be honest here. Not that many. Rain and travel isn't a good mix, right? In general, it freaking sucks.
Well, I'm here to tell you there is one place in New Zealand you should see on a rainy day, and that is Milford Sound.
Milford is one of those hyped up spots in New Zealand that actually lives up to its reputation. I've been probably a dozen times by now and it never gets old and I'm always keen to go back. Always.
I've visited every which way possible by now, including driving there in Aston Martin (more on that later) but I still hadn't done the famous Milford kayak with Rosco's. So when my friend came for a visit, I knew I had to take her to Milford for a paddle. Did I ask her if she enjoys kayaking? Rainy day kayaking? 14 kilometer rainy day kayaking?  I might have left that part out.
But life is always an adventure in New Zealand am I right?!
So if your forecast for a Milford trip is rain with a chance of a ton of rain that is sometimes sideways, don't fret. You're in luck. And since Milford is one of the wettest places in the world averaging 21 feet of rain per year, it's highly likely going to be pissing down when you're there. Accept it. Embrace it. Grab a rain jacket and move on.
And like I was rambling on before, Milford in the rain is, how should I phrase this, DOPE AS HELL.
Why you ask? Because hundreds of temporary waterfalls start to gush down the huge walls of the fiord turning it into a real life Middle Earth meets Jurassic Park. It is unreal. It looks like something that shouldn't exist with towering mountains popping out from the fog and waterfalls tumbling down from the clouds, like a relic of a bygone age. It's mystical, it's moody, it's a cliche spiritual travel experience that transports you into another world. You literally feel like you are not on earth anymore. You've traveled back in time to a place without internet or humans and pterodactyls might fly over your head at any moment. Oh wait, that's just the sightseeing helicopters.
Whatever, you get my meaning right? Milford on a sunny day is pretty. Milford on a heavy rainy day is fucking glorious.
Rudyard Kipling (you know, The Jungle Book guy) called Milford the eighth Wonder of the World. Right you are Rudyard, Milford definitely is up there on the wonder list.
I've seen it from basically every possible angle except down at water level. That's where the kayaking comes in. It was time to kayak Milford Sound.
Rosco's Kayaks is a New Zealand local legend and a classic kiwi business started by, yes you guessed it, Rosco. These are the guys you go with when you want to kayak Milford. They've been around for years, I've got a ton of friends who've guided for them, and that very small New Zealand friend of a friend knows them definitely comes into play here. It feels like a family experience.
They have trips around Milford for pretty much every kayaking ability, so I booked us on the Stirling Sunriser. It's solidly intermediate. Can I do a chin up? Do I have biceps? Sure don't, but I can do a slow paddle in a tandem kayak for a few hours and I'm enthusiastic. Good attitude will take you far on adventures guys.
You meet at Deep Water Basin in Milford (remember there is no phone reception or service past Te Anau to Milford so sort your stuff in advance) and sort all the clothes and gear. You'll get a dry bag to put anything you need in, like a ton of cameras and a candy bar if you're me, before jumping in the water taxi with the kayaks and heading out towards Stirling Falls to start the trip.
Stirling Falls is one of only two permanent waterfalls in Milford Sound and you start the adventure paddling past it as close as you dare. 151 meters in height, it's pretty impressive when you are up in front of it, something I hadn't realized on my other trips.
Now am I saying that Milford Sound on a rainy day is a super comfortable experience? Um, yeah no. Rain is rain, even in New Zealand, and Milford is a huge glacier carved fiord covered in temperate rainforest, which is not to be confused with tropical rainforest. It is not what I would describe as hot.
But trust me, you don't get cold when you're working, and I wasn't cold at all on this trip. And when your skin is covered, the sandflies can't eat you. Bonus.
Rosco's gives you everything you need including classic kiwi polyprops (stripey thermal layers) and waterproof outer layers. Bring something like Teva sandals to wear inside the kayak, not hiking boots.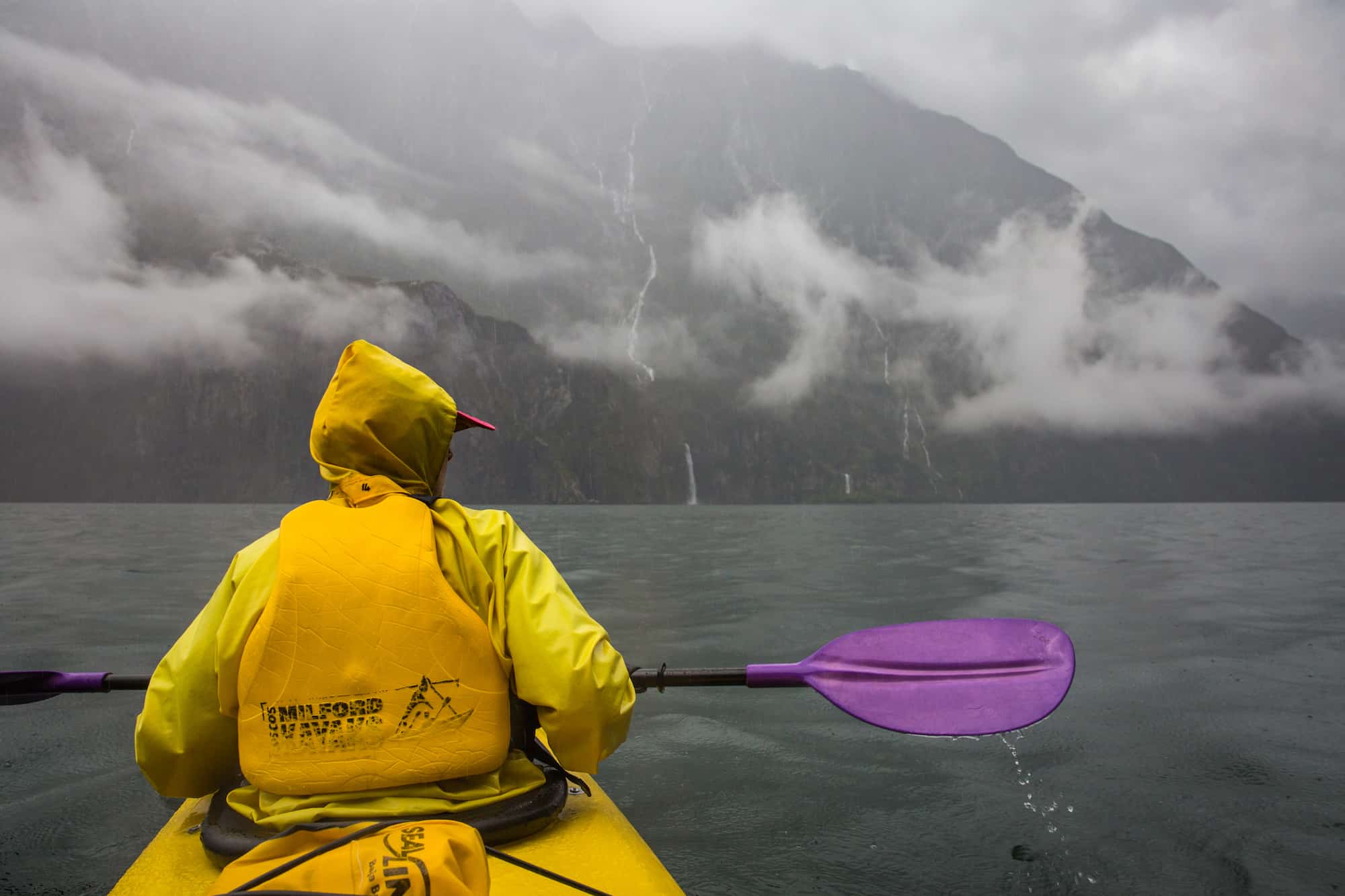 Luckily the rain in Milford is often changeable and also it's quite sheltered from the wind, especially in the morning. We were on the fiord for a few hours and it was only raining for part of it. Sometimes just spitting a bit here and there, other times you face a world-ending deluge that makes you hate life. But luckily those passed quickly.
I have this memory of when we started to cross from one side of the fiord to the other and it started to rain so hard I actually couldn't see. I was legit paddling with my eyes shut. Go ahead and imagine what words were going through my head because I definitely am not allowed to write them out on the blog. I'm sure my friend wanted to kill me at that point.
But then all of a sudden someone flicked a switch and it stopped and I blinked and opened my eyes and it was like the world was silent and had hit the refresh button. The water of the fiord was so still it was a reflection. It looked like inky glass and it smelled so fresh and earthy while all around me huge waterfalls tumbled down to the water. It was as if Milford was alive.
Is this real life? Don't think so.
Moments like that or seeing baby seals playing around on the rocks while endangered penguins swim by and dolphins leap in the distance make the wet bum and wrinkly fingers worthwhile.
You can see Milford Sound easy enough but to experience it hands-on kayaking along the length of it is truly remarkable and not something you'll likely soon forget, rain or shine.
Would you go kayaking in Milford? Have you ever visited a place more beautiful in the rain? Spill!
Many thanks to Rosco's for hosting me in Milford, like always I'm keeping it real, all opinions are my own, like you could expect less from me.