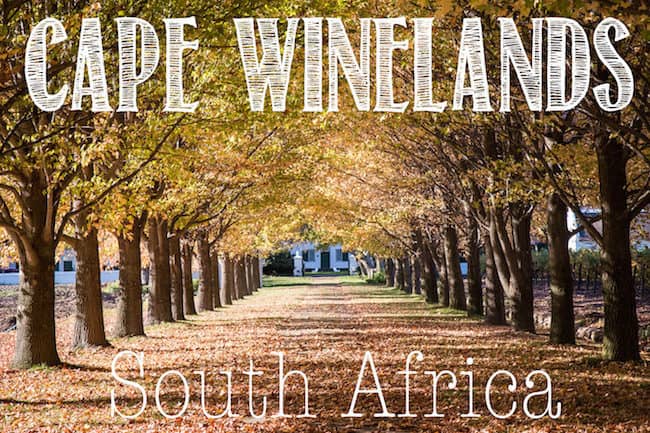 45 minutes inland from Cape Town, is a little corner of South Africa called Stellenbosch, one of the most beautiful places I've ever clapped eyes on. Never heard of it? No worries, me neither.
After Cape Town, it's the oldest settlement in South Africa, and not longer after people arrived, grapes were planted, making it one of the main wine growing regions in the country, meaning I was likely already going to like it.
Personally, when I think of South Africa, I had never thought of wine. Or even mountainous countryside. My images were more animal-oriented. Lions. Sharks. Gazelle. So my mind was reeling by the time we got out of the car in Stellenbosch for a day trip from Cape Town. To me it could be New Zealand or even La Rioja, Spain; the wine-growing region in the north where I used to live.
But the best part?
It was May when we visited and since I was still in the Southern Hemisphere, which you guessed it, meant beautiful red, yellow and gold vineyards for as far as you could see. Pinch me, I had died and gone to Cabernet heaven!
As you guys already probably know, I am mildly obsessed with autumn. It's one of my favorite seasons, and I think it's the absolute best time of year to visit wine countries around the world. I have the most amazing memories of autumn amongst the vines in northern Spain where I used to live, when the whole countryside changes color. The days get crisper and the skies are clearer – I love it!
I briefly mentioned Stellenbosch when I first introduced you guys to South Africa here, but now I thought I'd dig a little deeper and share what really tugged at my heart about this place.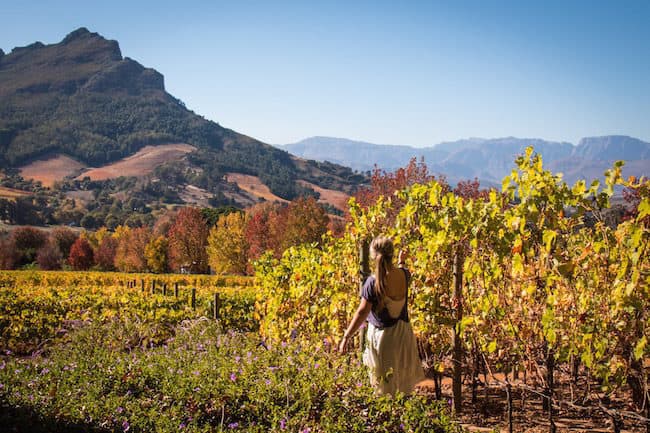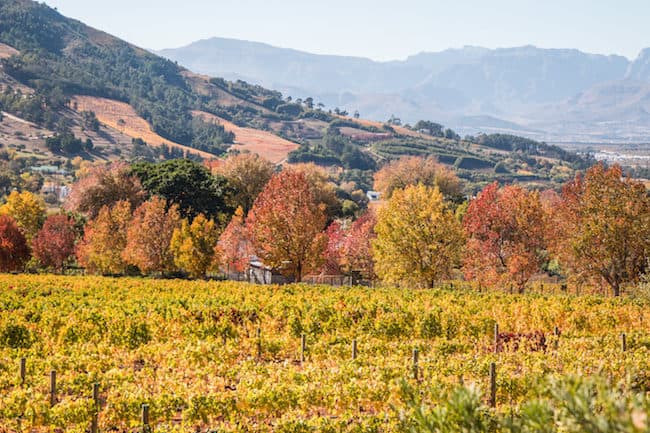 I didn't really get a touristy vibe when I was in South Africa. It is such a big and diverse country, and there is so much to do and see, I think it's relatively easy to get off the beaten tourist track, if there is much of one at all.
Visa asked me to be a part of a project called #notatourist, and over the next few months I'll be sharing some of my best travel secrets for exploring beyond the usual landmarks. All of my cards are Visa which is a bonus if you travel as much as I do! They have great benefits for travel and different card types to suit your needs. Also, if your card is ever lost or stolen, you can also get a replacement, wherever you are in the world.
When I think of places in South Africa to travel not like a tourist, the Cape Winelands immediately sprang to mind. South Africa is much more than safaris and up-and-coming cities, and it's definitely much safer than we are led to believe. And there is nowhere that makes you truly feel at home than heading out and exploring Stellenbosch and its surrounds.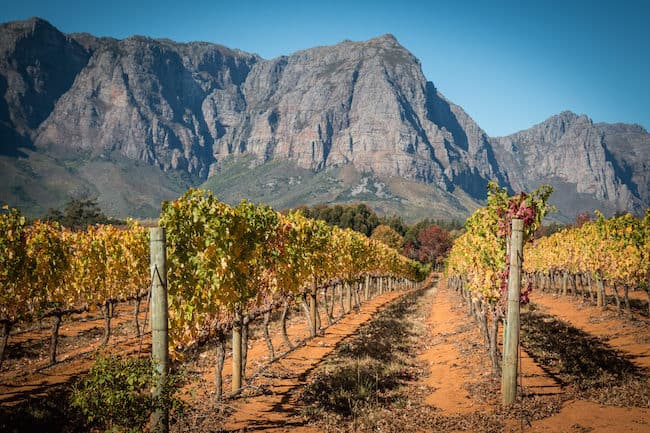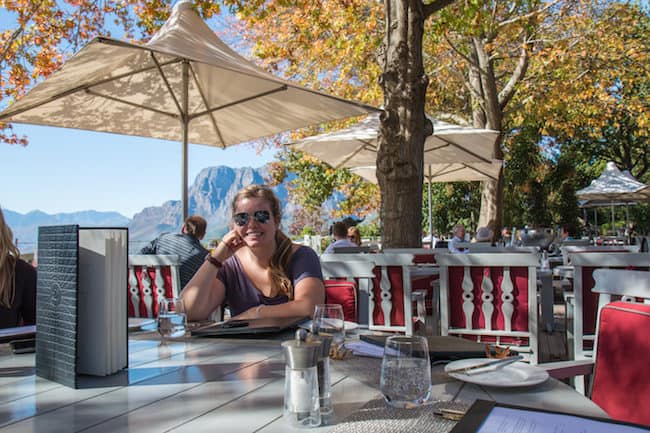 Our first stop was lunch out at one of the prettiest wineries I've ever seen, and that's saying something because WINE.
Delaire Graff Estate is a must on any trip in South Africa and May is the perfect time of year to visit. It's still warm enough to sit outside in a t-shirt and drink chardonnay on the patio and the colors of the vineyard are at their finest.
In between courses I snuck away from our table to explore the gardens and property. It's not fair to ask me to sit still in such a beautiful spot. I roved between the vines, took about a million photos and had more than my fair share of wine, obviously. When in Rome, right? And when you aren't driving, double right?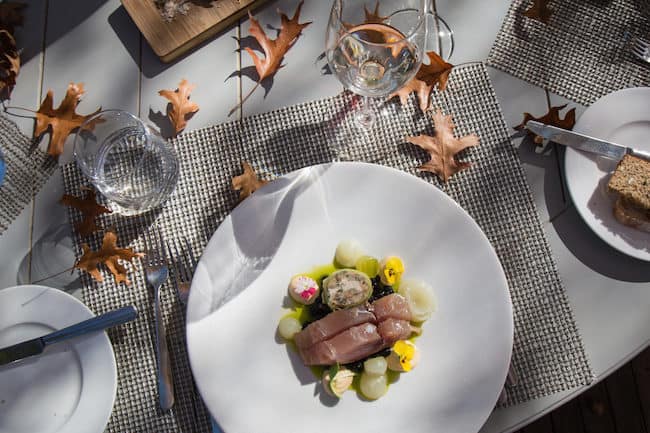 It was definitely a highlight for me on my trip in South Africa, and my only complaint is that we weren't there for longer. I am already thinking of how I can come back and stay the night and maybe bring my parents because I know they would love it.
As they dragged me kicking and screaming from the estate (just kidding, I am classier than that) we headed over to explore the nearby town of Franschhoek in the late afternoon.
A small colonial French village bursting with adorable shops and cute cafes and delicious eateries, I realized this was the kind of place I would enjoy on a mellow vacation. Meandering through the shops I picked up trinkets like local candles and jewelry to take back with me. What can I say? I've become a nester. Who would have thought?
As the sun started to dip towards the horizon and the fall colors grew even more stunning, we made our way back to Cape Town, which to be honest, could be worse. While I was sad to say goodbye to a little region that tugged at my heart and felt undiscovered, Cape Town is pretty freaking awesome. It's a great place to be based to explore the Cape Winelands.
We did make one last quick stop at the Drakenstein Correctional Centre, for a photo and a brief history review. While a prison might not seem like your average stop on a wine tour, it's actually an important place. It's where Nelson Mandela spent his last few years in prison for campaigning against apartheid.
The complex depth of history and culture in South Africa never ceased to amaze me. It's a country that no matter how much you think you have it figured out, it will continue to surprise you. You just have to go with it and stick along for the ride.
Have you been to South Africa? Do you think of it as a wine destination? Is it on your travel list?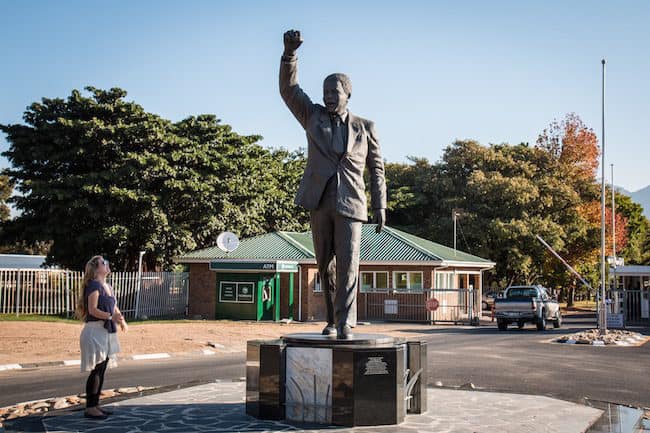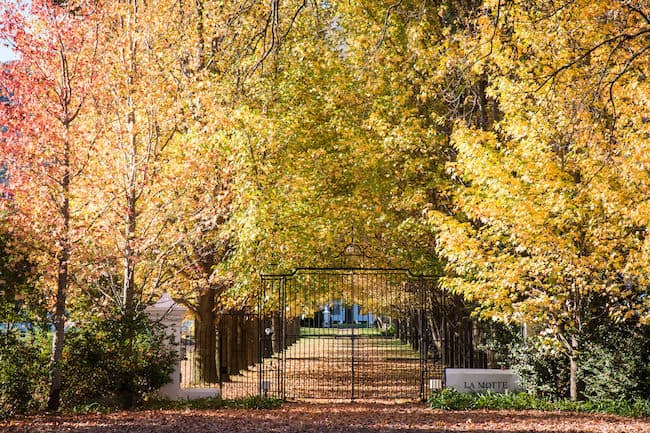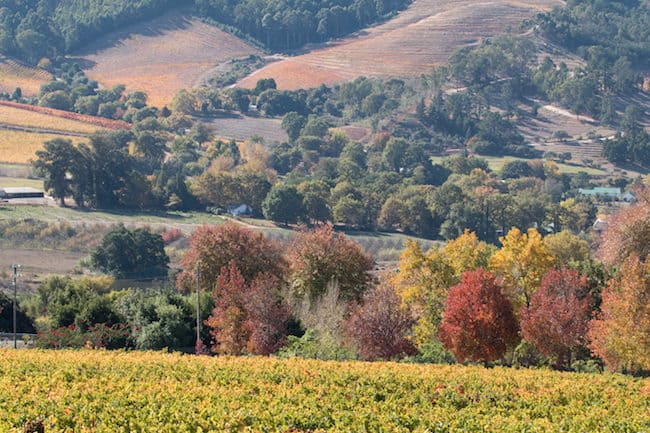 Many thanks to Visit South Africa and Visa for hosting me in South Africa – like always I'm keeping it real – all opinions are my own, like you could expect less from me!
For more tips from Visa on exploring the world like #notatourist, visit Travel with Visa.