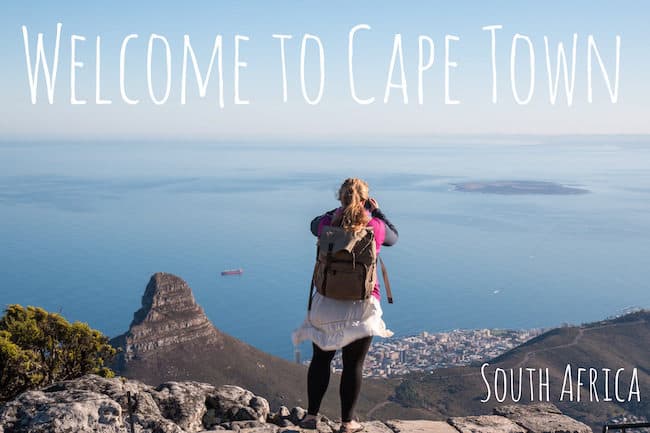 Somehow I missed the memo that Cape Town is the coolest city ever!
So when I stumbled off the plane from Durban, hungover as hell, I was pleasantly surprised and immediately blown away by this sprawling metropolis at the edge of the world. Holy shit Cape Town, South Africa is all kinds of pretty!
A country girl at heart, I am not usually a fan of big cities but when there are plenty of green places and designed in a way that makes me feel like I'm not in a city, I'm a fan. Cape Town luckily ticks all those boxes, and even reminded me a bit of Wellington, New Zealand where I used to live. Just with more crazy wildlife.
It spreads out all along a wild and beautiful coastline with sandy white beaches, cute little surf suburbs with the iconic Table Mountain looming above you in the background.
Downtown Cape Town is beautiful, and the harbor area is one of the nicest I've seen with amazing shopping OOPS. It doesn't take a lot to understand why the most expensive real estate in Africa is here.
On my first trip over to South Africa, Cape Town was the first stop after a long conference in Durban. And trust me, I was basically sobbing when we had to leave after only 3 days. Couldn't I just stay here the whole time?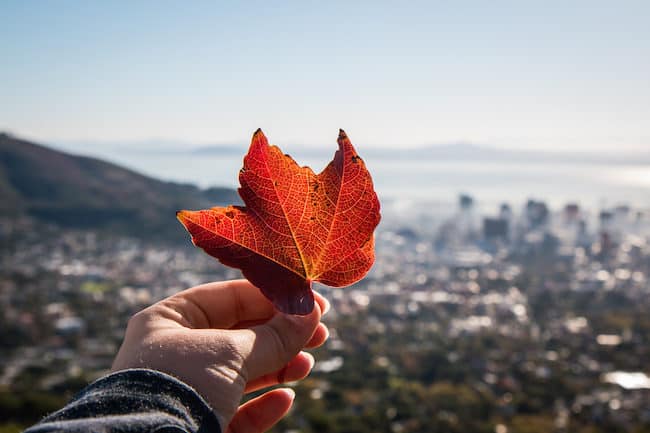 As my time in Africa was drawing to a close, I made a hasty decision outside a market in Joburg. I wasn't ready to leave. Have you guys ever felt that way about a place?
So I did the only sensible thing, rang the agent that booked my tickets and changed my flights giving myself an extra week and a half in Africa. First I headed out to Phinda, an amazing safari reserve, and then booked myself a ticket back to Cape Town.
Sometimes you have to listen to that inner voice when you love a place so much and can't bear to leave. And ok, I'll admit I'm lucky in that I had a pretty flexible schedule at the time and was able to do this. Wahoo internet jobs!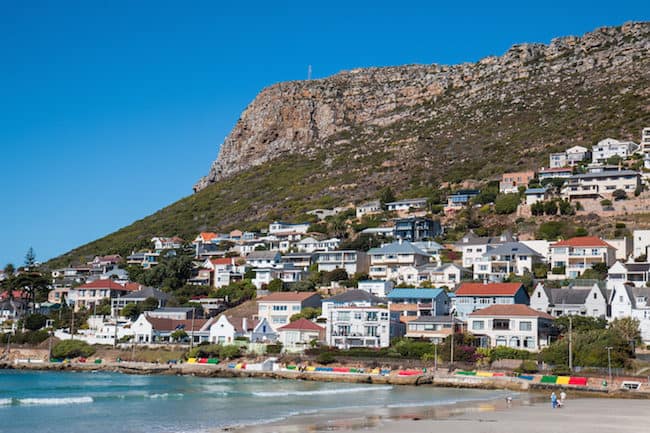 Luckily I was able to time my return to Cape Town when my friends Hecktic Travels were in town on a stopover on their way to Namibia.
Cue long dinners, cocktails in Camps Bay, road trips and photo sessions, plus lots and lots of coffee and catch ups. While Cape Town certainly has heaps of things to do, I found myself just enjoying being there, going for walks and exploring. It's a great city just to be in, not necessarily be busy in.
Here is my little introduction to this glorious city with 10 things that helped make me fall in love with Cape Town.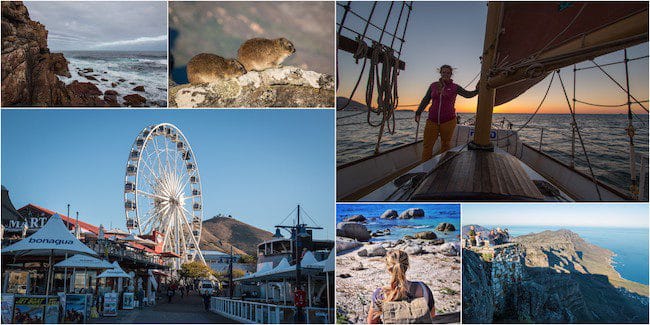 1. Table Mountain
It's no secret, I love mountains so to be a really cool and fun hip city with an amazing mountain backdrop, is definitely the best of both worlds. With straight cliffs and a long flat summit, it didn't take long to understand its name.
We headed up first thing in the morning back through the winding streets leading to the base of the cableway, the easiest way to get to the top. There was beautiful mist layering over the town giving a great ephemeral feel to the start of the day.
As we walked out on top, I promptly lost my shit when I spotted a dassie for the first time. A fat little groundhog looking animal, it is adorable and I spent the next 20 minutes taking photos of them instead of admiring the view. Typical.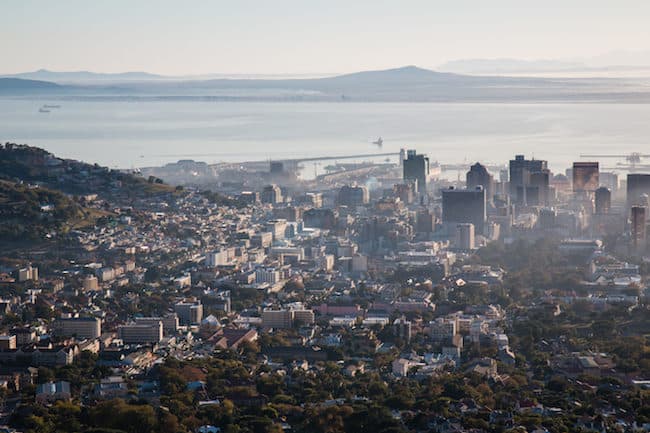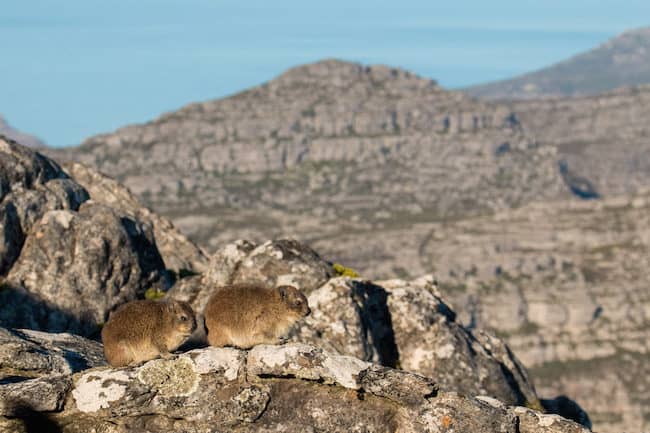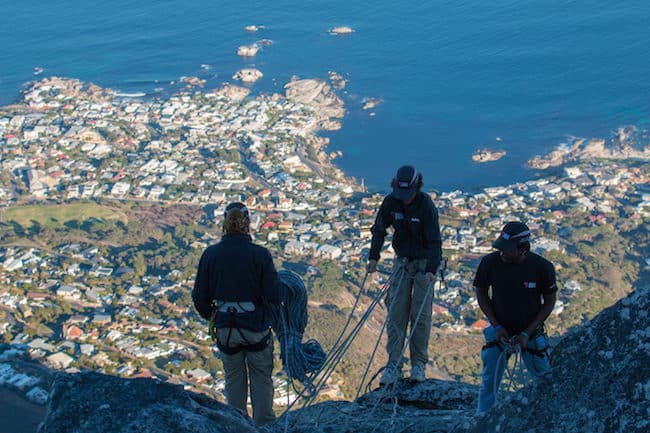 2. Dinner with a local family
For me, this was probably one of my favorite parts of our time in Cape Town.
Hosted dinners with local families is now a popular way to get to know the city.  When you are visiting a place for only a few days, it's often quite hard to find opportunities to get to know the locals and get a glimpse into what life is really like there.
We were kindly invited to the home of a local musician who not only treated us to an amazing traditional dinner with his wife, but also rocked out with us all evening to the most beautiful music.
3. Staying at the One & Only Cape Town
It's not every day that I get to stay in a 6 star hotel! Holy moley! If they only knew what I was really like, would they have let me in?
The One & Only Cape Town is part of the One & Only resort chain, and their South Africa property doesn't fail to impress.
The biggest coziest bed ever complete with a pillow menu, great internet, a huge bathtub and an espresso machine – what more could I want?
I pretty much live in hotels with my job, and getting to stay in places like this is definitely a perk that comes with being a professional travel blogger.
At the risk of sounding snobby, while it was an amazing property, I didn't feel like 6 stars to me until the first breakfast when I discovered not only champagne and oysters, order off the menu, any coffee you want, and oh, the crispy bacon or grilled bacon station.
Yes, 6 stars or sure!
4. Penguins on the beach!
My oh my! You guys know how much of a #BirdNerd I am, so when I first started researching Cape Town and realized there was a beach nearby home to a colony of penguins, I knew I had to make it happen!
Boulders Beach is near Simon's Town is home to a colony of Africa Penguins, and they are adorable!
And luck was on my side because not only was the beautiful beach covered in penguins, there were fluffy molting babies everywhere! There is a god and he heard my prayers!
Show me the penguin babies!
I'm not going to lie, I loved it so much I went twice!
5. Seaside
All the amazing seafood, all the time, nuff said.
6. Saturday Market
Another reason I was so happy to come back to Cape Town was that it gave me the opportunity to meet up with a few of you guys. I got an email from a kiwi expat living over in Cape Town who had spent a lot of time in Wanaka so it was a great opportunity to see the side of the city I probably wouldn't have known about and hang out with a local.
The Oranjezicht City Farmer's Market is super cute and in a beautiful part of town. Even though it drizzled the whole time, there were tents everywhere and so much delicious food and coffee, you hardly noticed.
This market has an amazing story – it was meant to be shut down before it was saved at the last minute and now takes place on the premier's own gardens in Cape Town, which means its setting couldn't be more picturesque.
7. Cape of Good Hope
I met up with the Hecks who rented a car and we hit the road for the day. First stop – back to the penguins obviously.
From there we headed to the Cape of Good Hope to live out our elementary school geography dreams. Nothing like finally laying eyes on a place you've heard about your whole lives, right guys?
Did I mention there are wild ostriches there? And baboons.
Run for your lives!
8. Chapman's Peak Drive
On the way back to the city from the Cape Peninsula in the moody late afternoon light, we decided to take in the beautiful Chapman's Peak Drive on the west coast.
I love a good road trip with friends!
And holy crap did this road not disappoint!
The 9km of road connecting Noordhoek and Hout Bay is pretty stunning.
Picture huge cliffs dropping down to the turquoise sea and crazy bends and turns with more lookouts and views than you could ever hope for. Don't forget your camera.
As we turned the corner to head back to Cape Town, the sun began to shine through the peaks lighting up the houses below and creating those beams of light that I am obsessed with. What a way to close the trip!
9. Sunsquare Cape Town
I also wanted to mention on my second trip back to Cape Town I had to forgo the 6 star hotel for something more in my range and budget, the Sunsquare Cape Town.
Near the Gardens area of Cape Town, it's in a really cool part of town with an amazing breakfast.
10. Sunset cruise
The perfect introduction to Cape Town is a sunset cruise in the harbor accompanied by a few breaching whales and champagne.
Sigh, Cape Town, you rock!
Have you ever felt this way about a place? Ever been to Cape Town? Ever changed your flights so that you didn't have to leave a place?
Many thanks to Visit South Africa and Cape Town Tourism for hosting me in Cape Town. Like always, I'm keeping it real – all opinions are my own, like you could expect anything less from me.