Visual overload forthcoming! I hope you guys are ready!
It's been a week since I left South Africa and I still can't believe it. It was more than I could ever dream of in a country to visit, and I loved it so much I couldn't leave so I changed my flights to stay longer. Twice.
If that doesn't give you any indication that South Africa is a freaking awesome destination, I don't know what will.
From the hustle and bustle of hip Joburg to the crashing waves around Cape Town to the hot dry sands on safari, it's really really hard for me to pick a favorite moment from my couple of weeks in Africa. Once I wrap my head around all of the experiences, I will start sharing in-depth tips and ideas for you guys on my blog.
Though if you are headed there soon, be sure to check out my guide on Trover here.
In the meantime I just wanted to give you a little teaser and photographic introduction to this rocking country at the bottom of the world. If you follow me on Instagram, you will have seen some of these shots already!
I have been trying out some new gear on a little collaboration with Canon Australia – all of these were shot on either a Canon 60D or Canon's new mirrorless EOS M3 series.
Enjoy!
Durban
I was in Durban for a conference (Indaba – African's biggest travel trade show) and didn't really have much time to experience all it had to offer.
I was able to escape the meetings and hotels for half a day and got to visit the Moses Mabhida Stadium and watch a few of my friends jump off the roof swing – yes, I totally chickened out. Sue me.
Here you can see my friend Inma from A World to Travel screaming like a banshee. Spot her? Props girl.
After a final absolutely crazy night in Durban in which many tables were danced upon and I don't even know how I got home, we headed to Cape Town the next day. And that is a morning of serious pain and suffering I would prefer to forget. Onwards.
Cape Town
I was so incredibly excited to finally visit Cape Town – this was a buzzy place I had heard a lot about and let me just say, it definitely lives up to its fabulous reputation.
We kicked things off with a bang with a sunset cruise around the harbor – there is nothing like hitting the high seas like the pirates we all are on the inside to really get a feel for a place, and truly understand the amazing location of a city.
And then because I was there as a part of a media trip from Australia, we got put up at the One & Only Cape Town, which is Africa's only 6 star hotel – hellllloooo job perk!
Seriously, how will I go back to sleeping in my car and pitching tents in New Zealand? HOW?
First world problems, guys. Don't hate me!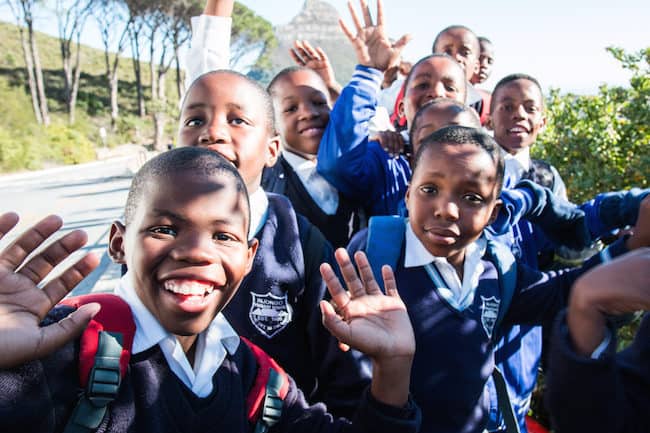 Bongani Mountain Lodge
I celebrated my 27th birthday on safari at Bongani Mountain Lodge, which was pretty epic, I am not going to lie.
Rhinos? Check. Baby elephants? Check. Zebra and giraffes? Double check.
It was also great because two friends of mine were also with me on this trip – Michael and Matt. Who wants to celebrate their birthdays alone? Nope, not me!
Stellenbosch
Oh my giddy god, how have I not heard of Stellenbosch before now? Where have you been hiding all these years?! This is South Africa's wine-growing region and it is all kinds of amazing.
Seriously, they had to drag me back on the tour bus. DRAG!
Also since it was May and in the southern hemisphere, it also means it was autumn, my absolute favoritest of seasons. I can barely look at my pictures because I am so sad I only had one day there.
Stellenbosch, I'll be back for you!
Johannesburg
To be honest, I wasn't exactly stoked to head to Joburg – I am NOT a city girl and I was too preoccupied with thoughts of lion cubs and great white sharks running through my head.
Lucky for me, Joburg was actually all kinds of awesome! It has such a strong history and is a real cultural, thriving, complicated hub, I was enthralled as soon as we arrived. I like complicated.
A lot of my love for Joburg has to be credited to Meruschka, the fabulous lady behind Mzansi Girl – a local travel blogger from South Africa. I met her at Indaba and hung out again in Joburg, and seriously, I would follow her anywhere.
Phinda Mountain Lodge
Of course the hands-down absolute highlight of my time in South Africa was spending almost a week at Phinda, a game reserve.
Trying to pick a place to see wildlife in South Africa is the hardest thing ever. There are SO MANY! And which ones are reputable? Which ones have the best game spotting? I've always been a fan of the lesser-known spots, so as soon as a friend told me about Phinda, I was like I'M THERE.
Staying at Phinda Mountain Lodge with And Beyond was also something I'll never forget. But more on that later. Til then, cheetahs and lion sex – yes, you read that right.
Cape of Good Hope
My last day in South Africa was a winner – I returned to Cape Town because who wouldn't? I changed my flights and everything to stay a little longer.
Luckily my visit coincided with Hecktic Travels, good friends of mine – who BTW will be living in Wanaka this winter wahoo! We basically just hung out for a few days drinking margaritas, shopping, interneting and talking travel blogs. Sometimes you just need that!
But the last day we got our act together and rented a car (and by "we" I mean them) and drove out to the Cape of Good Hope for some coastal explorations.
Obviously it was ridiculously awesome.
Many thanks to Visit South Africa, Cape Town Tourism, And Beyond, and Canon Australia for hosting me in South Africa – like always I'm keeping it real – all opinions are my own, like you could expect less from me!