Oh my god guys, I can't remember when I was THIS excited to write a blog post!
Last week I had a social media milestone, something I imagined would never happen! Somehow I've managed to accumulate 100,000 followers on Instagram, or as I like to think about it – manage to trick 100K people into following me. If you all only knew what I was like in real life!
Well actually, I've created a little personal Instagram you can find at @MisadventuressLiz to see the reality behind the pretty shots. I haven't told anyone about it yet. You've been warned.
But I digress.
As you guys already probably know, I'm nuts about Instagram. It's my favorite social network by far, and it's opened so many doors for me over the past year. It has taught me to be creative and has inspired me to improve my photography.
Through Instagram I have met so many amazing people and been able to travel to places I could have never imagined. At the risk of sounding super cheesy, Instagram (along with blogging) has changed my life, and it has DEFINITELY changed how I see the world.
If I didn't believe in the power of social media before, I certainly do now.
I've blogged about how to improve on Instagram and it has become an important part of my community online. I love you guys.
So I wanted to share this milestone with all you guys who have helped me get here by setting up three absolutely awesome giveaways this week! Ok, well I think they are absolutely awesome, I hope you do too.
These are three things that I would love to see in a giveaway, not to mention are great experiences I love and that I know you will too. You know, because experience still matters.
Are you ready? Drumroll please…..
An EPIC helicopter flight in Wanaka
People often ask me what my favorite thing you can do in New Zealand is – what is a must-do while visiting this part of the world?
Without a doubt I always answer the same – splurge on a helicopter flight. No two ways about it, it is my FAVORITE activity here.
New Zealand, especially Wanaka where I live, has the most amazing and breathtaking scenery which blows me away every single day. Then try and imagine seeing it from above and it's 100 times better! Nothing shows the scale or scope of the land here like a helicopter flight up to a nearby mountain or glacier.
I fly in helicopters as often as I can (or can afford to) and will jump at any chance hop in. Not to mention I have a total weakness for pilots (but don't tell anyone I said that).
Nothing is more Instagrammable than seeing Wanaka, New Zealand from a helicopter, trust me on this one, and Aspiring Helicopters, who I always fly with here, a family owned and operated local business, has offered a helicopter flight with a glacier landing for you guys!
*This giveaway is open to anyone from anywhere, and the voucher for the flight will be valid for a year, so it's your perfect excuse to come to New Zealand. Details below.
A LIFE-CHANGING trip to Mongolia
I can't believe it's been a year since I was riding horses through the remote Mongolian Altai with Zavkhan Trekking. I've done many trips around the world, but spending almost a month in Mongolia is by far one of the best things I have ever done; in fact, Mongolia changed my life.
Because Mongolia is so special to me and stands out as one of those trips that can really have an impact on your life, Zavkhan Trekking has been kind enough to offer one of you guys the opportunity to follow in my footsteps and go on the same trip I went on, the Mongolian Altai Expedition Horse Trek, and fingers crossed with the hope that it will be equally special for you.
This is a trip for intrepid people.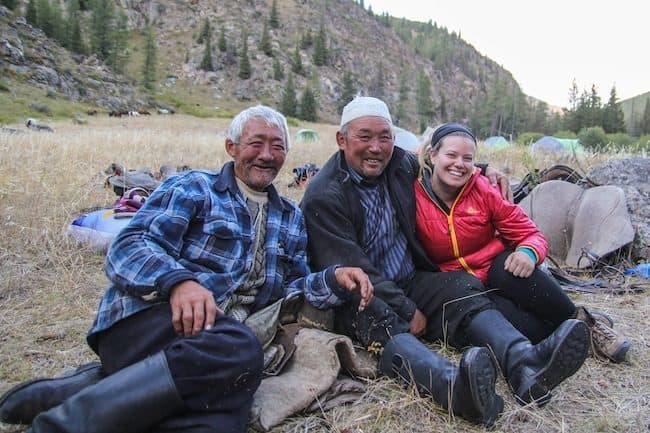 I am giving away a spot on the Altai Trek – either from June 20th 2016 to July 6th or July 8th 2016 to July 24th depending on your schedule; it's up to you. You can read more about my time in Mongolia on my blog here.
But PLEASE keep in mind this is a trip for adventurous, mellow open-minded people. It's a proper expedition staying in tents, no showers, cooking over the fire with long but rewarding days in the saddle exploring a part of Mongolia tourists never see. You don't have to be a champion horseback rider (I definitely wasn't – in fact, I definitely cried once on this trip) but if you're pretty fit, mentally strong and confident, like a challenge, this is the perfect trip for you. *
This giveaway is open to anyone from anywhere, well anywhere where you can get a visa into Mongolia; and while the trip is fully covered, you'll need to be able to get yourself to and from Ulaanbaatar where the tour departs from.
A SWEET Canon Powershot G7X camera
An Instagram-themed contest would be incomplete without a kickass camera to inspire you to go out and take photos with, right? I can still remember when my dad got me my very first camera, a little silver Canon point and shoot for my high school graduation about a decade ago.
I haven't stopped since and my love for imagery and sharing stories through photos has only deepened.
I've been a Canon girl ever since, and I really wanted to share this with you guys.
I decided the Canon Powershot G7X would be perfect, mostly because it's a camera that I am starting to use.
I love shooting with a professional DSLR kit with Canon, but let's be honest here, I don't need it all the time and it's really heavy. I've been using their new EOS M3 mirrorless kit which is perfect, and now I am excited to start using the G7X Powershot which will be perfect for my everyday lifestyle shots (and upcoming surprise video projects) and when I want to carry a much smaller and lightweight camera in my purse.
Here's why it's awesome:
Touch screen that pops up so you can video yourself or take selfies
You can create full HD movies
You can do long exposures and even shoot stars
It has full manual mode
It has the equivalent of a 24-100mm lens and can shoot down to f/1.8 – f/2.8 for a beautiful shallow depth of field (great for portraits)
It has built-in wifi, so you can move photos straight onto your phone
And it's pocket-sized, 'nuf said
*This giveaway is open to anyone from anywhere, and I will ship the camera to you wherever you are (but please don't be somewhere like Antarctica, k thanks).
You can enter just one or two or all three contests, it's up to you! All 3 run for a week until Sunday November 8th at 5pm New Zealand Time. Please comment below if you have any questions.
And a million thanks to Aspiring Helicopter, Canon Australia and Zavkhan Trekking for being involved. And a massive thanks to you guys, enjoy the giveaway!