I don't know about you guys, but I love coming full circle when traveling. It's one of the main reasons I often return to places I've been to before. Each time I go somewhere again, I feel like I can dig a little deeper and get to know it better. It's like I am making lifelong friends with destinations. Cheesy as hell, but I don't care.
Places aren't stagnant, just like people. People change, grow and evolve over time and you get fresh eyes and new perspectives, and the same can be said for wherever you are visiting. Rarely have I gone back to a place I've been to before and said, wow, nothing's changed. Never.
Let's rewind 4 years almost exactly. I had just finished up my first year teaching English in Córdoba, Spain and it was around my one year blog anniversary. Who knew I could commit for that long?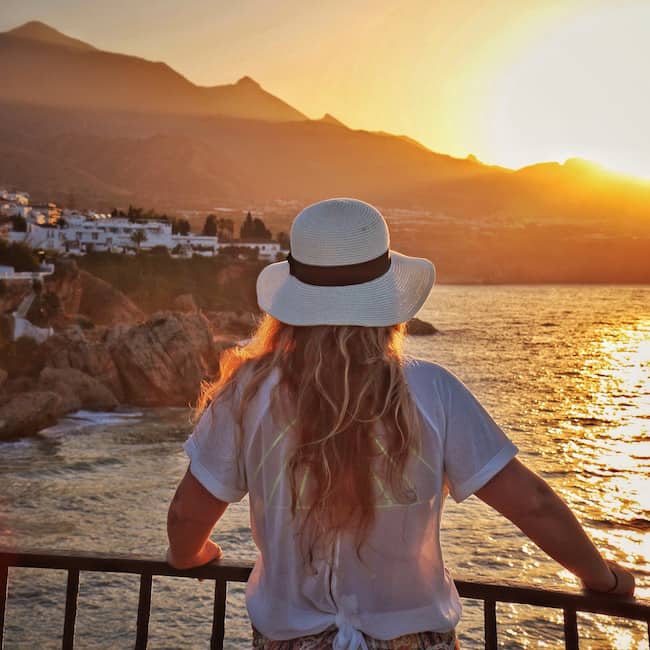 After May, Córdoba in southern Spain becomes unbearably hot and the locals make their way to the coasts. My lease was up on my apartment and somehow found someone who still had a month left on their lease in Málaga on the southern coast and was looking for a subletter. Win win, right?
To the beach!
My work was finished and I had a month to kill before flying home for the rest of the summer before then returning to Spain in the fall for another year of blogging and teaching little Spanish munchkins how to count to 10 in English.
So why does that matter? Because when I look back on who I was that summer in Málaga and where I have come since, I couldn't be more shocked or amazed.
Not to mention I was ridiculously tan.
Since I wasn't working, I was living off of the little bit of money I had saved for the summer, barely making ends meet. One day as my time living the dream on the beach was coming near, I decided to take a day trip to nearby Nerja, a smaller beach town that I heard was beautiful.
Little did I know I would be blown away.
I was so broke back then I paid for my bus ticket in change and splurged on a bocadillo de tortilla (sandwich) and an Aquarius to bring with me to the beach.
Thinking back, I can remember that I literally had about 10 euros to spend to my name; it's definitely the poorest I've ever been. And obviously it made sense to spend it on buying a sandwich and going to the beach, right? My money management skills haven't really changed since then either.
Oh well. I'm sure we've all been there, unless you are a serious type A personality which I can't even begin to comprehend.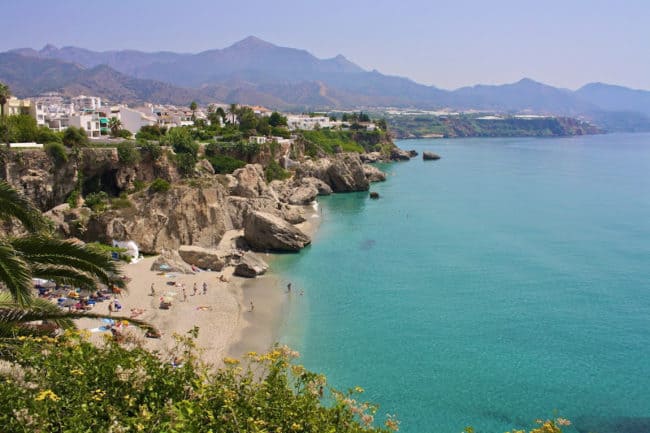 Thinking about it, I realized my story of Nerja is the perfect post for one of my last features for the Visa #notatourist campaign for various reasons. While Nerja now has changed quite a bit and has definitely become more visited with tourists, that doesn't mean you have to be a tourist when you go there, or anywhere else, not matter how well known it is.
This time around, I didn't feel like a tourist at all; I bridged the divide between being a local and a visitor, between the past and the present. It's up to you to decide how you travel.
Also looking back, I can't believe I lived in Spain with only two debit cards –  one for my American bank account and one for my Spanish bank account, both of which were usually running on empty (and no emergency cards – a mistake I haven't made in years). Now I always have my Visa with me, keeping my money secure and allowing me to get off the beaten track and explore like #notatourist.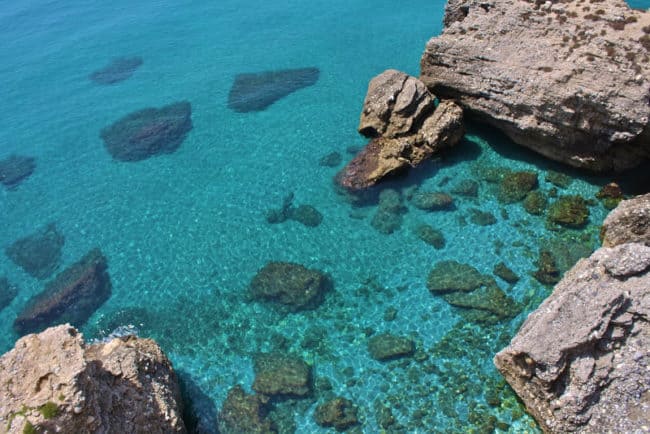 But even though I am sure I was horribly stressed at the time, and didn't even have any credit cards (mom cut me off at that point boo) and had to take care of myself, I still had the best time in Nerja.
My memories of that tiny little beach town are just perfect.
It was the nicest beach I'd been to in Spain, the water was warm and crystal clear, and I just loved the views of the town and surrounding countryside. I was so sad when I had to catch the cheap local bus back to my shitty sublet on the outskirts of Málaga in time for our nightly house game of how many cockroaches can we get (the winning answer is 7 – ew!).
Fast-forward 4 years and finally I've returned to Spain to revisit my old haunts and discover some new amazing places. And while Málaga wasn't exactly at the top of my list, I knew I really wanted to go back to Nerja.
So I made my way down there this time in 1st class with my Eurail train pass, and a nice bus I booked online with Busbud. I booked myself into a nice hotel in the main square and set off to explore, and obviously head down to the beach to work on my nonexistent tan mentally wondering if I could fit into the bathing suit I would have worn back then.
No point in dwelling on impossible dreams though, am I right?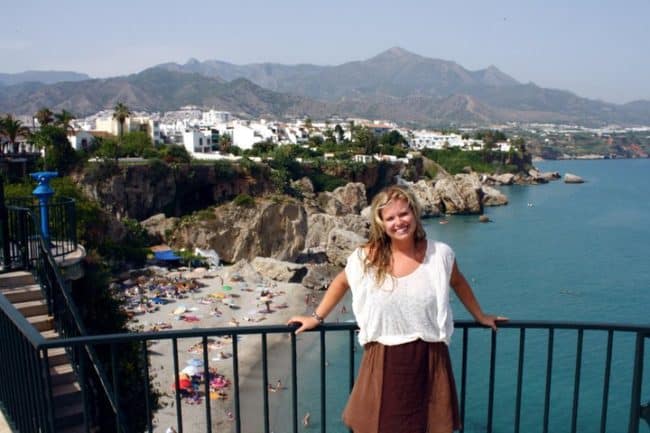 While the setting had changed a little bit, the biggest change I noticed was within myself, and not just from a financial perspective.
That summer in Spain was a big in between for me. It was the summer when I would really fall in love with blogging, and fall out of love with someone back in the US. Little by little my dreams shifted and I realized how important travel was to me and that I loved sharing my stories online with friends and family (ok, my mom). But it would be another year before I found out that travel blogging could actually become my job one day.
Nerja had also changed. This time around the storms caused the water to be a lot murkier, the air was colder, and the town had become much more developed. I heard English more than I heard Spanish, something that fundamentally upset me, and the old town was packed all the time.
But of course it still had much of the charm I remembered.
This time around my eyes had changed too, and now I am a photographer and on social media, eager to capture the beauty of Nerja to share with you guys with more than just words.
Back in those days I still had an old slide pink plastic Samsung pay as you go phone and I definitely wasn't on Instagram.
Walking along those seaside cliff walls a few months ago really put all of that into perspective; what a difference 4 years can make when you decide to put your happiness first and follow your dreams.
Have you ever returned to a place you loved after a long time? How had you changed?
Many thanks to Visa for hosting me in Nerja – like always I'm keeping it real – all opinions are my own, like you can expect less from me!
For more tips from Visa on exploring the world like #notatourist, visit Travel with Visa and visit Visa online for more information on the benefits of traveling with a Visa card.