One of my favorite things about living in Wanaka, New Zealand, is being off the grid. That is, until I really need to be on the grid, and my closest city is three hours away in Dunedin.
I've been in and out of Dunedin for meetings, work, friends and for the big city (pop. 127,000 on a good day) for years, but it was only recently that I saw it with fresh eyes and really learned how awesome it actually is. I had seen hints of it here and there, but once I finally made the time to get to know it, I was in love.
Dunedin has always had a bit of rep for being the grungy university town in New Zealand, but let me be the first to blow a lid on it, that is so far from the truth. Wellington was nicknamed the "coolest little capital" a few years back, but I think Dunedin might give it a run for its money.
Dunedin is freaking awesome!
Nowadays Dunedin has quickly become the one of the quirkiest, fun and up-and-coming spots in New Zealand, and it's definitely worth checking out on any adventure on the South Island. There's so much to see and do here, and it really has a local kiwi vibe that is often lost in the more touristic locals these days. Amazing food, cool culture, great nature, and so much, Dunedin ticks all the boxes.
When I finally stop to look and really see Dunedin for itself, I quickly realized how special it actually is. Well-connected with flights to both Australia and around New Zealand, it's both easy to get to and also close to other great places to visit.
Dunedin really surprised me; well, if I'm being totally honest here, Dunedin actually blew me away. Here are ten things that surprised me about Dunedin, the South Island's coolest little city.
1. Urban meets nature
If I had to put a finger on why I love Dunedin, it's because it's a city that doesn't feel like a city; it's a place where nature meets city, something unusual these days. With wild beaches, epic wildlife, and plenty of remote hills and coastal walks, Dunedin is a city for nature lovers.
That's not something you hear very often!
There are great walks and beaches in Dunedin itself, but my favorite natural spaces around the city are just along the Otago Peninsula, just outside of town. A lovely winding road takes you along beautiful bays, great view points, little blips of a town or two and with plenty of quirky spots in the middle.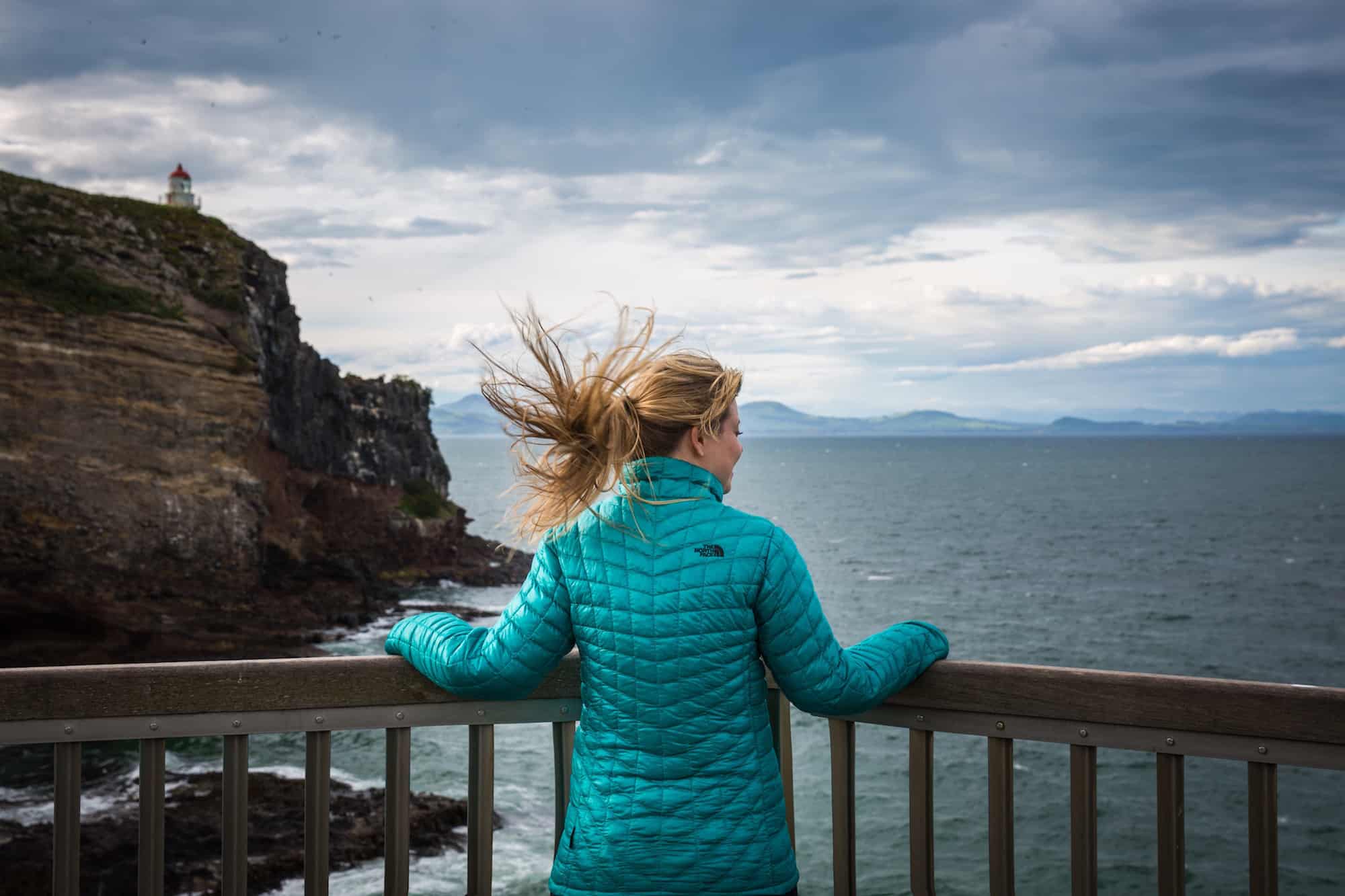 Overlooking the cliffs at Taiaroa Head on the Otago Peninsula by the Albatross Centre
If you're a bird nerd like me, be sure to visit the Royal Albatross Centre for a tour
The old pier at St. Clair beach, one of my favorite Dunedin haunts
A takahe – a very rare native New Zealand bird at Orokonui Ecosanctuary, just in the hills out of town near Port Chalmers, a very cute port town
Overlooking Sandfly Bay – can you spot the sea lions?
2. Holy shit great food!
Ermahgerd, the foodie scene in Dunedin is so good!
This was probably the biggest surprise for me on the trip – I hadn't thought of Dunedin as a foodie city before. I ate so well when I was there, too well if I'm being honest here, definitely had to go on a bit of a diet when I got home. But it was worth it!
Amazing spread at the Prohibition Smokehouse
Vogel Street Kitchen – probably one of my favorite spaces in Dunedin
Dinner and beer tastings at local craft brewery – Emerson's
3. The coolest people
So, blanket statement guys, everyone I met in Dunedin was awesome. Like, everyone.
Dunedin is a place that fosters creativity and encourages unique ideas, which means it's my kind of town. Everyone I met seemed to have some sort of alter ego – barista by day, superhero by night kind of deal.
And everyone is friendly and welcoming, in spite of being a city, and they all have a smile for you! Cheesy but awesome.
Spinning some yarns with Victoria of Street Kiwi
4. Street art galore!
Ok, besides the great nature, one of my favorite surprises in Dunedin was all of the incredible street art around town.
Personally, I've found the coolest cities around the world have a lively art scene, and usually have a good amount of murals and street art around town, and Dunedin is no exception. It really helps you understand the people and culture of Dunedin.
There are free maps that show you where some of the more prominent pieces are, but I definitely recommend taking a street art tour with Victoria of Street Kiwi – she is a local legend! Super passionate about street art, she started her own tours and has followed along as the street art scene exploded in Dunedin. She is friends with many of the artists who come and paint there and knows all the stories behind the pieces, including many you'd never find on your own.
5. So many penguins!
If you are like me, and are moderately to slightly obsessed with penguins, well you've come to the right place.
Dunedin, surprisingly enough, is home to quite a few penguins, many of which are very rare. Most of them are out on the Otago Peninsula, out of town, and one of my favorite areas.
There are lots of little blue penguins around, but the one you really want to see are the hoiho – yellow-eyed penguins. They are very rare but live around the area, and can be seen at sunset at Sandfly Bay from a penguin hide in the grass.
Yellow-eyed penguin at the Penguin Place on the Otago Peninsula
Sunset at Taiaroa Head before the daily penguin tour and waiting for the penguins to make their way home – warning, their mating sounds can be alarming for the unprepared!
Little blue penguin squeaking his way home after dark
6. Kickass coffee and cute cafes everywhere
You have to TRY to find bad coffee in Dunedin. Period.
Dog with Two Tails – a Dunedin institution
Vanguard Speciality Coffee Co – and the cutest to-go mugs
The Standard Kitchen – amazing raw slices, not something I usually say!
7. Getting my Sleeping Beauty on in a castle
And if Dunedin wasn't quirky or memorable enough already, did you know it's also home to New Zealand's only castle? Because of course.
Larnach Castle was built in 1871 on the Otago Peninsula and it's just lovely. A stunning victorian castle slash manor house, it definitely transports you to another age. You can stay at the lodge on the grounds or just come and tour the house and gardens during the day.
It really does feel like a fairytale, especially when you wake up and it's covered in mist.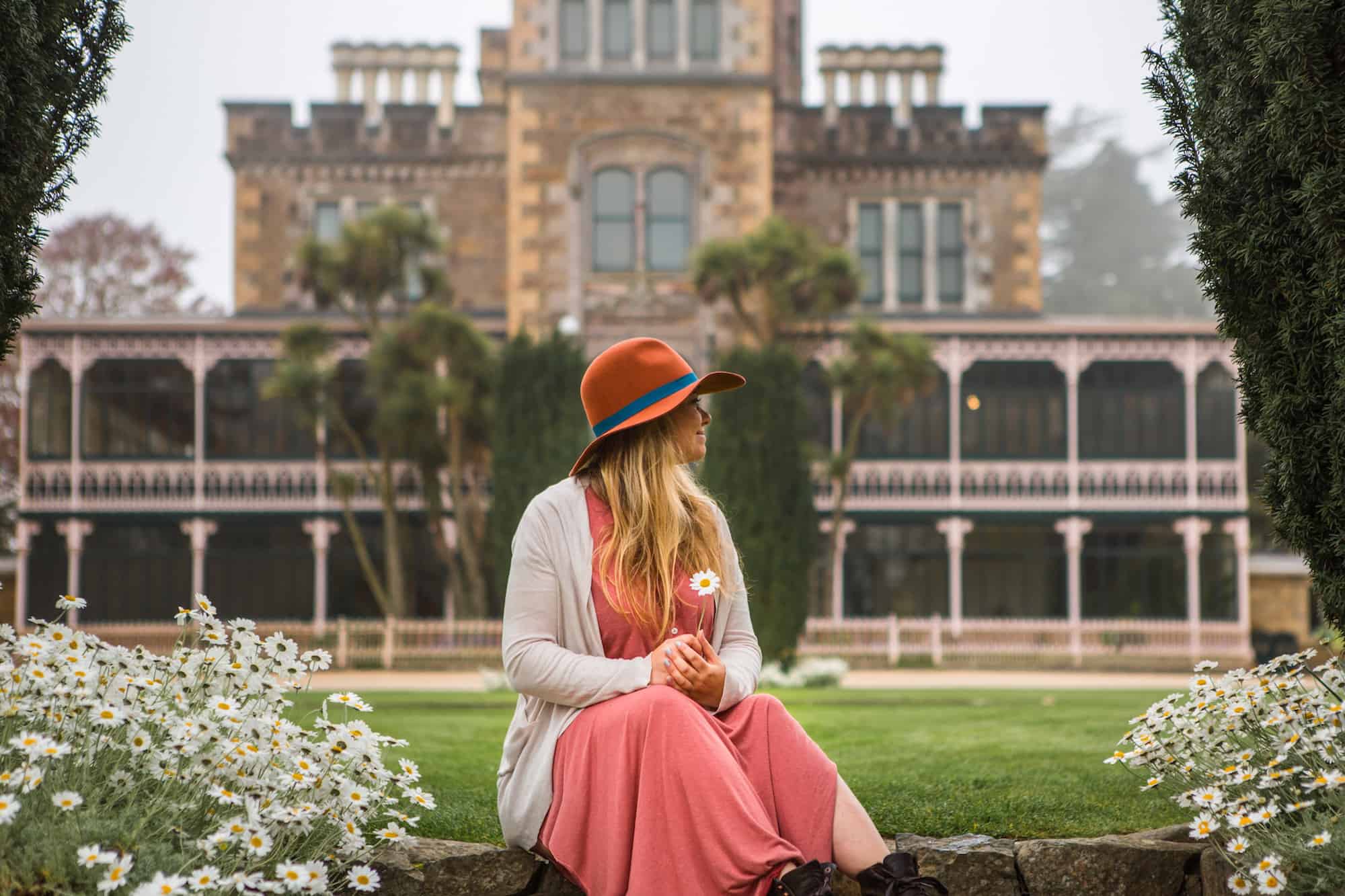 8. It's cheap as chips
Yes I know, you might be as surprised as I am to learn that there are still affordable places left in New Zealand, and Dunedin is one of them. When can I move?
9. Step back in time
You might not believe it, but there is a time capsule right in downtown Dunedin – Olveston House.
Olveston House is one of my favorite historic houses to visit in the world, and I don't say that lightly. Built as an English manor house at the turn of the century, it was left with all its contents to the city of Dunedin in 1966, and now is open to the public. If you are a big history nerd, you will love this place!
The story of the Theomin family at Olveston House is a fascinating one. Olveston was built for Dunedin businessman, collector and philanthropist David Theomin, his wife Marie and their two children Edward and Dorothy. The house is full of collectibles from their travels, and it was built with all the modern conveniences of 1906; it's definitely one of my favorite Dunedin haunts. I've been many times, and I almost always stop by, even to just wander about the gardens.
10. One of the best weekend markets around
I love a good weekend market, and the Otago Farmers Market in Dunedin on Saturdays is all kinds of awesome.
Over 65 different stalls come together Saturday morning and it's so much more than just produce. There are great food, coffee, treats, booze, snacks, cheese, you name it, they have it. It's an impressive display of the ingenuity and talent of Dunedin locals who are super passionate about what they sell.
All in all, Dunedin is a place I love and always enjoy coming back to. In fact, I'll be there this weekend for a wildlife Instameet – be sure to follow along on my Instagram Story!
Have you been to Dunedin? What was your favorite spot? Where was the last place you visited that surprised you?
Be sure to peak inside the old train station next to the market – it's so cute!
Many thanks to Dunedin for hosting me on this adventure – like always I'm keeping it real – all opinions are my own, like you could expect less from me!