My name is Marta and I am the voice behind In A Faraway Land. 
I moved to Canada on a Working Holiday Visa last year and headed straight for the mountains. After road tripping for a few months in the fall last year I decided to base myself in Canmore, a little town tucked in the Canadian Rocky Mountains. It was without a doubt the coldest winter I have ever experienced with temperatures sometimes reaching -45 celsius (<40f). However with the cold came some beautiful Albertan winter landscapes so I can't complain too much.
Enjoy the read and hope to see you in the mountains soon and enjoy my best advice to visit Canmore Canada.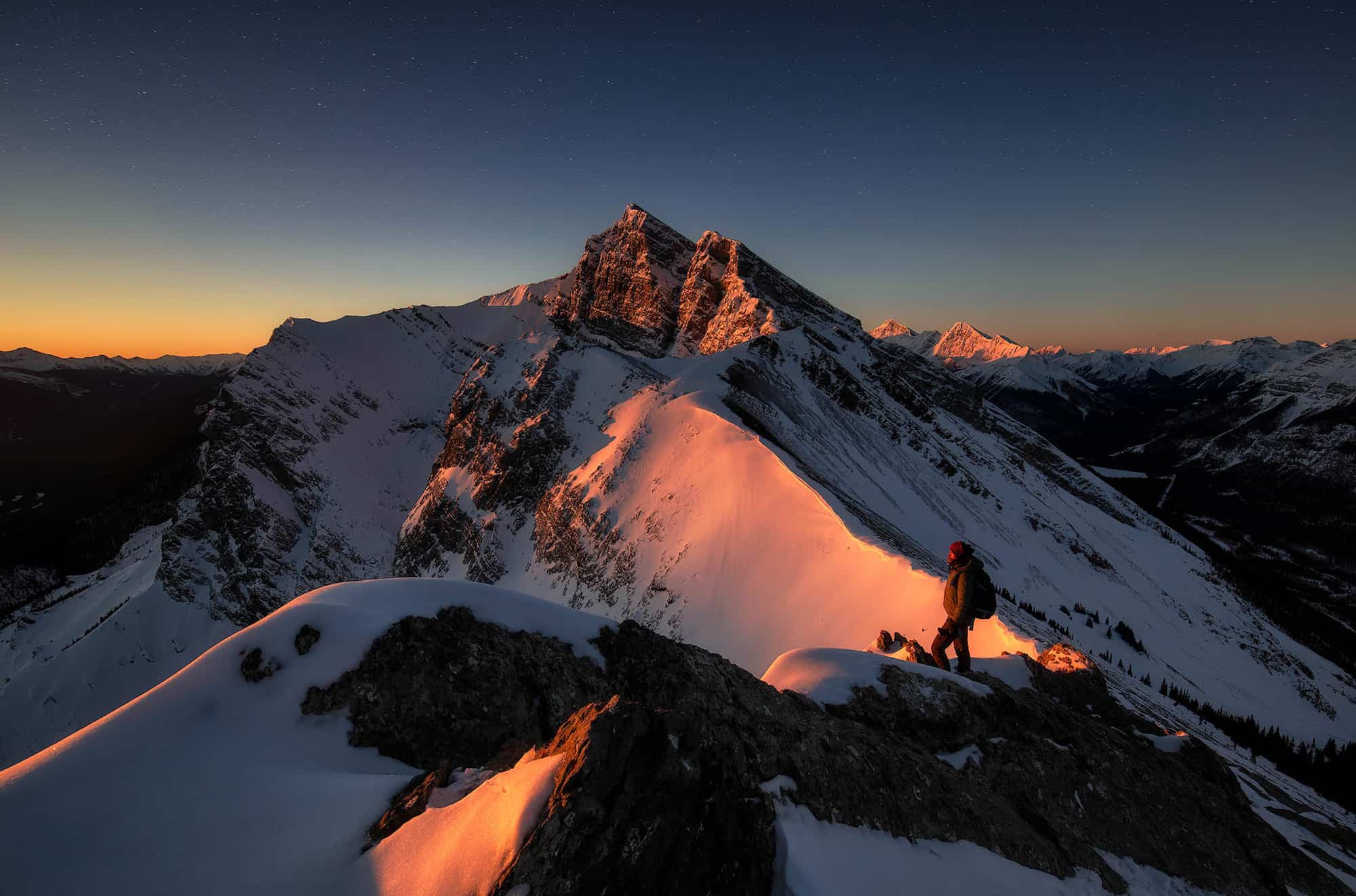 Situated in the proverbial shadow of the world-famous mountain town of Banff, Canmore isn't somewhere that should be overlooked while planning your road trip to the Canadian Rockies. Don't get me wrong Banff and Canmore aren't exactly Yin and Yang. They are both located in the Bow Valley, around an hour east of the closest international airport of Calgary in Alberta, are similar in size, and they both share an infectious eclectic adventurous spirit.
I lived in Canmore for 6 months while planning and researching for my outdoor guide to Canada. I found it to be much more stable than Banff, still touristy for sure, but nowhere near the level of its neighbor. Banff is like a steroid-crazed body builder talking smack whilst bench pressing twice his body weight whilst Canmore is the mixed martial artist, planking in the corner, quietly confident, biding their time.
Canmore is more sophisticated; it isn't tacky souvenir stores, overpriced steak restaurants and two for one jäger bombs. It's local craft beer and artisanal bakeries, if you are catching my drift. Much more up my alley, you know?
When Calgary had the opportunity to host the Winter Olympics in 1988, back then, the little mountain town of Canmore was suffering as the mining industry had just collapsed in the previous decade, but it soon saw a huge development and a sharp increase of world class athletes, that later became permanent Canmorons.
Yes, you read that correctly.
It's not something I came up with myself however, the term 'Canmoron' must have been the self-deprecating humor of founding few that was carried forward over time. The official terminology however is Canmorite which I personally find a little predictable. This influx of new Olympian Canmorons, and the installation of many multimillion dollar world class facilities, coaxed the rest of the town into exploring the outdoors.
Today Canmore has skiing of all types, mountain biking, snowshoeing, dog sledding, rock climbing, ice climbing, a bunch of lakes and a myriad of some of my favorite hiking trails in Canada plus loads more. Additionally, Canmore has the best access to Kananaskis Country and there's a big possibility that it might bid to host the Winter Olympics again in 2026.
Kananaskis Country is an amalgamation of over 10 provincial parks that surround the town.
However (and thankfully) Canmore isn't inside any of these parks so doesn't have to comply to the building cap that such places like Banff do. For locals and visitors alike it means cheaper accommodation, better supermarkets, more outdoor activities and less government interference.
My two favorite activities, photography and hiking, dance gleefully hand in hand around this place. Some of the best photos I've ever taken have been from here, especially those from the eventful time I decided to hike up Ha Ling Peak for sunrise.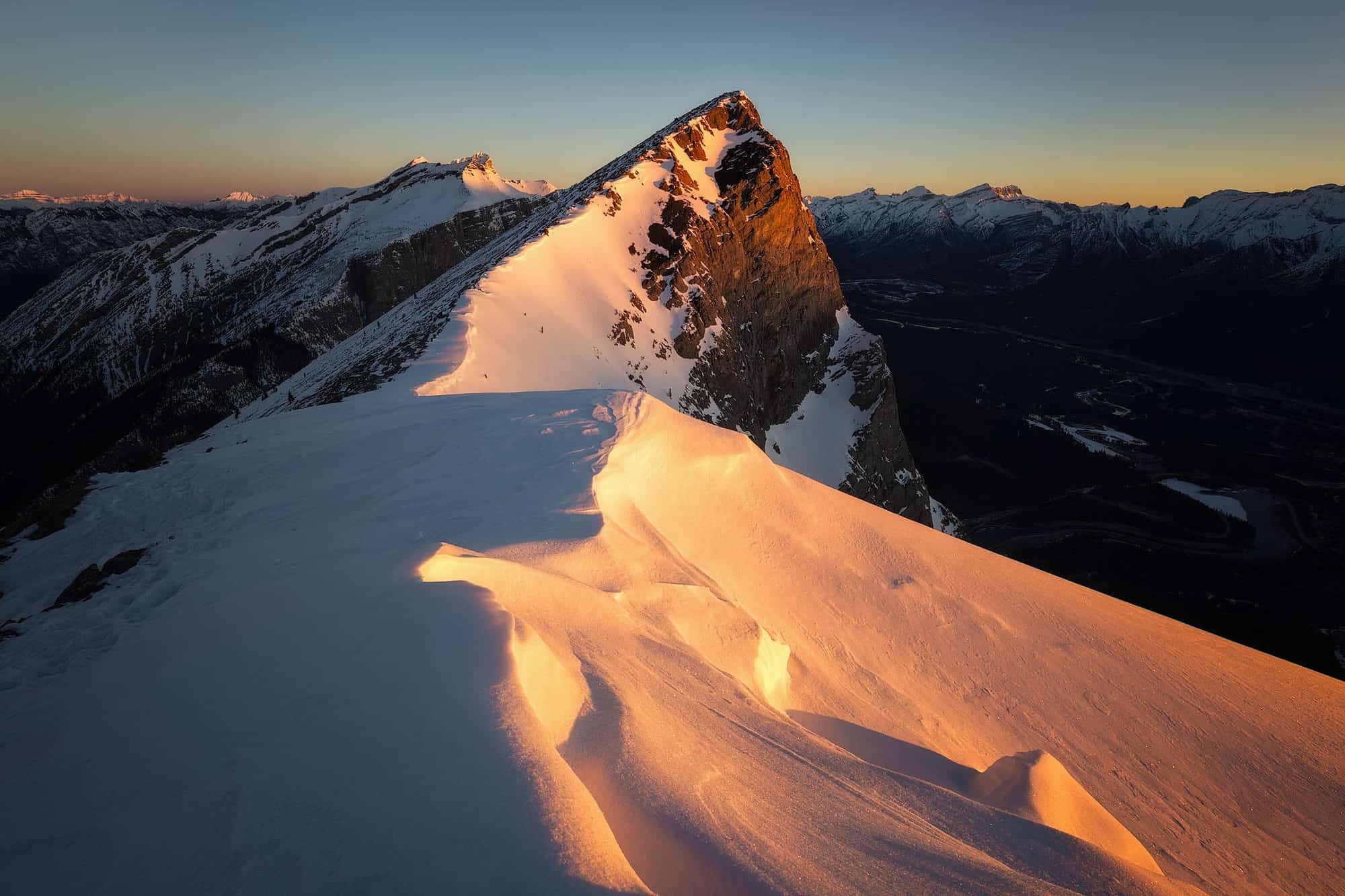 Ha Ling Peak, in Kananaskis Country, is the most popular trail here and for good reason. It starts 8km south west of Canmore on the Smith Dorien Highway (742) at the Goat Creek Trailhead. The trail is a semi steep series of switch backs which takes the average hiker 2 hours to summit.
From the top you'll be able to see east over Canmore to the peaks of Mount Lady McDonald and Grotto Mountain, situated on the other side of the Bow Valley, north toward the 7 peaks of Mount Rundle, south into the lake ridden Spray Valley and west toward Mount Lawrence Grassi, which Ha Ling peak is actually a part of.
Ha Ling peak is one of my favourite day hikes not only in the Kananaskis country, but it's high up on the list of all day hikes I have completed in the Canadian Rockies!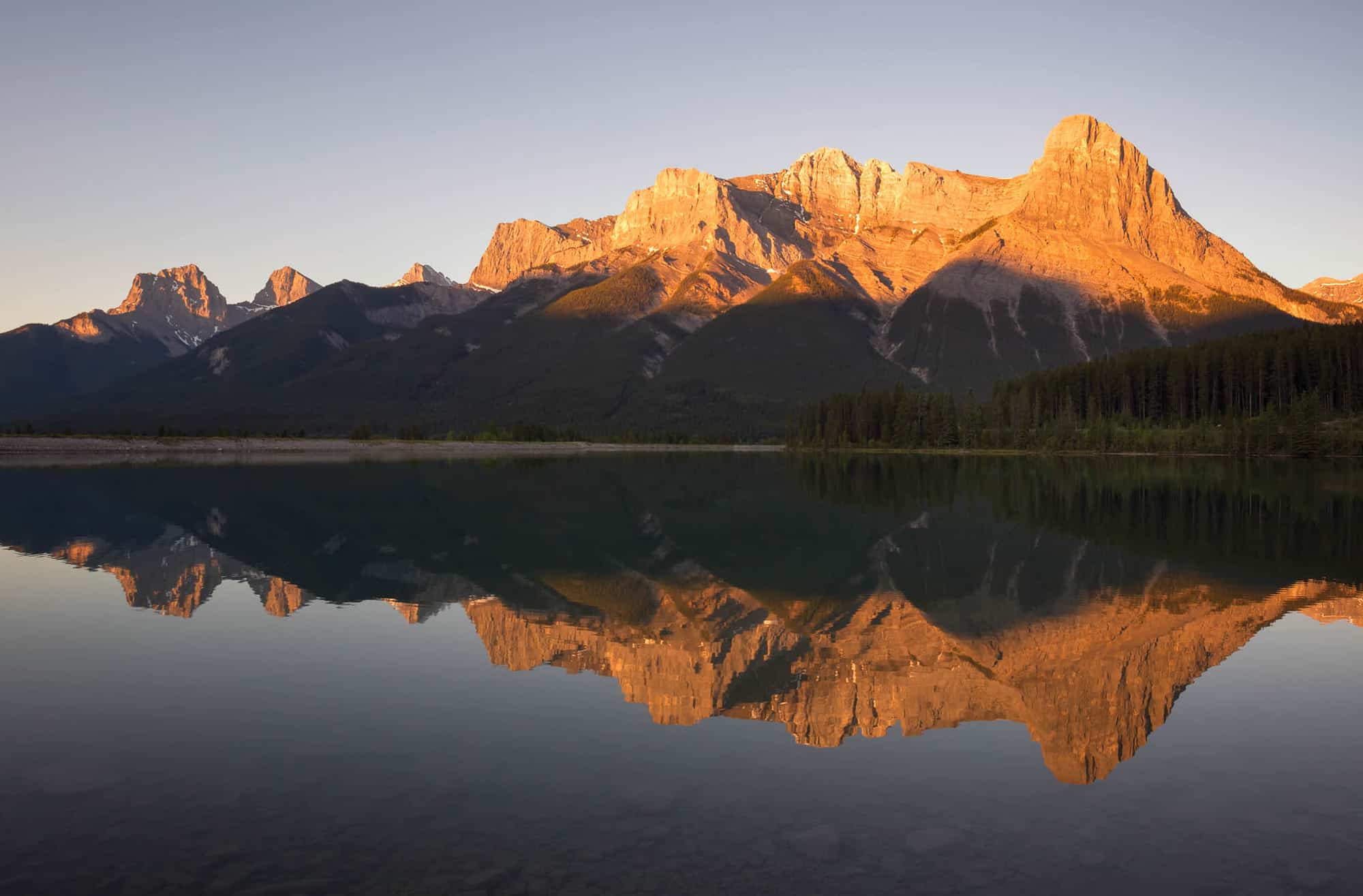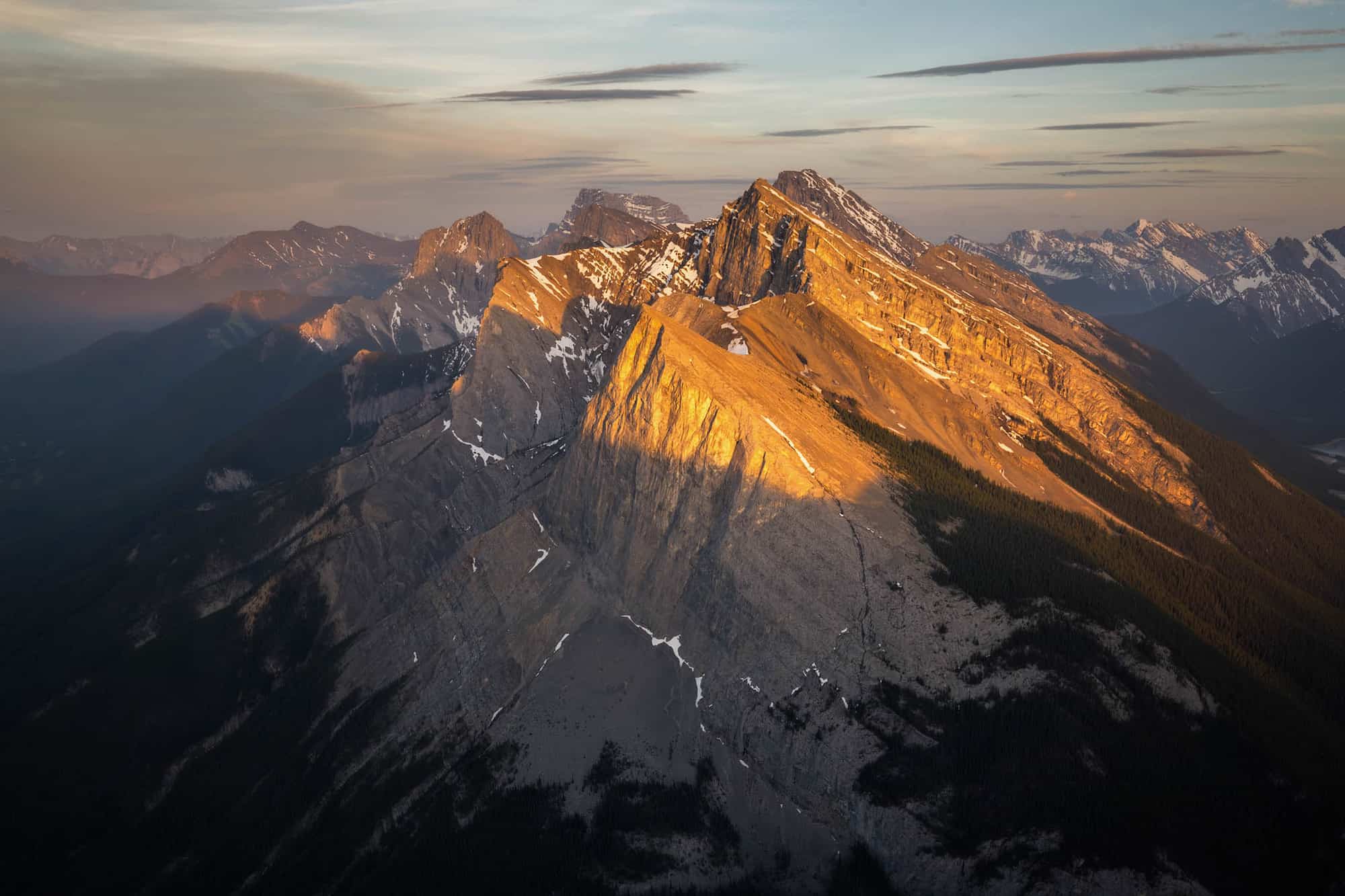 Further into the heart of Spray Valley down the Smith Dorien Trail (742) lies an expansive wilderness area. A true drive into the Canadian wilderness. It's a gravel road, but during the summer any car can manage it.
In the winter make sure you have decent snow tires or better yet snow chains and please drive carefully. When I was based in Canmore I saw at least 20 car crashes in the winter, every single one of them on this road! If you are visiting Canmore in the Winter, the Spray Lakes Road is where you can become a musher and go dog sledding! I had the opportunity to participate in a tour and it was one of the best winter experiences of my life. The cool air blowing through your hair, chocolate brownies by an open fire and the sound of over 100 excited huskies!
I went with a company called Snowy Owl Sled Dog Tours, one that supports humane mushing and takes extremely good care of their dogs. I only did a two hour tour, but if I could have afford it I would have seriously considered joining one of their overnight tours! Here's a picture of me with one of the dogs on my team, the goofball Hugo.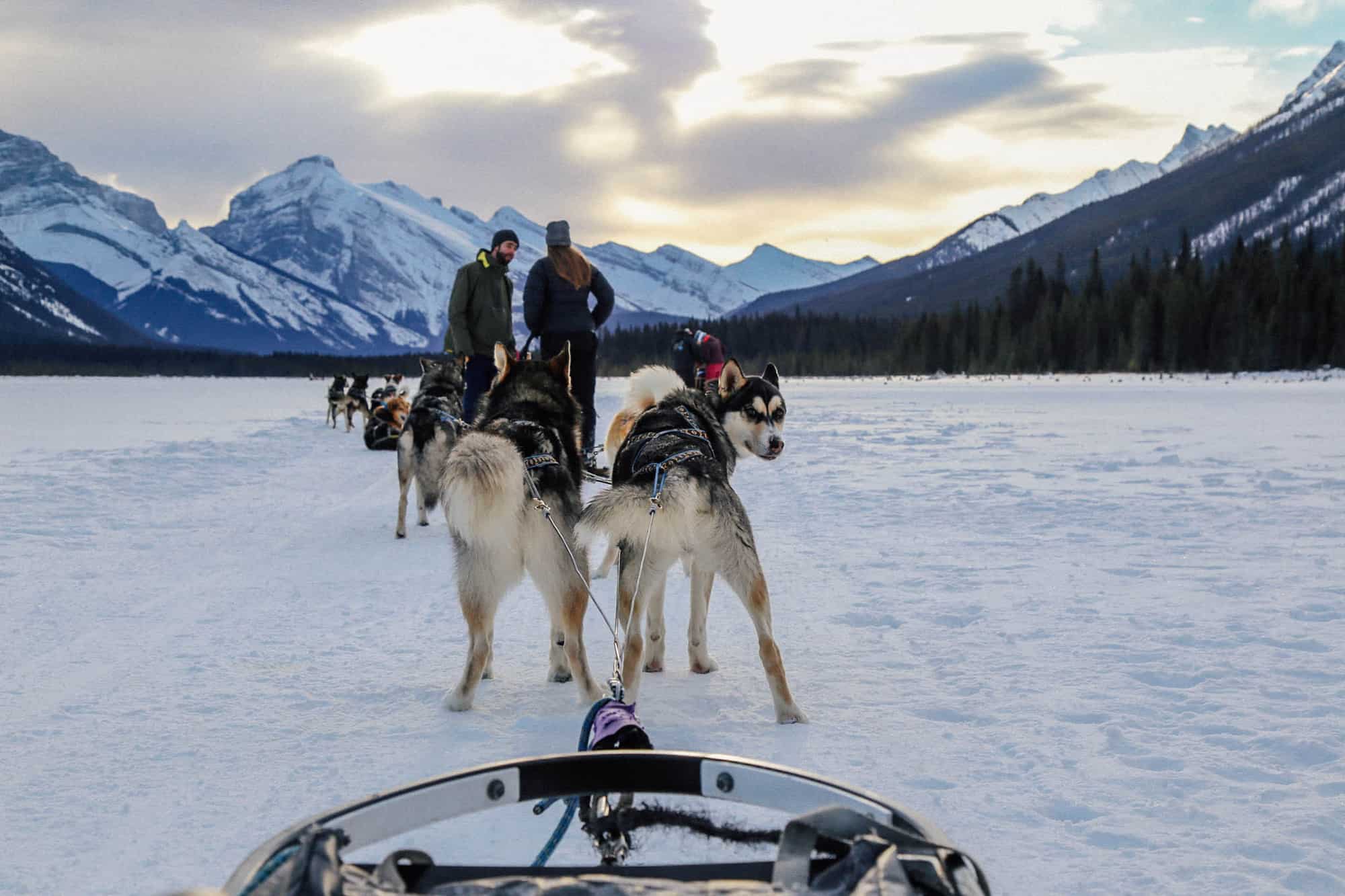 Even if you don't feel like dog sledding or decide to visit the Rockies in the summer, you can still go and play with the pups! In the summer Snowy Owl offers kennel tours. You can go and play with the dogs and learn all about the life of a musher.
If you are lucky you may even see puppies! OMG.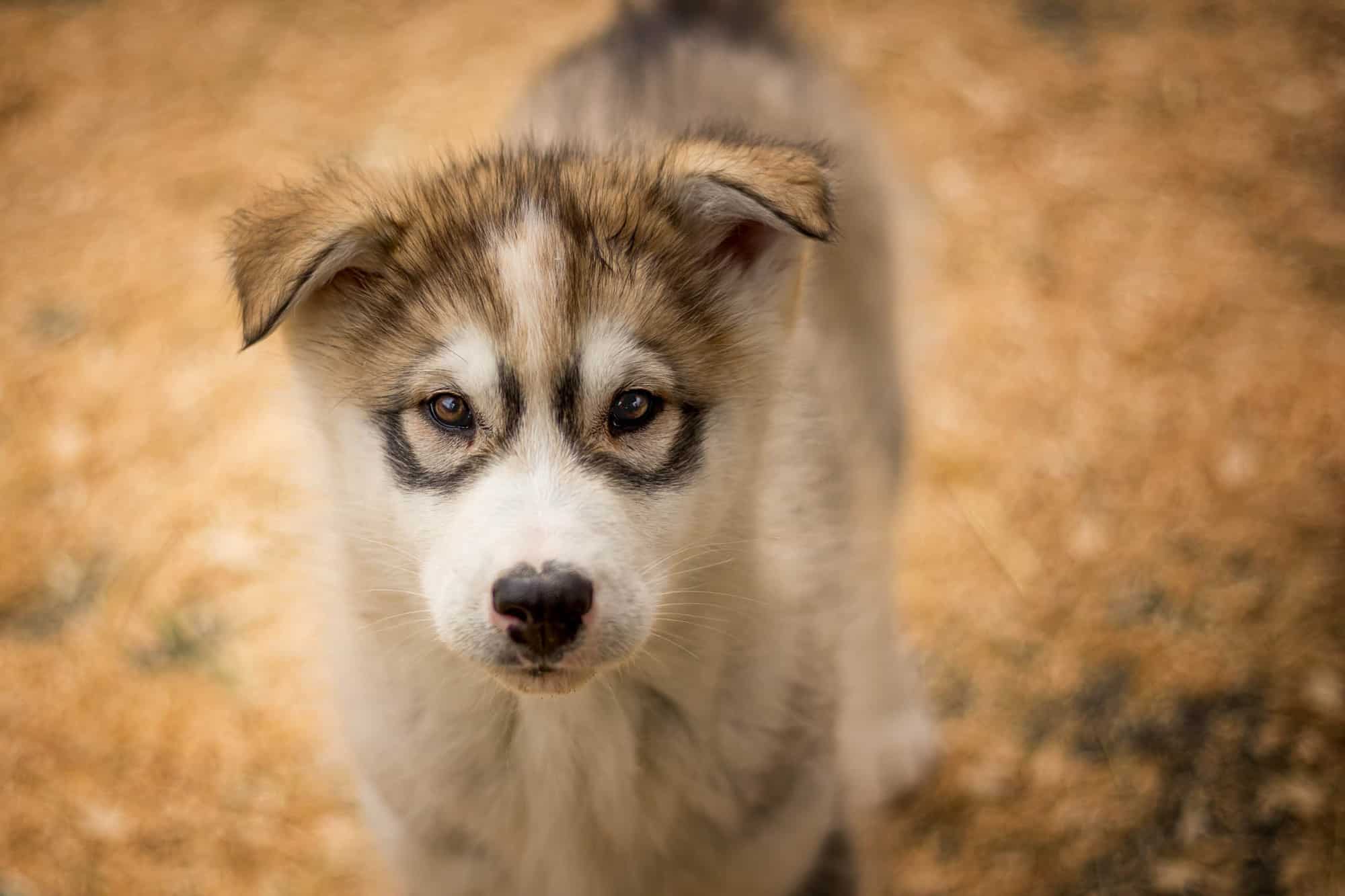 Further down into Kananaskis Country, past the dog sledding is an excellent chance to see moose, eagles, elk, wolves, cougars, coyotes, lynxes, weasels and in the summer black and grizzly bears. Just promise me to respect all wildlife and never approach any large mammal as they can be unpredictable.
NEVER FEED any of the animals either.
Thankfully there's a hefty fine if you get caught, like $25,000 hefty!!!! And with good reason too, in my eyes. If bears, for example, become habituated and used to being fed by humans, they pose a threat in all future human interactions and have to be euthanized. Basically if you feed it, you kill it. Don't be that person.
The border between Kananaskis Country and the stunning Mount Assiniboine Provincial Park is one of three central hubs in the Canadian Rockies where mother grizzly bears favour raising their offspring.
On a lighter note back to hiking!
Another mountain close to Ha Ling Peak is Mount Rundle, which runs parallel to the Trans Canada Highway all the way from Canmore to Banff. The East End of Rundle (EEOR), known as the Eeyore (like Winnie the Pooh's friend), is the end closer to Canmore. Certainly a harder hike than Ha Ling peak, it can take up to 6 hours to complete, even though it's only 6km long.
However the views are much more frequent because you're in the trees less of the time compared to its counterpart Ha Ling on the other side of White Man's Pass.
The summit views are spectacular.
I have personally attempted three times to summit EEOR, twice being interrupted by bad weather conditions. But as they say, third time is a charm and I finally got to witness both sunset and sunrise from the top of EEOR, involving camping on a very narrow ridge line at the top.
If you're a little more extreme then you might consider hiking the Pocaterra Ridge. It's tougher than Ha Ling and the East End of Rundle but the views are out of this world.
If one of the many peaks around doesn't give you your fill of exercise, or it happens to be raining that day, then Elevation Place should be your next port of call.
The newly built, architectural masterpiece offers a huge climbing wall, a full aquatics centre including a sauna, a gym, an award winning library, a café and a small art gallery which showcases the work of local artists. Hopefully one day my work will be hanging there!
The town of Canmore is named after Malcolm III of Scotland. It was his nickname and translates to "Big Head" in Gaelic which is quite contradictory of the aforementioned colloquialism "Canmoron". That always cracks me up inside.
Growing up the town was a popular mining destination and was once inside the perimeter of Banff National Park. When inside the National Park however logging and mining could not continue to flourish and after significant pressure from the big coal corporations in 1902 Banff National Park shrunk and Canmore was excluded. Mining continued to grow and coal production was eventually ceased in 1979.
It's location next the Bow River, then the Canadian Pacific Railway and then the Trans-Canada Highway meant that tourism in the area has always been rife but it's only in the recent years that Canmore has begun to blossom into your next holiday destination. You may now wonder, when's best time to come?
The best time of the year, in my opinion, is summer and fall ranging from June to early October, with September being my favorite month. That's when most of the hikes are accessible and not covered in snow.
No promises about the snow though.  It could be there at any time of year!
The mild alpine climate boasts average summer time temperatures of a whopping 15C/59F (with highs of normally around 22C/72F). However the weather here is unpredictable and very tempestuous, it's possible to have extreme high's breaking into the early thirties (more than 90F).
The winters are also a very nice time to visit. Snowshoeing, cross country skiing and dog sledding are very popular. Temperatures at this time of year can be brutal though, especially in January.
On extreme cold nights the temperature can go as low as -50C (-58F) and the monthly average is a bone-chilling -9C. Thank the heavens above for the Chinook Winds.
If you haven't heard of Chinook Effect before, it's basically a really really warm wind that comes over the mountains, known as Föhn winds in the rest of the world but Chinook Winds in North America. Chinook Winds occur when moisture rich coastal air coming in from the west coast is forced upward by the mountains, it drops its moisture by the means of snow or rain, and then falls down the eastern slopes.
The adiabatic warming of downward moving air causes these warm winds. And trust me they are warm. They can raise the temperature of the entire town by easily 20C/68F in just few hours and maybe even 30C/86F for a strong one. The strongest Chinook world wide was experienced just south of Canmore in Montana in the US, where the temperature rose from -48C to +9C or -54F to +49F. A change of 57 degree celsius, or 103F, in 24 hours!!!
Winter becomes summer for maybe a few hours, snow melts for maybe a day or two before returning to normal.
When Leo DiCaprio and Tom Hardy were down in Kananaskis Country filming the incredible movie The Revenant a Chinook blew through and melted a lot of snow, it forced the entire production to move down to Ushuaia in Patagonia. DiCaprio was later heard blaming the problem on global warming even though this phenomenon has existed since the mountains were erected by Mother Nature, a good 300 million years ago.
Leo you're beautiful, and you're right about global warming but not about this one sorry!!!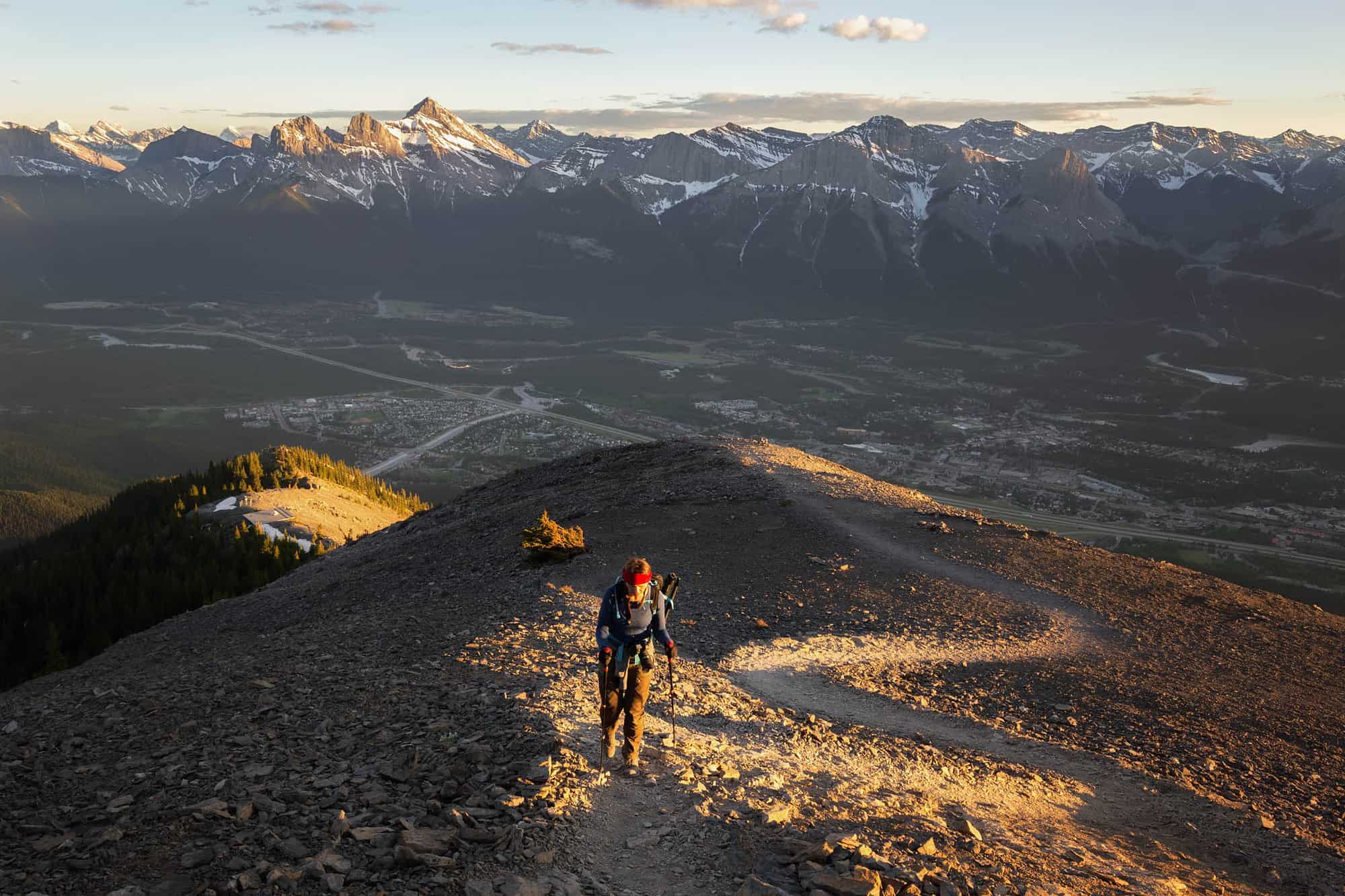 However dark and cold winter is I can't complain too much, I used it as an excuse to drink multiple hot chocolates a day, stay at home, bake cinnamon rolls and lounge in front of the fire.
When I couldn't be bothered to make myself treats I became an expert on all the local eateries around town. The best café without a doubt is the Bagel Co.
There are two of them in Canmore but my favorite is the one on Main Street (8th Street). It's got a great atmosphere and it has the best goodies and a really wide selection of freshly made sandwiches.
Communitea is another great place if you are tea lover like me!
My favorite place to drink was The Wood on the corner of 8th and 8th, lots of local craft beers, 4.50$ per pound of chicken wings on Mondays and 10$ steak on Tuesday.
For a place as expensive as the Bow Valley, the deals came as a welcomed change. I still must have spent a small fortune in there though. Well in between there and the Grizzly Paw Brewery I probably spent enough money to invest into a property 😉
When I wasn't stuffing all manner of pastries into my face or double fisting 2L pitchers I was out taking photos.
Most of the time I took pastries with me too but regretfully couldn't take the beer because I was driving.
There's so many photography spots in Canmore, some of which are roadside stops, some of which are huge mountains. I was lucky enough to visit many photography spots in the Canadian Rockies but the one's around Canmore stood out amongst the rest (maybe apart from the jaw dropping Icefields Parkway). Canada is pretty beautiful, especially in the Rockies.
Canmore's topography includes everything a photographer could ever dream of. Rugged mountains, alpine lakes, wild flowers in the summer and mesmerizing ice formations in the winter.
All in all, Canmore is stunning and you should visit, that's a fact and I hope when you will be planning your Canadian Road Trip Itinerary , that you will add Canmore to your list of places to stop, at least for a few days.
As always feel free to like and share and I'll try to answer all the questions you may have about Canmore and the Bow Valley. Happy travels!
Have you ever been to Canmore or Alberta? Have any of your own tips to share? Spill!
My name is Marta and I am the voice behind In A Faraway Land. A travel website dedicated to providing information on outdoor activities and photography tips via my New Zealand, Iceland  and Canada Travel Guide.