When I imagine a perfect winter wonderland, Alberta, Canada immediately pops into mind.
From the dense pine trees caked with snow, to log cabins covered in icicles hidden away by frozen lakes to the towering Rocky Mountains to more winter activities to chose from than anywhere I'd ever been, I was in love. At first sight. I'm an easy target, guys.
I'd never seen such dry powdery snow that sparkled. In fact, I hadn't seen that much snow ever! Seeing it piled a meter high on the roofs was able to give a bit of scale of how much snow this area of Canada actually gets in the year – a whole hell of a lot!
Alberta definitely fits the "winter wonderland" cliche to a T. And there's nothing wrong with that, especially if you love winter travel like me!
I've already shared my favorite photographs and memories from Alberta on the blog a while back, but this time I wanted to go ahead and tell you guys about one of the best days I had in Canada – going dogsledding. I've dogsledded in New Zealand and in Finland before, but I think Alberta was my favorite – don't tell anyone.
Bring on the snow! And the husky puppies! YEOW!
It was also the very first activity I experienced on my way towards Banff National Park in Canmore Kananaskis Country, so it was the perfect introduction to the Rockies and the Canada I had always imagined.
After a few days hanging out and eating my way through Calgary, I was ready to finally see that pure Canadian wilderness for myself. Driving straight to Canmore from the big city , I made it just in time to the Snowy Owl Dog Sled Tour office just in time to check in for my afternoon adventure.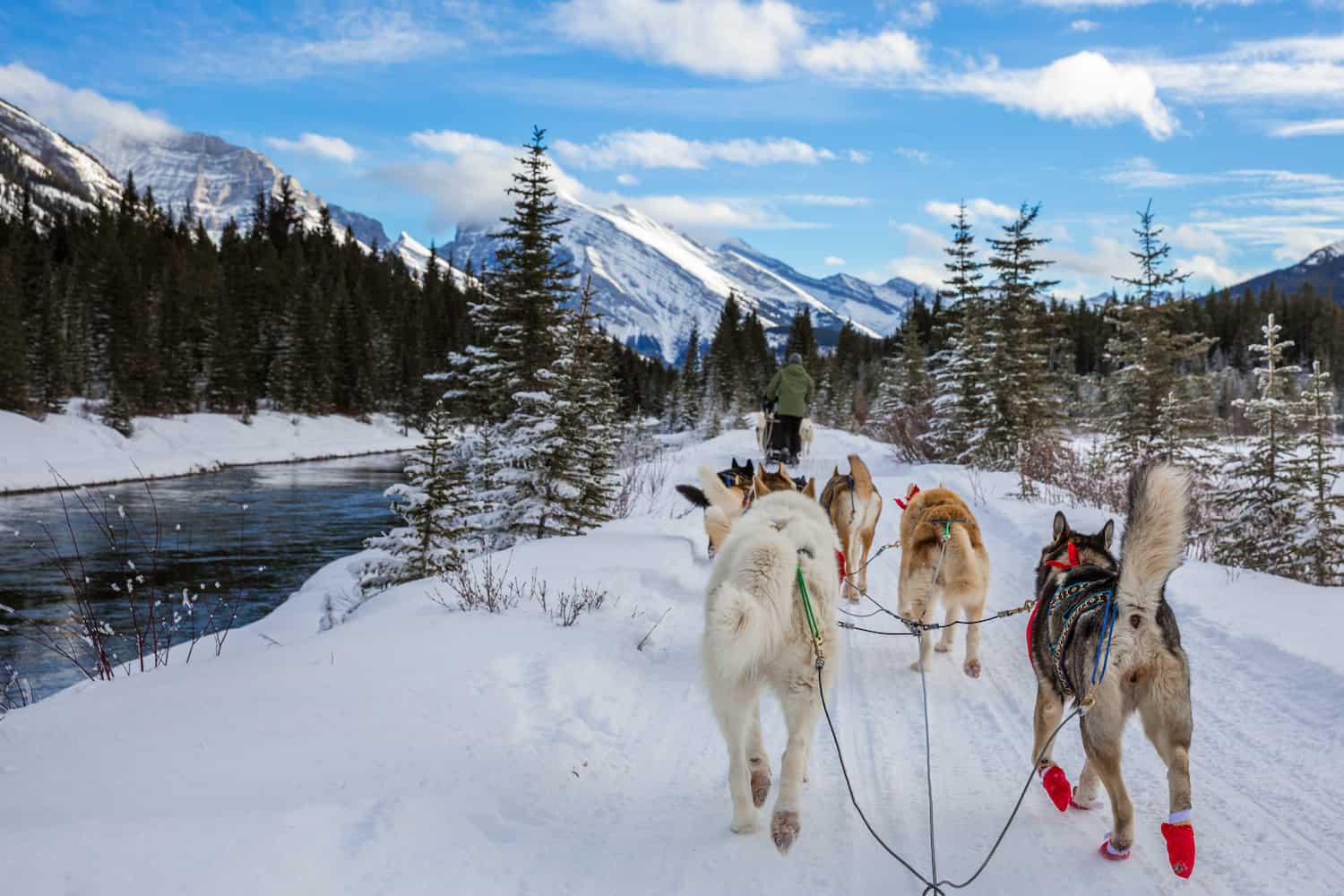 Putting on all my winter layers and borrowing their boots, I bundled up and got ready for an afternoon with the pups dogsledding in Alberta.
I grew up with dogs and I love being around animals more than anything, so any opportunity I have to ethically interact and be around animals on the road I jump at. Any kind of animal-based activity for tourism nowadays can be a touchy subject so I am always careful about what I endorse and which operators I work with.
Snowy Owl has an awesome mantra about how they breed, work and interact with their dogs so it was easy to get behind them. They also adopt out their retired dogs to the right people which is pretty rad. And kinda intense which shows how much they care about their four legged family.
Back in the day dogs were used all over North America and Canada as transport, explorations and even in the Gold Rush, and were probably used for far longer than that. The breeds you meet dogsledding like huskies and malamutes are strong energetic pack dogs that can run and pull for hours and hours. And they love it! This is literally what they've been bred to do for centuries, and man oh man are they good at it! But if you aren't holding on, you will go flying!
They are made for very cold weather and even on these runs they get really hot, and roll around in the snow to cool off when they get the chance.
As we matched up and picked our teams the dogs knew they were getting the chance to go running, and began to howl! Excitement was in the air! Literally.
MUSH MUSH!
Sometimes the sled dogs wear booties to prevent abrasions on their paws from the snow and ice
I'd driven the sleds before (ungracefully hanging on for dear life) and this time I was keen to get more photos so I opted to sit bundled up in the sled for the ride instead – the lazy girl seat. Oh well, embrace it. Even though it was January, it wasn't super cold (by Alberta standards) that day, so I didn't have any problems staying warm.
Before I knew it we were off. The musher behind me on the sled was super knowledgable about the dogs, photography and all things Alberta, so we had no shortage of things to talk about on the ride.
This was my first proper introduction to the mountains of Canada and I think my jaw hung wide open in awe for the first part of the ride. That is until one of the dogs heard the call of mother nature and took care of business in the middle of the run – after that I kept my mouth shut.
When you notice one of your dogs needs to go to the bathroom you slow down and stop the sled by pushing down on the bar with your feet. If you don't keep a solid grip and have your feet firmly planted on the ground, you might find yourself flat on your back and your dogs and your friend in the sled a kilometer down the trail.
I think I was mostly impressed by how smart and agile these dogs are. Even though they are working dogs on a job, which they take very seriously, they are super friendly and happy. You can just feel the excitement when they finally get to run.
Each dog has a role to play in pulling the sled, from the lead dogs in front setting the pace and keeping everyone in check to the swing dogs behind them which help steer around corners to the team dogs in the middle helping to pull the weight and finally the big brawny wheel dogs in the back by the sled that take a lot of the weight.
It's like a well-oiled machine at work that sometimes has to stop and poop.
While I'm usually right in the thick of it traveling, it was really really nice to just sit back and enjoy the ride that afternoon. Out in the wilderness we passed glittering snow covered trees, huge mountains, rode by beautiful rivers and across a huge frozen lake as the sun was starting to set. We even (quickly) passed a moose! Canada turning on the goods!
I definitely had a few "pinch me – is this real life?" moments in the Alberta backcountry that afternoon. Magic, guys, pure magic!
Eventually we arrived back where we started and enjoy a nice hot cup of cocoa by the fire as the dogs rested, as you do when you are in a winter wonderland.
Have you been dogsledding before? Is this what you imagined? Would you try it in Alberta too?
Many thanks to Travel Alberta for hosting me in Canada, like always I'm keeping it real, like you could expect less from me!