What do you imagine when you picture Ireland?
Green, lush, sheep, rain thatched cottages and a whole lot of Guinness I imagine, unless you're me, then it's strictly Game of Thrones, gingers and leprechauns galore.
Though I think we all can agree on the fact that when we picture Ireland, we imagine castles. A verdant land of castles and wildlings, am I right?
Of course, Ireland is so much more than castles; there's a richness of history and culture to be found there combined with new and creative trends that make it a destination for everyone, not to mention one worth visiting in all of our lifetimes.
When I surprised my parents with a trip to Ireland for Christmas last year, I knew that I wanted to delight them when I was there, and there was one place, above all, I knew I wanted to take them.
Ashford Castle. Have you heard of it?
800 years old and counting, there are castles and then there are CASTLES, and without a doubt, Ashford is king of them all.
Lording over the adorable little village of Cong on the Mayo-Galway border, right on the shores of Lough Corrib, Ashford never fails to impress. Medieval Anglo-Norman stronghold turned luxury hotel that was once even owned by the Guinness family, Ashford Castle has always been consistently ranked not only one of the best hotels in Ireland, but also the world.
As someone who spends a great deal of time in hotels, I just had to see this for myself.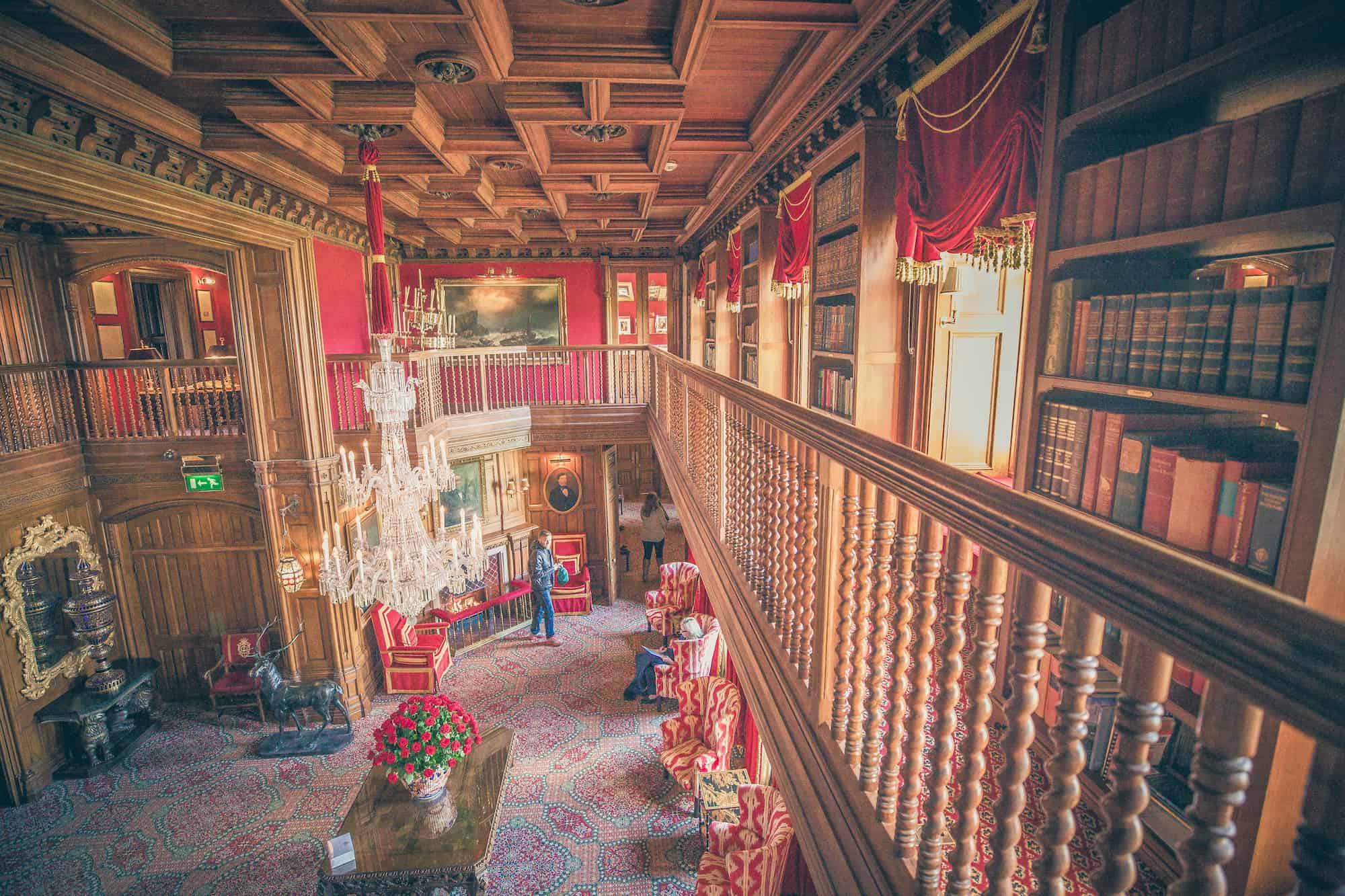 On my very first backpacking trip in Europe a decade ago I stayed in a castle in Germany, and I think that's what got me hooked on the experience. From backpacks to butlers in the span of 10 years, who would have thought?
Not to mention, I'm such a history nerd and often visit as many castles as I can when I'm on the road in Europe. Even my parent's patience wears thin when it comes to visiting castles.
But to have the chance to stay at a fine a place as this was definitely an experience we knew we couldn't miss it. It was one of the major highlights for my parents.
Staying in a castle in Ireland is a quintessential tourist experience and I definitely recommend it.
The village of Cong featured in the famous 1950's John Wayne film, the Quiet Man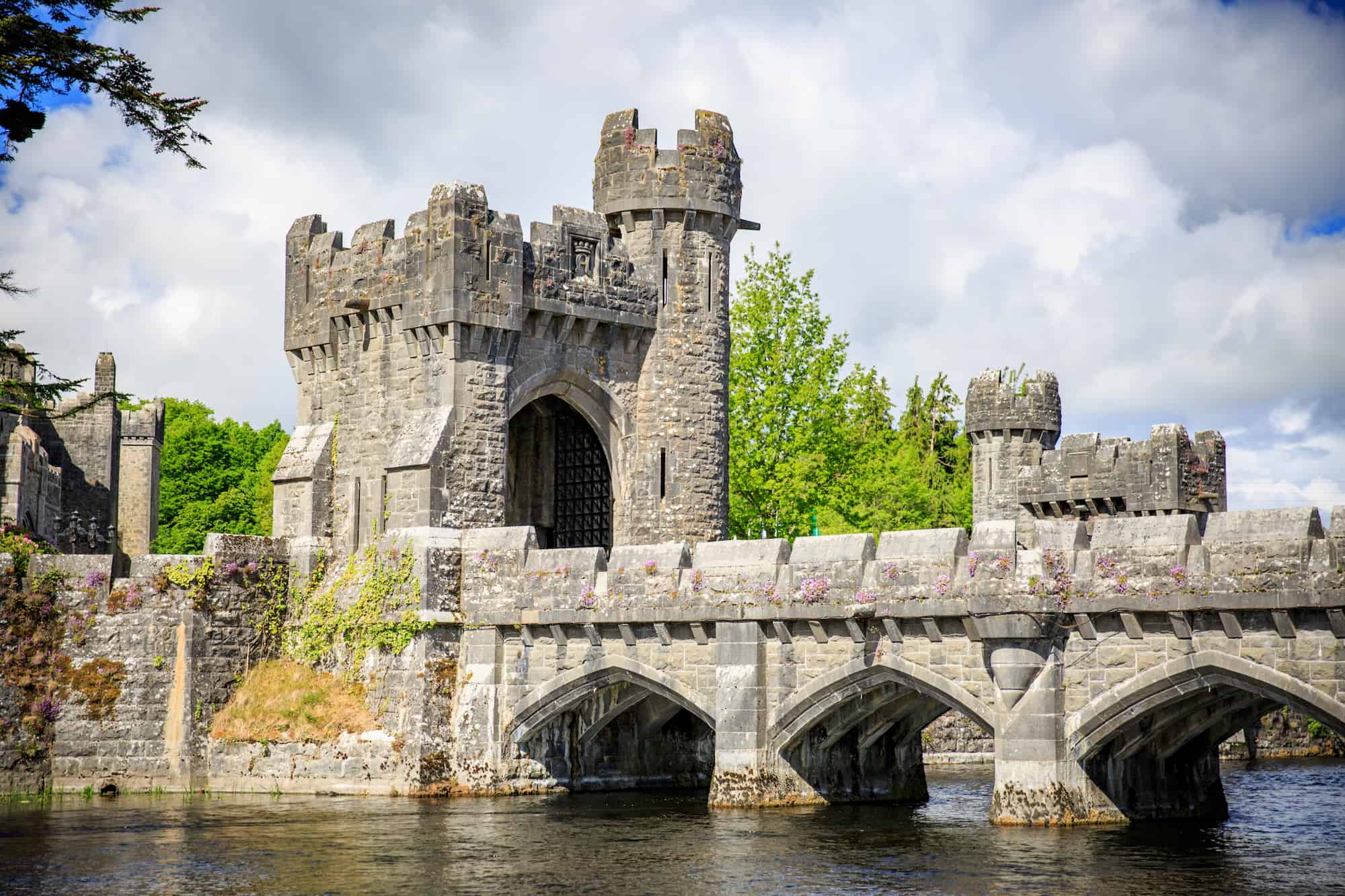 It was a perfect early summer day when we arrived at Ashford. The sun was shining (yes it happens in Ireland) and the grounds were so green they didn't seem real. What's that cliche about a fairytale?
Ireland is so picturesque.
We crossed the moat (yes the moat!) and made our way up to the Lodge on the grounds. There are two accommodation options at Ashford Castle, staying in the castle itself (which books out well in advance – heads up) and also the Lodge at Ashford, a few minutes walk away from the castle on the grounds (and much more affordable).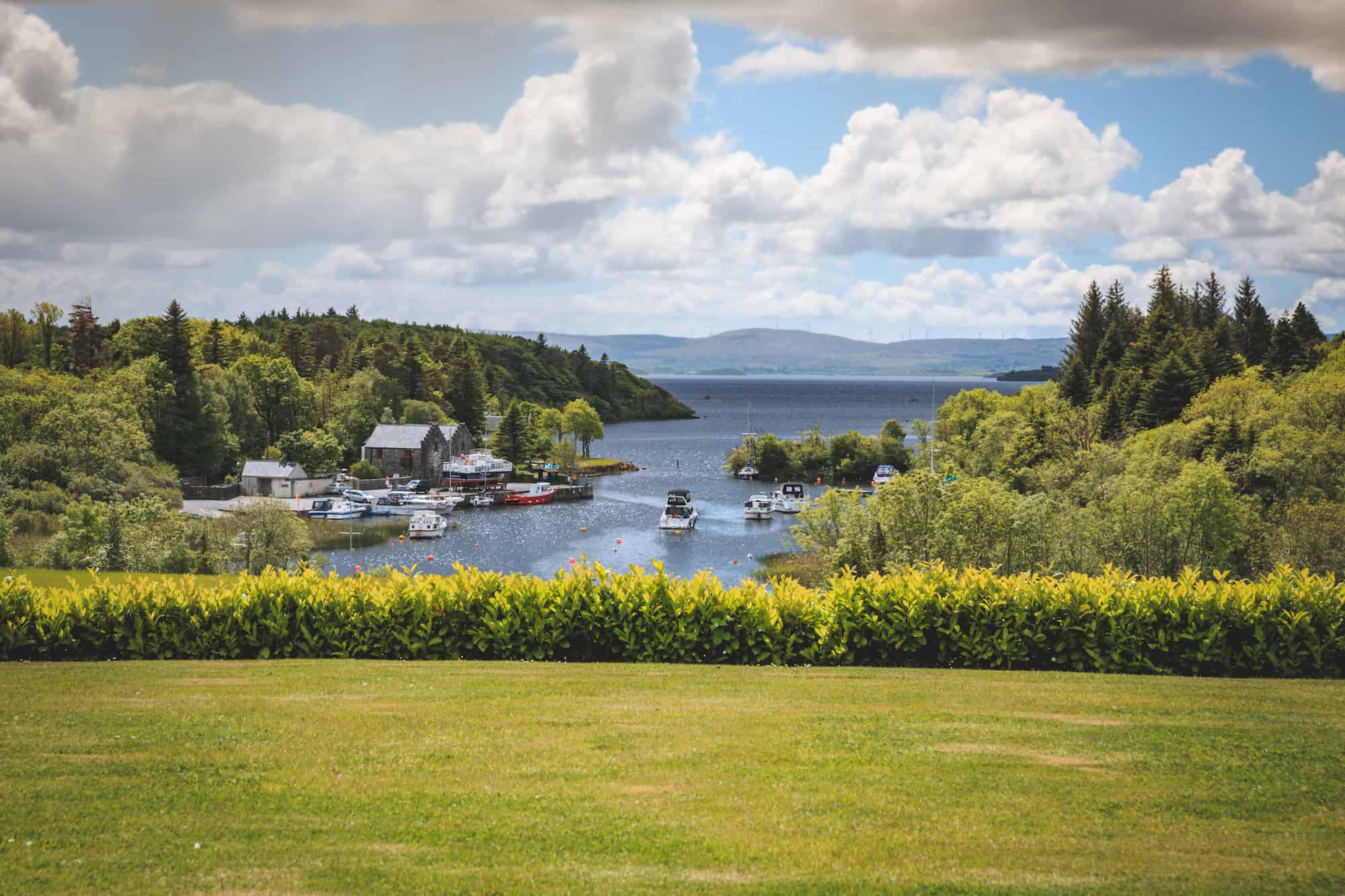 Originally built as the home to the Estate Manager in the late 19th century, the Lodge has always been used as it's own hotel before being becoming part of Ashford a few years ago.
While Ashford Castle is very formal, from fine dining rooms to elegant bedrooms, it definitely suits the style of my parent's generation. Though, that isn't to say I couldn't while away in the Kennedy Suite for a week and not be happy, chandeliers and fabric wallpaper and all. As you can also imagine, the rooms err on the expensive, so it's definitely a treat to stay here.
But what I really loved is that the Lodge at Ashford is on the estate too but has a much more modern and fun style to it at around a third of the price. From the rooms to the dining options, and it has great views out towards the lake and has a quirky fun feel to it that I LOVE in hotels. Not to mention our two story suites were beyond fabulous!
It's still thoughtful, luxurious and beautiful, of course, but has a more independent boutique vibe that I really enjoy. Country house charm at it's finest.
Man, as I write this I realize I spend way too much time in hotels. Don't hold it against me.
As with most people that come to Ashford, it's an experience, not a hotel, and you spend most of your time exploring the 350 acres and taking it all in.
There are heaps of activities to chose from around the property, from falconry and horse riding to SUPing and zip-lining to hanging out at the castle spa (OMG) we opted for a lake cruise on Lough Corrib to really get a feel for the scope of the place. My parents loved it and with 365 islands dotted around it, it really makes you feel like you're in your own little world.
We had a perfect Irish weather day on the boat cruise, rain, sun, wind and more rain then sunshine. It blows my mind how quickly the weather changes in Ireland.
Rule number one – always bring a rain jacket.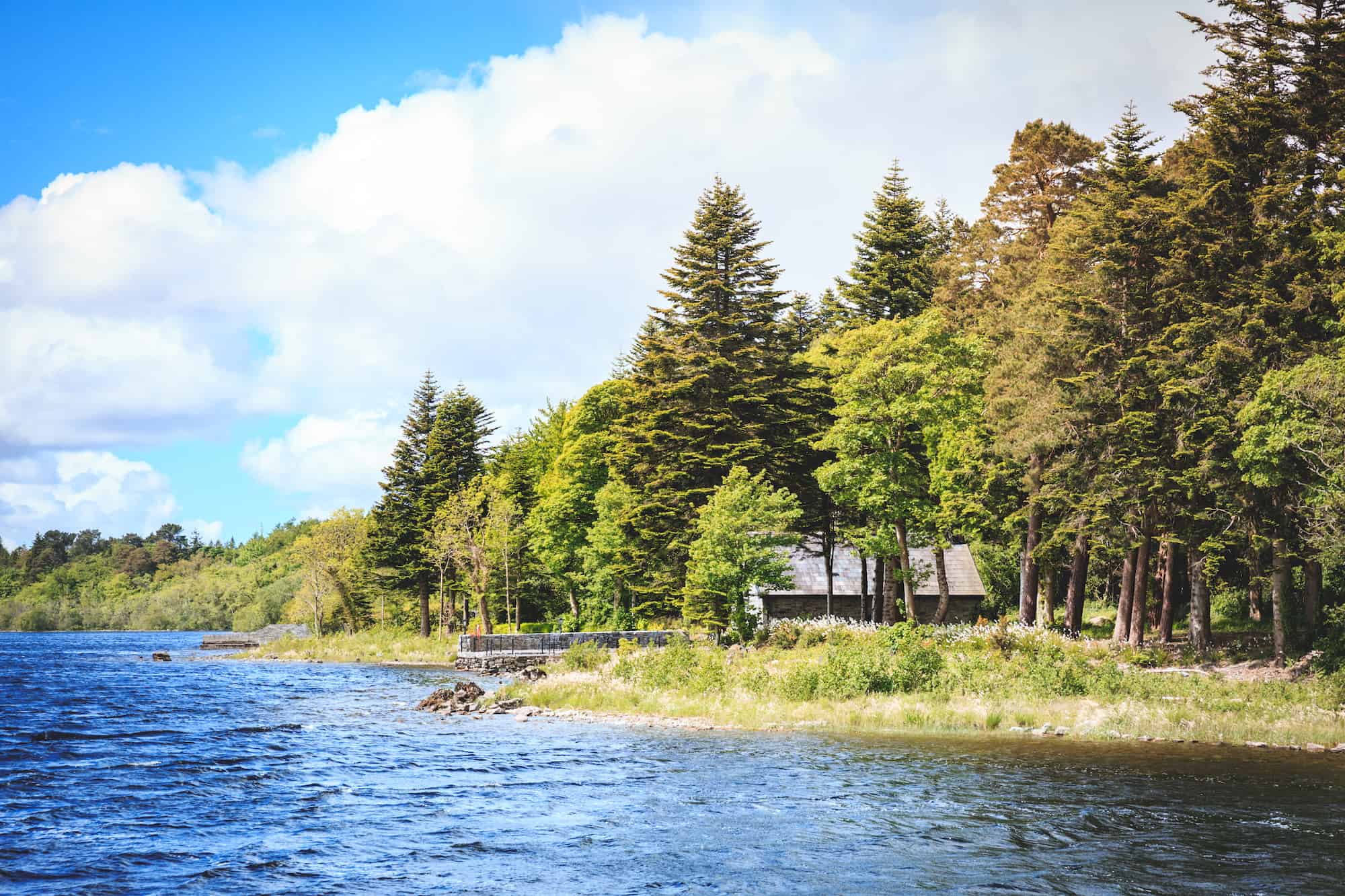 You can get lifts between the Castle and the Lodge, which was great for my parents, though the walk is stunning and only about 10 minutes. And of course there are bikes. In early summer everything is blooming and lush and smells divine, you just want to be outside.
Unless you get a ride in the Defender. Fun times!
Inside he castle, it's pretty impressive from the dignitaries and royals who've stayed here to see how it's changed over the centuries, and there is an impressive art collection throughout the castle. You have to be a guest of the castle itself to get a peek inside though, unless you book in for a meal there.
Every morning at 8:30 you can join in and walk Ashford's two resident wolfhounds, Cronan and Garvan. Gentle giants, these pups hang around afterwards in the lobby around 10am for pats and cuddles.
In fact, you won't believe it but pet's are VIPS's at Ashford, adding a layer of homeyness and comfort you might not usually find in such a spot.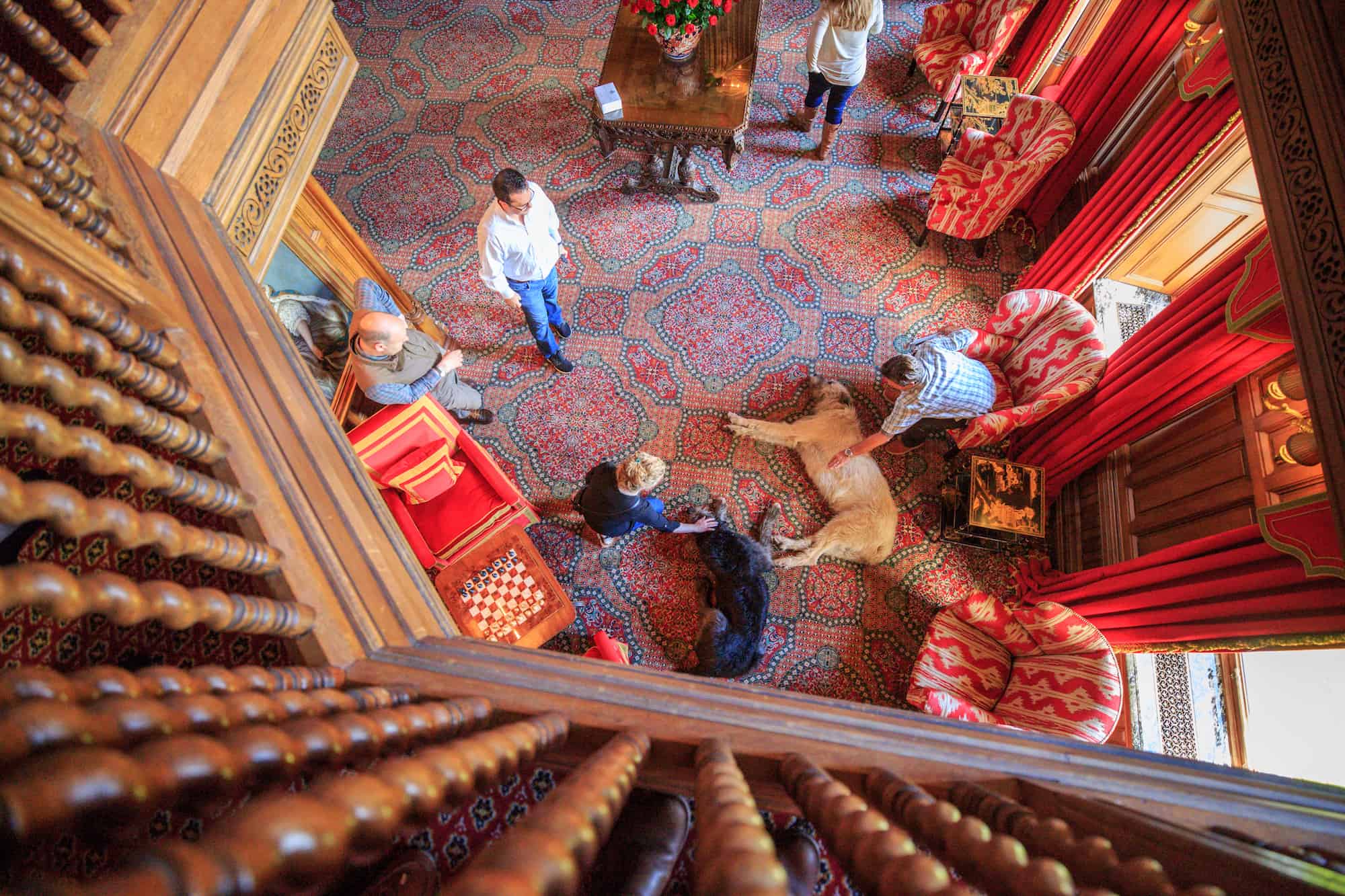 Ashford manages to feel both cozy and luxurious at the same time. Achieving the highest level of comfort and predicting your wishes even before you realize them yourself, you will leave feeling pampered, treated and SO not ready to go just yet.
With the very best of everything in the most beautiful landscape possible, it undoubtedly will be the highlight of any trip to Ireland.
Now, when can I go back for a week?
Have you heard of Ashford? Are castle hotels your thing too? Is Ireland a place you dream of visiting too? Share!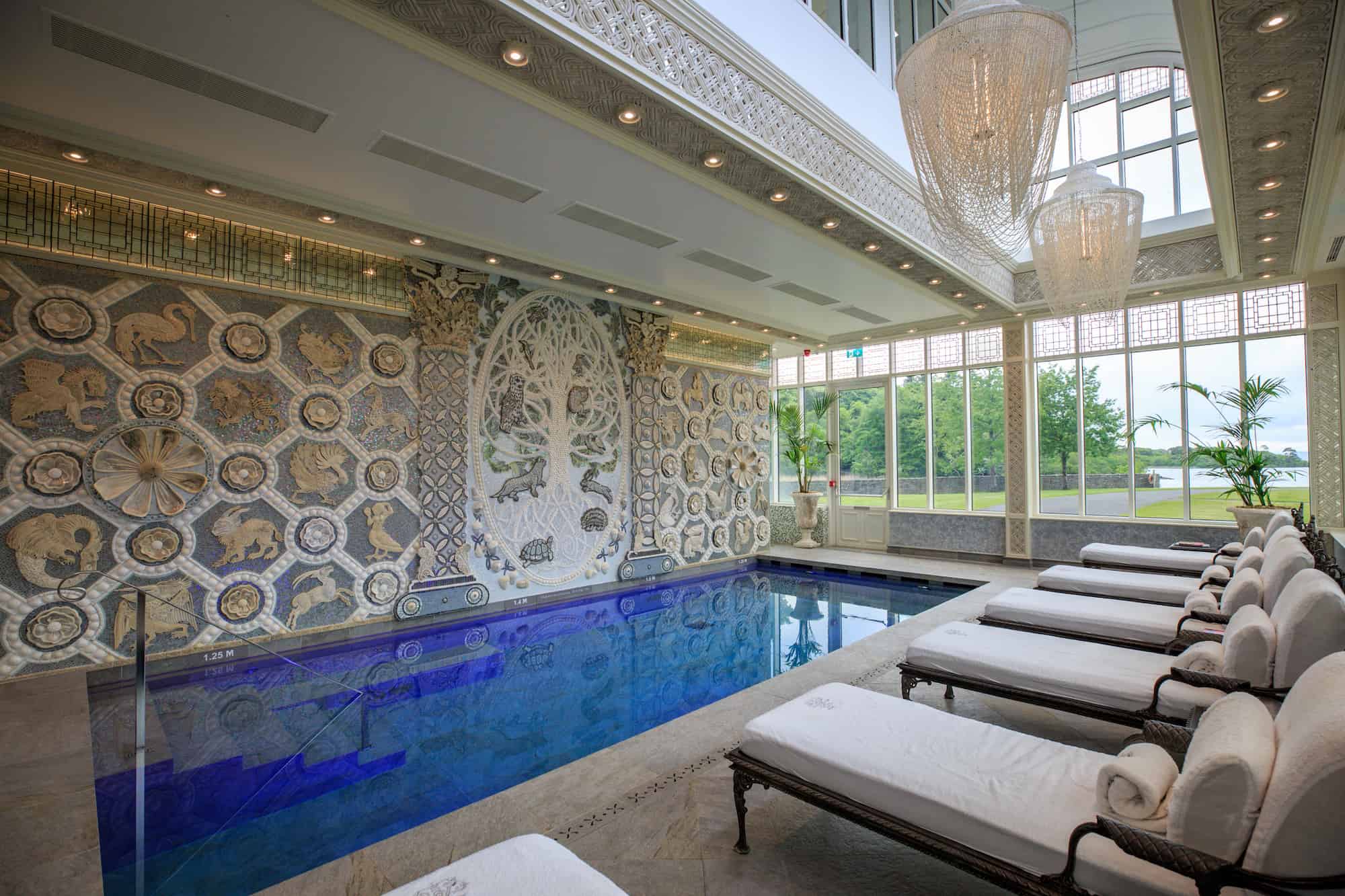 Many thanks to Fáilte Ireland and Ashford Castle for hosting me in Co Mayo – like always I'm keeping it real, all opinions are my own, like you could expect less from me.