Hi guys, this is Marta, the voice behind the stunning site In A Faraway Land.
A travel website dedicated to providing information on outdoor activities and photography tips via my Canada, Iceland and New Zealand Travel Guide. Over a year ago I moved to Canada on a Working Holiday Visa with one purpose: to hike and capture the beauty of the Canadian Rocky Mountains through my camera. Luckily hiking and photography go hand in hand here. In just one year I have managed to walk hundreds, if not thousands of kilometers of trails and I've narrowed them down in this post to some of my favorite hikes in the Canadian Rockies. Enjoy!
I've also still got spots left on my autumn photography tour next year in New Zealand. Use code "youngadventuress" to save 5% on your booking.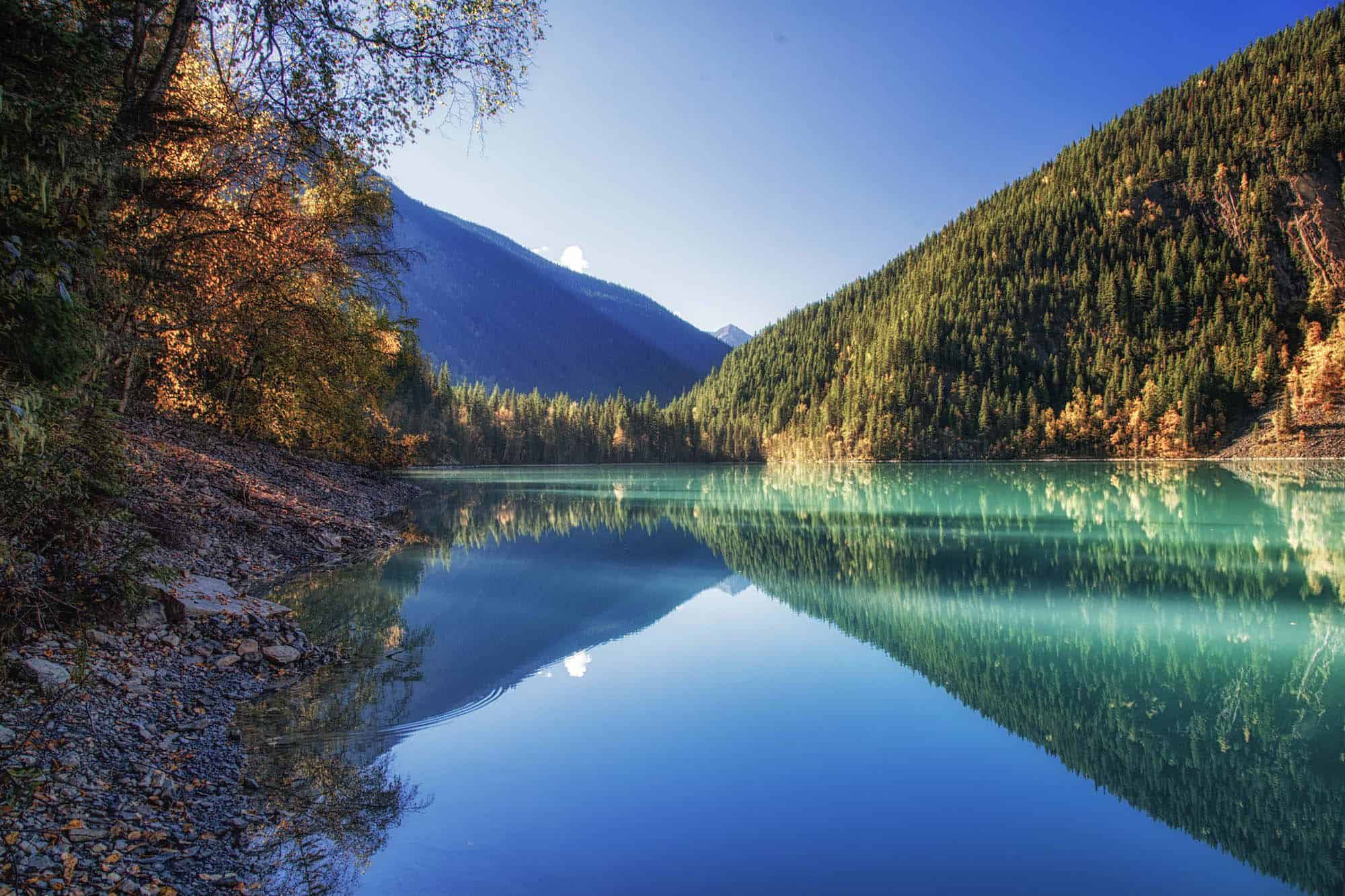 1. Berg Lake Trail 
One of the first multi-day hikes I completed here in the Rockies was the Berg Lake Trail. It finishes at an icy blue glacial lake at the foot of the highest mountain in the Canadian Rockies – Mount Robson.
Just under 4000 meters, the summit slopes are home to many glaciers, the most prominent being the Berg Glacier. When camping at the nearby Marmot campsite, at night, all you can hear is the sound of your own breath against your sleeping bag and the vibration of your heart beating until suddenly a loud ear-shattering crack, then a deep thunder like rumble, a splash and then several echoes later again complete silence, the unmistakable sound of a glacier carving into a lake. This is the experience camping on the Berg lake trail summed up in one sentence.
Certainly enough to make you sit up alert in your tent. I spent 3 days on the Berg Lake Trail listening to this each night. You can read more about it in my hiking guide to the Berg lake trail, completed with hints and tips about tackling one of the best multiday hikes in the Canadian Rockies.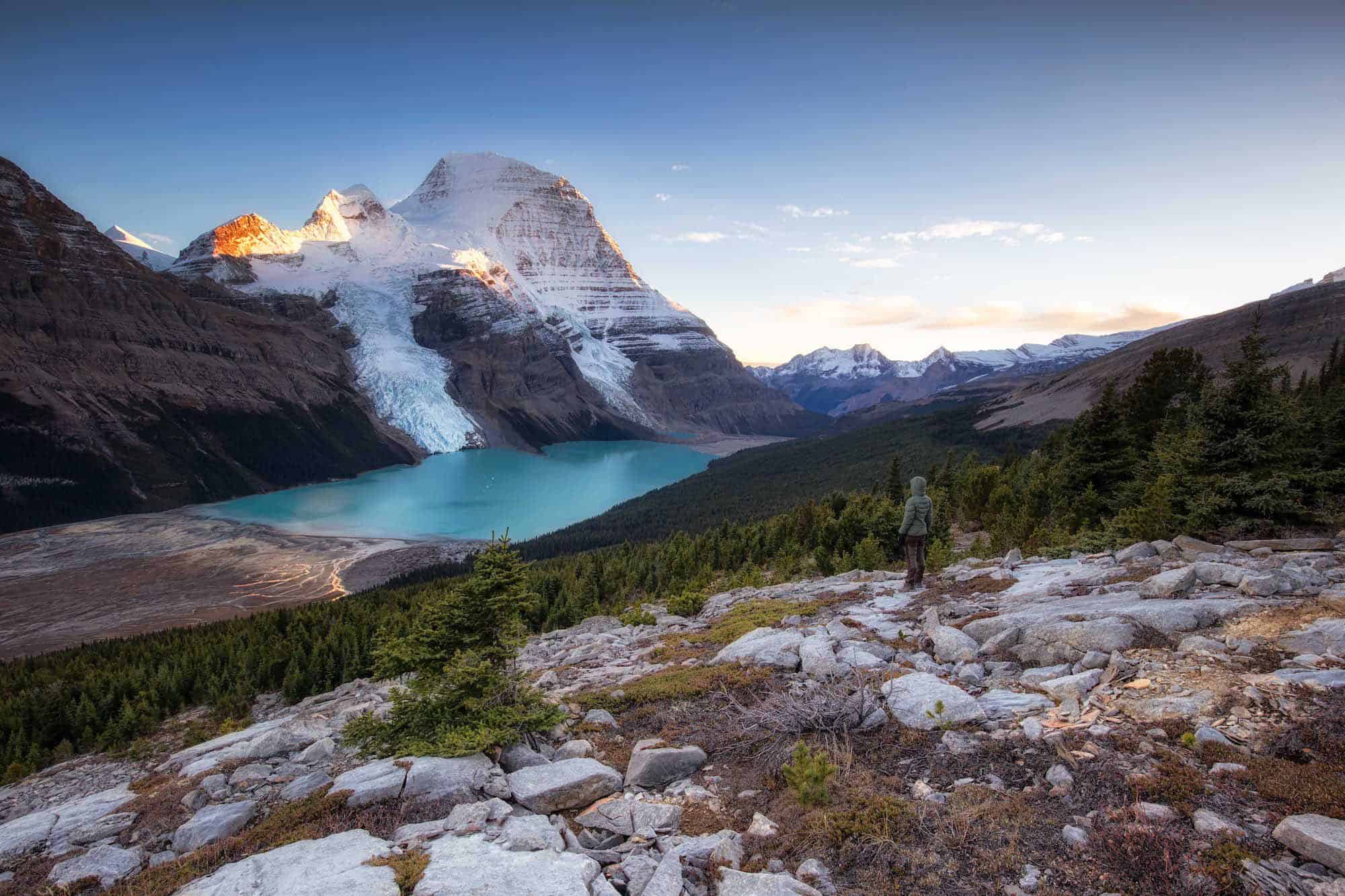 2. Larch Tree Valley 
I've heard that 95% of people who visit the iconic Moraine lake make it only as far as the famous rock pile at the southern tip of the lake, without realizing how much they are missing out on! The car park of the Moraine lake is where a myriad of hiking trails veer off into the backcountry.
One of the hikes is the Larch Tree Valley. During early fall, usually around mid September, when the larches' needles turn from green to yellow, many hikes become absolutely breathtaking.
Larch trees are the only conifers that loose its needles for the winter. The Larch Tree Valley Hike, as the name suggest is full of them and will guarantee a few hours of pure amazement.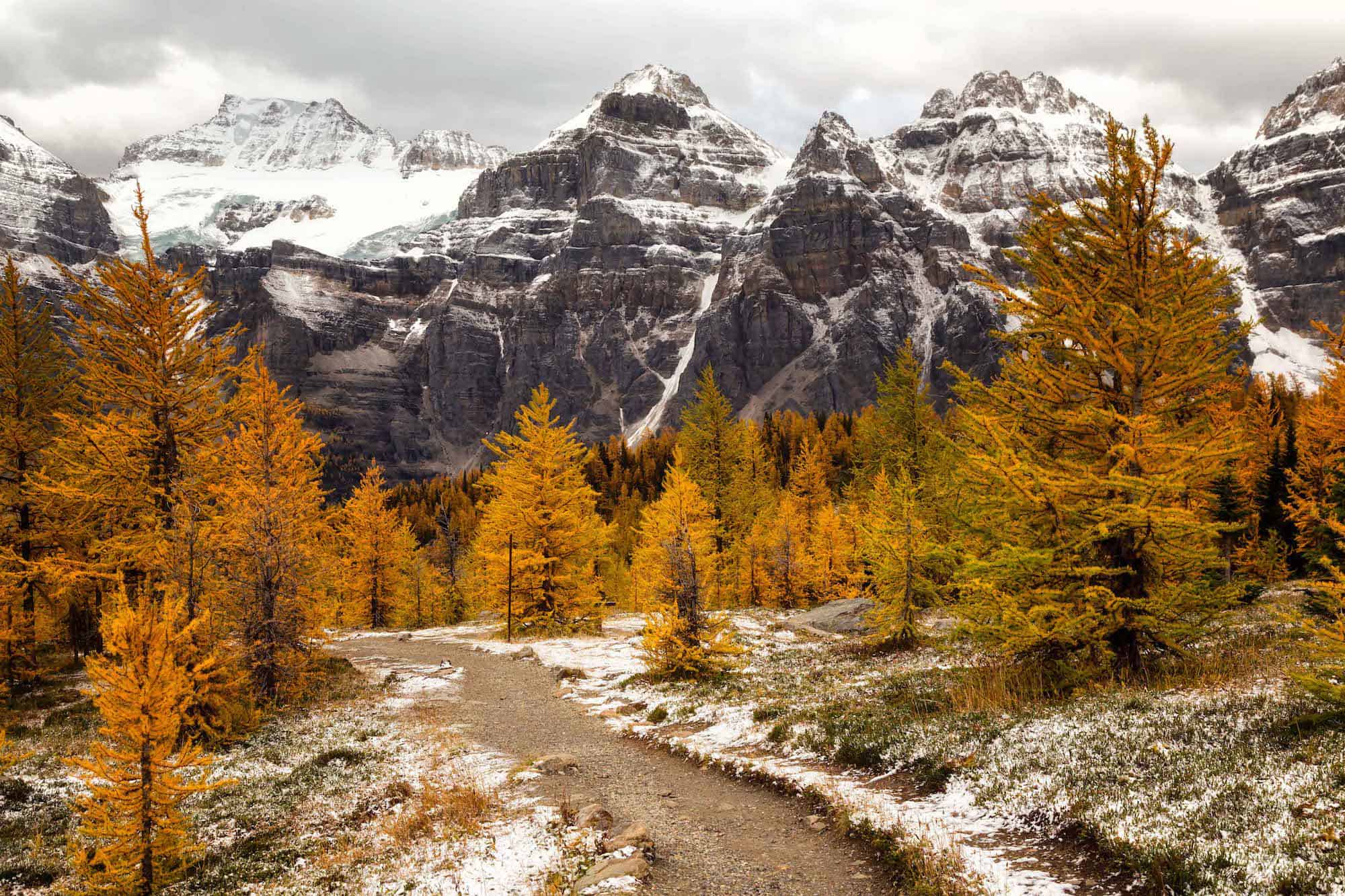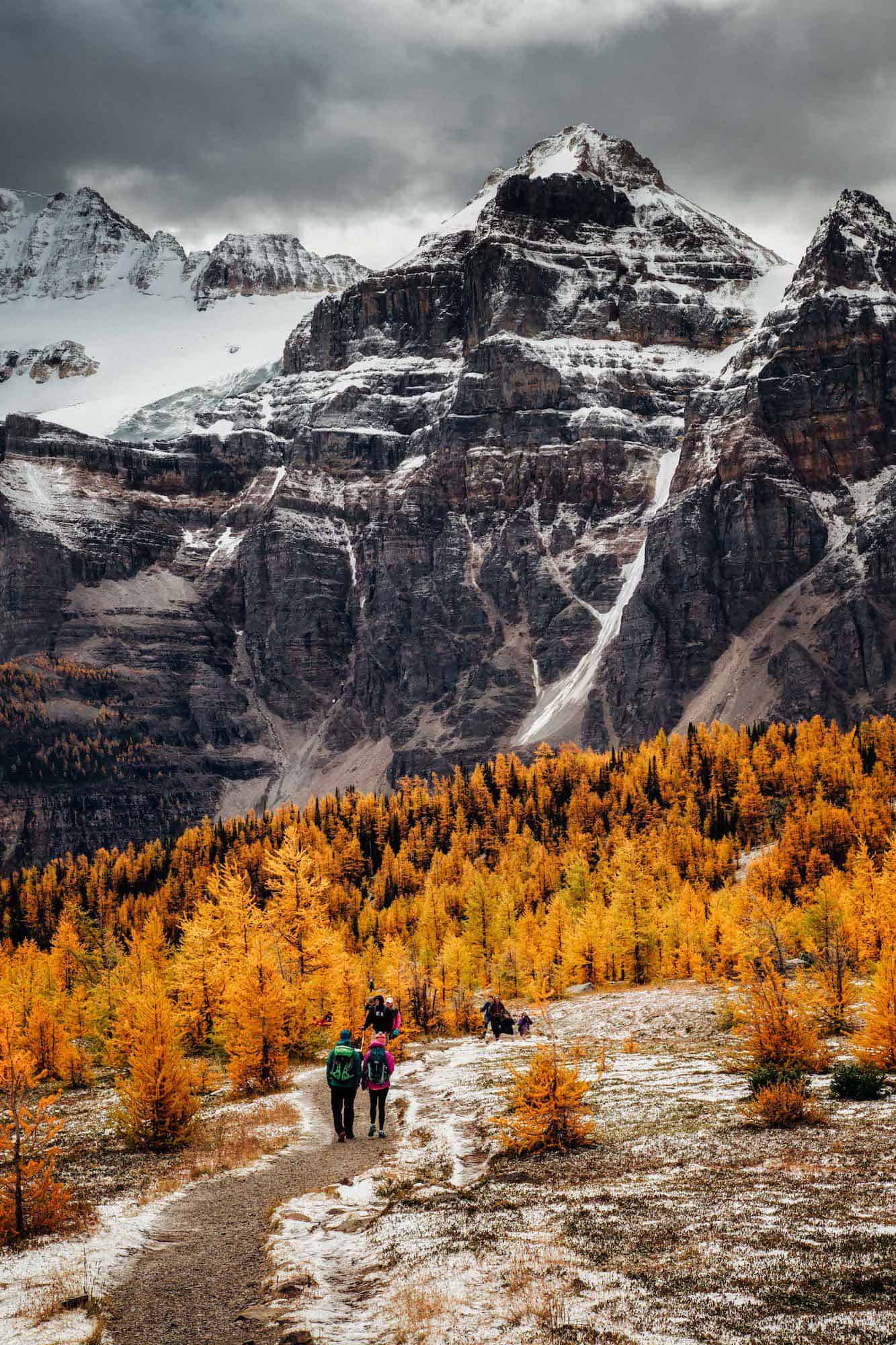 3. Lakes Agnes/Beehive/Mount Saint Piran 
There's several great hikes around Lake Louise but these 3 are some of my favorites!
A 3 in 1 mega deal of the Canadian Rockies! That is if you are an early bird! You can start with hiking to Lake Agnes, then continue to Little Beehive and if you still have energy in you, you can even tick off the nearby summit of Mount St Piran from where you can stare at the mind-blogging turquoise color of Lake Louise, and the peaks that tower over it. On the way back down you can stop again at Lake Agnes for afternoon tea and biscuits at the famous teahouse!
All together it shouldn't take you longer than 5-6 hours return. Make sure to leave early. Because of the relatively easy access and minimal views to effort ratio both Lake Agnes and Little Beehive can attract quite the crowd. However only a small fraction of the hikers continues up mount St Piran, so if you are after solitude make sure to complete all 3!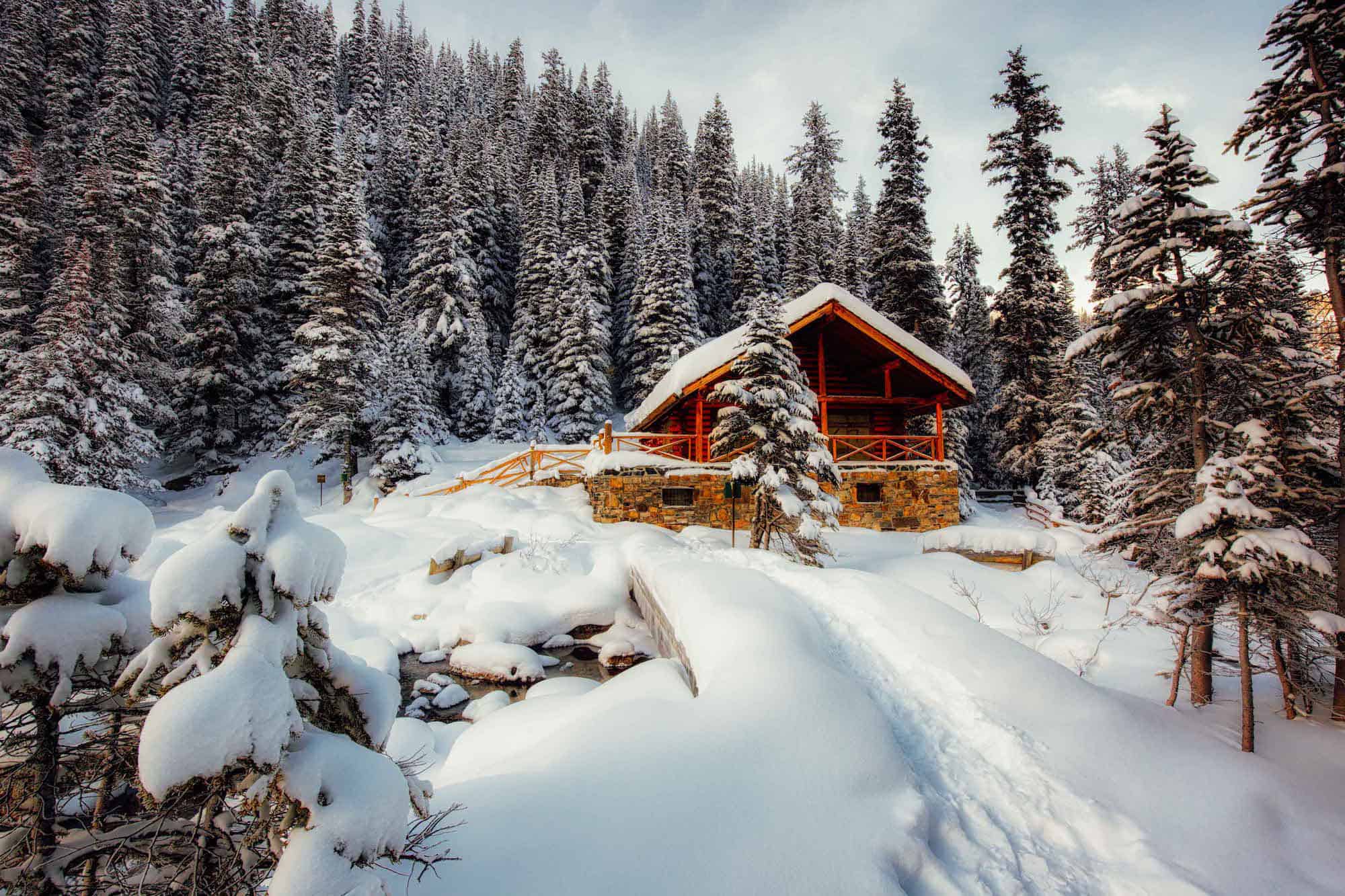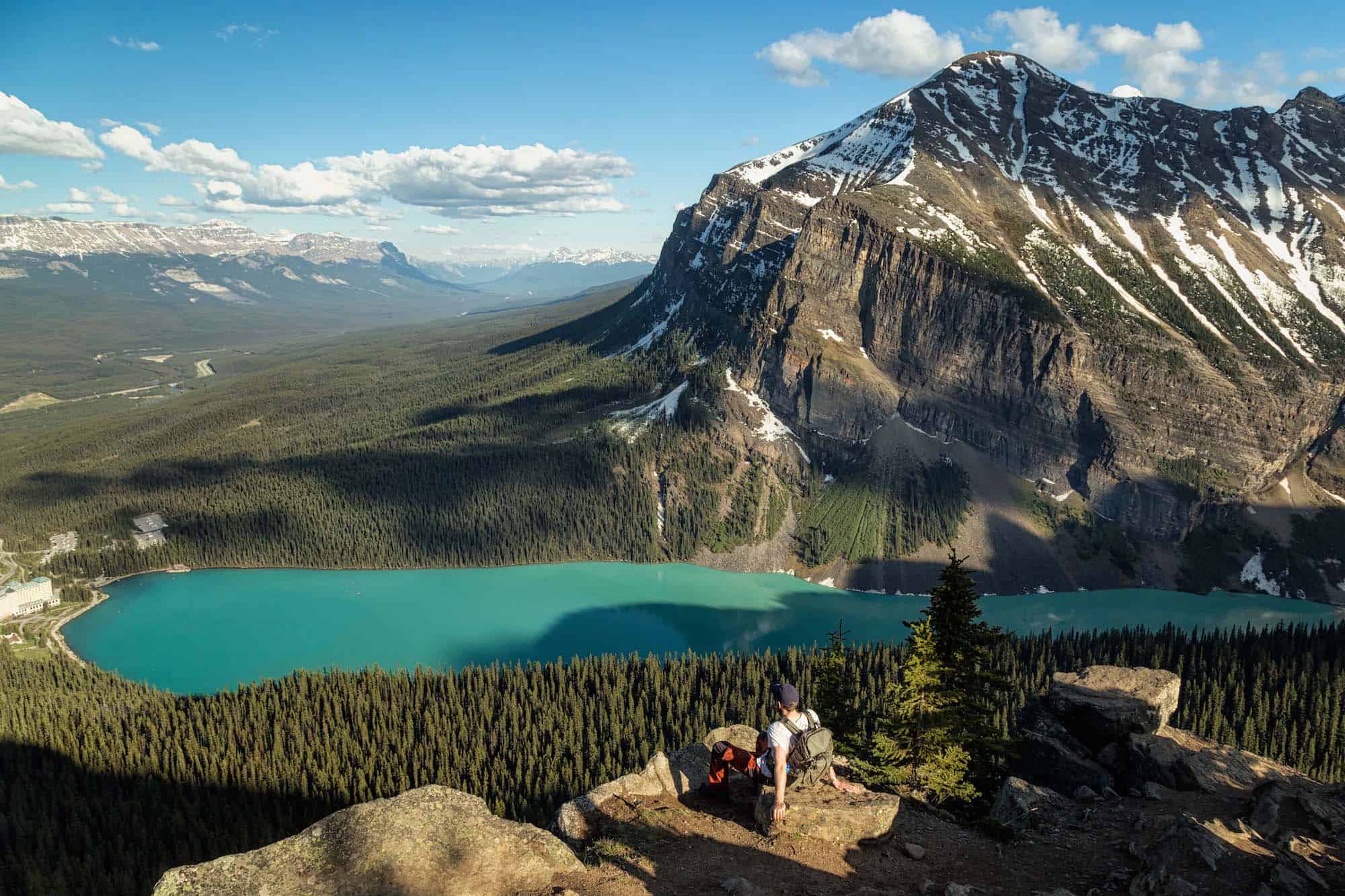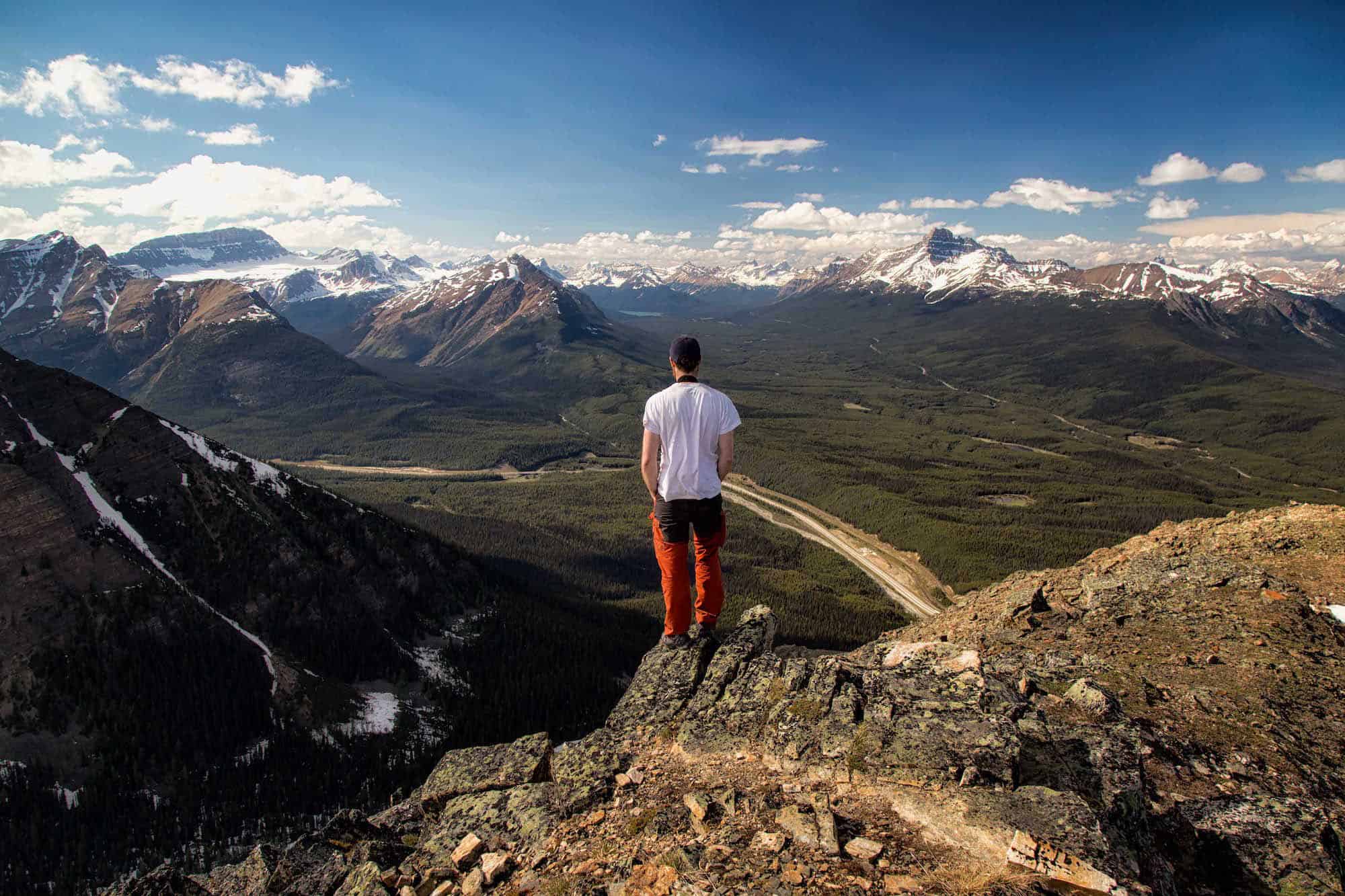 4. Mount Assiniboine Provincial Park 
Mount Assiniboine is without a shadow of a doubt my favorite multi-day hike in the Canadian Rockies and one I will be returning to very soon! There are three paths, all similar in length (around 30 km) to get to Lake Magog and the domineering Mount Assiniboine, the main attractions of the park.
The most popular route is from Sunshine Village over the Citadel Pass, the second one is from Mt Shark Trailhead via the Wonder Pass and the third one via the Assiniboine Pass. If you plan a visit to Mt Assiniboine, make sure to spend at least 4 days in the park to fully enjoy the stunning views it offers.
I've created a hiking and photography guide to Mount Assiniboine Provincial Park including information about the area and how to book a helicopter to fly you in if you can't make the walk.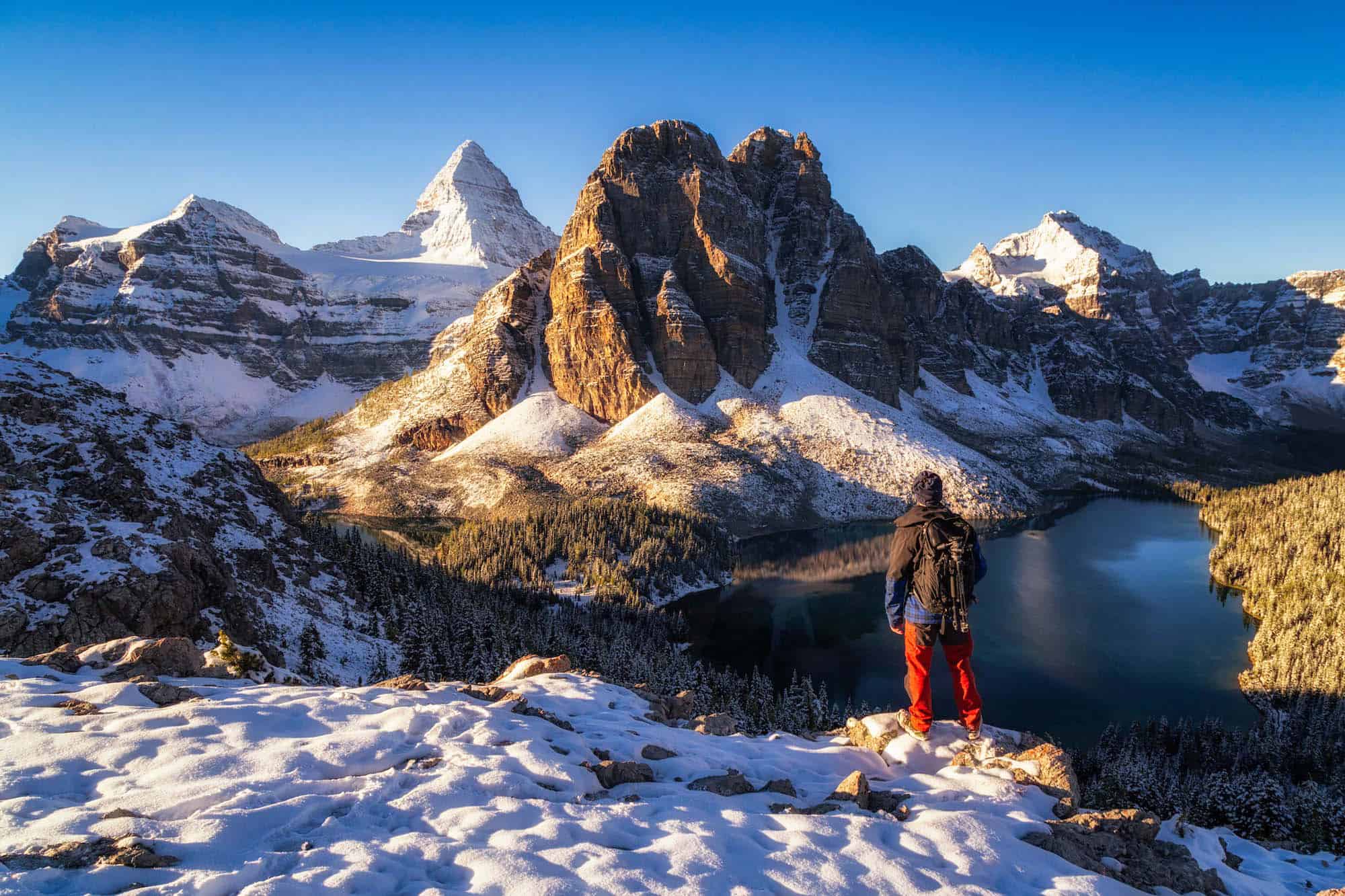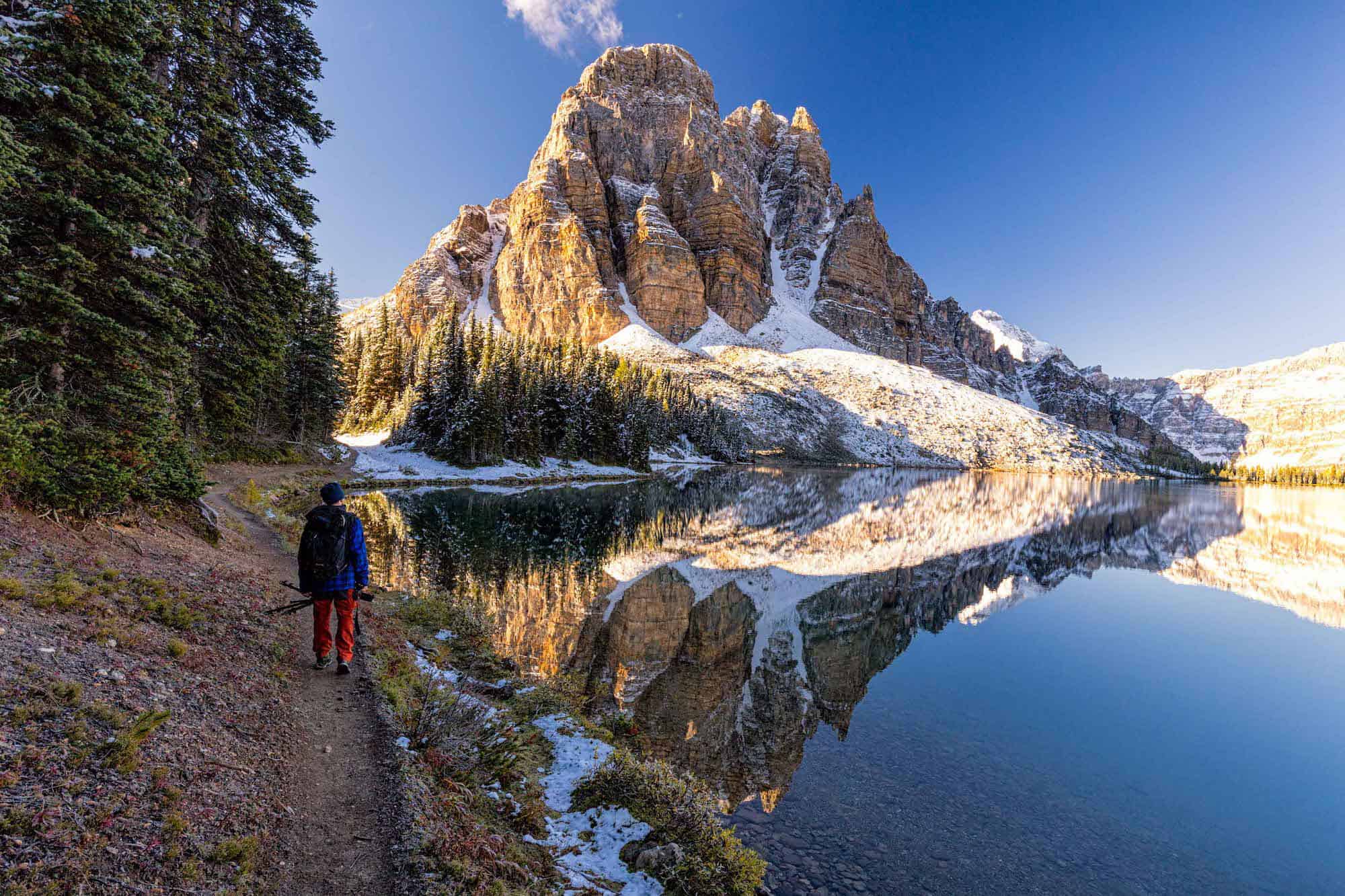 5. Tonquin Valley 
The first time I did the Tonquin Valley trail was during some pretty bad wildfires happening on the other side of the Ramparts – a mountain range in the Tonquin Valley which divides the provinces of British Columbia and Alberta. The wind, which was blowing to the east, took the smoke into the nearby valleys, where the 44km long trail ambles through. A thick haze blanketed the mountains. When the sun was high in the sky, the light pierced through clouds striking the haze and creating these incredible sun rays.
I didn't come out with the photos that I'd hoped for but I came out with something even better. A story and some unique pictures. As soon as I emerged from the backcountry I headed straight to the nearest café and booked another 4 nights on the trail in September.
With so many amazing hikes here in Jasper National Park and with my time in the Rockies running out, to do a trail twice, must mean it's a special one! The Tonquin Valley certainly is. Just make sure to plan it correctly.
Tonquin Valley is notorious for mosquitos in July when the trail finally becomes open to hikers. If you want to get the best experience, wait until later in the summer or early autumn. Otherwise prepare for a mosquito battle of biblical scale!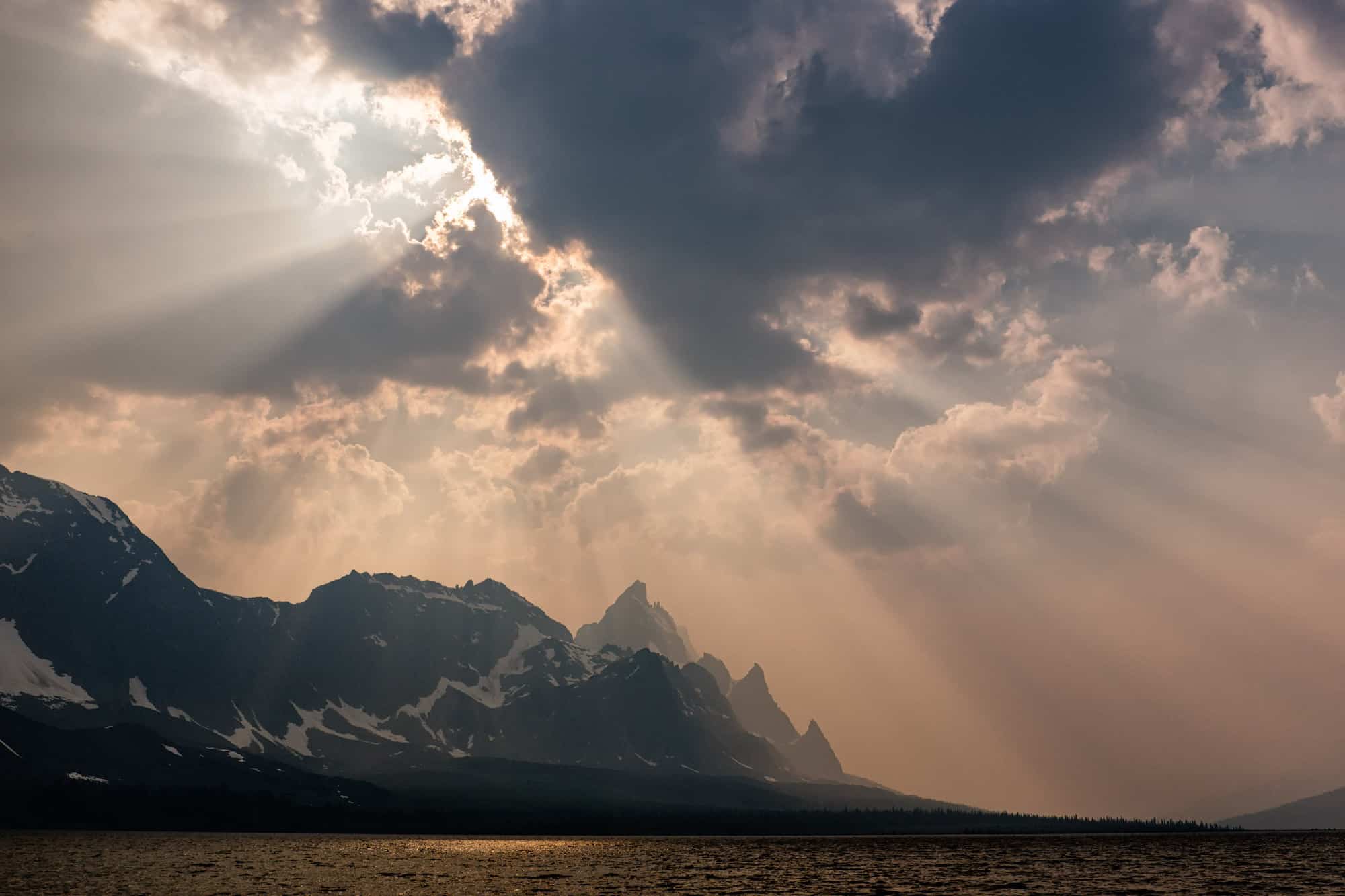 6. Edith Cavell meadows 
The Edith Cavell meadows hike offers an incredible view to effort ratio. Because of the collapse of the Ghost Glacier in 2015 that flooded and destroyed the adjacent parking lot, there is currently restricted access to the area.
The visitor center in Jasper gives out 180 permits a day to visitors at varying time slots. On the positive side, it means the trail isn't overcrowded.
In the height of summer, the adjacent meadows turn into a beautiful symphony of colorful blooming wildflowers. It's also a perfect place for spotting the cute pikas and marmots!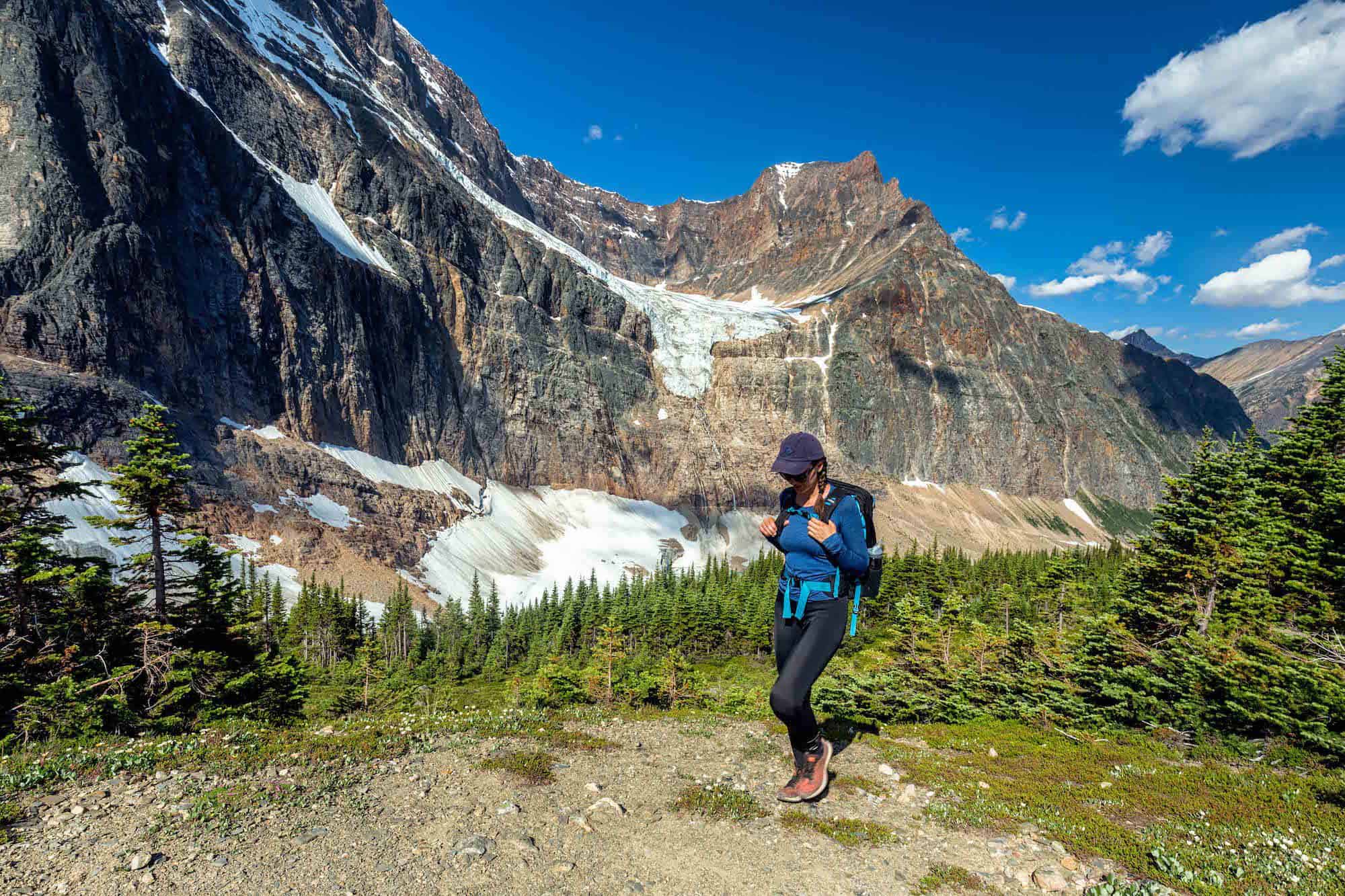 7. Pocaterra Ridge 
Kananaskis country near Canmore, where I spent most of my time when working on my guide to Canada, is an area often omitted by international tourists. The locals however know it very well! It also happens to be a perfect playground for hiking enthusiasts like me!
Pocaterra Ridge is an undulating ridgeline filled with jaw dropping views in every direction! It's an unofficial hike that starts 80km south of Canmore near the Highwood Pass. Considered by many locals to be one of the best hikes in Kananaskis Country. I've done this hike in June, when I saw a 24-hour clear weather window in forecast. Unfortunately, the colloquially known June Monsoon didn't agree with my plans and I had a real eventful, and at times scary, realization how treacherous the mountains can be.
I came away with so many beautiful photos though, that I felt compelled to share them in a photo essay along with the full story of my experience on Pocaterra Ridge.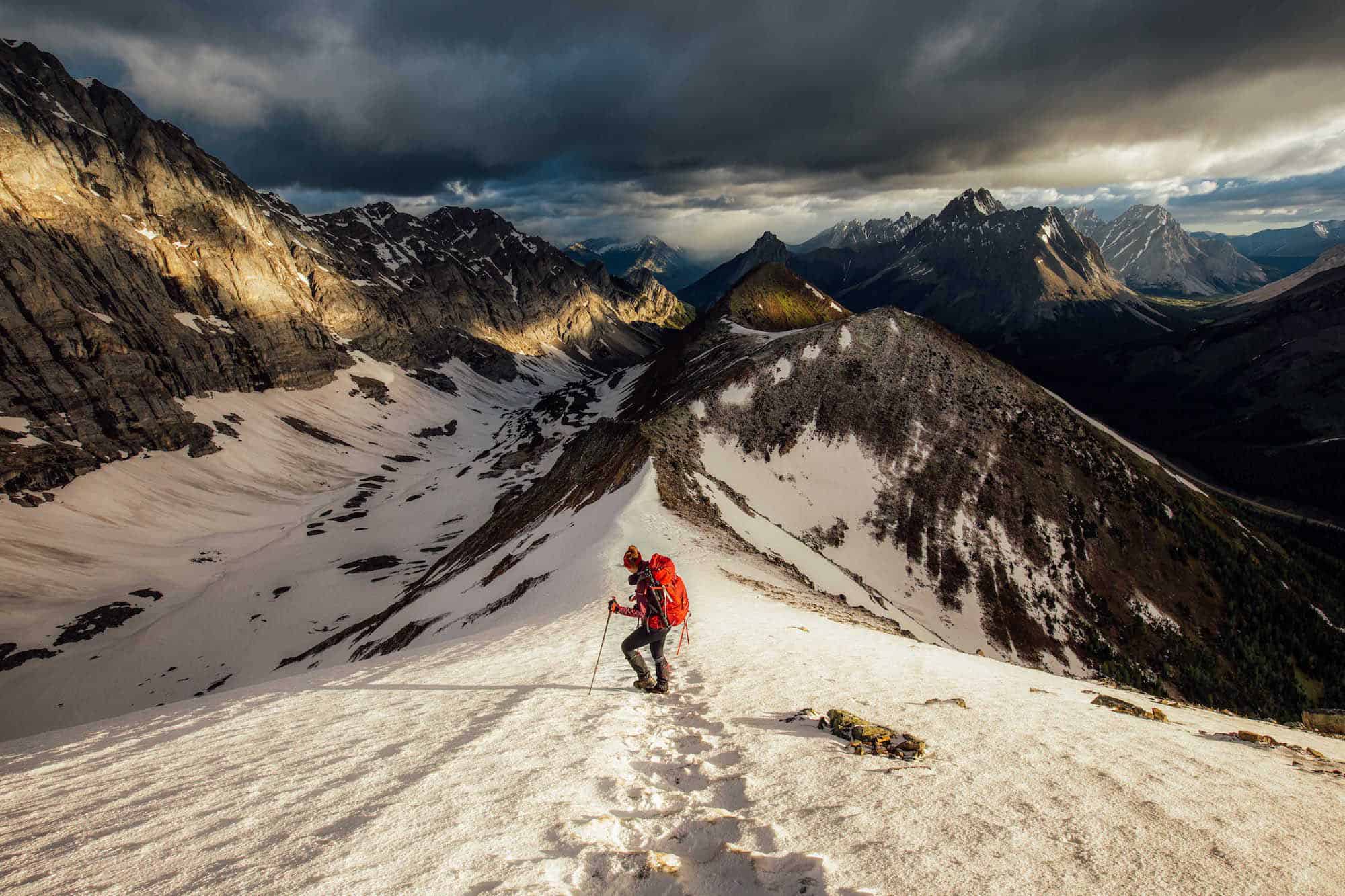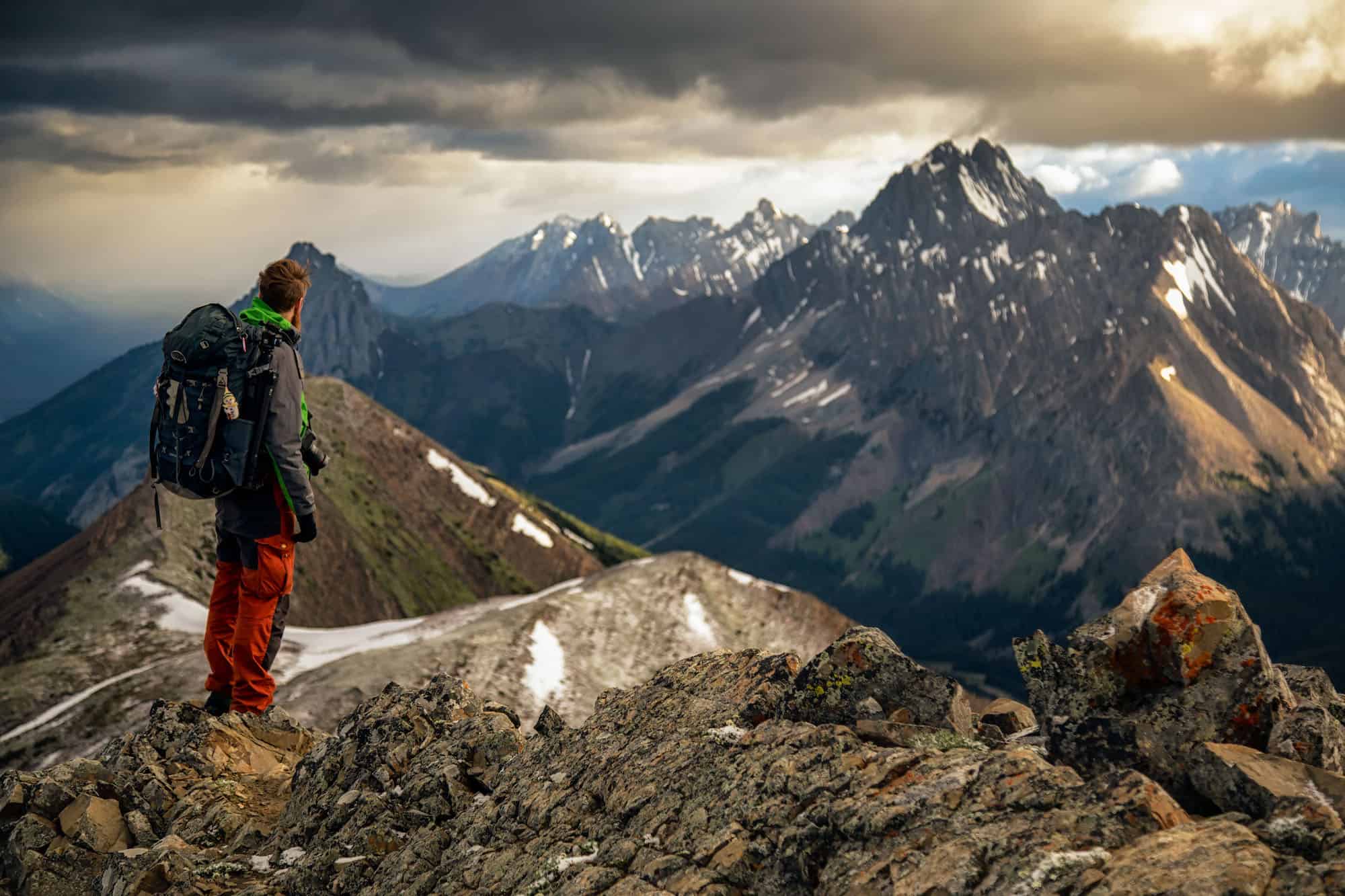 8. Ha ling Peak 
The most popular hike in Canmore and certainly one of the best day trips in this area. The views from Ha Ling peak are spectacular, but the hike can get busy. If you're brave, and maybe a little bit crazy, then consider doing it through the night, arriving at the Ha Ling summit for sunrise. If you do, chances are you'll be all alone on the trail. It's never easy to wake up early, but you'll come away with photographs, and more importantly an experience, that you'll be telling all your friends and family for years to come.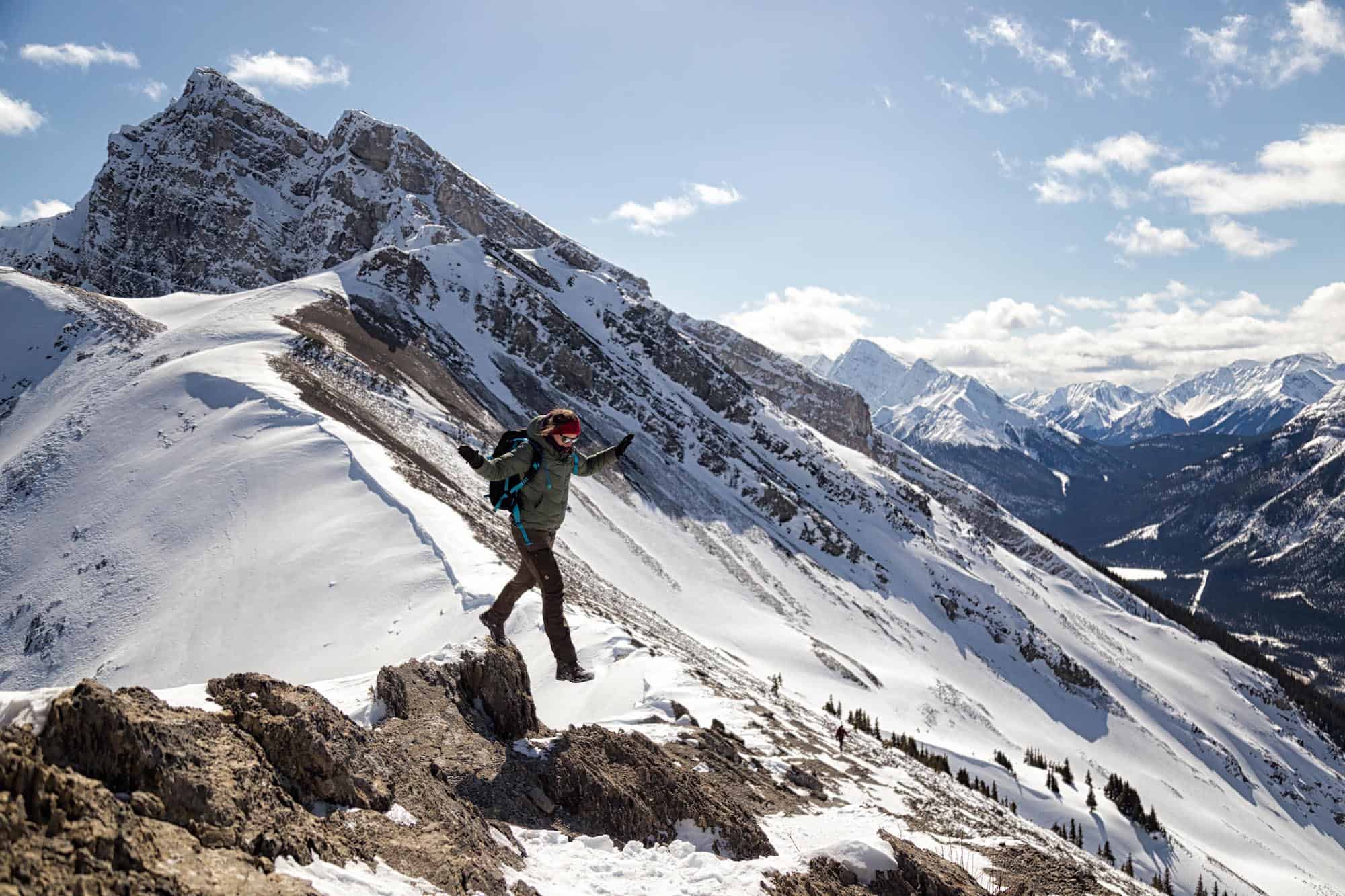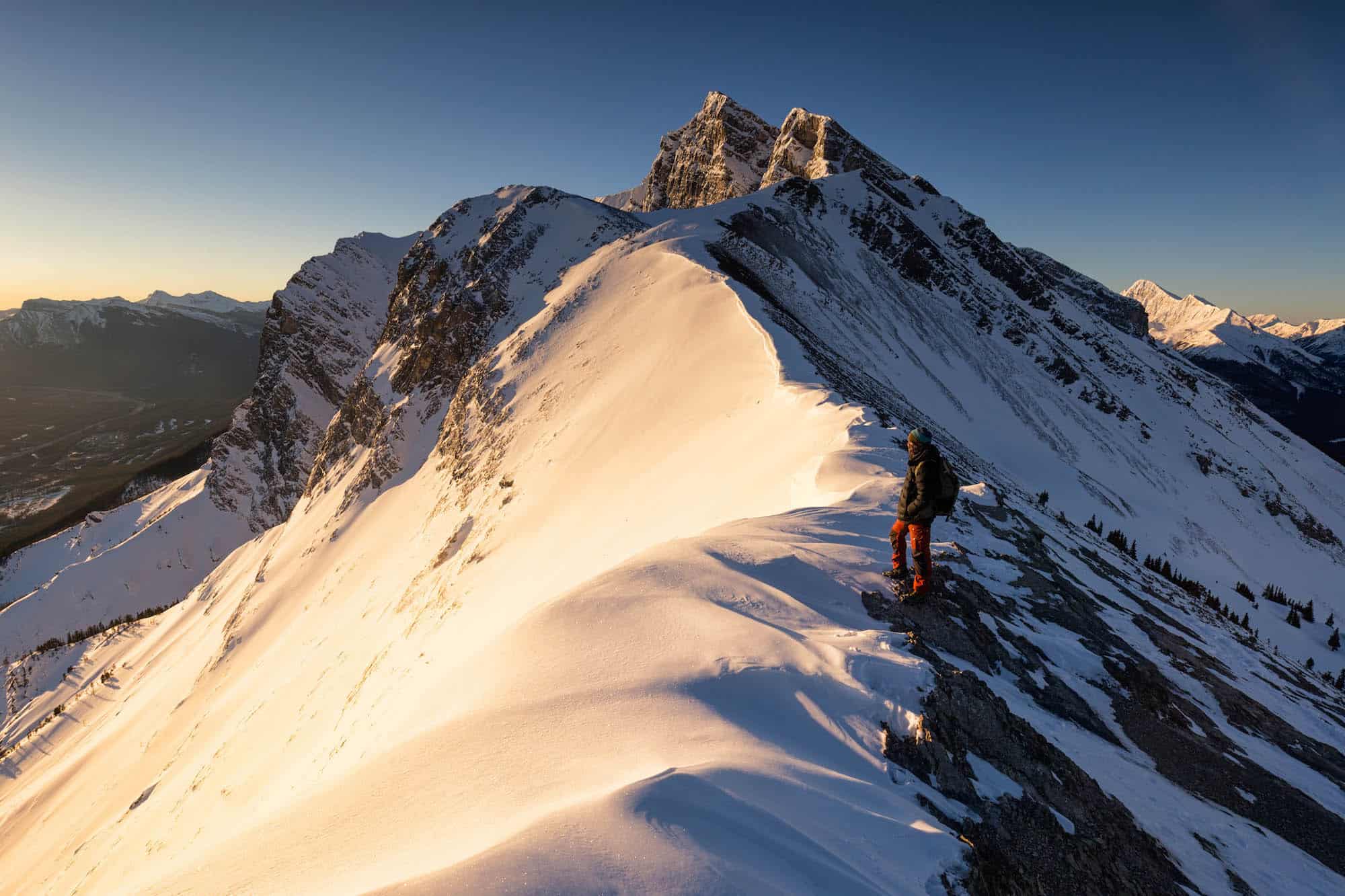 9. Indian Ridge 
A lesser known hike in Jasper National Park, Indian Ridge starts at the top of Jasper SkyTram. Majority of visitors take the Gondola and hike up the the nearby Whistlers summit.
If you are looking for solitude in the mountains you should break away from the crowds and continue toward the Indian Ridge. I can appreciate views much better when there's less people around me. Less noise, less chaos, less garbage, all in all a much more relaxing. It's not an easy hike though.
A little scrambling is involved and the hike should take around 5/6 hours in total.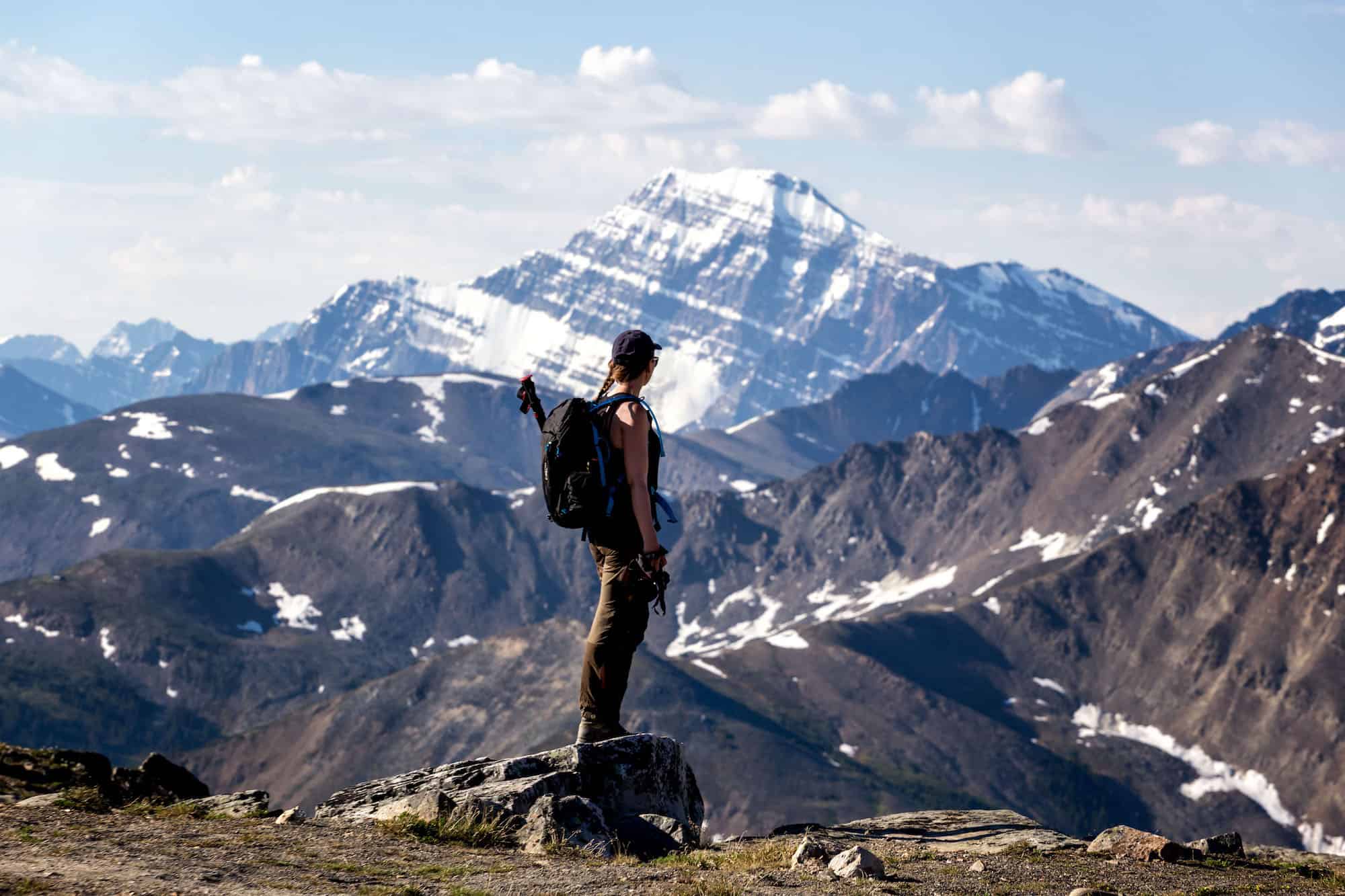 10. Parker Ridge

 
One of the my favorite spots on the Icefields Parkway, the famous stretch of road that connects Jasper with Lake Louise. The short hike takes you away from the road along a very well-maintained trail to a ridgeline, where the Saskatchewan Glacial Tongue can be seen protruding out of the Columbia Icefield.
It's a popular spot to view wildflowers in the summer and should take around 3 hours to complete. The hike is awesome for beginners, who want to experience Canada's rugged landscape. It will give you an opportunity to see a glacier that sadly might not exist in a few decades.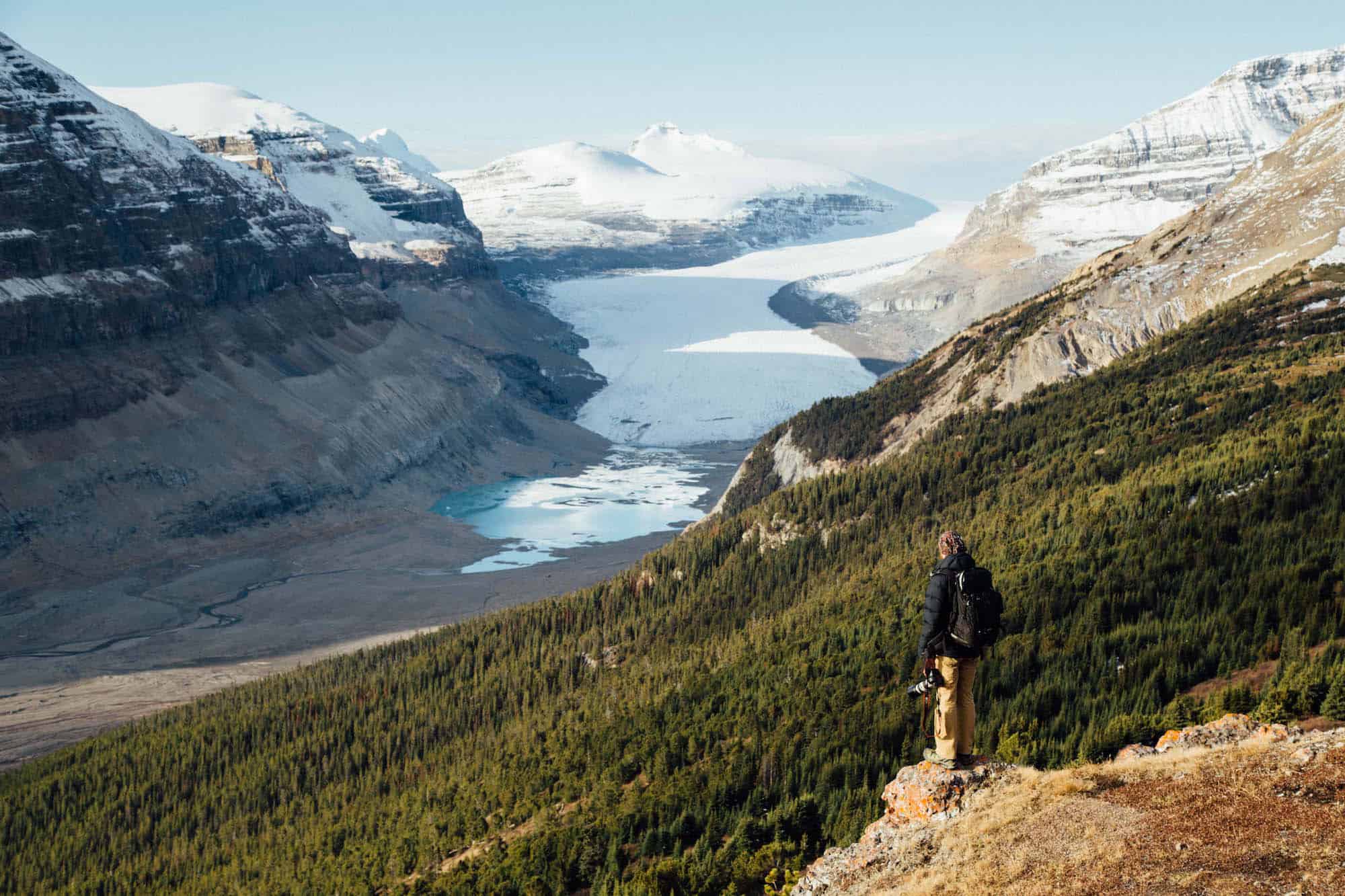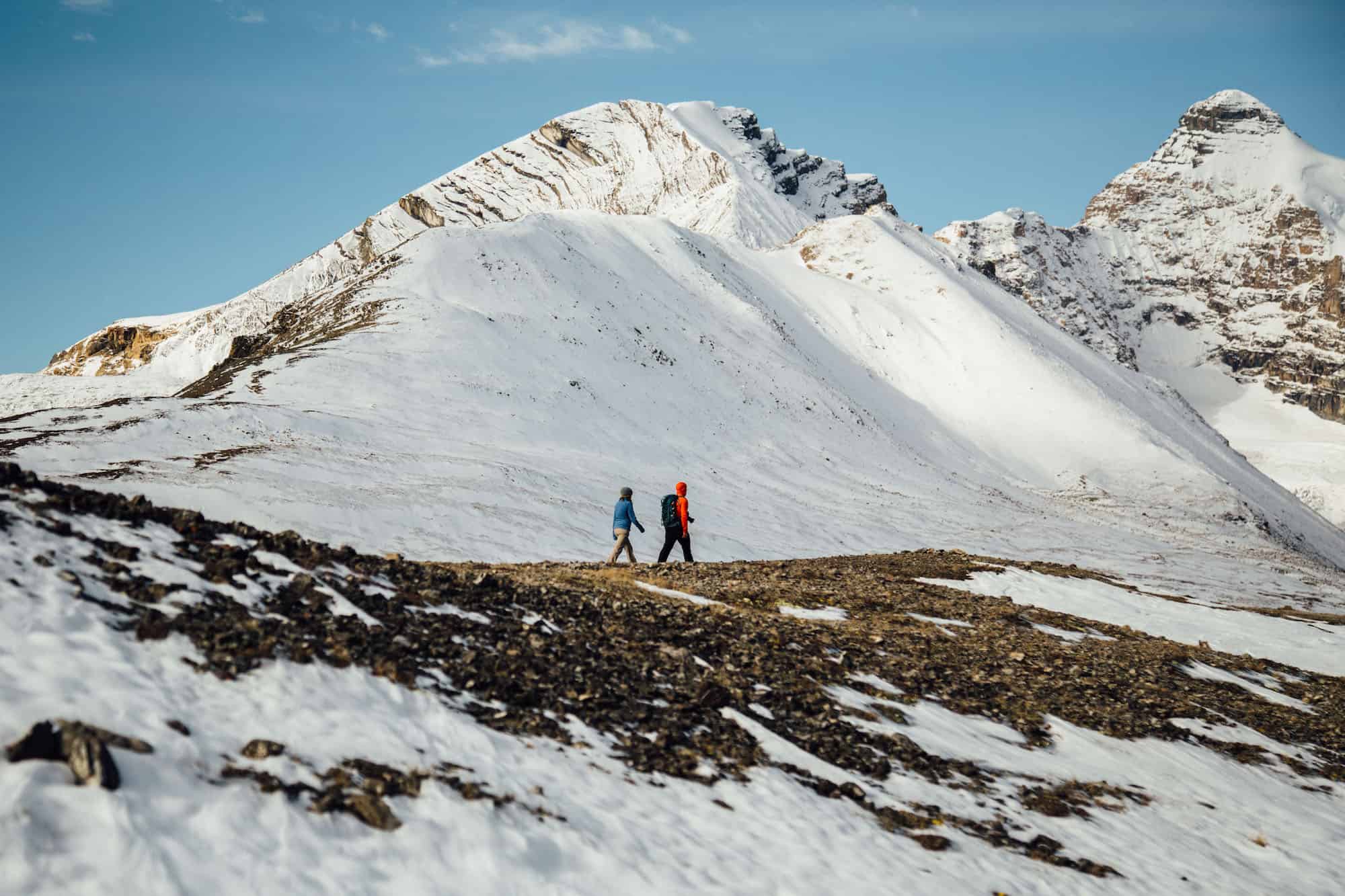 11. Lake O'hara Alpine Circuit 
Lake O'hara alpine region might be the most sought after backcountry experience in the Canadian Rockies! What's the fuss you may wonder? Every square kilometer of this place is filled with the most awe inspiring views.
The added bonus is the shuttle bus that will transport any keen hikers into this alpine paradise. There is a catch though! The bus only runs few times a day, spaces are very limited and prior reservations are mandatory. Only those with perseverance and patience of a saint will succeed in securing a spot. Your efforts however will be rewarded!
Lake O'hara is a place that will always be dear to my heart as that's where I got engaged!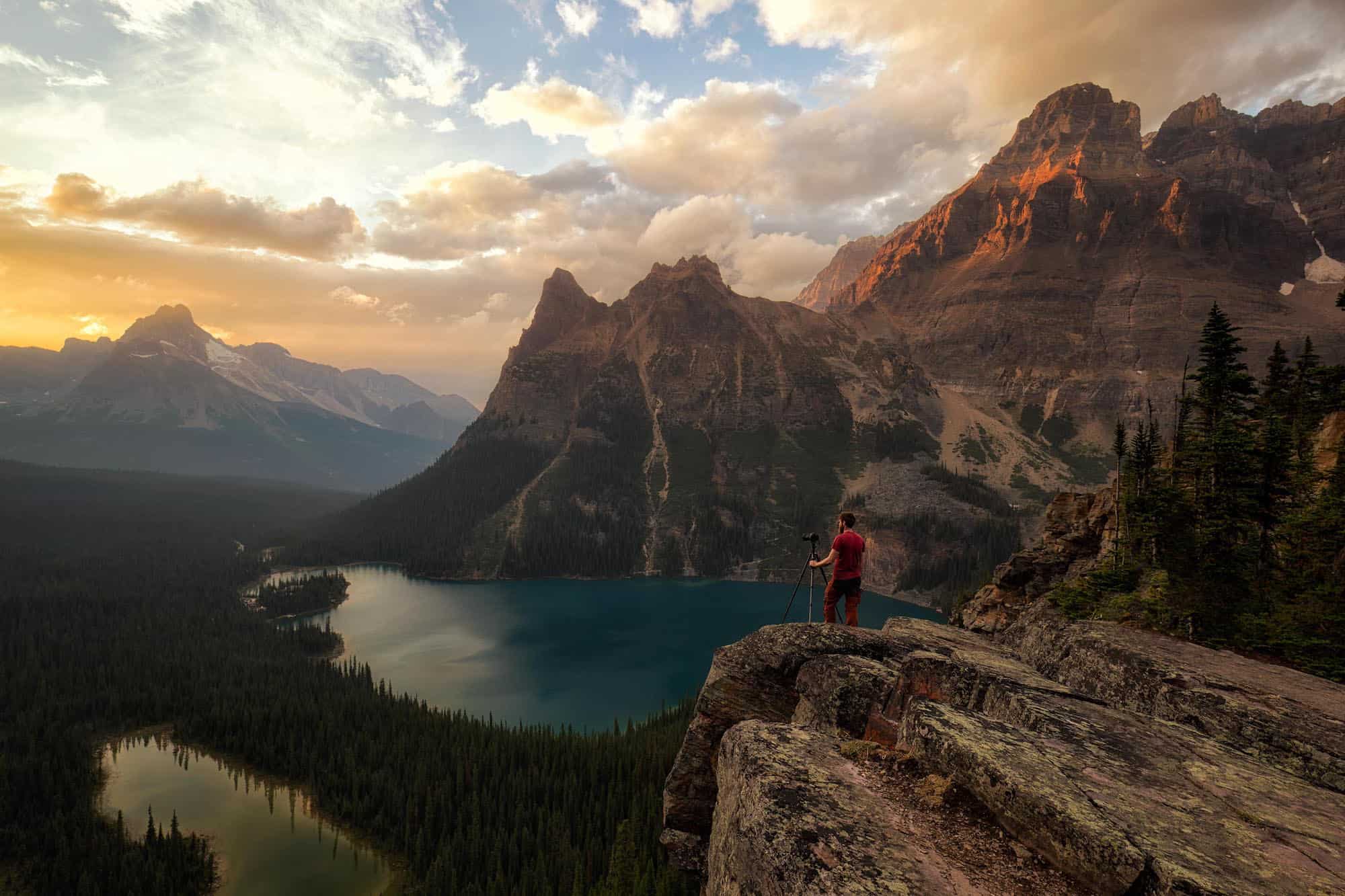 12. Rawson lake/Sarrail Ridge

 
A favorite hike for instagrammers and another trip in the Kananaskis region that you shouldn't miss. The hike starts along the shoreline of Upper Kananaskis lake.
After a mere 20 minutes, it starts gently climbing up to Rawson lake. A site to behold in its own terms. Those who like me, just can't get enough of beautiful views should keep going. After circling around to the other end of the lake you will start a relentless ascent to the ridgeline. It may seem close, but mountains always like to play visual tricks on you. It's definitely harder and longer than it seems! After another hour you will be compensated for your efforts with some of the best views in the Rockies! 
I hope this has filled your mind with possibilities, if you're looking for more advice on hiking check out my Canada Travel Guide. Hiking is something very close to my heart and I've noticed a huge shift towards the outdoors in recent years. Whether it's modern society being influenced by all the Instagrammers posting photos of the mountains or whether it's a profound realization that we are part of something bigger, some kind of unified underlying global rising consciousness that we are one with nature. One thing is certain, the more people start to appreciate our beautiful Mother Earth the better, for her, and for us! So if you are planning a road-trip around the Canadian Rockies, make sure to squeeze a hike or two!
Have you been hiking in Canada and the Rockies? What's your favorite? Share in the comments