Everyone knows New Zealand for its epic snowcapped mountains, lakes so blue they seem unreal, and of course, the Lord of the Rings.
But perhaps one of my favorite areas of New Zealand is often the least represented – the forests.
Nerd alert!
New Zealand used to be almost entirely covered in incredible ancient forests until humans arrived and cleared the land for farming and chopped down trees for logging. Damnit.
This is why we can't have anything nice, guys.
Luckily now many of the forests are protected and kiwis are working hard to bring back the native trees again and if you look you might even be lucky enough to find an old growth forest around.
Because New Zealand was so unique as an uninhabited island for so long, 80% of the trees are only found here and nowhere else, even if most of them have been chopped down since. Whenever I find myself in a forest, it really feels like I've stepped back into another time, or maybe even Jurassic Park.
Imagine dense temperate rainforests that smell damp and earthy with eerie birdsong and huge ferns and beech forests that snake their way up the mountains. Down in Fiordland it's so wet that all the trees are covered in moss and are so green that I often have to desaturate my photos because it doesn't look real.
Conclusion? I am a bonafide tree hugger.
One place I had been dreaming of visiting for years here and hadn't made it to yet was up to the Kauri Coast in Northland, the region that is the very top of New Zealand. The west coast of the top of the North Island is covered in giant ancient forests, rugged coastline, crazy sand dunes and a whole lot of history and culture.
It's also home to the stunning luxury camping spot of the Highfield River Retreat. I am a big fan of glamping, and couldn't wait to check out this gem of a spot.
Being mid-winter, I definitely had Northland to myself, but with much more mild weather than Wanaka, it was still really pleasant and the camp site is totally comfortable even in the colder months with a woodburner in the tent (dare I call it a tent?) and heater in the cabin.
A few years ago you might remember I went glamping with my friend Laura at Hurunui Jacks on the West Coast, and being tucked away in the rainforest, this felt really similar. There is just something so profoundly cozy and comforting about being tucked away under some blankets with a hot water bottle next to the fire as soft rain drips from the trees onto the thick canvas tent. In a onesie.
It's my kind of place to hideaway for a few days with just a book for company. Boyfriends be damned.
Smack bang in the middle of nowhere, tucked away on an old farm net to a bubbling river and amongst beautiful big old totara trees, if you're like me and you like to properly get away from it all, Highfield is the place for you.
With no reception and solid directions I made my way to the farm and through the gates along dirt roads before I arrived at the site.
Like I said, you'll have the place to yourself. Until at night when you hear high pitched bird calls as your half asleep and then realize it's from the kiwi in the area! Let me just say how incredibly special that is to hear in the wilds in New Zealand. And also annoying. But more special.
It's not often you get to say that you woke up to wild kiwi calls. Unless you live in the Hutt.
There is power on the site so you have lights but also there are plenty of candles about to add a bit of atmosphere after dark.
I spent most of my time hanging out in the little cabin cooking, reading, writing and relaxing, taking outdoor baths, repeat. For someone who gets to travel a lot, I really enjoy when I can just BE in a place and throughly enjoy it for what it is, instead of feeling like I need to do stuff.
I'm definitely the kind of person who needs to relax and recharge alone. Preferably in a luxury tent in the forest surrounded by birds.
In fact, during my little vacation at Highfield, I only left once to go explore the famous Waipoua Forest and to finally meet Tāne Mahuta, New Zealand's biggest kauri tree. Over 2000 years old, his name in Māori means "Lord of the Forest," and that is what he sure is today.
He's huge. Fern Gully much?
As you drive into the Waipoua Forest you're immediately met with thick ferns and beautiful huge kauri trees that soar towards the sky. It doesn't seem real. In fact, it shouldn't – these trees are some of the most ancient in the world.
According to Māori stories and legends, Tāne Mahuta is the son of Ranginui (sky father) and Papatuanuku (earth mother). Tāne was the child that split his parent's embrace apart, until his father was high in the sky. He clothed his mother with vegetation in the forest that is now what is left today. All the creatures of the forest are regarded as Tāne's children.
Finally meeting Tāne Mahuta in Northland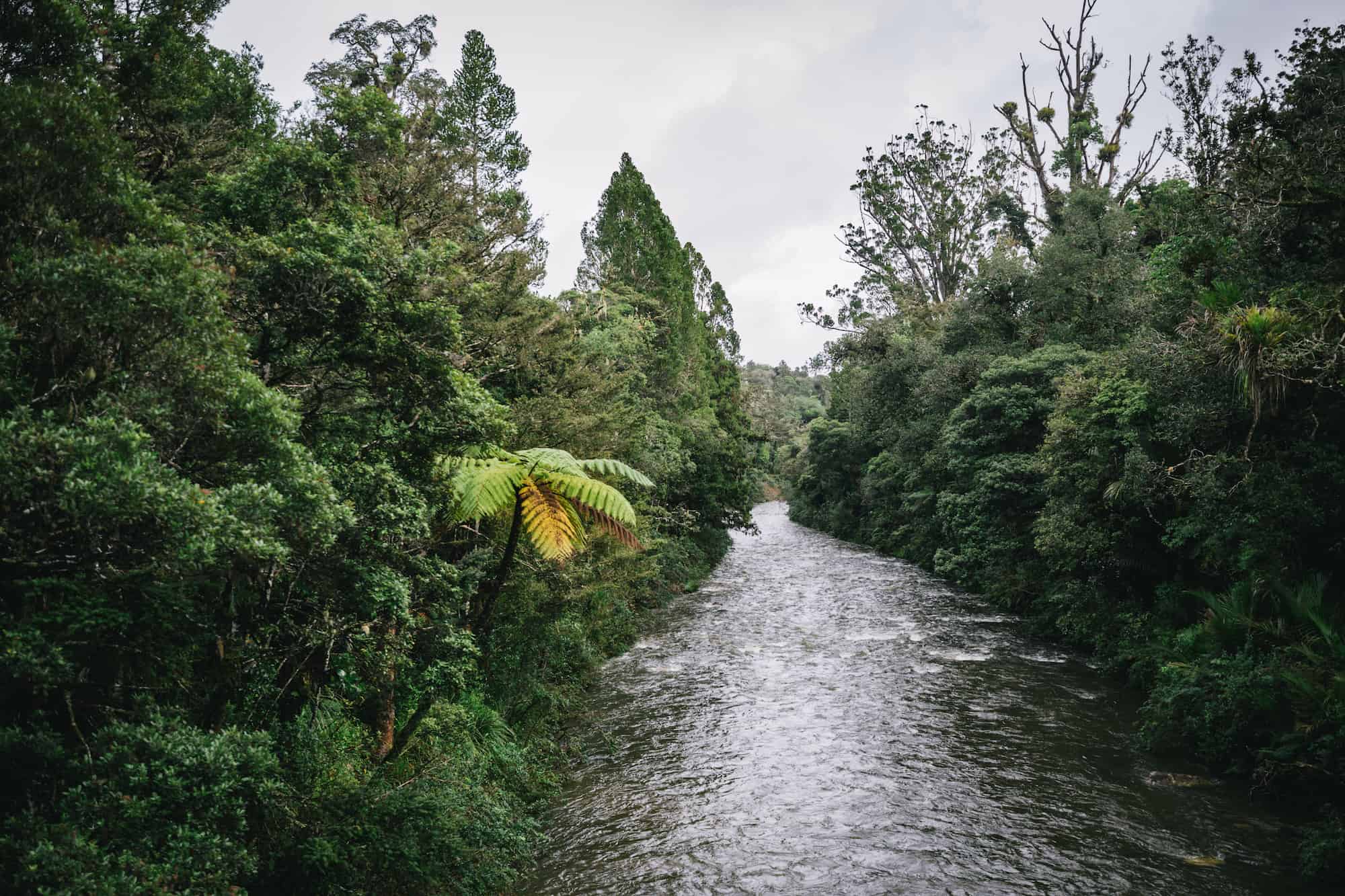 In conclusion, I love big trees, being alone and fancy camping.
Done.
What about you? Do you enjoy being in the forests like this? Ever been glamping before? Spill!
Many thanks to Canopy Camping for hosting me at Highfield. Like always, I'm keeping it real, all opinions are my own, like you could expect less from me.