It's been almost 10 years since I visited South America, Peru, in fact, during my spring back of my last year of university, and coincidentally, the trip where I first started this blog.
Holy crap!
I'll leave that to process later. But for now, it's time to revisit an incredible part of the world again and take a break from the scorching hot New Zealand summer we've been having and travel Buenos Aires.
Luckily my favorite airline Air New Zealand now flies a direct route between Auckland and Buenos Aires, which you might have already known if you watch my Stories on Instagram. The gateway to South America and the start of an incredible adventure onwards that I'll be sharing on her soon, it was the perfect opportunity to finally visit Buenos Aires, a place that's been on my list for years.
Almost immediately after I arrived I began to notice the exciting vibe, history and culture that makes Buenos Aires tick. Feeling like a cross between old world Europe, especially Spain, and the passionate dazzle of South America into a mixed bag of wonders, it didn't take long for me to fall for this city.
While I found that Buenos Aires is a worthy long-term destination in its own right (I wouldn't hesitate to holiday here for a month on its own) I also found that many people stop over here for a few days before continuing their journey exploring Argentina or other places in South America.
Since I wanted to travel Buenos Aires as well on route to somewhere else (something I often do like in Hong Kong) I decided to put together my best tips and photos for 48 hours in this magnificent city – be warned, a lot of it revolves around food! Enjoy!
Go on a food tour – don't think twice
There's no two ways about it, Buenos Aires is a big city – and if you're just stopping through, you'll want to make the most of it. And one of the best ways to do that is go on a tour with a local. While the city is known for great free city tours and bike tours, let's be honest here, I had one thing on my mind. I wanted to eat.
I love urban food tours when I'm traveling (like in Rome, Istanbul and Madrid) and with only a short amount of time in Buenos Aires, I wanted to get to know its neighborhoods through food so I opted to join in on an afternoon tour of San Telmo with Parilla Tour. Come hungry.
San Telmo is a beautiful part of Buenos Aires, with mismatched cobblestones and crumbling old grand buildings, it definitely feels like you've stepped back into Europe here. From learning about the history of empanadas, to drinking beer in the local old-man pubs to exploring the famous Mercado de San Telmo (and eating, eating, eating) it was the perfect intro to a new place!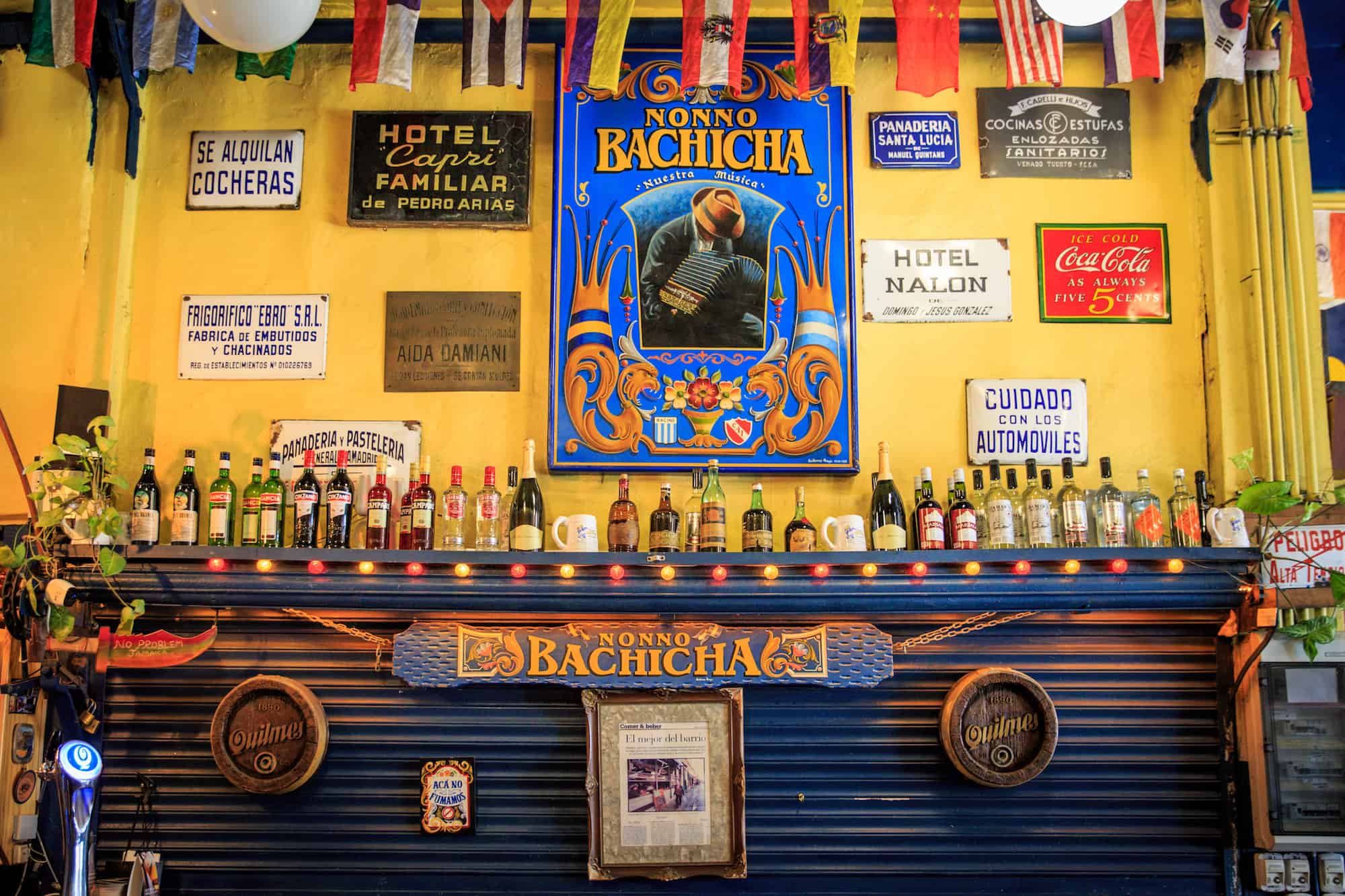 Freak yourself out at La Recoleta Cemetery
I find cemeteries, especially old-world cemeteries, to be beautiful but really creepy, two adjectives that are often tricky to reconcile but somehow I manage to. Like I visit them, love them, but also feel a bit weird and freaked out by the end. Know what I mean?
La Recoleta Cemetery in Buenos Aires is no exception. It can only be described as haunting, with little streets of tombs and laid out in a way that really is a city of the dead, it's one of BA's most popular tourist attractions.
Perhaps its central location and being the resting place of iconic legend Eva Perón, La Recoleta is a pretty powerful place. In fact, I went twice.
Trying to decipher the accent
I lived in Spain for years, have a degree in Spanish language and literature, wrote a master level dissertation in Spanish and can even spent a summer reading old Spanish language texts at the National Library in Madrid. Not to toot my own horn, but I definitely consider myself fluent in Spanish.
Then I went to Argentina.
While I can happily report that I haven't forgotten any Spanish, I can also say that the accent was so tricky I had to stare at people's mouths, repeat what they said in my head and then try to decipher it before replying. Between pronouncing the "ll" as a "sh," totally different slang and words for things, the Italian twang of an accent, and then using vos, a whole other word for "you" that's equivalent to saying "thee" in English, communicating in Buenos Aires often stumped me.
Spend your evening at a cooking class
Since I was traveling in Buenos Aires alone, I opted to join in on an evening cooking class with Tierra Negra and learn how to make some of my favorite Buenos Aires street food. Yes, all the food!
The food is often my favorite part of a destination, and I knew I'd love to take some of these lessons home with me.
I spent a lovely evening with new friends at the home of Manuel and Verónica learning how to drink yerba mate, make chimichurri, alfajores and of course, about all the great wines, a cooking class is perfect for solo travelers like me to really get a local feel for a place.
Walk around the amazing neighborhoods
Any seasoned traveler will tell you, the best way to explore a new place is just walk, wander and even get lost, and Buenos Aires is no exception.
Short on time, I would often Uber (usually less than $5) to a specific place that I wanted to see in a new neighborhood, and then just wander for a few hours looking around and popping in the shops, cafes and plazas. It was a great way to get a little taste for Buenos Aires
From historical San Telmo to colorful La Boca to trendy Palermo Soho to lush Recoleta to the bars of Palermo Hollywood, there's a neighborhood for everyone in Buenos Aires.
Eat choripán as much as you can
You don't have to be in Argentina for long to quickly realize that you'll be eating a lot of meat and bread. Repeat.
Good thing I love both!
I was so excited to dig into some delicious choripán in Buenos Aires, the classic Argentinian street and comfort food. A simple snack consisting of a yummy chorizo sausage cut in half in between crusty bread and smothered in chimichurri sauce, I ate these daily in Buenos Aires and even learned to cook them at the Street Food cooking class.
Much like empanadas, you can't come to Argentina and NOT eat choripán.
Froth on the street art
An edgy creative city, you're constantly reminded just how cool Buenos Aires actually is, especially with epic street art and huge commissioned murals peppering its walls almost wherever you walk.
If you're crunched for time, hop on a guided street art tour in one of the local neighborhoods, like La Boca. With a history of politics and social change, the street art in BA is more than just a pretty wall – it's a story that often is powerful message.
My absolute favorite had to be this enormous Frida Kahlo in Palermo. Bad ass or what?
Sip on the amazing wine all day and all night
One of the greatest wine producing countries in the world, I was excited to sip on some Argentinian classics while in Buenos Aires.
While I of course had my fair share of Malbecs alongside a big juicy steak or meat dish, I actually came to really love some of the white wines as well, especially Torrontés (similar to a Riesling). With a sweet scent, it is actually quite dry, something I really loved!
Marvel at El Ateneo Bookshop
Without a doubt, El Ateneo Grand Splendid Bookshop in Buenos Aires is one of the most beautiful bookshops in the world. And as someone who makes it her personal mission to visit bookshops in almost every single place she travels too, I do not say that lightly.
Tucked away in the Barrio Norte, it was a beautiful 1920's theater that once hosted famous Argentinian tango dancers on stage. Eventually it was almost torn down before it was saved and turned into a bookshop.
While most of the works are in Spanish, it shouldn't deter you from wandering around the balconies and getting a coffee on stage and just being in a pretty spectacular place, especially for my fellow book nerds.
Stay in a cute Airbnb
If you come to Buenos Aires in the height of summer like I did (January), you've got to stay somewhere cute, central, and with air conditioning.
I picked a beautiful Airbnb in the center of Buenos Aires near Retiro and Recoleta that was in walking distance of many places I wanted to explore, and easy to Uber to others.
With a kitchen, you don't have to go out for every meal, and staying in local houses are one of my favorite ways to travel around the world, especially because I often spend a fair amount of time inside working!
Wander around La Boca and El Caminito…but not too far
To be perfectly honest I was a bit nervous about visiting La Boca at first. I knew I really wanted to go after hearing about how great it is and seeing it's colorful walls peppered on social media for a while now. But, and there's always a but, it doesn't have the best reputation.
Like tourists getting mugged at gunpoint reputation. Shivers.
An old working-class migrant neighborhood by the river, it's Buenos Aires at its best and worst, colorful, vibrant and alive, and if you aren't careful, it might eat you alive. Nowadays it's pretty touristy, but it's best if you still to the main streets around Caminito in the middle of the day when it's the busiest. Best avoid at night or early in the morning or late afternoon, don't bring valuables, and don't wander too far from Caminito, even if it looks tempting.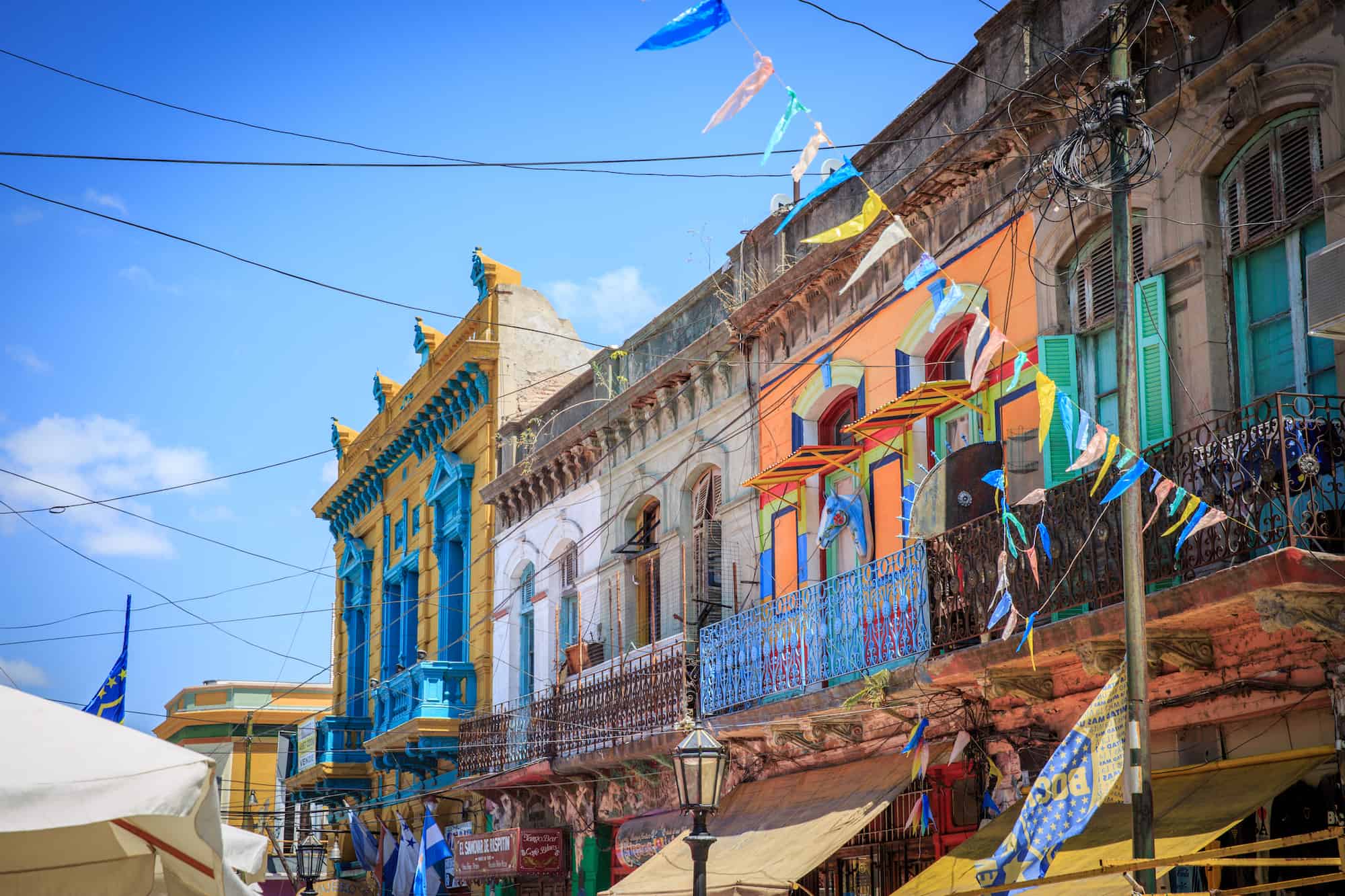 Chow down on dulce de leche ice-cream as much as you can
Is it just me or do you truly believe that dulce de leche was a gift from heaven for us all to enjoy?
A very sweet condensed milk and sugar sauce that's very similar to caramel is a staple in anything sweet in Argentina, and is found in many pastries, churros, deserts, and of course, gelato in Buenos Aires.
With an Italian influence, I made it my mission to eat as much gelato as I could in Buenos Aires, many shops having multiple types of dulce de leche flavors. My two favorite ice-cream shops has to be La Nonna Bianca in San Telmo and Rapa Nui, a chocolate shop slash ice-cream shop just around the corner from El Ateneo Bookshop.
Divine, but don't eat too much.
On that note, what do you think? Have you been to Buenos Aires before? What are your tips? Spill!
Many thanks to Air New Zealand for hosting me in Buenos Aires – like always I'm keeping it real – all opinions are my own – like you could expect less from me!