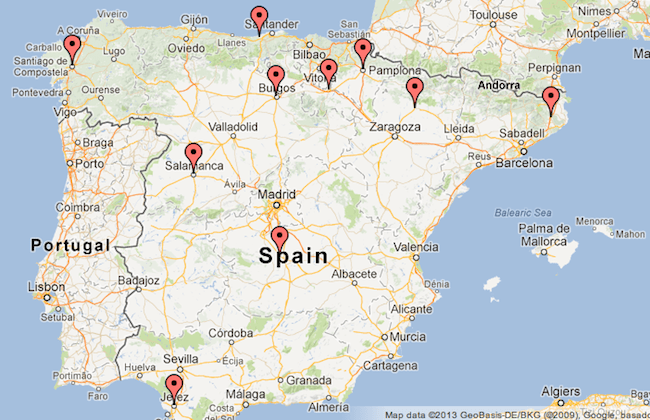 There is so much more to Spain than Madrid, Barcelona, Granada and Sevilla. As much as I love those cities, one major goal of mine on this blog is to showcase all of the lesser-known, often-overlooked gems around the rest of Spain. Over the years I have traveled around most of the Iberian Peninsula, and there are some cities that just tugged at my heart and made me fall in love with them, over and over again. Here are my 10 favorite underrated cities in Spain that I've been to:
Have you been to Spain? What's a place you've been to that you feel is underrated and deserves recognition?
1. Logroño
Logroño was home for me for exactly 12 months, and it was one of the best years of my life. The capital of La Rioja, wine country in the north of Spain, Logroño has it all. A beautiful little old quarter with more pincho (tapas) bars than you can count, Logroño has long been a stopping point for people walking the famous Camino de Santiago. A small city, situated between many other great cities and towns in the north, it is a good place to base yourself while traveling. It helps that it's incredible cheap, has amazing food and red wine and it's almost completely devoid of tourists.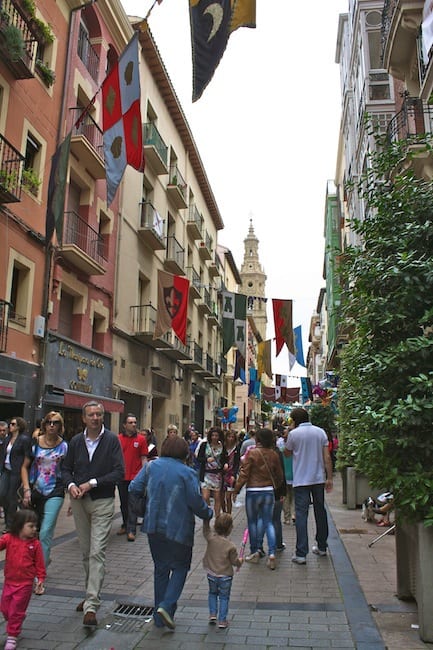 Getting there: Take the ALSA bus, not the train from Madrid. It takes the same amount of time and is a quarter of the price and there's wifi.
When to go: The best time to see La Rioja is in October when the leaves change on the vineyards, otherwise, Logroño's patron saint festival is in September, San Mateo, a week of sheer madness.
If you only do one thing: tour a winery and go out for pinchos. Bodegas Franco-Españolas is right across the river from the old quarter, a 5 minute walk does great tours. Hemingway used to visit there, which is saying something. Head back across town and get lunch or dinner around Calle Laurel, the famous pincho street.
2. Jerez de la Frontera
One of my good friend's lived in Jerez my first year in Cordoba, and I would go visit regularly. Located in southwest Spain, Jerez is just north of the beautiful beach town of Cadiz, and it's traditional Andaluz southern Spain at its finest. Home of flamenco dancing and sherry (Jerez is Spanish for sherry) there are more than enough aging bodegas to tour and taste both sweet and dry sherry. There are castles and ruins galore, along with beautiful cobbled streets and medieval churches unbeknownst to tourists. It's a really lovely Spanish city to get to know and feel like a local.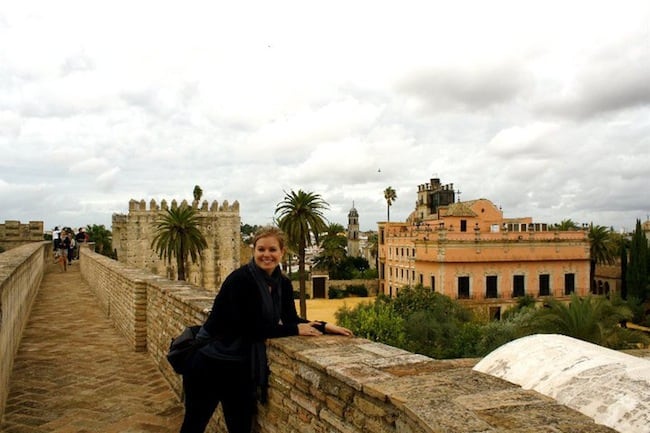 Getting there: Jerez is on the train line between Seville and Cadiz, and there is a small airport. There are frequent buses around Andalucía and the rest of Spain.
When to go: visit Jerez in the springtime before it gets too hot and humid in the summer. The best time to visit is during their feria, the traditional festival in Andalucia, where everyone dresses up in traditional flamenco costumes and parties from dusk til dawn. Any city in Andalusia is best seen during it's feria.
If you only do one thing: Tour a sherry bodega, the biggest, baddest one in town is Tío Pepe. I loved it because of its history, founded way back in the day, the aging rooms have blackened ceilings with cobwebbed corners; it even smells old. And it's vast, feels like a small city.
3. Salamanca
Salamanca was my first introduction to living in Spain back in 2007. Home to one of the oldest universities in the world, Salamanca is a young and thriving city set amid a very historic and beautiful backdrop. Filled with medieval sandstone buildings, there is not shortage of history to be found in Salamanca. Being a big university town, it is also incredibly cheap with more bars and discos per person than any other city in Spain. This means that you're average Saturday night in Salamanca feels like New Year's Eve anywhere else.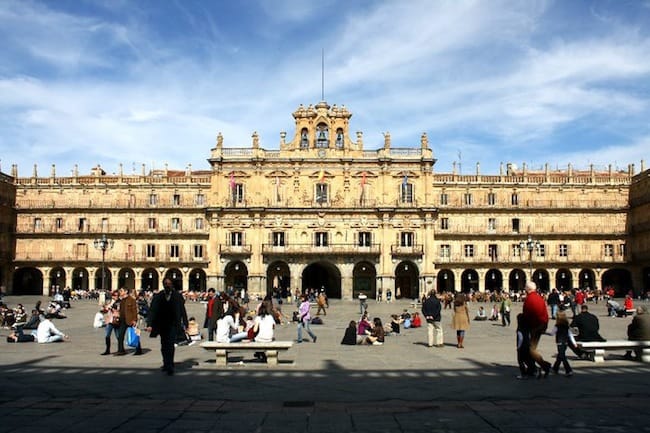 Getting there: Salamanca is an easy 2.5 hour bus or train ride from Madrid.
When to go: If you go to Salamanca, try to go during the school year so you can get to know the city when all of the students are around. Salamanca has it's festivals in September, making it really fun to visit.
If you only do one thing: go out partying one night. It will be unforgettable, I promise. If partying isn't your thing, then climb to the top of the cathedral; it's one of the few places that let's tourists walk around the parapets and gargoyles, and the views are pretty awesome too. You can even walk along the inside; try to spot the huge cracks in the cathedral walls from a 16th century earthquake.
4. Huesca
I discovered Huesca by accident on a trip to Aragón several years ago. North of Zaragoza and right before the foothills of the Pyrenees, Huesca is a charming small town overlooked by just about everyone. It is a great day trip from Zaragoza, and one of my favorite small towns in Spain. I spent two days here years ago in October, and completely fell in love with it. I even had one of my most moving moments in Spain to date.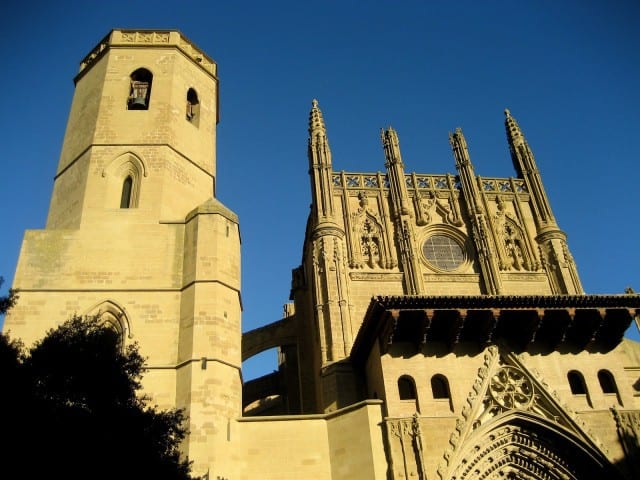 Getting there: there are regular trains and buses from Zaragoza.
When to go: anytime of the year is beautiful. Huesca's festival, San Lorenzo occurs for a week in August around the 9-15.
If you only do one thing: climb to the top of the little cathedral for views of the whole town and the mountains in the distance.
5. Santillana del Mar
Ok I met be stretching it to call Santillana a city, rather it's a tiny town on the northern Cantabrian coastline. Ok, it's a village with around 4,000 people, but it's incredibly beautiful. Back years ago I rented a car with my parents and drove all along the northern Spanish coast, and my favorite place we stopped was in Santillana in Cantabria. An adorable medieval town, it's easy to picture it as it must have been 500 years ago.
Getting there: There are regional buses around northern Spain and local trains that run to nearby towns. Of course, a great way to visit is by car. More info here.

When to go: Summer is the best time to visit the north coast of Spain because there's the least chance of rain, but I was there in January and still loved it. This part of Spain doesn't get too cold because it's on the sea.
If you only do one thing: try to rent a car and drive around the gorgeous coastline along Santillana. It almost feels like you're in Ireland.
6. Consuegra
One of the most iconic images of Spain and least visited, home of the famous windmills of La Mancha, you know, as in Don Quijote. This is traditional Spain at it's finest, and Consuegra is home to the best preserved windmills in Spain. High on a hill set against the typical blue Spanish skies, you can see for miles and miles. It's a really cool place to visit and not very well-known. There is also a historic castle next to the windmills.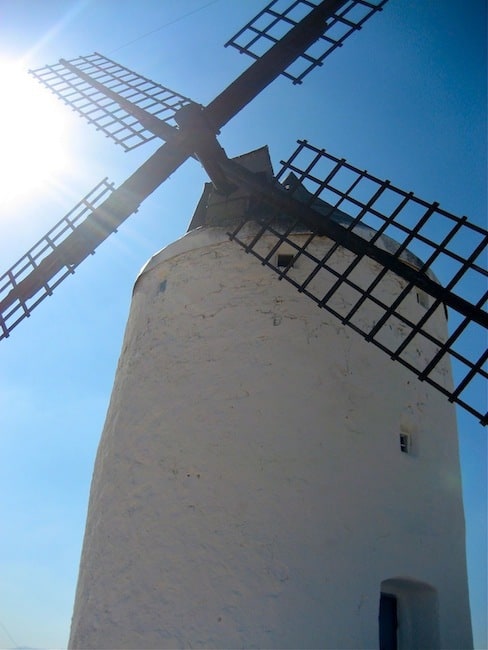 Getting there: There are frequent buses from Madrid, it makes for a perfect day trip.
When to go: Not in the summer when it's a million degrees.
If you only do one thing: Pretend you are Don Quijote fighting the windmills of course.
7. Girona
I discovered Girona this fall when I was in Cataluña for the TBEX travel blogging conference. It was never really on my radar, except for being Ryanair's budget "Barcelona" airport, but let me tell you, it quickly became one of my favorite cities in Spain. It is a stunningly beautiful city, with plenty of attractions, not to mention amazing food. Starting to see a pattern here? Girona is also an interesting alternative to Barcelona, a city both daunting and overplayed. I love visiting this region in Spain because it almost doesn't even feel like Spain. Cataluña being a region fighting for independence, to me has stronger European vibes to it than the rest of Spain. An interesting combination. The second best restaurant in the world is in Girona, El Cellar de Can Roca, and if you can't afford to eat there, make sure to check out their pet project, a fancy gastronomic ice-cream shop, Rocambolesc, affordable to all.
Getting there: If you can tolerate Ryanair, there are plenty of flights to Girona from around Europe, otherwise, there are frequent trains and buses from Barcelona, less than an hour away.
When to go: I was in Girona in September, and I'd say that's a pretty perfect time to go. Not too hot, it still feels like summertime.
If you only do one thing: Eat fancy ice-cream from Rocambolesc and walk along the riverfront.
8. Santiago de Compostela
Santiago is well enough known among tourists but it is often overlooked on classic itineraries to Spain simply because it's so far from everything! Santiago and Galicia made my list of reasons to go to northern Spain. A difference language, gallego, is spoken in this part of Spain, making it unique from the other regions. Rainy and green, people tend to call it the UK of Spain. If you are looking to do something off the beaten track, I suggest Santiago. Supposedly St. James (Santiago in Spanish) is buried here, and over the centuries, it became the biggest pilgrimage in Europe. Nowadays it has one of the most impressive cathedrals I've ever seen.
Getting there: You can fly very cheaply to Santiago de Compostela from around Spain and the rest of Europe too on Ryanair and Iberia. Otherwise, there are long-distance buses and a few trains.
When to go: Summer is the best weather, but fall is also nice.
If you only do one thing: Visit the cathedral. 
9. Pamplona (not during San Fermín)
When I was living in Logroño, I spent a lot of time visiting Pamplona. Less than an hour away, it has a beautiful old center with a lot of cute shops and things to do; it made for the perfect day trip. Because it's next to the Basque Country, Euskera is also spoken there and there is a lot of Basque influence, especially in the food and wine. Pamplona is a beautiful city, and as much as I love San Fermin and the running of the bulls in July, it taints the city, both with its reputation and filth; literally it's disgusting during the running of the bulls, but super fun as long as you're drinking. The rest of the year, it's completely underrated and overlooked by tourists.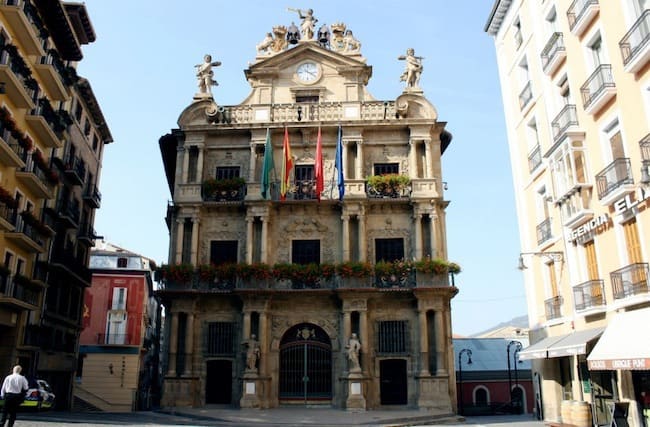 Getting there: There are many buses from Madrid and around the rest of Spain to Pamplona, and the bus station there is pretty sweet, brand spanking new.
When to go: My favorite season is the fall, when the leaves start to change in the parks and the days get cooler. It's also harvest time so there are lots of delicious wines and dishes to try around town.
If you only do one thing: Go out for pinchos in the old quarter for lunch or dinner and hang out in one of the city's beautiful parks for a mid-afternoon siesta.
10. Burgos
Burgos is another Spanish city that is also overlooked by tourists and Spaniards alike. North of Salamanca, it is located in traditional Spain, the region of Castilla y León. A historic city, there are a lot of great places to visit and it's close to many other towns and cities around north and western Spain. Famous for its blood sausage, morcilla, we discovered a booming tapas scene last time we were there.  Well known for its sprawling gothic cathedral, the whole complex is a UNESCO world heritage site.
Getting there: There are frequent buses from Madrid on ALSA.
When to go: Summer and autumn are nice times to visit Burgos
If you only do one thing: Go inside the cathedral, famous Spanish legendary hero, El Cid, is buried inside. It is also one of the nicest cathedrals I've ever been to, and that's saying something.