My holiday last month to Malaysia was full of delightful surprises. From spicy and rich food I couldn't get enough of, to learning about a new land full of unique culture to sweating to new levels (leg sweat, how?!) my time in Malaysia was nothing if not full of the unexpected.
If you follow me on Instagram you might have gotten quite the taste for it.
After four days of roaming the streets of mighty Kuala Lumpur, a metropolis chock full of hidden gems and undiscovered spots for us visitors, photographer extraordinaire Trey Ratcliff and I headed down for a bit of an island getaway to travel Langkawi at the Ritz-Carlton.
Oh my god guys, are you ready for this? Because I sure wasn't.
Hello there Langkawi!
Greetings from paradise. Now I know I might say that a lot, but this time I really mean it. I swear.
An archipelago for more than 100 islands, Langkawi is the jewel of Malaysia, and my new favorite island retreat. Full of secluded and empty sandy beaches, beautiful jungle, warm seas and lots of delicious food (minus durian – shivers!) right next to Thailand, it's the perfect place for those who want a Southeast Asian holiday without the fuss and crowds.
Still relatively undiscovered and undeveloped, but with all the creature comforts (and more) at your fingertips at the Ritz-Carlton, Langkawi is the best of both worlds.
Plus a few monkeys thrown in to keep things interesting.
Overlooking the Andaman Sea and surrounded by a 10-million-year-old rainforest, at the Ritz you really feel like you're in an oasis in Langkawi. It's really the best of both worlds.
Opting for forest over seaside views, I squirreled away for days at the luxurious rainforest villas, surrounded by lush greenery and birdsong, with my own private infinity pool and the most comfortable bath to keep myself busy.
Don't hate me.
I think I'll always be a forest girl at heart. What about you? Ocean or forest?
Is there anything better than swimming outside in a tropical rainstorm?
After a very hectic 2017 with just a few too many commitments and after the hustle and bustle of Kuala Lumpur, I absolutely relished having a few days all to myself in a quiet and peaceful place.
It's funny to think about but the longer and longer I travel, I have found comfort in accepting that I have many different travel styles. Sometimes I want to be very busy and be in a new place, not sleep and see (and eat) as much as I can, like what I did in Kuala Lumpur, but also at the same time I am equally happy to just hang out in a more resort-style holiday environment, where the hardest decision of the day might be choosing between coconut cocktail or a mojito in the afternoon.
I suppose the trick is just knowing what kind of holiday you're after and for when.
And I'll be the first to stay I'll take a tropical island holiday at the Ritz-Carlton any day of the year!
Langkawi was the holiday I very much needed, and this blog post is going to serve as my reminder to schedule one of these once a year, you know, for health purposes.
While resetting my internal clock, we had lazy days by the beach and pool, afternoon naps during rainstorms, with a few activities thrown in and of course, amazing meals along with learning to cook Malay food (hello beef rendang all day every day!), while discovering the best that Langkawi has to offer.
While I have plenty of more detailed stories to share down the road, I wanted to start by sharing some of my favorite memories from my time in Langkawi through photos in the hopes it might inspire you visit one day too. I, for one, know I'll be back!
Enjoy!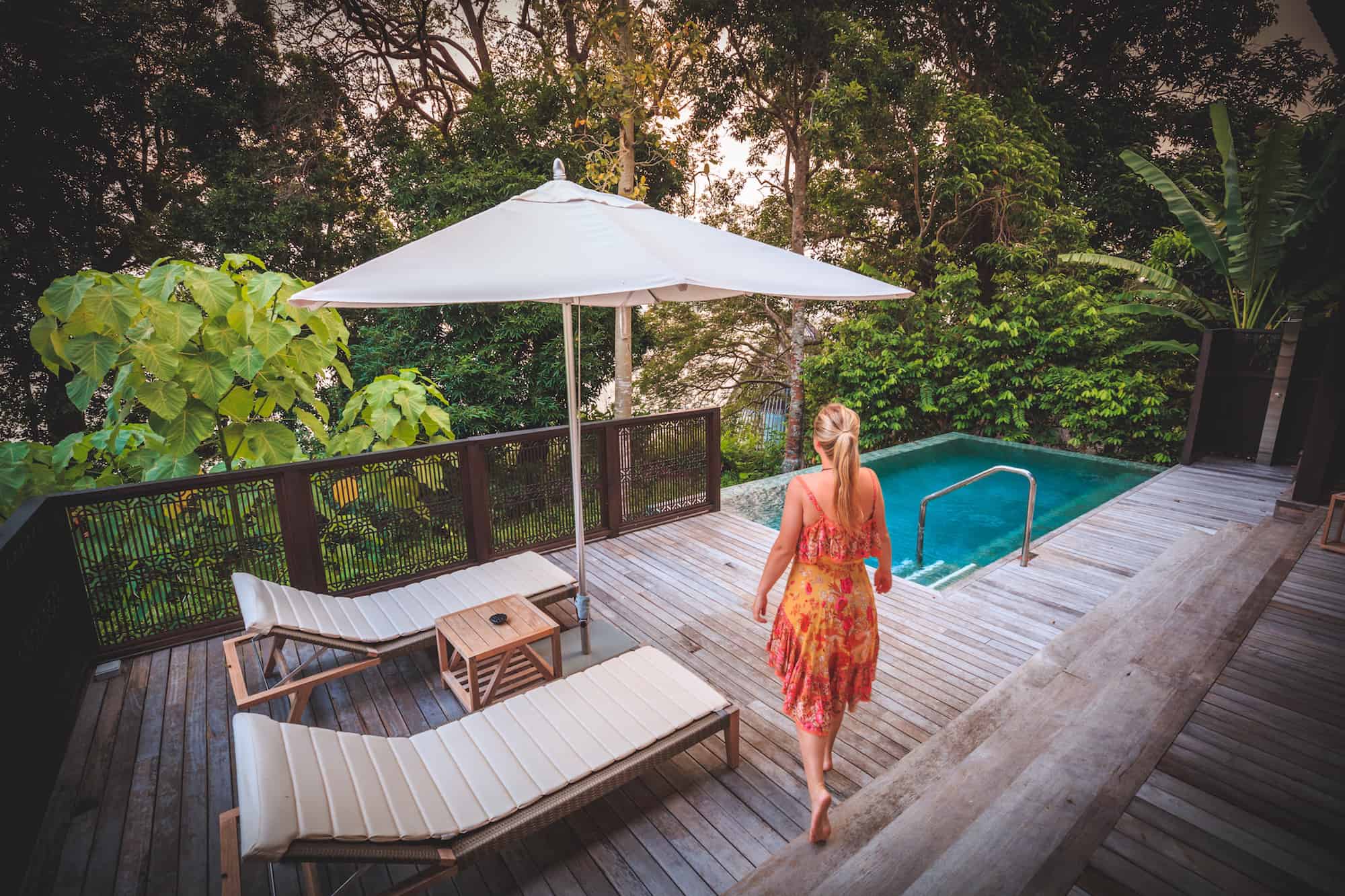 The overwater spa might have been my favorite place
Exploring some of the uninhabited islands by boat – or even jet ski
Don't you want to be surrounded by this lush greenery too?
The hornbill is Malaysia's national bird and hangs around the forest around the Ritz
The house cocktail at the Ritz is inspired by the hornbill, can't you tell?
Exploring the coastal mangrove forest in Langkawi was a real treat
Mudskippers can be spotted around Langkawi, the fish that lives on land!
Hello there favorite bath tub!
Pristine white sandy beaches galore and water as warm as a bath!
Ok, these monkeys aren't that bad, they're pretty cute!

A little glimpse at my rainforest villa, sigh, can I go back now?
Many thanks to the Ritz-Carlton for hosting me in Malaysia – like always I'm keeping it real, all opinions are my own, like you could expect less from me.