I've been to Switzerland many times over the past decade. My best friend growing up moved to Neuchâtel after college graduation and I've been visiting here there ever since.
My very first visit to the Swiss Alps way back when in 2008 in fact sparked a fire in me that has slowly grown into a great love for big mountains and pristine wilderness, and has carried over with me on my move abroad to New Zealand.
In many ways, New Zealand is like Switzerland, just with about a million less people and 5% of their efficient infrastructure. We don't have mountains villages and elaborate gondolas and certainly don't have fabulous mountaintop hotels that offer fondue and champagne any time of year – I wish. Though we do have pretty mountains and a perchance for extreme humility.
Liz, where are you going with this?
Ah right. Mountains.
So what I was getting at was that I've been to Switzerland a lot but I often go to the same area of the Alps – the Jungfrau and Interlaken. It's a region I know and love very well, and with so many layers and hidden gems, you can go back again and again and feel like you're discovering new spots.
But this last trip over to the land of fantastic cheese and chocolate, I wanted to explore some of the alpine areas I was unfamiliar with.
Cue Engelberg.
Unless you're even better traveled than I am, or you are a freeride ski nut or you're from India, you might not have heard of this incredible mountain mecca lorded over by the incredible Mt Titlis. Fair enough.
Probably the most popular freeride center in Switzerland (ie riding on natural un-groomed terrain), Engelberg attracts some of the best skiers and snowboarders around the world to its crazy-ass descents, along with other powder fiends to enjoy the colossal expanse of mountains right on the doorstep.
Why yes, I'll be back here at some point for a shred. I love winter in Switzerland.
And randomly, Engelberg and Mt Titlis is an incredibly popular backdrop in heaps of Bollywood films. It is the Hollywood almost to Indian travelers. Like, heaps of group tours from India stop here for just one night. They go to Rome, Milan, then Engelberg, before heading off to Paris and then London. So random but cool.
The largest winter and summer holiday destination in Central Switzerland, Engelberg has it all. And even though it can be wildly popular, it has so many little haunts and corners to explore that you can easily feel like you can have the place to yourself.
It was early June when I found myself weaving along the picturesque switchback mountain roads leading up to the town of Engelberg from Lucerne, where I had just been staying. Mists settled on the tops of the peaks but the air was clean and fresh. Delightful.
I was so excited to explore a new part of Switzerland, especially one that I hadn't heard of before.
The history and charm
Ready to check into the charming and historic Alpenclub in the center of town, my mouth just dropped open when I walked inside. What a cute hotel – it even smells old.
I am such a sucker for historical hotels, something we seriously lack in our modern and new New Zealand, and the alpine old cabin vibe that permeates every inch of Alpenclub wooed me as soon as I walked in the door and got my first whiff of it.
From the wooden walls and floors to the quirky additions to the creaky stairs, I fell in love with this place instantly.
Fabulous suitcase – the Anthropologist by Steamline Luggage
For a really good cup of coffee, something not easily found in Switzerland (why?!), head to Kafikaufbar in Engelberg, a quirky and cute cafe that does good coffee and hot chocolate and local fresh pastries, though I'm fairly certain it's cash only.
Nearby the other main attraction of the town is the Engelberg Monastery, a benedictine abbey founded in 1120. Nowadays it's a school but it reminds me of something straight out of the Sound of Music, and it's the beating heart of Engelberg.
Imagine going here as a kid. Wow.


The mighty Titlis and stunning alpine lakes
But of course the one and only way to experience the best Engelberg has to offer is to head up to the mighty Mt. Titlis which overlooks the town. Sitting high and proper at a whopping 3,238 meters, you can't miss it.
The mountain is connected from Engelberg through an elaborate system of cable cars which allow you to experience it all however you want. While many chose to go straight up to the very top, it's well worth taking the time to see what all the mountain has to offer.
It was a moody day when we went hiking around the incredible alpine lake of Trübsee, which is one of the cable car stops on the way up Mt. Titlis.
Often overlooked by those glamoured by the call of the top of Titlis, there are hundreds of kilometers of trails in the area, with something for everyone.
With moody clouds on the horizon and rain threatening, we had the walks around the to ourselves.
Last winter saw heaps of snow in the Swiss Alps and there was still plenty about even in June, which meant that some of the trails were still buried under snow.
But with the late spring and early summer meant that there were plenty of wildflowers dotting the landscape. They even have a dedicated alpine flower trail that you can follow around the mountains.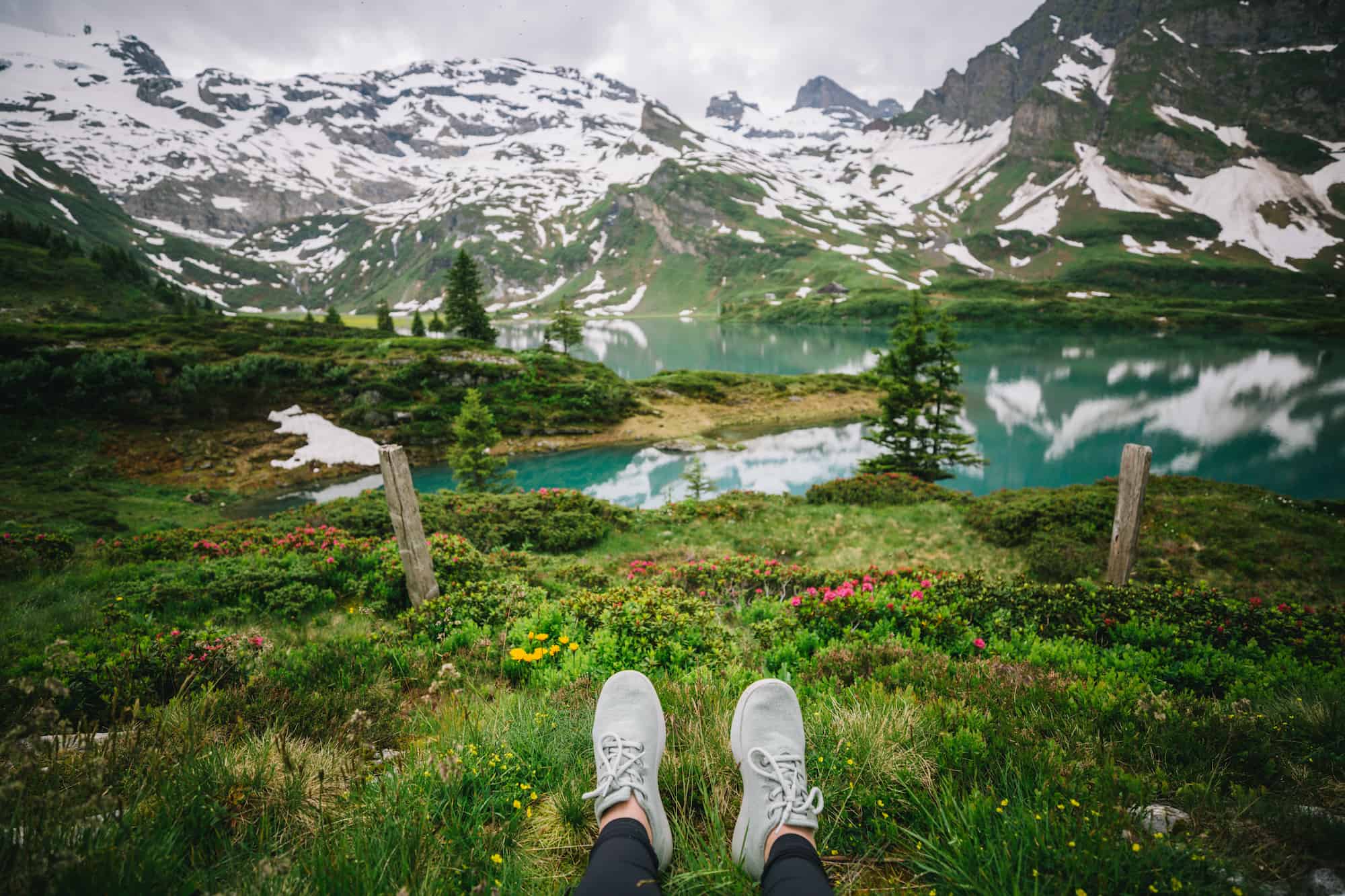 Wearing my favorite Allbirds – merino wool sneakers
Misty mountains and azure glaciers
The weather packed in by the time we made our way to the last stop on the cable car at the top of Titlis above the glacier, and as much as I would have loved to experience the mountain on a sunny day, I don't mind the rain and gloom.
For me there is something pleasant and comforting about the rain, who knows.
And I love how the mountains look as the peek through the mists and clouds. It makes them seem even bigger and more unattainable to me, and reminds you how little control you have over this wilderness.
The top of Titlis is a winter wonderland and well worth visiting even in the rain, especially in the world's first rotating gondola. Switzerland, I've said it before and I'll say it again. You're ridiculous.
At the top of Titlis, along with restaurants and plenty of activities you can also walk around inside the glacier, and trust me, it never gets old to see people who've never walked on snow or ice before slide their way around inside.
You can also walk across Europe's highest suspension bridge, which I'm told has great views. Ethereal and spooky, it was fairly daunting to walk across it in the clouds.
Oh, and the cheese. All the cheese
I come to Switzerland for two things: cheese and mountains. And Engelberg has both in abundance.
While raclette and fondue are mostly winter delicacies, you can still beg some of the shops and restaurants to serve you them in summer, like at the Cheese Factory, which is connected to the monastery and where you can watch the local cheese being made. Heaven.
Have you been to Engelberg before? Do you love mountains and cheese as much as me? Share!
Many thanks to My Switzerland for hosting me in Engelberg – like always I'm keeping it real – all opinions are my own – like you could expect less from me!