No matter how many times I visit Switzerland, my mouth continuously hangs open in pure wonder and bewilderment. Seriously, they won the lottery when it came down to getting the most scenic chunk of Europe.
Sorry not sorry, rest of Europe. We all know I'm right here.
Switzerland is next level beautiful. It's a place I'm drawn back to again and again and again.
I backpacked through here around Interlaken when I was 19 and so broke I slept in airports and ate kebabs. I returned time over when my high school best friend moved here after college. I've come back in winter to snowboard and have returned as a blogger to skydive and of course, eat all the cheese. And then write about eating all the cheese. Then eating more cheese. Repeat.
Some of my earliest blog posts are about Switzerland, so it holds a place near and dear to my heart. And oh god, did I use to write like that? Shit.
Switzerland is tiny but packs a punch. My list of Swiss places calling my name only grows with every visit, not the other way around. Damn.
I think each of us is often touched by a place around the world, a spot that calls to us, beckons us back and crooks a finger in our direction and we coming running back each time. Switzerland is all that and more for me.
In June I spent just over a week jaunting around the land of cheese, fine chocolate and perfect efficiency, partaking of her delightful urban haunts and exploring nature as the final snows begin to melt. I have many stories to share from a jam-packed adventure, but I wanted to give one of my favorite countries a nice and proper introduction.
Henceforth (did I seriously just write that?), without further ado, here are 25 of my favorite photos (out of several thousand) of my recent trip that I'm hoping will inspire you to fall in love with Switzerland as much as me. Fingers crossed.
Basel
Ok seriously, how had I never been to Basel before this trip?
Well, I did fly once into the airport here in December 2007 to begin my very first solo backpacking trip EVER but immediately transferred to Germany in search of mulled wine and Christmas markets, so I reckon it doesn't count.
Well, Basel, I'm back.
Thanks to my crazy jet-lag after transiting over from the opposite side of the world in New Zealand, I was up literally at the crack of down, usually around the 4:30am mark (shivers), and with the long summer days, I would wander the streets of Basel before the rest of the city woke up.
These early morning wanderings are what made me fall head over heels for this city. It is so cute and charming, colorful and full of life in the summer. The quaint old town straddles the mighty Rhine river, so clean and blue that locals flock to it in summer to float down from bar to cafe.
Imagine how happy you'd be if this was your "driveway"?
If you're up for sunrise, you'll likely have the Basel cathedral all to yourself

There are so many green spaces around the city

This summer only you can stay in a traditional fisherman's hut on the Rhine in Basel, a creative pop up hotel
Officially obsessed with Basel's colorful shutters and jauntily perched bikes everywhere
Lucerne
Lake Lucerne gives me such old-world Europe vibes. An old resort-style city, it feels like the kind of place where you'd rent a room in a belle époque style hotel for the summer and take the airs, whatever that means.
It definitely feels like a bit of a time warp, which I adored, and its stunning location beside the crystal clear waters of the lake with the Alps in the background couldn't be more stunning.
Lucerne has a mystical, historical feel to it, and you can see why the great authors of the 19th century were drawn there. I didn't want to leave.

The 14th-century Kapellbrücke is a must visit on any trip to Lucerne, one of the oldest covered wooden bridges left in Europe
All the sailboats out on Lake Lucerne on a sunny fine Saturday
What a perfect balcony!
Taking the steep cogwheel train up to Mt. Pilatus
The top of Pilatus is a stunning mountain full of walks and hikes
Engelberg
I don't know how I had never heard of Engelberg before this trip, but let me tell you, it's one of my new favorite places in the world.
Near Lucerne, Engelberg is the perfect mountain town, overshadowed by the incredible Mt. Titlis, a mecca for freeriders and powderhounds come winter. I'd say it's a best-kept secret except Engelberg is ridiculously famous in India, a popular location for Bollywood films.
I'll definitely be back here in winter.
Yes, give me all the Raclette. Now.
Hiking around Mt. Titlis on a moody day
Built in 1120, the Benedictine Monastery in Engelberg is a stunning place to visit
Marmots are all over the mountains in Switzerland – you'll find them everywhere
Honestly how cute is my room at the classic Alpenclub? Adorable suitcase by Steamline Luggage
Jungfrau
The Jungfrau region was one of the very first places I ever visited in Switzerland a decade ago (and one of my very first blog posts), and I have been coming back and back again ever since.
It's iconic.
One of the great bases for Swiss adventures, you have every kind of experience right at your doorstep. And while still wildly popular, it's really easy to get off the beaten path in the Jungfrau region and explore all on your own too.
The moody weather made it all the more stunning and beautiful, especially when the clouds lifted on my last day.
Lauterbrunnen is one of the most stunning valleys in the world, covered in picturesque waterfalls with the occasional base jumper flying down from the vertical walls
Once you are in the mountains around the Jungfrau, it's mostly car-free and you get around by cablecars, gondolas, skis, trains or your own two feet
The view from the train up to the Jungfraujoch is unbeatable

Rösti is a classic Swiss potato fritter dish that is satisfying and delicious, just want you want after a day in the mountains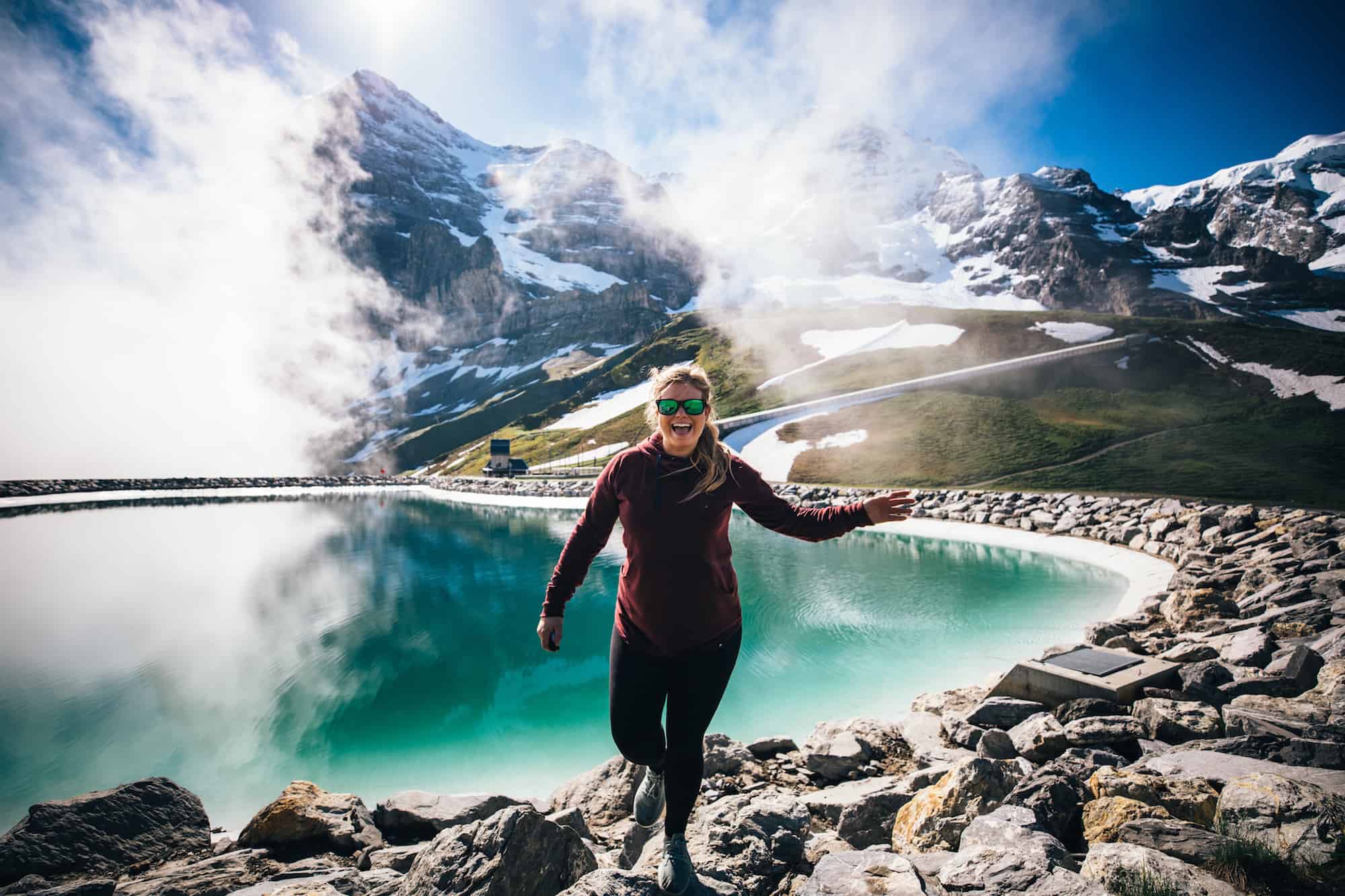 Hiking near Kleine Scheidegg is out of this world
Zermatt
FINALLY! I got to visit Zermatt! About freaking time.
In all my travels to Switzerland, I never made it to Zermatt; while on the whole Switzerland is really fast and easy to get around in, Zermatt is still kinda out of the way, at least by Swiss standards, and it's car-free.
I'd been dying to see the iconic Matterhorn my whole life and it was a dream come true to finally clap eyes on this perfect peak. With three days of impeccable summer weather, I spent my time hopping up and down the mountains and going for long walks.
It really is just as incredible as I imagined. Now just to process all the pretty things and perfect memories! And detox after all that cheese and chocolate.
Have you been to Switzerland? Been to any of these spots? Share!
The town of Zermatt is overlooked by the iconic Matterhorn
Spotting one of the locals, an ibex, up in the mountains
My last sunset in Switzerland was pretty outstanding
At 3883 meters, the Matterhorn Glacier Paradise is the highest station in Europe and you can walk inside the glacier
Sleeping at the Kulmhotel Gornergrat hotel at 3100 meters was a highlight of my trip
Many thanks to My Switzerland for hosting me on my adventures – like always I'm keeping it real – all opinions are my own – like you could expect less from me!