I feel like if I was a British lady of the past, Lucerne would be the place I would travel to on holiday to the continent, to, you know, take the airs or whatever ladies did back in the day, perhaps disappear from society for a year to Switzerland to have an illegitimate baby and hide from scandal. Like Lady Edith in Downton Abbey.
Wow, hope I haven't lost you with that one.
I suppose what I'm getting at is that Lucerne gives off some serious "old world" vibes, in the absolute best possible way. It's no wonder it was a magnet for some of the great minds of the 18th century on creative holidays.
To me it seemed to be THE PLACE in Switzerland for a summer holiday.
Lucerne has it all.
Mountains, medieval streets, a beautiful crystal clear lake, lovely gardens, balconies galore and delicious food. It just has a vibe of "don't bother me, I'm relaxing now, thanks."
Those are my kinds of places.
In the mornings the air was cool and crisp, the perfect temperature before warming up throughout the day, clouding up and threatening a little thunderstorm. Ironically, it reminded me so much of summers back home in the South.
If I noticed anything it was that Lucerne inspired nostalgia.
Lush and green, blooming flowers galore. A blue lake filled with swans and perfect little sailboards. Snow-capped mountains in the distance. Honestly, I loved Lucerne, what a charming city in Switzerland!
It was a stunning early summer morn as I made my way into Lucerne, with the top down on my rented Audi convertible (seriously, who am I?) and I accidentally parked illegally in a bike park. Honestly, is there anything more confusing than European street signage? I doubt it. I was just grateful I managed to stay off the tram tracks and go in the right direction.
Huffing and puffing, I hauled my beautiful new piece of Steamline luggage carefully up the many stairs to reception of the Hotel Beau Séjour, determined to keep it unblemished. Ah Europe and your lack of easy building access, I've missed.
The orange Anthropologist (the Spinner) was my very first piece of adult luggage, as I waved goodbye to my twenties and artfully duct taped backpacking bags and duffels and stepped into the world of proper luggage.
And my oh my, isn't she a beauty?
Roughly around the turn of the 20th century, the adorable Hotel Beau Séjour was born.
With a jaunty belle époque style overlooking the lake and lush green promenade, it's cheery and cute. The perfect place for a solo female traveler like myself who loves a bit of character, design in a nice spot.
By mid-June summer was in full swing in Europe, and the cities often heaving with tourists by midday, which meant that if I wanted to have the chance to explore on my own, I had to pretend to be a morning person, not an easy feat.
But I managed to get up before the sun in Lucerne for an early morning stroll through town, and the reward made the early start worth it.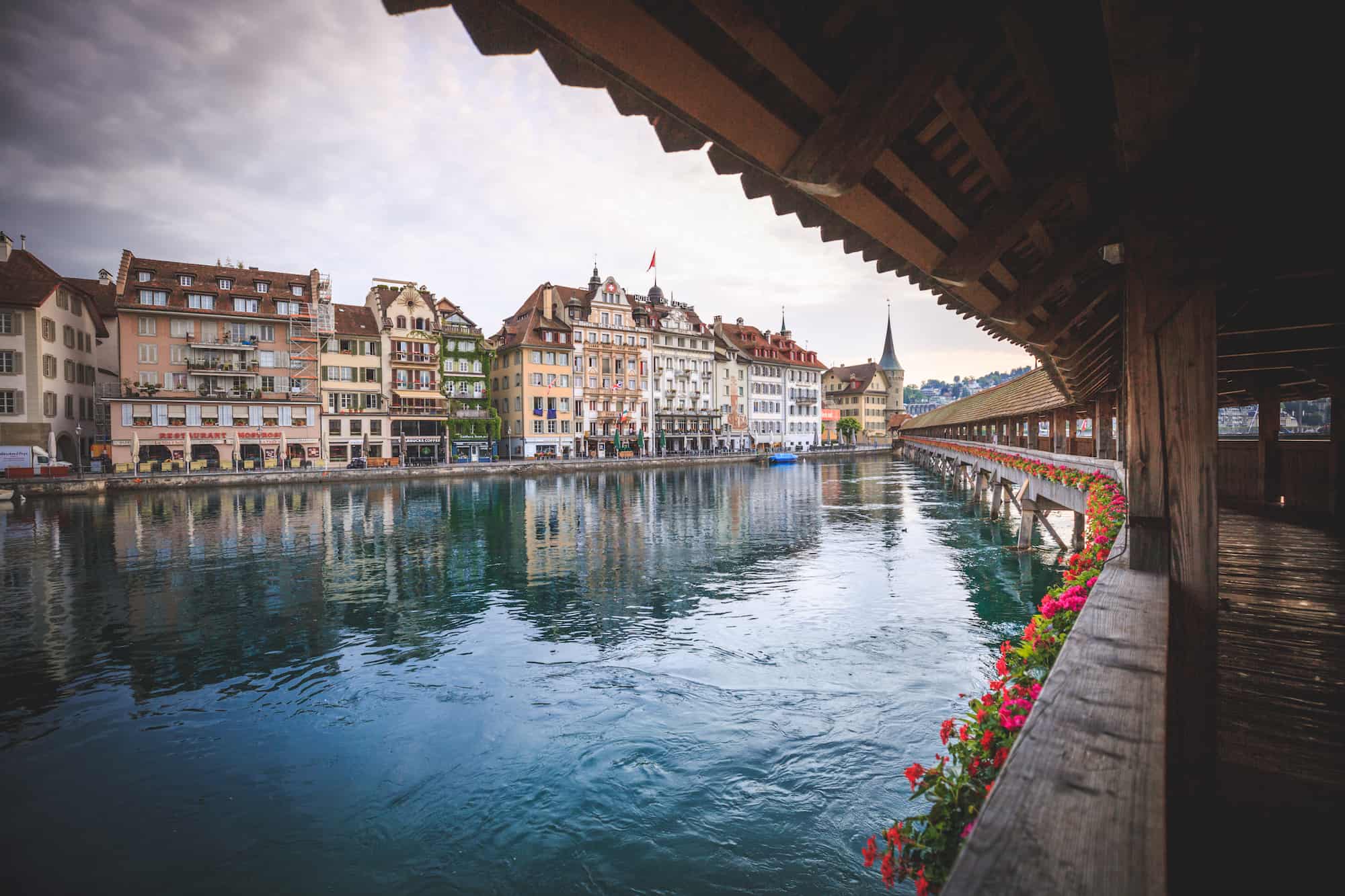 Though perhaps the best part of waking up at the crack of dawn was getting the famous Kapellbrücke in Lucerne all to myself.
An iconic wooden covered bridge from the 14th century, the Chapel Bridge spans the local river in the old town, creaking and groaning beneath your feet. Damp and old with stunning historical pantings beneath the eaves of the roof, it's unlike most European bridges and will undoubtedly be marked in your memory.
With a historic water tower right next to it, you are truly transported back in time here. That is until everyone else wakes up and joins the party.
Time to go find coffee.
If I had to pick a favorite aspect to Lucerne, besides its general ambiance of the romantic past, it would definitely be its ease of access to the mountains nearby.
There is something so lovely about being in a city and then quickly escaping to nature nearby. I love it.
It was a perfectly clear Saturday morning when I headed to the train station to catch a boat to Mount Pilatus for the day. I think all of the locals were out on the lake sailing, exciting for summer to finally have arrived.
Mount Pilatus lords over Lake Lucerne all on its own and coming in at a whopping 2,100 meters. To the untrained eye, it almost looks like a volcano, especially when it has its own cloud forming around the summit appearing like an ash eruption.
It's no surprise that Pilatus is synonymous with legends about dragons in the area. Ethereal and mighty, it does seem like straight from a fairytale, especially on a moody day.
But I can attest that its not a volcano, rather a stunning massive mountain next to the lake, covered in wildflowers and trails. I can't make any promises about the dragons.
In a typically Swiss fashion, you can go out to Pilatus as a day trip from town with ease, no car required, and I recommend going the same way I did: a neatly packaged Golden Round Trip. That way you'll get the best of everything with ease.
You begin with a boat trip across Lake Lucerne to Alpnachstad where you'll catch the steepest cogwheel train in the world up to the top of the mountain, Pilatus Kulm at 2,132 meters, though you can hike up too. The mountain is dotted with trails and spots to stop.
From the station at the top, there are plenty of walks and on this particular trip once you're ready to go down, you catch a cable car and gondola down to Kriens before catching a bus back to the main station in town.
I know, I know, it sounds complicated and in any other country, it would be a disaster trying to organize something like this. But just remember, it's Switzerland. Everything is nicely labeled and runs like clockwork.
The trains, gondolas and cablecars run regularly throughout the day so you're not limited to taking them at a certain time, except to make sure you catch the last one down, otherwise it's a long walk back to Lucerne.
Considering we don't have anything like this in New Zealand, and if you want to hike around 2,000 meters, you are in for a very long and painful slog uphill, for me it was such a treat to start hiking already above the clouds.
Even though I "technically" didn't earn those views. No judging please.
I opted to walk along the Flower Trail, only open in summer that runs along the mountaintops from the Pilatus Kulm station to nearby Tomlishorn.
To be honest, I hesitate to even call it hiking, considering there are railings, fences and a very mellow trail, but who cares, it was incredibly stunning.
The views were out of this world, and I found myself having to put my camera away periodically so I could just soak in the views. Sitting amongst the wildflowers in the fields, I would lay back and watch the clouds roll by, enjoying the afternoon.
What a marvel that one minute you can be in a city by a lake and the next up here!
Being a busy weekend, I noticed plenty of people barreling past me as I stopped to quite literally smell the flowers.
I love taking my time when I'm out and about and nature, what about you?
I was lucky by the time I made it to the end of the walk at Tomlishorn, I had it all to myself for about half an hour. It was my favorite kind of mountain weather, with the fog and clouds moving in and out around the peaks, really making you feel like you were on top of the world.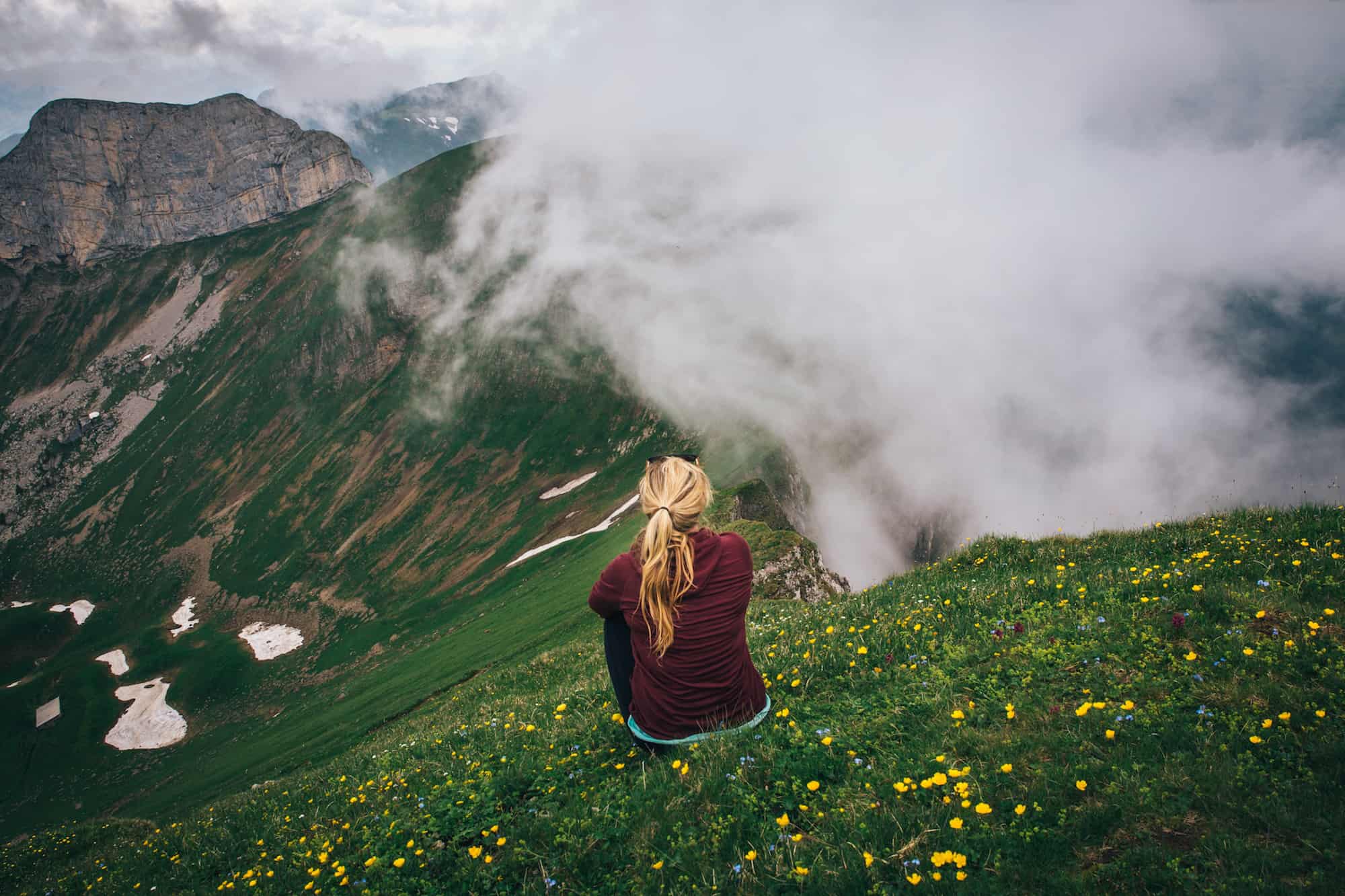 Out of nowhere a dark cloud appeared on my left, seemingly on the same level as where I was standing, and you could hear thunder coming from that direction. It was just spectacular to be so high up next to a storm far away.
Perhaps a dragon?
Once fatigue set in, I made my way to the gondolas to begin my descent back to reality and Lucerne. What an adventure!
Does Lucerne appeal to you too? Would you like to travel here? Share!
Many thanks to My Switzerland for hosting me in Lucerne – like always I'm keeping it real – all opinions are my own – like you could expect less from me!